1. SL2 camera, LEICA
The iconic red logo unmistakably identifies the camera as a Leica. But beyond that signifier, a Leica camera is well respected for its exceptional quality, outstanding lenses, and user-friendly design. The SL2 camera doesn't disappoint. As the only mirrorless full-frame camera, it has a customisable interface and the ability to shoot up to 187 megapixels—perfect for capturing picture-perfect moments.
2. Dyson Zone Absolute+ headphones, DYSON
The Dyson Zone Absolute+ extends the company's endeavour to add ground breaking design to everyday items. Its entry into the sound space looks like something from Mortal Kombat. The headphones are packed with advanced noise-cancelling capabilities and a full audio spectrum, allowing you to experience the highs and lows of any playlist. But it's the first-of-its-kind detachable filtration system that sets it apart. The electrostatic filter ensures the removal of 99 per cent of ultrafine particles, making this more than just an audio device.
3. Sutro Lite Prizm Road sunglasses, OAKLEY
Oakley is elevating its design game with this pair. Beyond the athletic practicality and style you've expected from any Oakley, this boasts an O Matter frame material and Sutro Lite Prizm Road that provides durability and all-day comfort. It's perfect for sports, but you can also confidently walk around in style while shielding your eyes from the assault of UV rays.
4. Phantom I, DEVIALET
Like something out of a sci-fi film, the egg-shaped speaker remains Devialet's hallmark. Always at the forefront of innovation, the Phantom 1 now comes in a livery other than the original white. While the design is eye-catching, watching the woofers dance in synch with the music is another draw altogether.
5. Aqua Allegoria Nerolia Vetiver Forte eau de parfum, GUERLAIN
A fragrance is more than just its scent—how it is housed matters too. Guerlain's Aqua Allegoria series features a unique screw-top flaçon embellished with gold honey comb trims as a nod to the house's bee motif. Since 2022, the bottle has been produced using 15 per cent PCR glass—proof that even signature looks can be improved on using more environmentally friendly materials. In keeping with its celebration of nature, the Nerolia Vetiver Forte balances intense neroli with the smoothness of fig.
6. Air Jordan 1 sneakers, NIKE
Even in the same tone as the rest of the shoe, the unmistakable check mark designates this as a Nike, a legendary AJ1 no less. Named after basketball legend Michael Jordan, the shoe remains every sneakerhead's favourite, transcending the sport. Wear it with any outfit—whether a basketball jersey or a classic suit and white button-up shirt—and experience just how versatile it is.
7. Pilot case, RIMOWA
Fun fact: while RIMOWA is known for its iconic grooves, they were only added 13 years after the brand launched a lightweight and durable aluminium suitcase. Rimowa's Pilot Case is one of its flagship styles that has become a dependable travel companion for a range of creative types. It's been recently revived with a more organised interior to help make every journey a breeze.
8. Leather Puzzle bag, LOEWE
When Jonathan Anderson assumed the role of creative director at Loewe, the Puzzle bag was his first handbag design for the brand. The construction and details were inspired by origami, with the 75 separate pieces of leather displaying the kind of craftsmanship that Loewe continues to excel at. Like many icons, it's been interpreted in myriad ways since, but the original remains an instantly recognisable classic.
9. Seamaster Diver 300m 42mm stainless steel case and bracelet, OMEGA
James Bond only wears one watch, and that is the Omega Seamaster. The iconic timepiece is a testament to Omega's exquisite watchmaking capabilities. The 75th anniversary iteration features impressive new details, like the signature summer blue wave dial with laser-engraved waves that reflect its ability to withstand the pressures of the oceanic depths—undeniably a remarkable piece of engineering.
10. Double Cask 18 Years Old, THE MACALLAN
There's a certain taste to The Macallan that is unique to the brand. Take this Double Cask that is aged for 18 years in American and European sherry-seasoned oak. Fusing the delicate vanilla from American oak with the subtle spice of European oak, the 18YO achieves a remarkable depth of character. And with great character often comes great conversations.
Photography: Jaya Khidir
Styling: Asri Jasman
Styling Assistant: Lance Aeron
In 1948, Omega celebrated its centennial by releasing a set of watches that were fit for "town, sea and country", which included the globally-adored Seamaster. To mark 75 years of making waves in the world of horology, 11 new editions of the Swiss marque's iconic models have been released.
Revealing the collection in a sun-drenched event in Mykonos, Greece, Omega presented styles ranging from the Aqua Terra to the Ultra Deep in a new colourway: Summer Blue. The shade takes inspiration from the sea, where these diver-approved watches really perform, and its hue gets deeper the higher the watch's water resistance is.
The Aqua Terra collection now includes three new models with a sun-brushed dial of the shade. The 38mm comes with sailboat indexes and a polished and brushed bracelet, powered by Omega's Co-Axial Master Chronometer 8800, while the 41mm offers wearers a choice of a matching bracelet or blue rubber strap and has the by Omega Co-Axial Master Chronometer 8900 driving it.
The stainless steel 43mm Aqua Terra Worldtimer has global destinations printed around its dial, and the hesalite glass bridges the outer and inner dials, revealing a 24-hour reading with light blue to indicate daytime and dark blue to indicate night. Just like the others in the AT collection, it's water resistant to depths of 150 metres.
The 41mm Seamaster 300—first released in 1957 as part of the "professional" trilogy—has a symmetrical case and crown in polished and brushed stainless steel, with matching bracelet, and in keeping with its commemorative cousins, the 42mm Diver 300M features a Summer Blue wave-pattern ceramic dial, varnished with a gradient finish to reflect its water resistance—300m, if you hadn't guessed by its name—while a blue ceramic bezel with the new Summer Blue enamel (Grand feu) diving scale encircles the dial.
First released in 2005, the Planet Ocean 600m has a blue ceramic bezel instead of its original and distinctive orange one. It's encircled by a PVD-treated and varnished dial in a gradient finish and comes complete with blue hands.
The 2023 Ploprof takes cues from its original 70s design, which was relied upon by French oceanographer Jacques Cousteau during deep-sea experiments. Its bezel ring is made with sapphire crystal, a nod to the chemically reinforced monolithic crystal used in those early versions. The famous screwed-in crown and two o'clock security pusher appear on the monobloc case of this newer style, and can also dive to 600ms.
The Ultradeep first made history in 2019, when it reached the deepest place on Earth: the Mariana Trench. This update nods to the fearless explorers before it, with an exact representation of the Challenger Deep mapped by the Five Deeps team appearing as a pattern on its dial. And when you shine UV light on this 45.5mm model, it reveals the words, 'OMEGA WAS HERE', pointing toward the world record dive of 10,935 m and showing the Western, Central and Eastern Pools.
Originally published on Esquire UK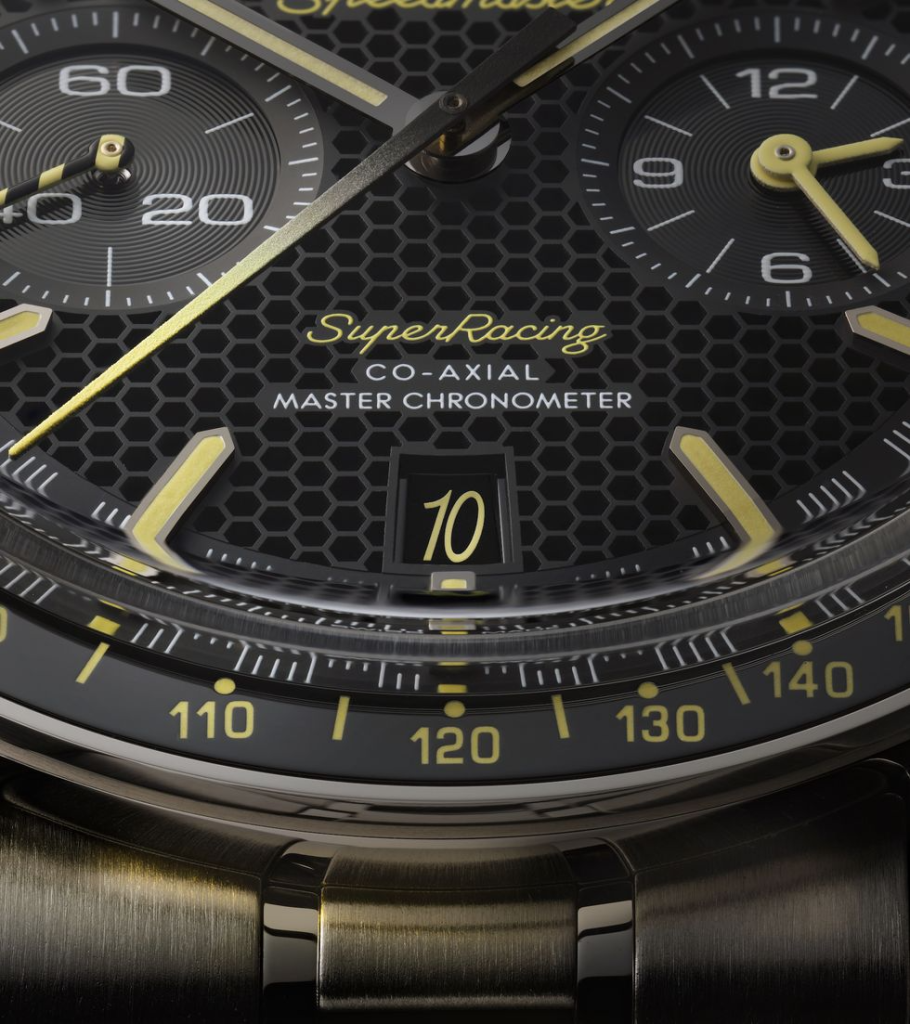 Omega has announced a striking new version of its flagship Speedmaster watch.
The "Bumblebee"-styled Speedmaster Super Racing chronograph comes with a racing-style minute track, black-and-yellow hands and a honeycomb dial. Its diamond-polished indices are filled with SuperLuminova, making it glow a punchy neon yellow in the dark.
It looks cool but the big design news is on the inside. The company has been teasing an announcement on its social media, as well as in a recent Esquire interview with its CEO and this is the reveal – a new movement featuring a redesigned balance spring, the spring that controls the speed at which the wheels inside a mechanical watch turn, made of a silicon spiral. Omega says it has been decade in the making. The resulting "tiny device" heralding a "massive change", it says – setting a new standard for accuracy in its watches.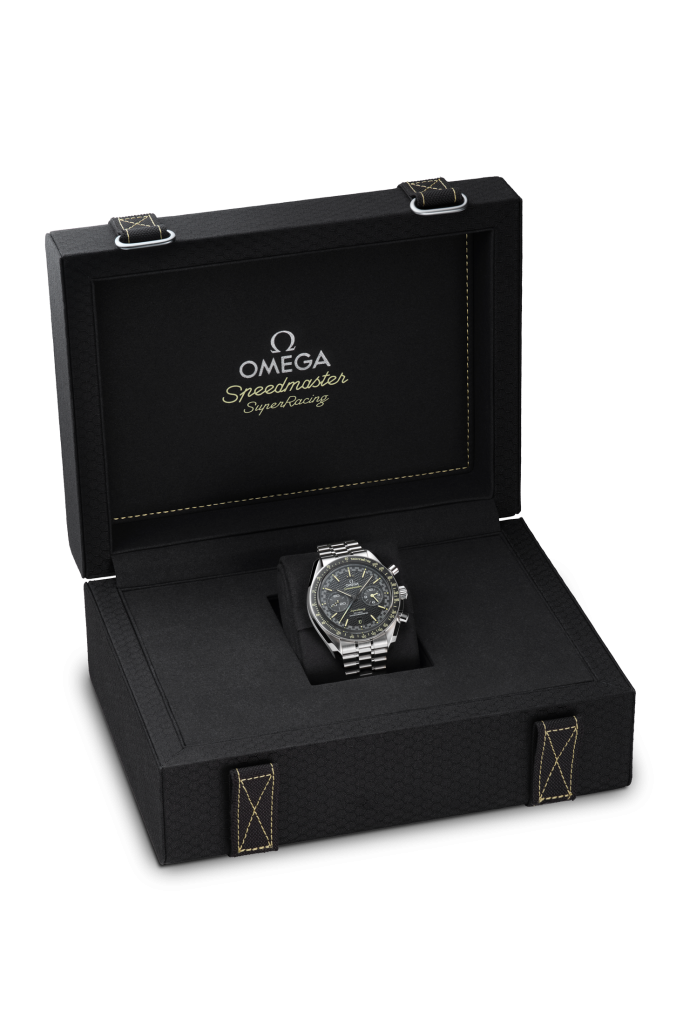 Thanks to this trademarked component called a 'spirate' – a portmanteau of 'spiral' and 'rate' – the Speedmaster Super Racing is the first Omega to offer an accuracy of 0/+2 seconds– ie: it will gain no more than two seconds a day, and lose none.
Of course, if you want a really accurate timekeeper, you'd be better off sticking with an Apple Watch. That continuously checks the time against servers via your iPhone, so it has the same precision as GPS satellites – within 50 milliseconds of global time standard, according to Apple. Alternatively, you could pick up a Casio F-91W on Amazon for £13 – those come with a promised accuracy of +/- 1 second a day.
But they are battery-powered quartz models, something which almost no luxury mechanical watch can compete with. (They're also chalk and cheese. Mechanical watches are powered by rotors and mainsprings, not batteries. So all mechanical watches lose time.)
That hasn't stopped them trying. With feats of micro-engineering that can be hard to get your head around. The Contôle Officiel Suisse Des Chronomètres, or Offical Swiss Chronometer Testing Institute, was established in 1973 and gives chronometer certification to mechanical watches that can show +6/-4 seconds a day. Omega bested this in 2015 with its own Master Chronometer watches, certified by another Swiss body, METAS, or the Federal Institute of Metrology, giving 0/+5 seconds a day, the result of eight tests over ten days.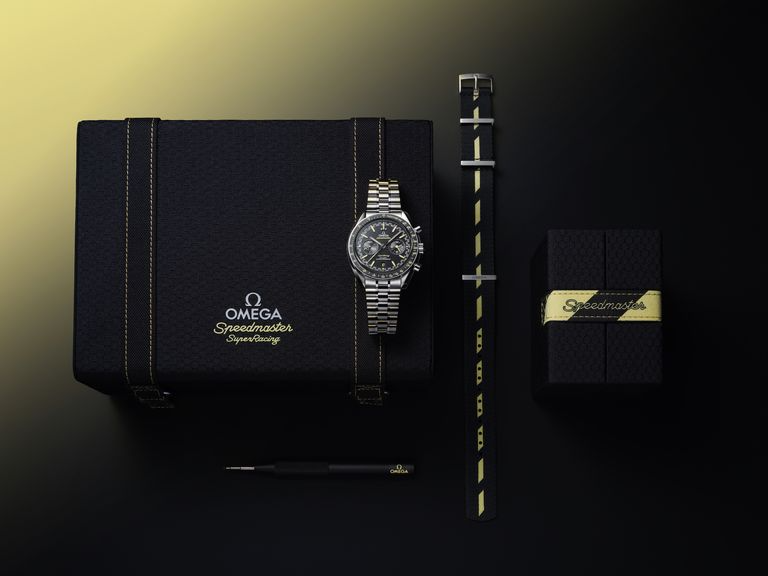 Now Omega's new 'spirate' movement, which it will eventually roll out to other models, "allows the watchmaker to act on the stiffness of the hairspring's attachment point through an eccentric adjustment mechanism located on the balance bridge". (Nope, us neither.)
In terms everyone can understand, it has now beaten Rolex's much-advertised -2/+2 accuracy.
The 44mm Speedmaster Super Racing is notable for a couple of other points, too.
Its "Bumblebee" colour scheme and other elements of the design are a riff on a 2013 model, the Seamaster Aqua Terra 15,000 Gauss, a watch with the first fully anti-magnetic movement, which celebrates its 10th anniversary this year. The date wheel on the Super Racing displays a '10' the italic Speedmaster font, in reference.
While Omega isn't afraid to have some fun with its products, see last year's MoonSwatch tie-in with Swatch, and its James Bond Seasmaster with the 'animated' case back, this new model is a reminder of its history of serious timekeeping innovation and commitment to ever-more-accurate Swiss watchmaking.
As such the 'spirate' will take its place in the Omega Museum in Biel alongside 1999's deployment of the co-axil escapement (which eliminated a centuries-old problem of internal inefficiency caused by friction), 2013's anti-magnetic movement and 2015's METAS certification.
And in case you're not bothered about getting bogged down in Swiss certifications and silicon spirals, it's perfectly possible to love this watch on a more superficial level – it's also a fantastic-looking Speedmaster.
The Speedmaster Super Racing will be available this summer, priced £10,700. omegawatches.com
Originally published on Esquire UK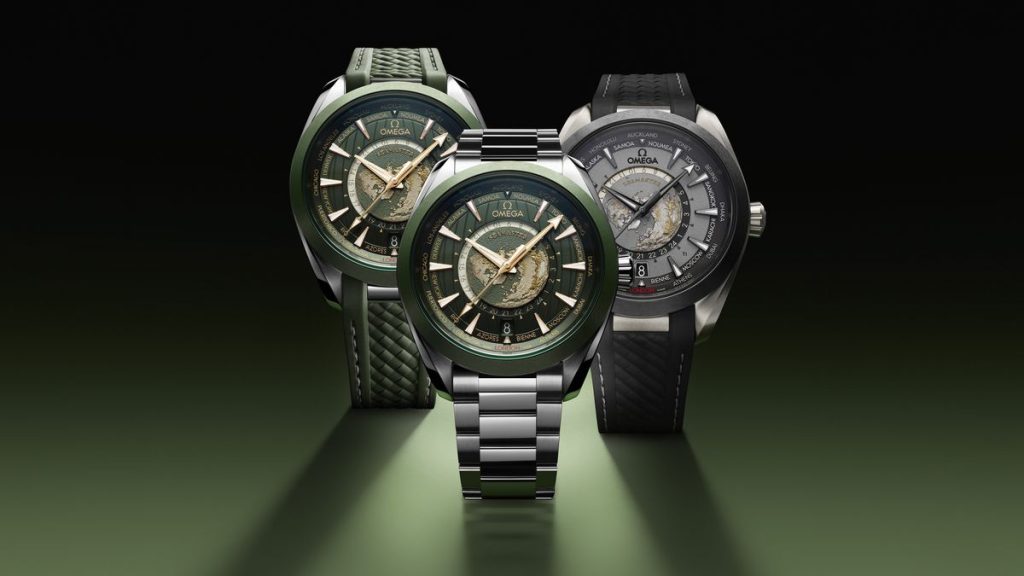 At the end of last year we published a story about how Omega had blown up 2022. Not just with its headline-making MoonSwatch collaboration but with a series of technically dazzling and leftfield releases, including a Seamaster with an animated James Bond on its caseback and a Speedmaster made of 18k gold that chimed elapsed time.
This year, the watchmaker has continued to flex both its expertise and unpredictability, from setting a new bar for accuracy to colourful new Eddie Redmayne-approved entries into its Aqua Terra family of hybrid dress/sports watches.
Its third release of 2023 is an update to its Worldtimer range comprised of three versions, including one made of titanium with a dial created entirely by laser blasting – meaning the shapes and textures on the dial, itself a single piece of titanium, have been etched solely by laser.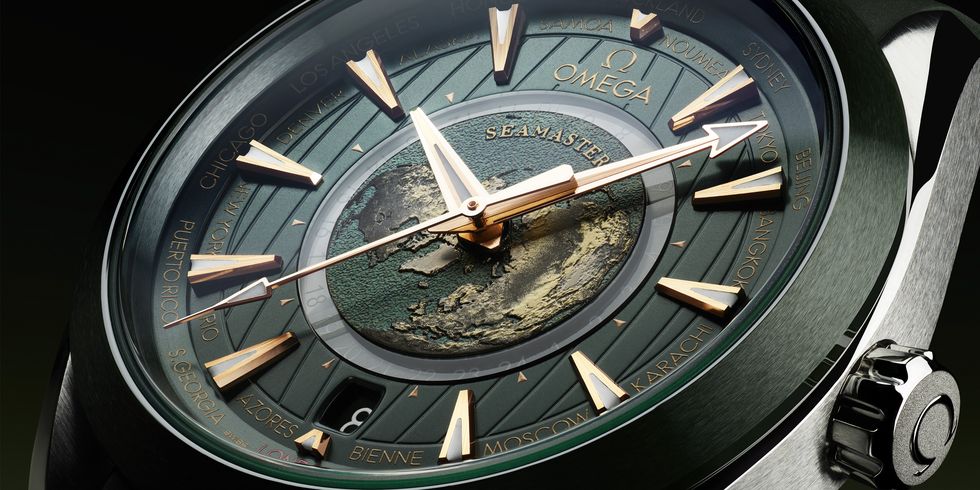 The Seamaster Aqua Terra Worldtimer 2023 – to give it its full name – can track every time zone on Earth, with 24 cities displayed around the circumference of the dial, including Omega's home city of Bienne in Switzerland, as well as a miniature model of our planet as viewed from above the North Pole. Circling the globe is a 24-hour indicator, split into night and day.
The whole thing is encased in a domed design that mimics the curvature of the Earth – a detail Omega says is so subtle it is 'impossible to see with the naked eye'.
The new watch comes in three versions.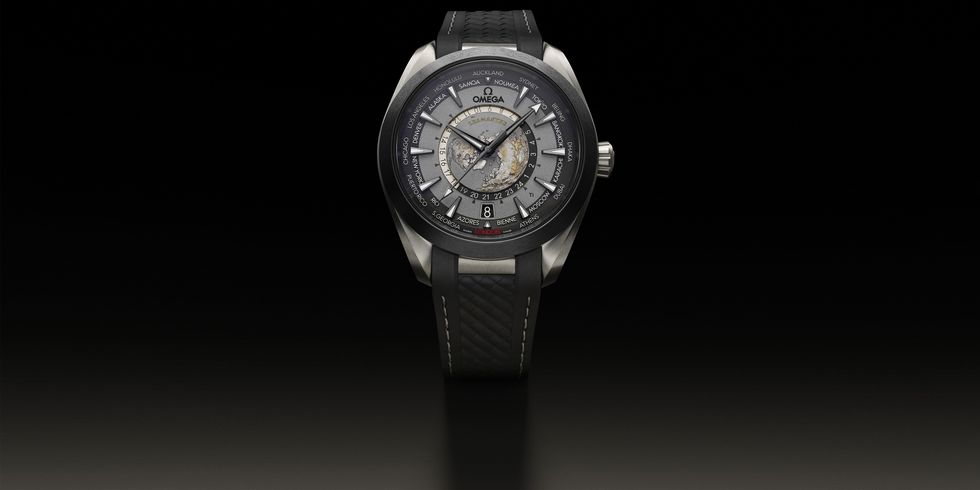 The titanium, laser-etched model has a black and grey dial, a brushed black ceramic dial and blackened hands and indexes filled with white Super-LumiNova that glow bright blue in the dark. It comes on a black rubber strap with grey stitching, matching the dial.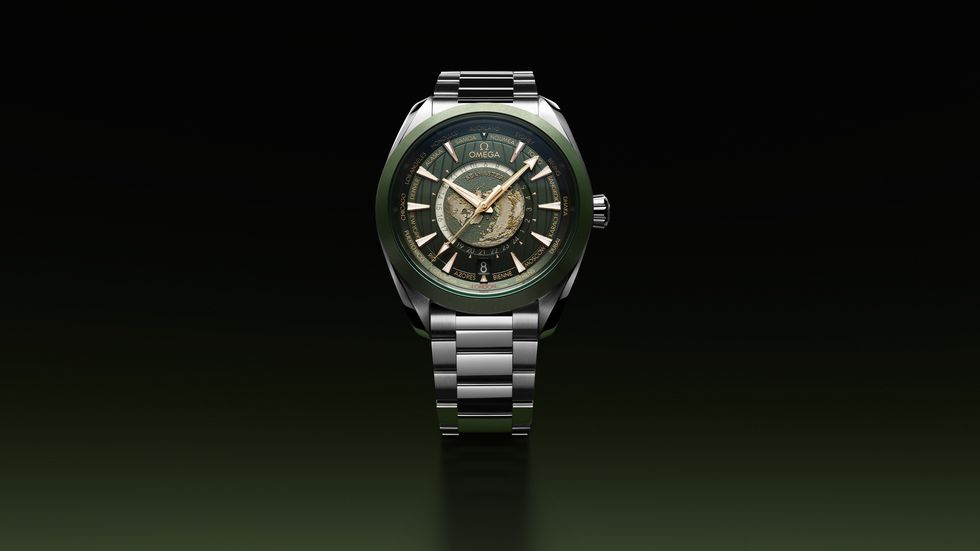 The two other models are made from steel with sun-brushed green PVD dials. One comes with a matching steel bracelet and butterfly clasp, the other has a green rubber strap with grey stitching. Omega's favoured 18k 'Moonshine Gold' – recently applied to the second hand of a controversial update to the MoonSwatch – is added to the hands and indexes.
As per the existing Worldtimer family, all three models measure a substantial 43mm – a size that has already split the vote on Instagram. But then each one does have to find room inside for tiny planet Earth.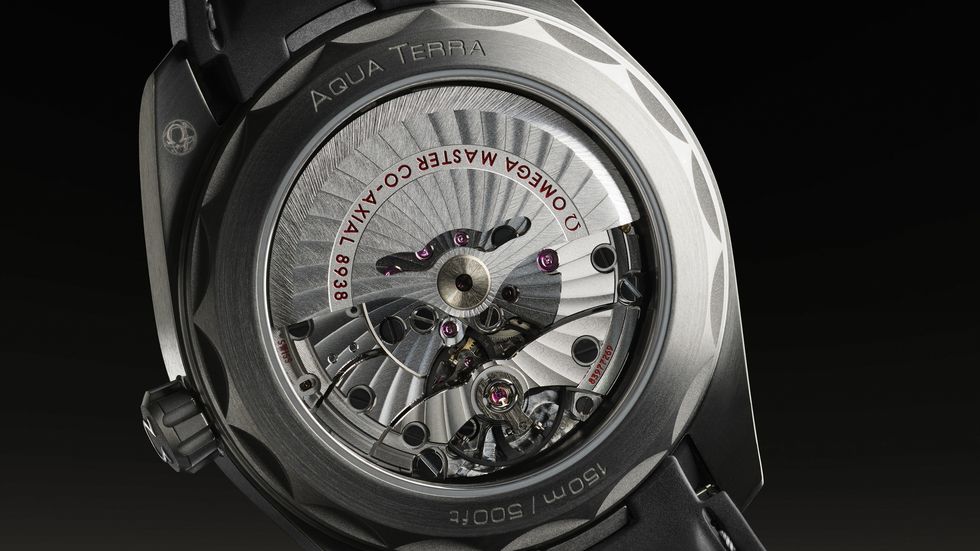 The steel models are £9,900 and £10,100. The titanium version is £11,500. omegawatches.com