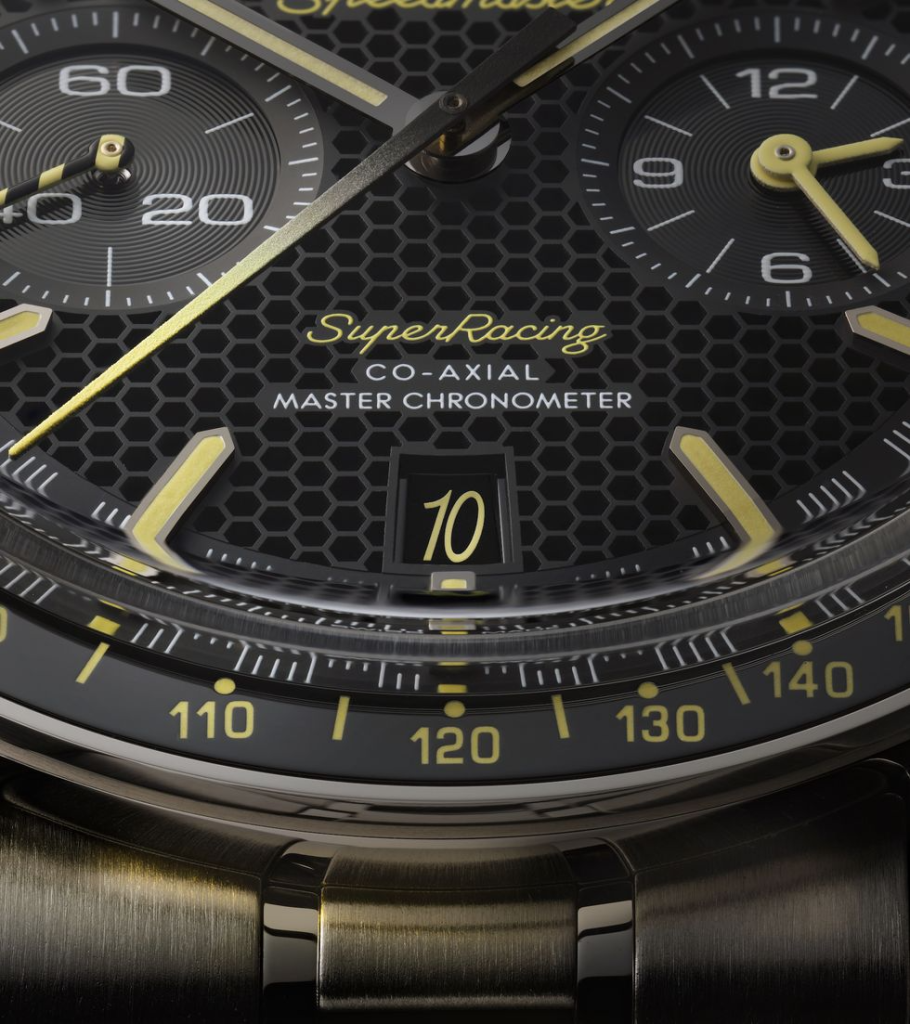 Omega has announced a striking new version of its flagship Speedmaster watch.
The "Bumblebee"-styled Speedmaster Super Racing chronograph comes with a racing-style minute track, black-and-yellow hands and a honeycomb dial. Its diamond-polished indices are filled with SuperLuminova, making it glow a punchy neon yellow in the dark.
It looks cool but the big design news is on the inside. The company has been teasing an announcement on its social media, as well as in a recent Esquire interview with its CEO and this is the reveal – a new movement featuring a redesigned balance spring, the spring that controls the speed at which the wheels inside a mechanical watch turn, made of a silicon spiral. Omega says it has been decade in the making. The resulting "tiny device" heralding a "massive change", it says – setting a new standard for accuracy in its watches.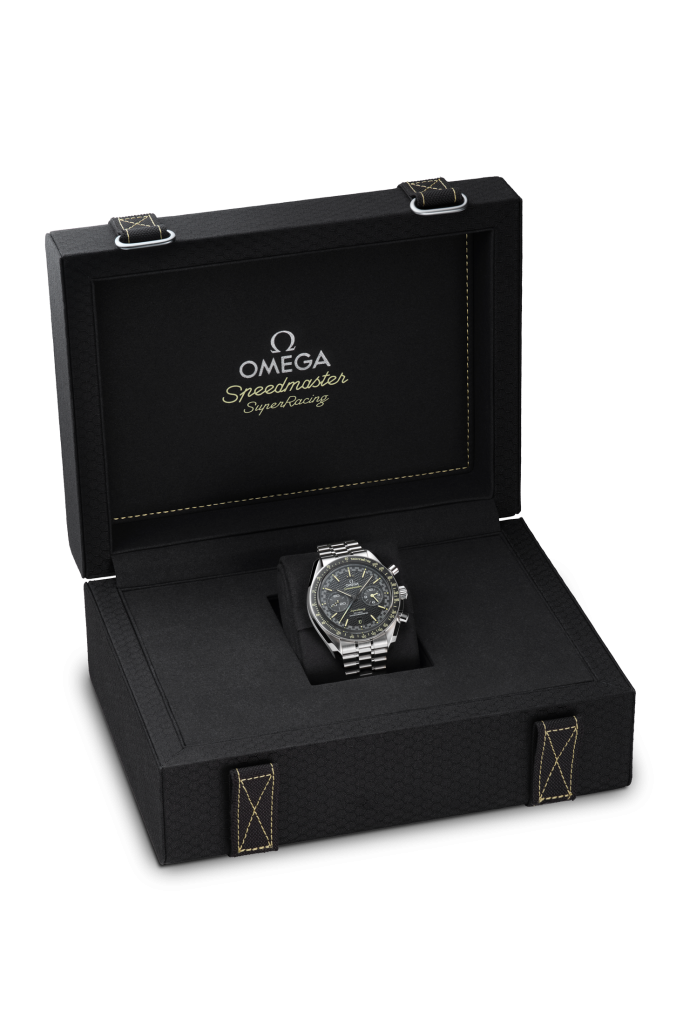 Thanks to this trademarked component called a 'spirate' – a portmanteau of 'spiral' and 'rate' – the Speedmaster Super Racing is the first Omega to offer an accuracy of 0/+2 seconds– ie: it will gain no more than two seconds a day, and lose none.
Of course, if you want a really accurate timekeeper, you'd be better off sticking with an Apple Watch. That continuously checks the time against servers via your iPhone, so it has the same precision as GPS satellites – within 50 milliseconds of global time standard, according to Apple. Alternatively, you could pick up a Casio F-91W on Amazon for £13 – those come with a promised accuracy of +/- 1 second a day.
But they are battery-powered quartz models, something which almost no luxury mechanical watch can compete with. (They're also chalk and cheese. Mechanical watches are powered by rotors and mainsprings, not batteries. So all mechanical watches lose time.)
That hasn't stopped them trying. With feats of micro-engineering that can be hard to get your head around. The Contôle Officiel Suisse Des Chronomètres, or Offical Swiss Chronometer Testing Institute, was established in 1973 and gives chronometer certification to mechanical watches that can show +6/-4 seconds a day. Omega bested this in 2015 with its own Master Chronometer watches, certified by another Swiss body, METAS, or the Federal Institute of Metrology, giving 0/+5 seconds a day, the result of eight tests over ten days.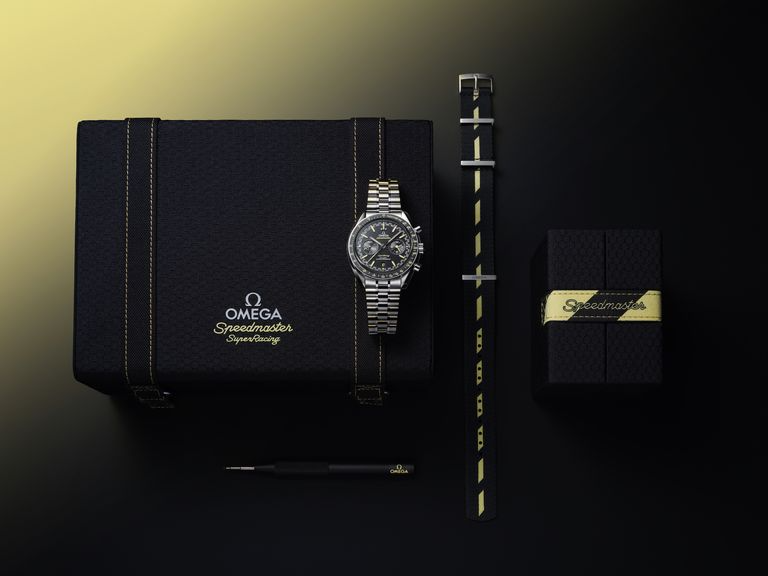 Now Omega's new 'spirate' movement, which it will eventually roll out to other models, "allows the watchmaker to act on the stiffness of the hairspring's attachment point through an eccentric adjustment mechanism located on the balance bridge". (Nope, us neither.)
In terms everyone can understand, it has now beaten Rolex's much-advertised -2/+2 accuracy.
The 44mm Speedmaster Super Racing is notable for a couple of other points, too.
Its "Bumblebee" colour scheme and other elements of the design are a riff on a 2013 model, the Seamaster Aqua Terra 15,000 Gauss, a watch with the first fully anti-magnetic movement, which celebrates its 10th anniversary this year. The date wheel on the Super Racing displays a '10' the italic Speedmaster font, in reference.
While Omega isn't afraid to have some fun with its products, see last year's MoonSwatch tie-in with Swatch, and its James Bond Seasmaster with the 'animated' case back, this new model is a reminder of its history of serious timekeeping innovation and commitment to ever-more-accurate Swiss watchmaking.
As such the 'spirate' will take its place in the Omega Museum in Biel alongside 1999's deployment of the co-axil escapement (which eliminated a centuries-old problem of internal inefficiency caused by friction), 2013's anti-magnetic movement and 2015's METAS certification.
And in case you're not bothered about getting bogged down in Swiss certifications and silicon spirals, it's perfectly possible to love this watch on a more superficial level – it's also a fantastic-looking Speedmaster.
The Speedmaster Super Racing will be available this summer, priced £10,700. omegawatches.com