Miu Miu is keeping it in the family
Miu Miu's collaboration with New Balance continue to be one that's highly sought after by both women and men with feet size smaller than a 42 EUR. Its latest collaborative effort could potentially garner the same reception—this time with British luxury footwear brand Church's. The brand also happens to be part of Prada's group of brands, which could attest to why the two-piece Church's x Miu Miu collection—a pair of brogues and a pair of double-monks—look to be a seamless collaboration. The make of the shoes are rounder and broader than Church's originals, and are fitted with a sportier rubber sole. But unfortunately, for those of us 42 EUR-sized and above, these aren't meant for us.
The Church's x Miu Miu collection drops in Miu Miu boutiques from 6 September.
Yohji Yamamoto gets animated
Ground Y—the brainchild of acclaimed fashion designer Yohji Yamamoto—has collaborated with anime hub Crunchyroll on a limited edition collection of Hell's Paradise-inspired ready-to-wear. The collection stays true to Ground Y's ethos of genderless and ageless fashion with artfully done prints from the anime featured on oversized hoodies, shirts and more.
The Ground Y x Hell's Paradise collection is now available for pre-order.
Sharp tailoring and sinewy lines for Alexander McQueen
Both on and off the runway, Alexander McQueen is proving that its outré designs are made to fit a diverse range of individuals. The autumn/winter 2023 campaign exemplifies this with its cast that includes supermodel Naomi Campbell alongside male models Momo Ndiaye and Eliott De Smedt Day as well as French singer Yseult. While the collection showcases standout three-dimensional knits, its the tailoring—applied for both men and women—that truly shines, reflecting a sense of genderless styling codes.
New kid on the block
Following the announcement of fellow Stray Kids member Hyunjin as Versace's global ambassador, Louis Vuitton has taken in Felix as its newest house ambassador. The performer known for providing Stray Kids with deep, growly vocals, was previously seen attending Louis Vuitton's pre-autumn 2023 women's show in Seoul and had been dressed by the house for a number of the group's performances as well as appearances. In a statement, Nicolas Ghesquière, Louis Vuitton's artistic director of women's collections, praises Felix for "his energy, his unique personality and his audacious sense of style".
Carlos Alcaraz keeps racking up W's. There was, of course, the victory over Novak Djokovic in the final at Wimbledon in July of this year. (Alcaraz says he "learn[s] something from him every time we play.") Before that was his 100th career win at the Indian Wells Masters in March. And in between those two tennis milestones, a triumph of a different sort: being named a brand ambassador for Louis Vuitton. Not bad for a guy who just recently turned 20.
"I have admired the brand for a long time," Alcaraz says of Vuitton, "so for me the partnership is a dream come true."
Today, the storied French fashion house unveils its spring/summer 2024 formalwear campaign—and Esquire has your exclusive first look. In still photos and an entrancing video, Alcarez takes his virtuoso tennis moves off the court and into an opulent grand hall, all while wearing impeccable tailoring and luxurious loungewear.
"It was a bit surreal being in a palace wearing a Louis Vuitton suit," Alcaraz says of the experience on set, "but [photographer] Dan Jackson and his team were amazing. Once we got into it, we had a lot of fun."
So, when he's not the star of a fashion campaign, has the spotlight changed the way Alcaraz dresses in real life? "Honestly, not really," he says. "I try not to think about it too much. I am still developing my sense of style. That is, of course, made easier by my family at Louis Vuitton, who are always on hand to help when I need." Not a bad situation to find oneself in, if you can manage to make it happen.
It goes without saying, though, that it all comes back to the sport that rocketed Alcaraz into the rarified air that he's currently breathing. And the next step in this big summer of W's is the U.S. Open, which kicks off on 28 August. Alcaraz won it last year—his first major. Now, he's readying himself for a return, and he's pretty excited about it.
"It was incredible to win my first major in NY," he says. "The crowd there are the best. I can't wait to get back out there under the lights."
Photos by Dan Jackson.
Originally published: Esquire US
We're still in somewhat of a limbo with Louis Vuitton's menswear division. Pharrell Williams' first collection as creative director already made its debut during this past Paris Fashion Week Men's. But the collection will only be available in boutiques for the spring/summer 2024 season.
Of course, Louis Vuitton isn't halting any semblance of newness while that happens.
The Taurillon Monogram and Monogram Macassar collections—both featuring the maison's Monogram pattern—have been refreshed with colours that reflect the sense of vibrant energy typical of the season. Icons the likes of the Christopher backpack, Sac Plat mini as well as the Keepall 25 take on new iterations while retaining the unbridled spirit of travel that's at the heart of Louis Vuitton.
The all-leather Taurillon Monogram gets an electric blue makeover (referred to as Racing Blue) with a more muted colourway in the form of Mineral Gray. The hardware on each are done in contrasting tones with the Racing Blue iterations fitted with matte black hardware, while the latter features palladium silver hardware. The treatment is available on a slew of bags and small accessories; it's exceptionally stunning on the collection's bigger pieces such as the Horizon rolling luggage.
The Monogram Macassar on the other hand, keeps things a bit more traditional. Pops of Radiant Sun yellow leather add bold freshness, complementing the Monogram canvas base. On a number of accessories, they appear on handles as well as trims along the sides; on pieces like the Christopher backpack, they act as accents on straps and such.
What's interesting is that these new iterations of the Taurillon Monogram and the Monogram Macassar could very well be part of Williams' debut collection. Aesthetically, there's already the vibrant hues that were a big part of the runway show (and its Rihanna-fronted campaign) and done in such a way that stays true to the classic Louis Vuitton Monogram. And you can never go wrong with the staple Monogram anyway.
The latest variations of the Taurillon Monogram and Monogram Macassar are now available in Louis Vuitton boutiques as well as online.
Watch snobs, hear us out: Before you turn your nose up at fashion watches for men or any piece that does not bear the prestigious Poinçon de Genève, consider the possibility that jewellery and, yes, even fashion brands have been coming out with head-turning timepieces for ages.
Luxury French fashion house Hermès, for example, made serious inroads into the horological world by putting up its very own booth at Salon International de la Haute Horlogerie for the first time in 2018. French fashion brand, Louis Vuitton, produced a watch that earned the mythical Poinçon de Genève: the Flying Tourbillon, released in 2016.  
Times are changing, and these fashion and jewellery brands have shown they take their watch departments very, very seriously. And there's another thing these brands that combine savoir-faire with technical excellence can do: When it comes to producing true objects of desire, they have nailed it down to an art.
Still not convinced? Here are a few of the companies that have made some of the most beautiful timepieces over the years.
Cartier
Say the name "Cartier" to any woman, and her eyes will no doubt light up with visions of its legendary jewellery—the Love bracelet, the Juste un Clou bangle, and the jaw-dropping Tutti Frutti and Panthère collections, just to name a few. But you, of course, will recognise that Cartier makes incredible watches, and you would be proud to have one on your wrist. Brand founder Louis-Francois Cartier did, after all, take over the workshop of master watchmaker Adolphe Picard in the 1800s, forming the company's earliest foundations on innovative clocks and fashionable wristwatches. Thanks to the patronage of royalty that included King Carlos I of Portugal and King Edward VII of Great Britain, its reputation would later be cemented as the "jeweller of kings."
Our pick: The Cartier Tank Solo
The Cartier Tank was inspired by the tanks used in World War I—as far as origin stories go, it doesn't really get any cooler or more badass than that. The Solo is a modern addition to the collection, yet retains all the features that make the watch an enduring classic.
Hermès
With its highly coveted handbags, such as the Kelly and the Birkin, true luxury definitely equates to Hermès. From its early beginnings as a harness and saddle supplier, the French luxury house is now best-known for its quality leather and signature silk scarves apart from branching out into perfumes, jewelry, and even accoutrements for the home. Naturally, the brand first created saddle-stitched cases for pocket watches and leather watch straps before dedicating itself fully to watches for men and women by establishing La Montre Hermès in Bienne, Switzerland in 1978.
Our pick: Cape Cod
Created by Hermès creative director Henri d'Origny in 1991 when he was tasked with making a square watch, the case and dial take cues from the brand's distinct chaîne d'ancre motif, resulting in a shape that is unmistakably Hermès. Bonus points if you get it with the famous double tour strap, a twice-winding leather wristband designed for the house by Martin Margiela in 1998.
Bulgari
The Italian jewelry house was made famous by Elizabeth Taylor, who turned the Serpenti into an icon when she was photographed wearing it on the set of Cleopatra while filming in Rome. In her personal life, she was known to be a prized Bulgari client, too, care of a tumultuous romance with Richard Burton that resulted in even more gifts of diamonds and jewelry for the Hollywood star. But Bulgari's watches are worthy of just as much admiration and awe for the way it blends the Italian flair for design with Swiss watchmaking's technical expertise. The company showed how serious it was about the latter with the establishment in 1980 of Bulgari Haute Horlogerie in Neuchatel, Switzerland. It also acquired the Daniel Roth and Gérald Genta brands in the year 2000, leading it to introduce its own in-house mechanical movements by 2010.
Our pick: Bulgari Bulgari
You could say that this was the watch that started it all, originally intended to be a Christmas gift to the house's top 100 clients in 1975. Recognisable by the engraved "Bulgari Bulgari" logos surrounding the bezel, it was conceptualised as a tribute to the design of ancient Roman coins.
Louis Vuitton
By now, everyone is familiar with the French fashion giant's humble beginnings as a travel trunk-maker in 1854. This later expanded into that famous monogram adorning just about everything, including a notorious punching bag designed by Karl Lagerfeld. But just as LV has a knack for turning all of the things it touches into precious objects of desire, so it goes with its watches. It's a relatively new player, considering it marked its entry into the field with the launch of the Tambour fine watch collection in 2002. But it has certainly worked double-time and caught up since, producing many gorgeous fashion watches for men in between, leading up to the inauguration of La Fabrique du Temps Louis Vuitton in Geneva in 2014.
Our pick: Tambour Damier Cobalt Chronograph
It's fitting we should throw it back to the Tambour collection, but this new edition comes with a twist: interchangeable straps that allow you to quickly switch up the look, even without specialised tools. The Damier canvas is also ever-so-subtly visible on the dial, but you'll be able to spot that eye-catching V from across the room.
Tiffany and Co.
Now it's time for the American entry into this list: Tiffany and Co., whose legend will forever be tied to New York, Audrey Hepburn, breakfast, and that instantly recognisable robin's egg blue. Though of course it is primarily known for jewellery, thanks to its association with dreamy engagement rings and the famous 128-carat Tiffany Yellow Diamond proudly displayed at the flagship store on Fifth Avenue, the company has been selling timepieces since 1847. In fact, one of the flagship's most recognisable features is the nine-foot Atlas Clock right above the door—also the inspiration for Charles Lewis Tiffany's coining of the phrase, "New York minute." Tiffany also created America's first stopwatch, the Tiffany Timer, in 1868.
Our pick: Tiffany Atlas
An homage to the Atlas Clock that has been standing guard since the 1850s, the Atlas watch uses the same Roman numerals that New Yorkers have used to check the time over the years. In two-tone rose gold and stainless steel, it could prompt you to create a New York minute of your own.
From: Esquire Ph
There were no shortage of celebrities—hailed from all over the world—at the Louis Vuitton spring/summer 2024 menswear runway show. For the first time at the maison, the creative direction of its menswear universe has been handed over to a celebrity too: the multi-hyphenate Pharrell Williams. His star power drew entertainment heavyweights the likes of Beyoncé and husband Jay-Z, expecting couple Rihanna and A$AP Rocky, Singapore's very own JJ Lin, K-pop stars Jackson Wang and BamBam, and more.
Williams delivered a show. Set right on the Pont Neuf, the backdrop was LVMH chief Bernard Arnault's very own slice of Paris—the area on the right bank where the Louis Vuitton studios, department store La Samaritaine, and Cheval Blanc Paris are all situated next to each other and owned by the French conglomerate. Guests sat flanking the entirety of the runway as gospel choir Voices of Fire and an orchestra provided the show's soundtrack.
In many ways, it was reminiscent of the late Virgil Abloh's live runway shows. More than just about the clothes and accessories, Abloh's were moments that intertwined music, art and culture with fashion—Williams did the same. The inclusion of familiar non-model faces in the runway line-up such as fashion designers Stefano Pilati and Dao Yi Chow (amongst other notable personalities outside of fashion) too added to the sense of community and openness beyond traditional fashion elites.
Intentional or not, it did seem as though Williams was paying homage to Abloh in the show's set. The runway was lined in gold, recalling Abloh's first runway show for the maison where he reimagined a yellow brick road. Abloh's tenure at Louis Vuitton was of course, monumentally successful, and if anything, Williams' debut could look to be following the same path.
The fit: There's a decidedly workwear approach peppered throughout the Louis Vuitton spring/summer 2024 menswear collection. Denim coordinates in various treatments and washes—mostly featuring signature Louis Vuitton motifs—were some of the more classic pieces that I could see being perennial pieces season after season. Hardier, almost military-inspired elements were also apparent as they were juxtaposed against tailored options.
The Damier was Williams' key focus, highlighting the house signature rather aggressively. His very own interpretation is the Damoflage—a combination of the camouflage print with the Damier. Rendered in three different colourways, the Damoflage was featured across ready-to-wear and accessories with the traditional camouflage reinterpreted as pixels merging with the Damier. On the more classic front, the Damier was also reimagined in primary colours as previewed by the Rihanna-fronted campaign released prior to the show.
Quite surprisingly, the collection didn't lean heavily into streetwear. Tailoring remained a sizeable bulk of the line-up ranging from oversized cuts in classic fabrications to those embellished with LV charms.
The details: Williams brought out the pearls as trims on tracksuits and a slew of accessories. Reminiscent of the custom Tiffany & Co. glasses that he's often spotted wearing (including for the show), some of the sunglasses featured a mohawk-like arrangement around the frame. Segments of bag straps and chains were also taken over by pearls, and a selection of pearl necklaces as well as brooches added that extra quintessential Williams stamp.
What was quite interesting was Williams' take on the Louis Vuitton teddy bear. First designed by former creative director Marc Jacobs—who also first brought Williams into the Louis Vuitton fold—Williams covered it entirely in Damoflage. And as an extension of the reference, shearling slippers were designed with soles resembling bear paws.
Three exceptional looks: Look 9 for anyone wanting to emulate Williams' style; look 50's all-denim ensemble that could be worn for dressier occasions; and look 69's tailoring-focused look tastefully accessorised with dandy pearls.
The takeaway: It's Louis Vuitton as Williams would wear it. In other words: irreverent and relevant.
View the full Louis Vuitton spring/summer 2024 menswear collection in the gallery below.
It has been months since multi-hyphenate Pharrell Williams was officially appointed as Louis Vuitton men's creative director—a position that was previously held by the late Virgil Abloh. The spring/summer 2024 Paris Fashion Week Men's show season will mark Williams' first-ever runway show for the maison and certainly one that every fashion insider and follower alike are eagerly anticipating.
Both Louis Vuitton and Williams have kept things tightly under wraps about the upcoming spring/summer 2024 menswear collection. Save for incorporating Louis Vuitton activations as part of the 2023 edition of Something In The Water—a three-day music festival organised by Williams—and the recent unveiling of a pregnant Rihanna as the face of the campaign, not much is known about how the collection will shape out to be.
If we were to base it solely on Williams' appointment, the odds of the spring/summer 2024 menswear collection being in the same vein as what Abloh had laid are pretty high. But of course, we're also expecting Williams to add his own stamp and introduce a new Louis Vuitton menswear vocabulary that could be expanded in future collections.
Watch the Louis Vuitton spring/summer 2024 menswear runway show here live from Paris Fashion Week Men's.
What: Louis Vuitton spring/summer 2024 menswear runway show
Where: Paris, France
When: Wednesday, 21 June 2023 at 3.30am Singapore time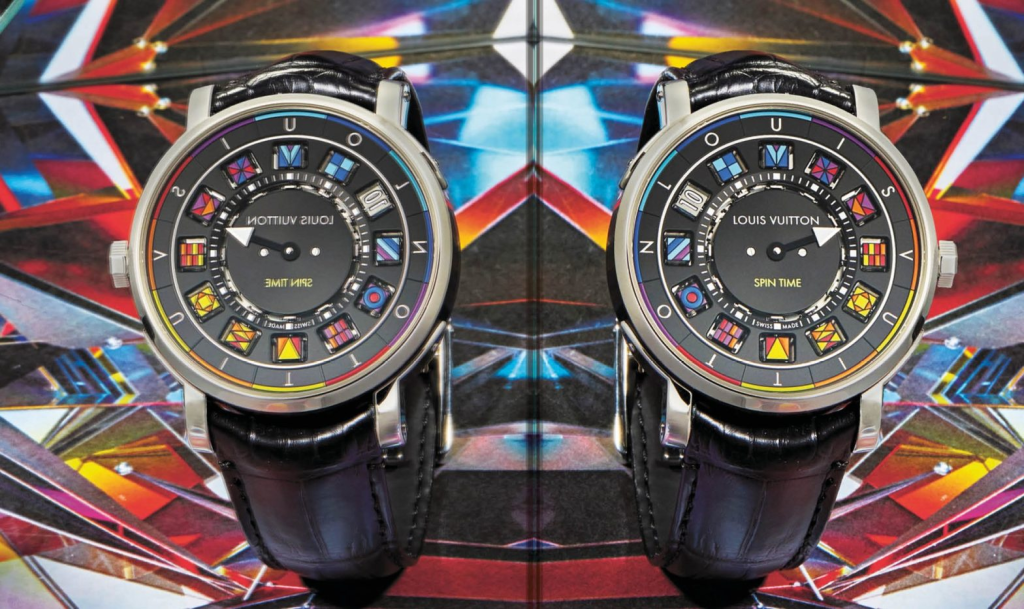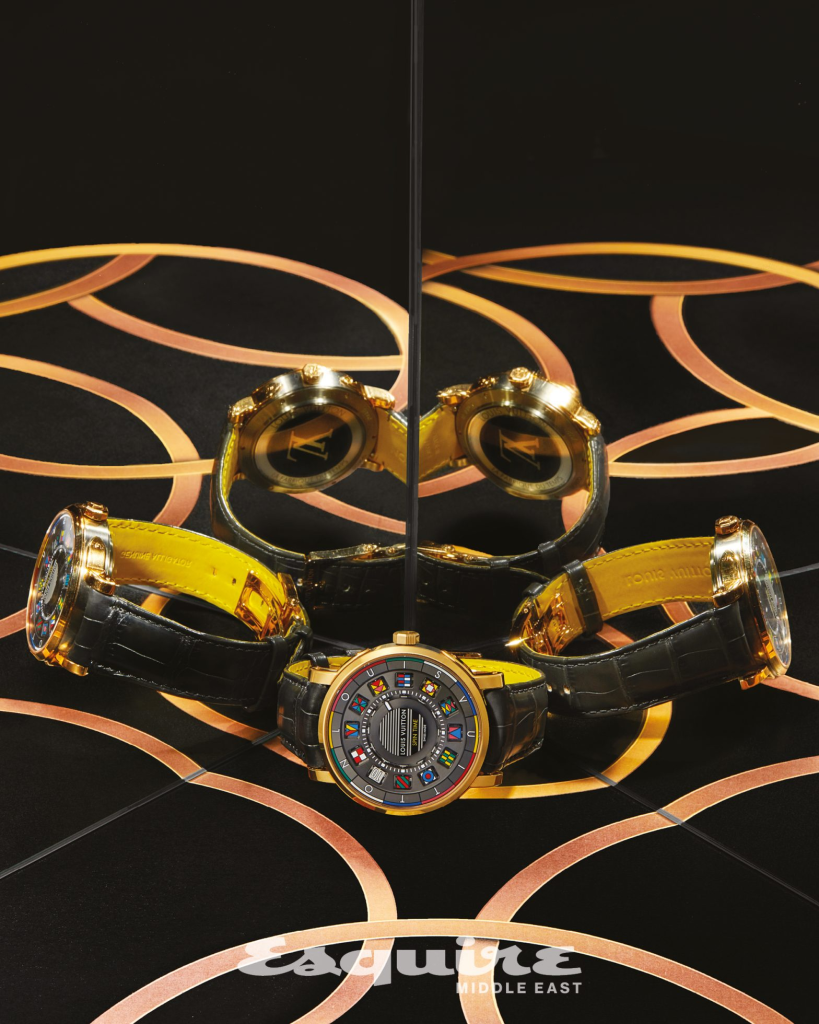 Escale Spin Time, gold case,
Louis Vuitton, AED188,000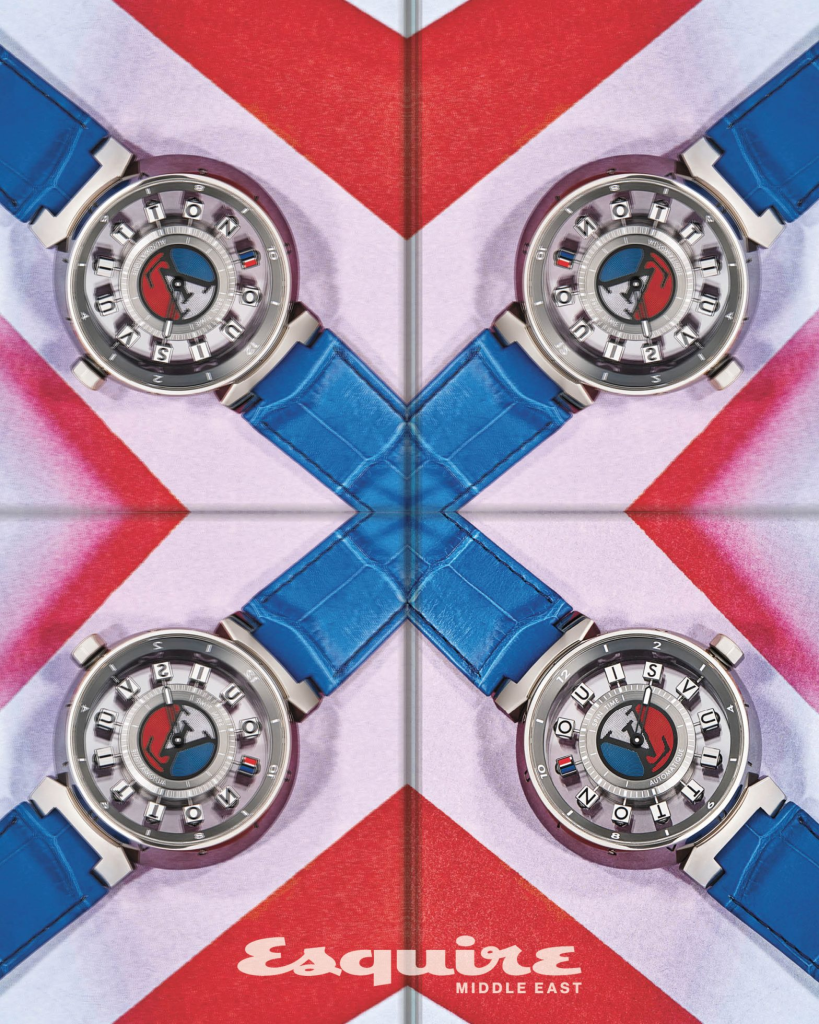 Tambour Spin Time Air, Louis Vuitton, AED215,000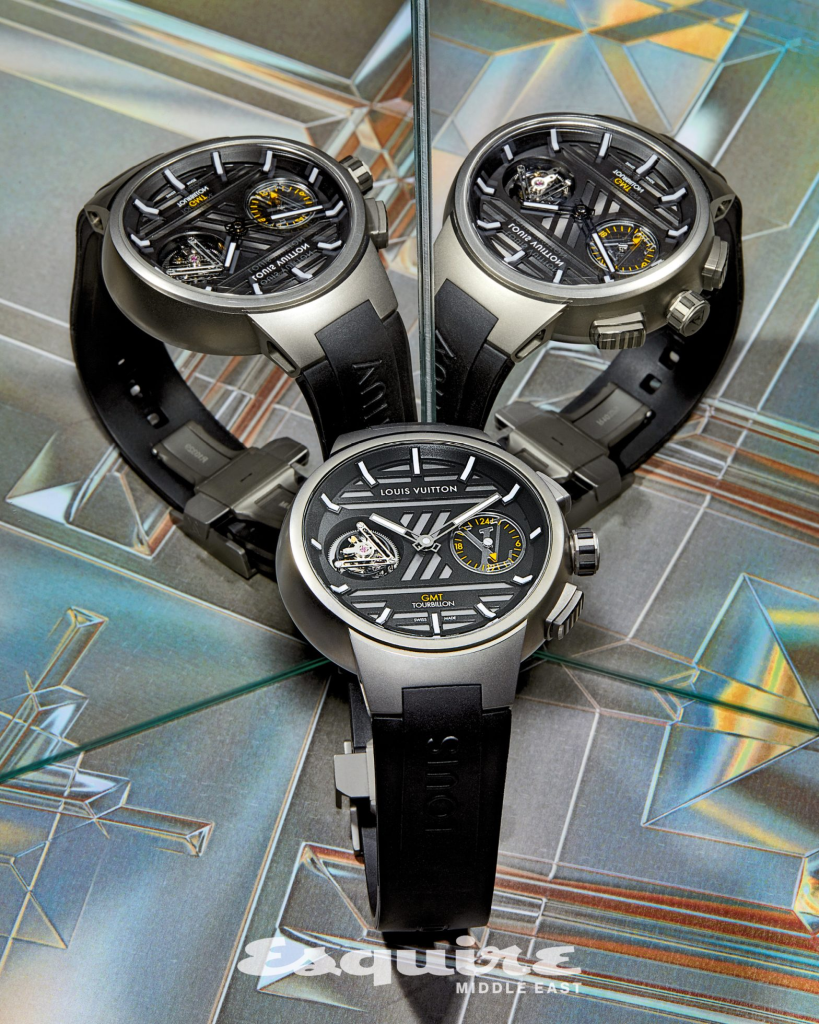 Tambour Curve GMT Flying Tourbillon, titanium case, Louis Vuitton, AED290,000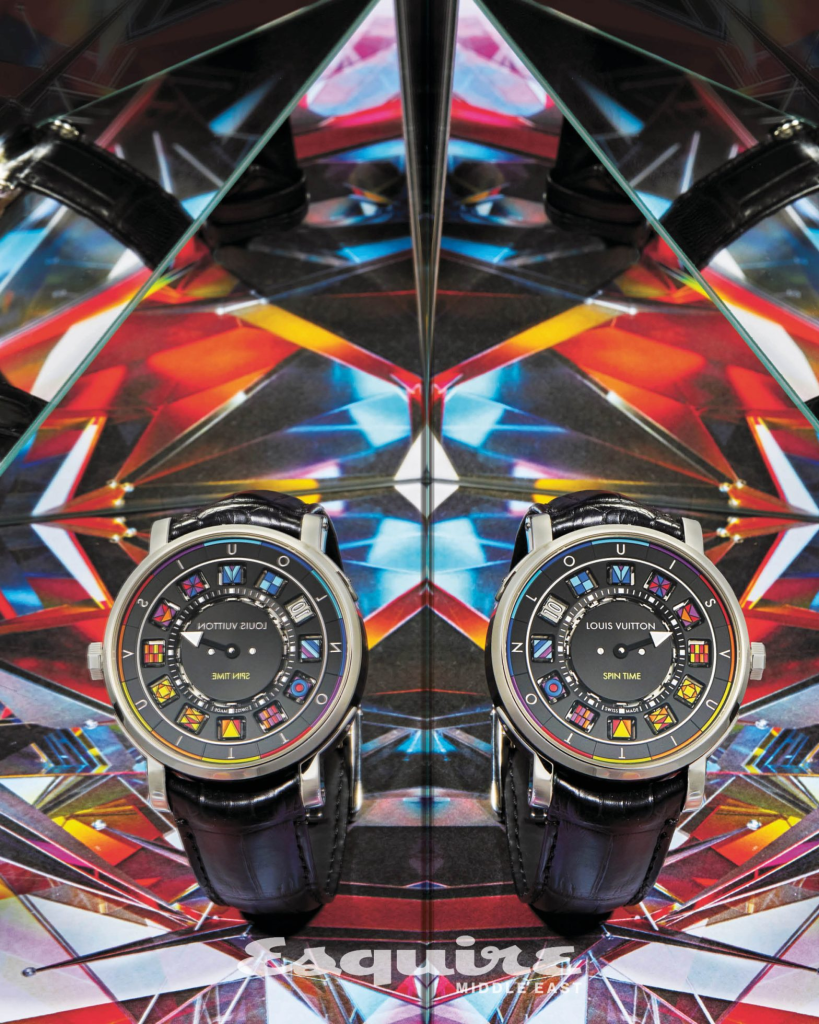 Escale Spin Time, Stainless steel case,
Louis Vuitton, AED131,000
Photography by Efraim Evidor
Styling by Cate Warde

Originally published on Esquire Middle East