That concludes fashion month, I suppose. Buyers, stylists, models, and celebrities have been traveling between fashion capitals over the past few weeks to learn how the world's best-dressed men will be dressing for next summer.
So, what's the verdict? Are we all going to be dressed like highlighter pens, or will neutral shades reign supreme once again? Will the silhouettes be baggy or Meet Me in the Bathroom-level skinny? Will our wardrobes be even more gorpcore-y or Y2K or... neither? Without further ado, here's our trend breakdown.
Everyday Essentials, But Make it Fashion
Showing at Fendi's leather goods factory, Silvia Venturini Fendi presented a collection that played tribute to the callous-thumbed artisans that fill her team. Suits came with stitches for fitting alterations and shirts were printed with toolkits, but it was in the accessories where you could see a direct connection to workers' uniforms. Models walked with F-monogrammed coffee cups (some in holders, some in hand), documents, measuring tape and name tags as if they were just clocking in for another day.
This trend for accessorising everyday items and elevating the supposedly mundane continued into Paris Fashion Week. Louis Vuitton also had a fellow caffeine addict walk their runway, this time with a straw poking out of the coffee cup lid, as well a model who sported a leather version of the LV shopping bag.
Orange is the New Black
It's natural for summer collections to be a bit on the brighter side, but no one was expecting the sheer amount of clothes that were imbued with a satsuma-esque shade of orange. While the colour can be intimidating for even the most extroverted dresser, designers made it look as effortless as an Easy Peeler: Dries Van Noten paired pumpkin shorts with a tucked-in double-breasted blazer, while Etro's more brazen take—a tinsel tank and hoody combo—is for the risk takers. For a contemporary take on suiting, Zegna's pastel pieces shouldn't be ignored, and should prove to be a go-to for wedding attire next year, but for casual, everyday-wear, Bianca Saunders' graphic tees are a must.
It'll Be a Hat Heavy Summer
Recently, the baseball cap has had a comeback, and it appears that the sporting fervor will continue into next summer as well. Fendi, Martine Rose and Saul Nash all had their own takes, varying from Italian leather to acid-wash denim. But there was more outré headwear, too. Kim Jones had his models wear colourful beanies (at an askew angle) while at Kenzo, Nigo showed wide-brim sun hats and printed berets.
Plain Shirts Won't Cut it
The rules of smart-casual dressing have always included a time-tested formula: pair a nice shirt with some more relaxed bottoms and... there you have it. Foolproof, which is why it featured heavily across the spring/summer '24 shows. But for this season, you should expect shirt designs that are brasher and a lot more eye-catching. Dior, for example, bejewelled a work shirt with a load of blue crystals, while Ami and Dries Van Noten both had heavily sequinned button-downs within their collections. Prada even stuck on 3D florals and some fringing onto theirs. The message is clear: the bolder the better.
This season also saw brands embrace a concept that has been embraced in womenswear for decades: the going out top. Fendi had a halterneck shirt where the arms drape behind, and Loewe presented a metallic blouse that sparkled like a disco ball. And for more retro takes, Saint Laurent had sleeveless pussybows and sheer blouses aplenty.
High Waistbands and Higher Hemlines
It's lucky that the Y2K low-rise trend has barely entered the menswear-sphere, despite having dominated womenswear for seasons now. In fact, brands are rebelling against it. Waistlines were well above the belly button at Loewe and Prada in both trousers and shorts form respectively, while the use of cummerbunds at D&G and Wales Bonner gave the visual illusion of longer legs and shorter torsos.
Hemlines have also started retreating north, despite seasons of the long and slouchy silhouette. All of the longer-length bottoms at Dior were cropped just above the ankle, and at Hermès the hems were turned up to give full view of the models' fisherman sandals. Waistbands and hemlines are moving on up.
Florals? For Spring? Groundbreaking
Perennial plants have been blooming in menswear for the last few years, and seeing them blooming in this season's collections isn't all that unusual. However, they were blown up to larger and slightly darker sizes as opposed to the more twee prints we had previously seen. As mentioned earlier, Prada had 3D lilies stitched onto shirts, but also positioned them alongside prints of slightly gloomier (potentially underwatered) styles. Emporio Armani centred their black-heavy collection around a ginkgo leaf, where it featured as cut-outs on peak lapel blazers and woven onto lattice-like tops. Valentino had singular roses, an enlarged poppy motif and peonies as part of its sartorial garden, and Kenzo had rose heads printed and stitched onto its denim pieces.
A Suit and Sandal Combo
While pairing a linen suit with sandals isn't exactly a revolutionary move, the catwalks this year were particularly... toe-heavy. Expect wedding wardrobes to follow suit, for better or worse. Dries Van Noten paired a waist-hugging black suit with leather flip flops, and the toe-dividing footwear was also seen at Wales Bonner, where it was styled with a structured linen two-piece. If you have an aversion to seeing your tootsies outside of beach locations, follow Hermès' lead by sticking to a fisherman sandal. Suited and booted? No, it's about being suited and sandaled.
Seeing Double (Breasted Suits)
The sheer volume of suits and tailoring on the spring/summer '24 runways proved that, despite the pandemic's best efforts to the contrary, they are still in demand. Still, it was clear that there was one cut that reigned supreme for the season: the double breasted suit. They opened the show at Givenchy, worn with hands in pockets at Loewe, paired with contrasting trousers at Ami, as part of a three-piece suit at Paul Smith and in a horse-bit check print at Gucci.
Originally published on Esquire UK
There's a reason why the Fendi spring/summer 2024 menswear collection was shown out of its usual Milan Fashion Week Men's schedule. Close to Florence in Capannuccia (part of the Tuscany countryside), Fendi recently opened Fendi Factory, a new site housing production, laboratories, offices, and services of the house. And in honour of the milestone, artistic director Silvia Venturini Fendi presented the collection within the confines of the expansive production site where the artisans could visibly be seen working at the same time.
The message was clear: craft is inherent in Fendi's oeuvre. It wasn't only in the thematic narrative of the spring/summer 2024 menswear collection; Silvia also walked down the runway during the finale, accompanied by a parade of Fendi artisans.
The fit: Fendi refers to the collection as 'corporate artisan'. Essentially, the entire collection was a hyper fictional representation of a Fendi artisan—fashion-forward flourishes of artisan-inspired tools and workwear done in luxurious materials and cuts. A bulk of the ready-to-wear looks were based around tailored workwear with an unrestrictive sense of ease and fluidity.
The artisan's apron was core to the collection and was rendered in varying permutations. In its purest, it's reimagined in leather, while other looks saw the apron broken into parts and incorporated as part of the garments themselves. The apron also became the basis for a slew of halter-neck shirting that's reminiscent of Silvia's severe cropped tops for spring/summer 2022's menswear collection—another example of Silvia pushing the boundaries of menswear within the Fendi universe.
Perhaps the most outré garment from the collection would be the ribbed bodysuits that offer a sliver of the hip to be seen, while still retaining a classic polo or tank silhouette at the top.
The details: In an extension of the art of craftsmanship within the collection, Japanese architect Kengo Kuma was tasked with interpreting the Fendi Peekaboo bag, the Baguette Soft Trunk and the Fendi Flow sneakers. Kuma utilised waranshi and yatara ami-weaving techniques to construct and differentiate his interpretations from the rest of the accessories. The former consists of washi paper made from cotton and tree bark fibres that resulted in a textural, mottled façade to each piece; while the later is used as structural foundations to the Peekaboo bags and Fendi Flow sneakers.
Three exceptional looks: Look 6's all-cream look fully embodied the workwear inspiration with precise topstitching that grounded the entire look (and peep the super decadent coffee cup holder as well as that measuring tape detail); look 34's polo bodysuit look is how corporate sexy should be like; and look 38 in its full teal moment with deconstructed sleeves.
The takeaway: If there's to be a blueprint for future workwear-inspired collections—one that doesn't take itself too seriously—this would be it.
View the full Fendi spring/summer 2024 menswear collection in the gallery below.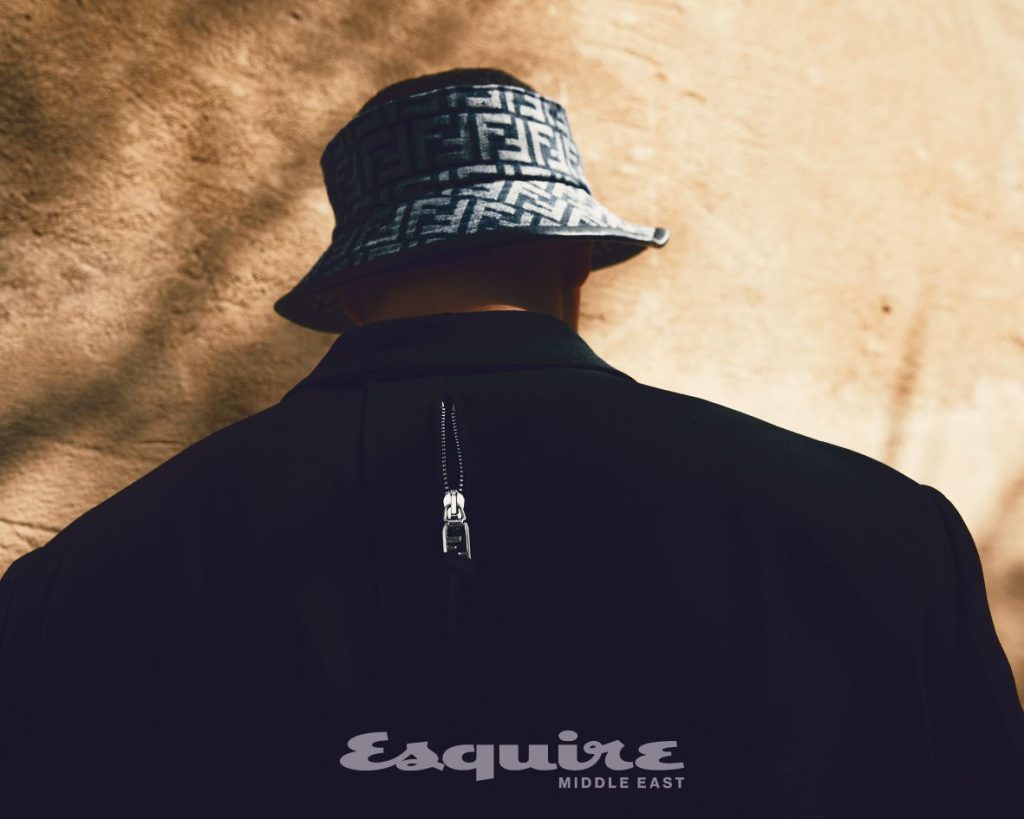 Cool down with Fendi's latest SS23 Menswear collection with its cool blues and striking patterns to compliment the heat during the summer period.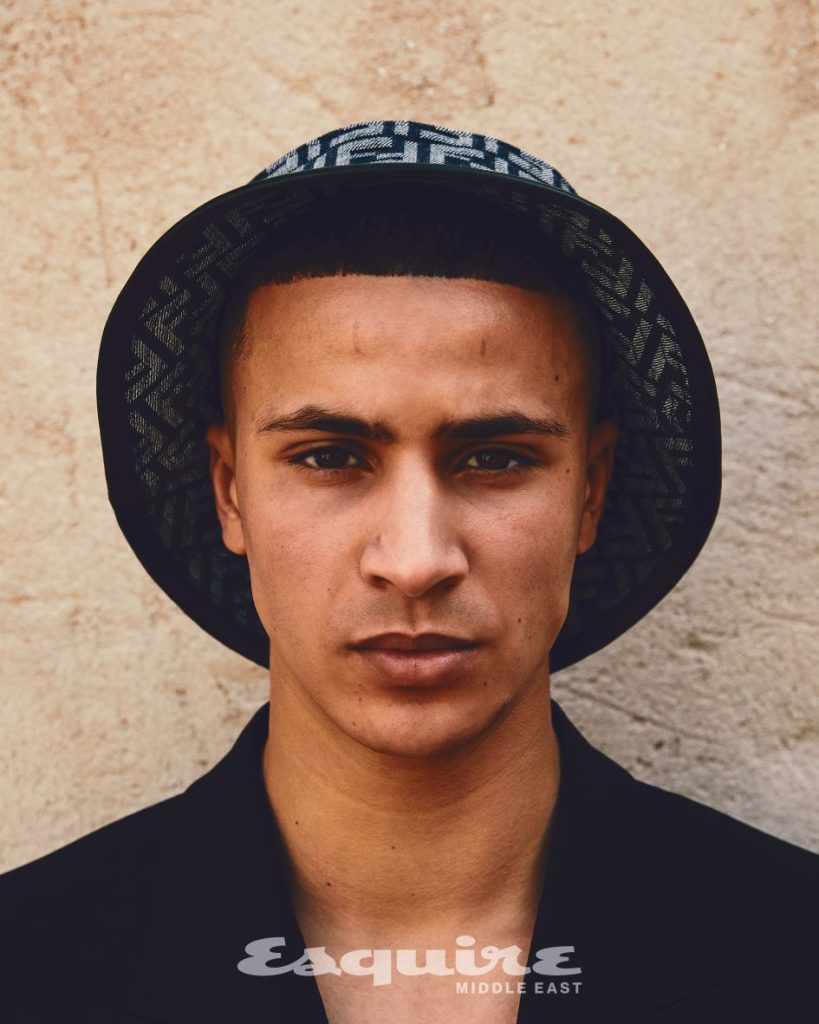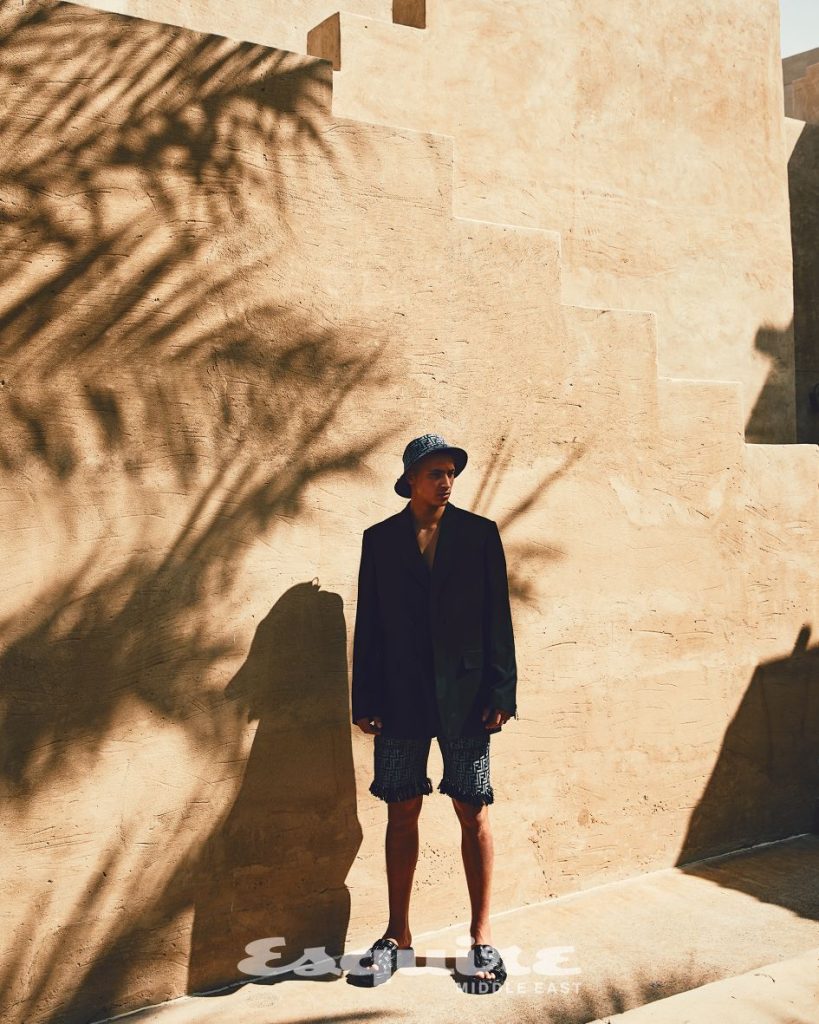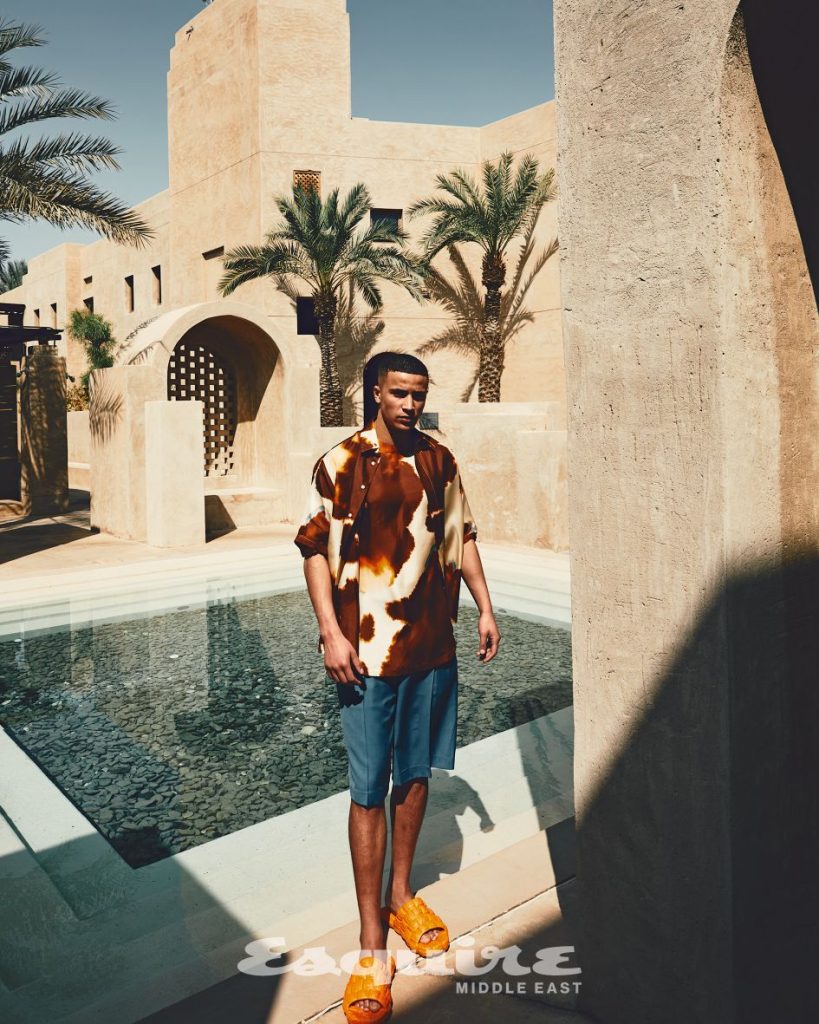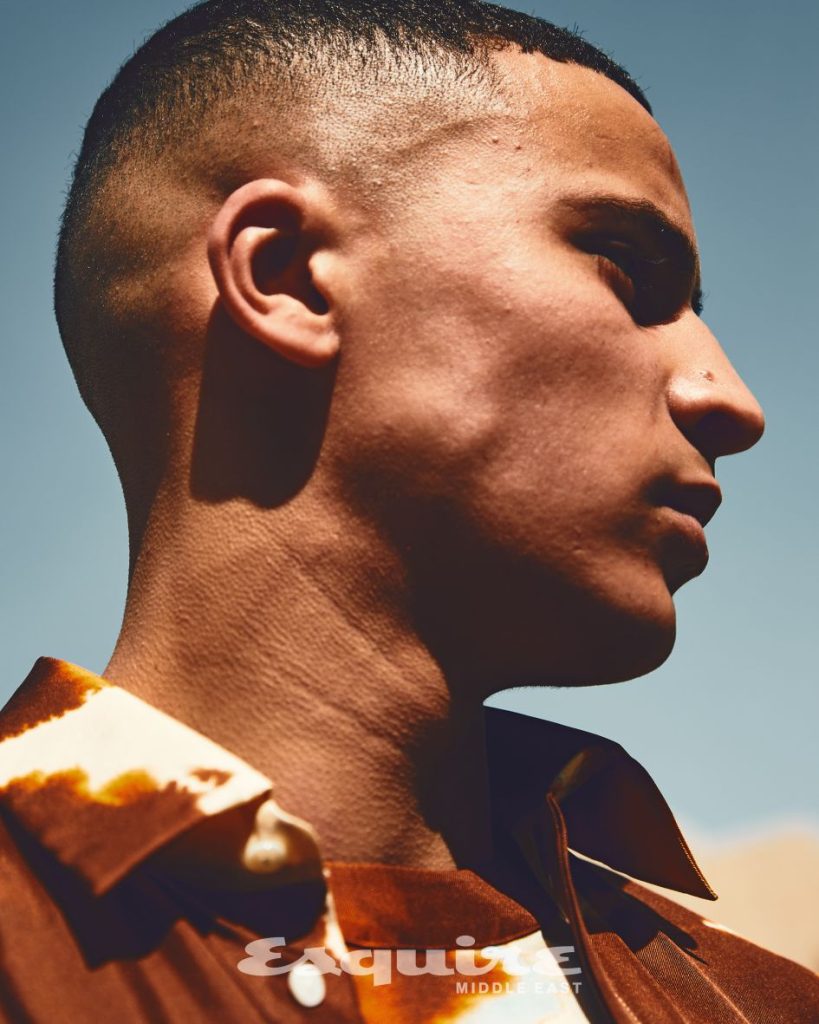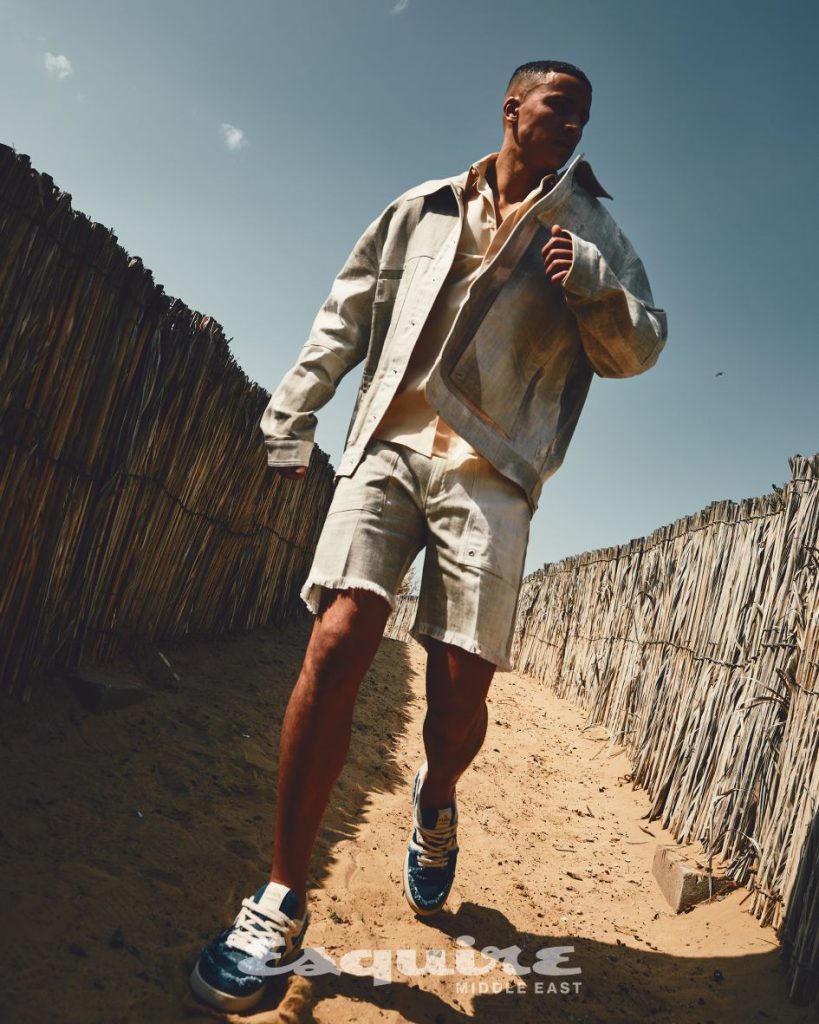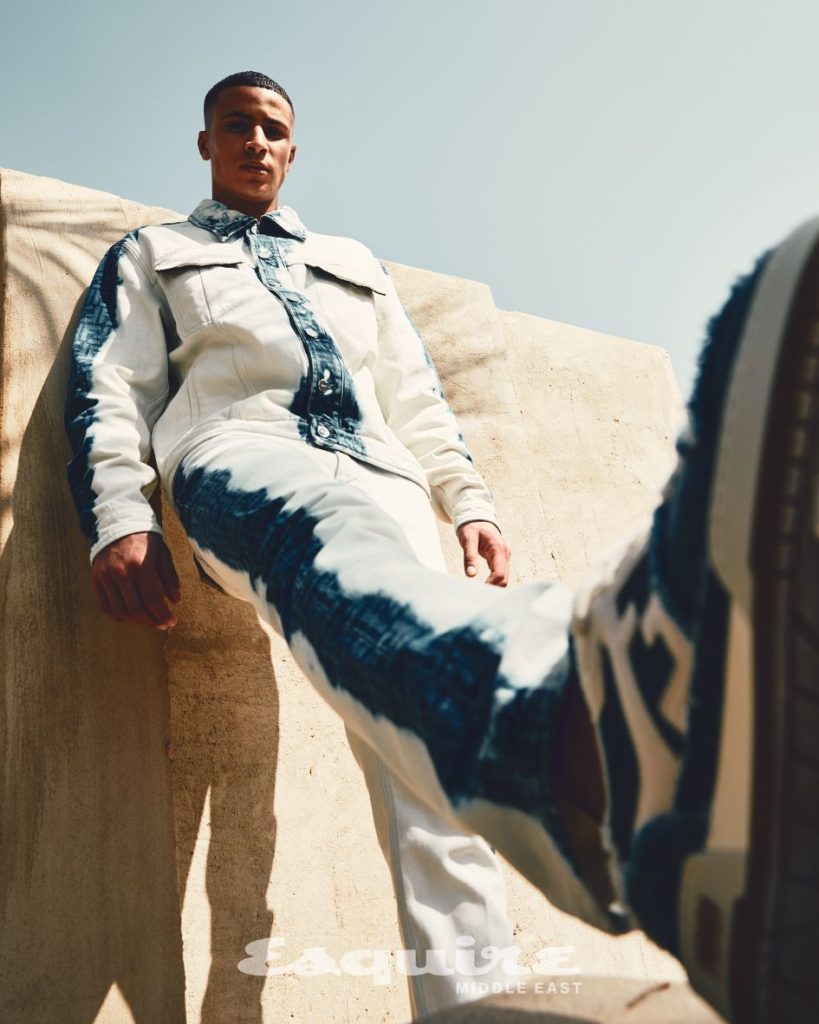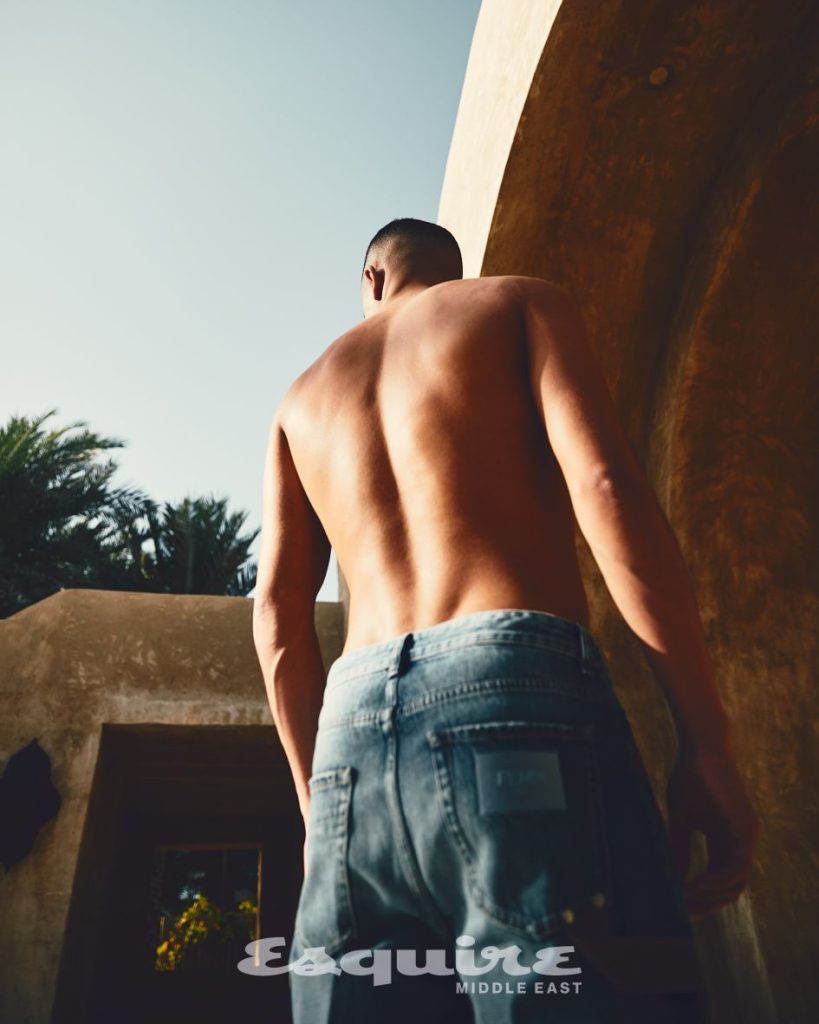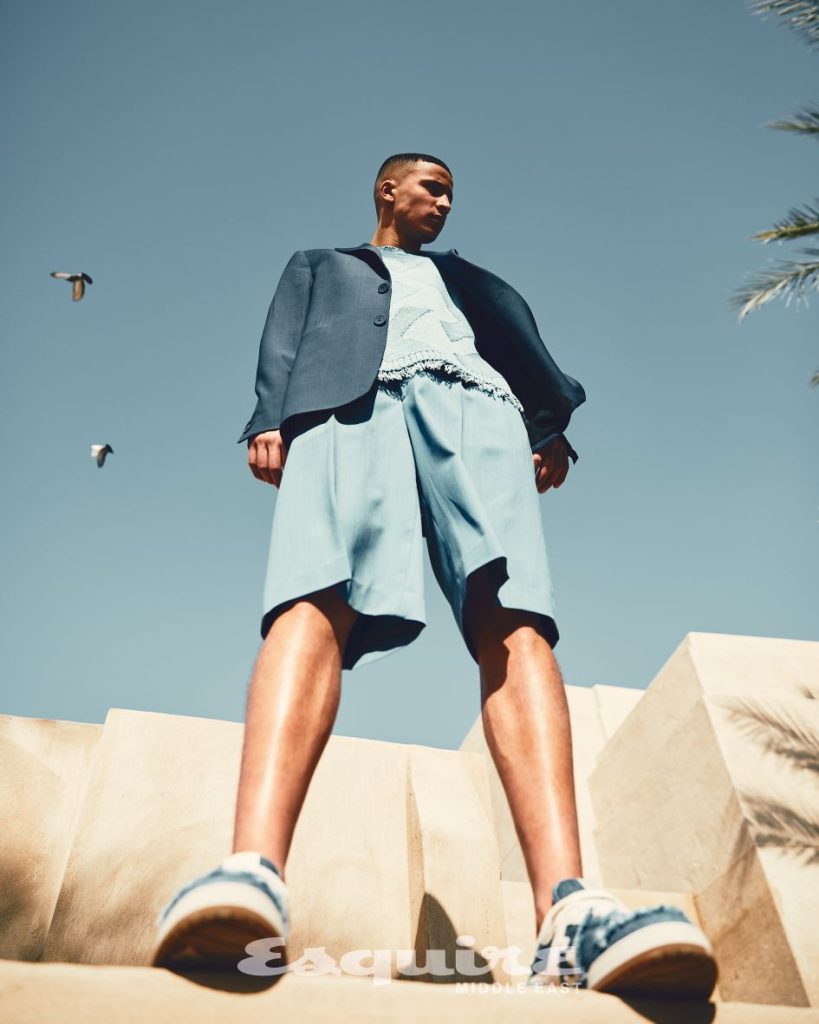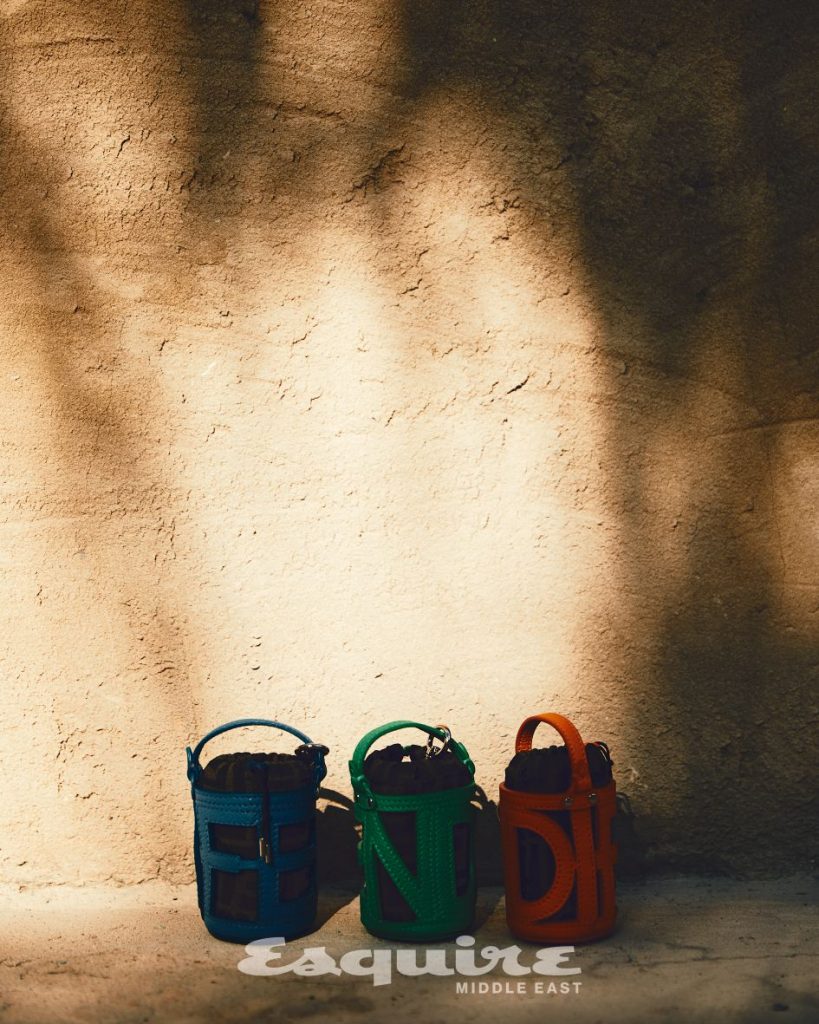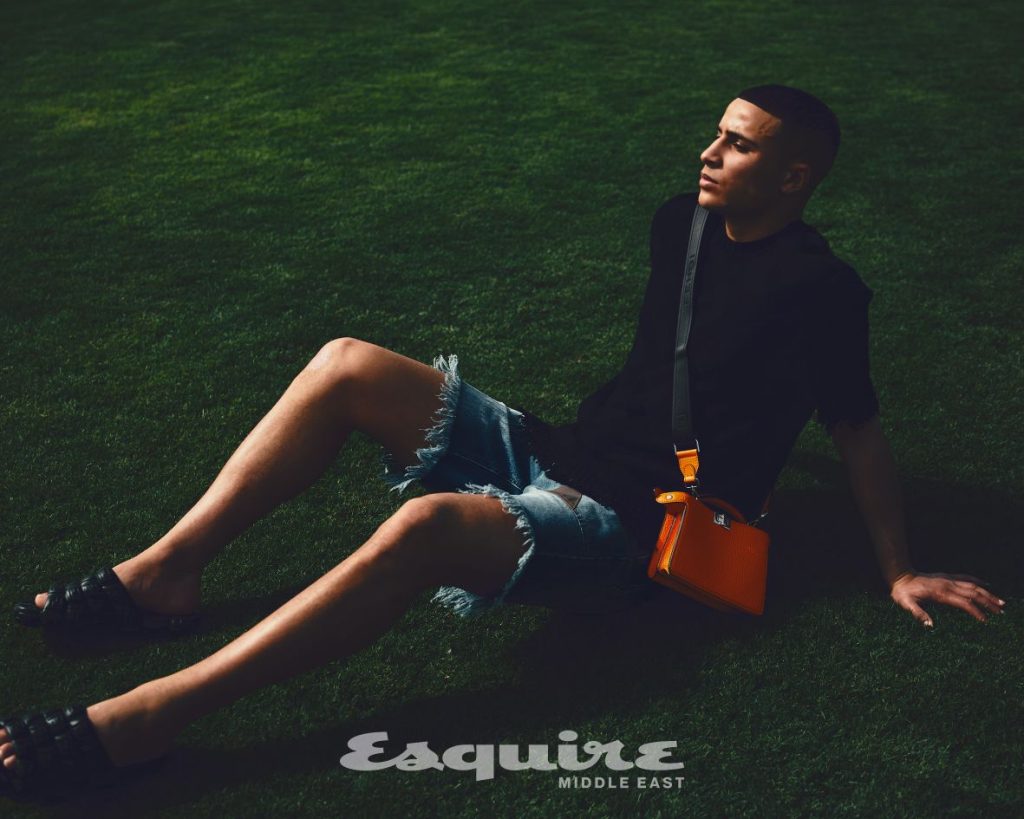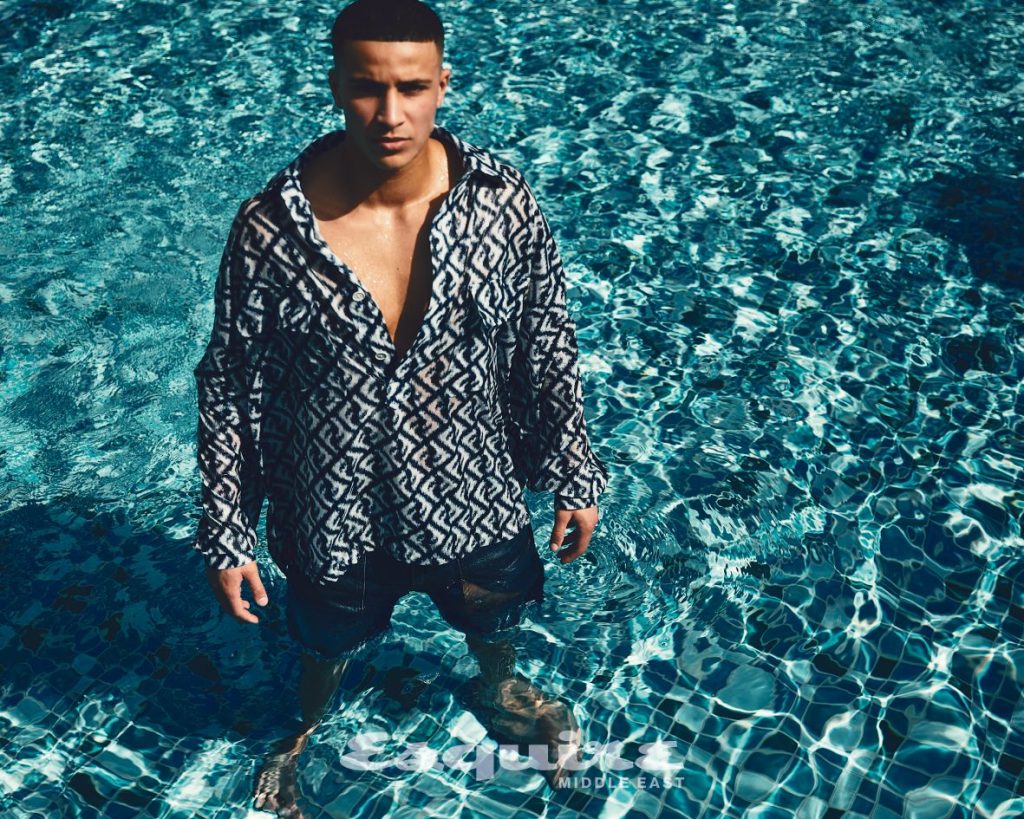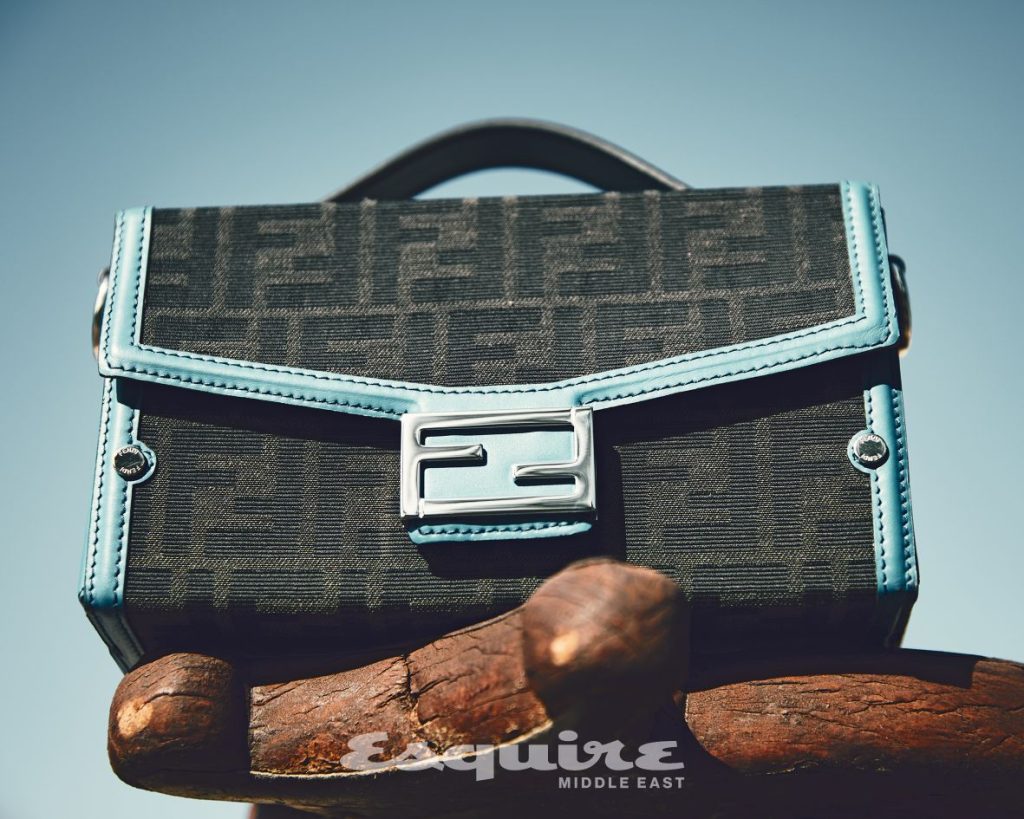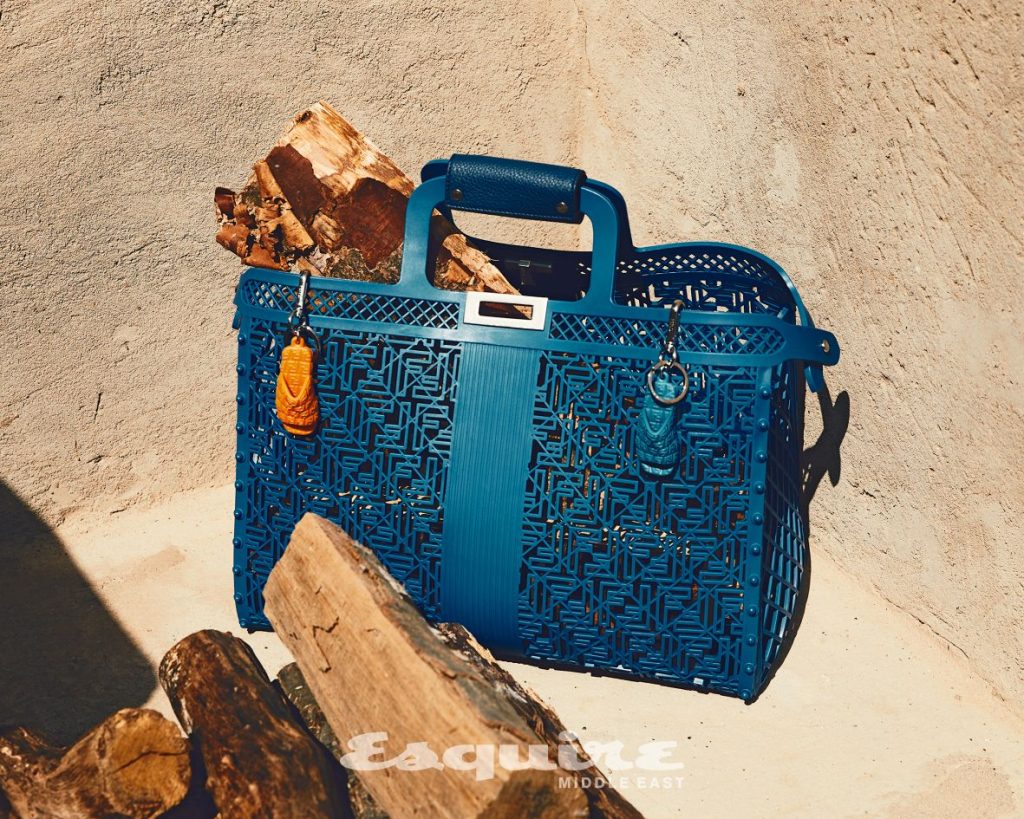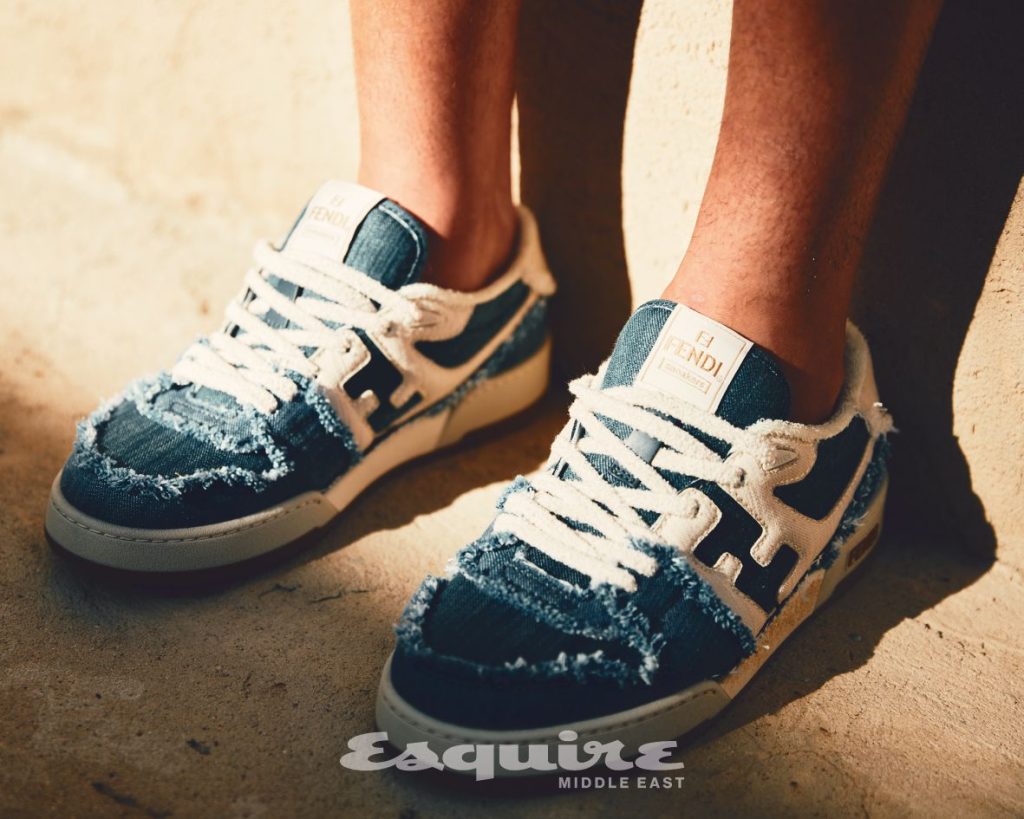 From: Esquire ME