Hans Wilsdorf, the company's founder, couldn't have known, when he came up with the name "Rolex" in 1908,
When founder Hans Wilsdorf came up with the name "Rolex" in 1908, he couldn't have known the resonance that otherwise meaningless word would have a century later. By 1931, when the brand registered its iconic crown logo, he probably had some idea. Wearing those five points on your wrist is a sign, for many, that you've made it. And every new Rolex is a potential way to realise the dream. This year, the company introduced nine watches at Geneva's annual Watches and Wonders show. Here are the three we're most keen to wear, each guaranteed to capture a place in your imagination—and maybe your collection, too.
Titanium Yacht-Master 42
Rolex has a long history of experimenting with materials, creating its own proprietary (and jealously guarded) recipes for the platinum, gold, and steel it uses for most of its watches. Yet surprisingly, titanium joined the roster only late in 2022, when the brand introduced the Deepsea Challenge, tested and rated to an unfathomable 11,000 metres (or 36,090 feet). With the Yacht-Master 42 in RLX titanium—which is 30 percent lighter than the 904L stainless steel the brand uses elsewhere—Rolex offers a watch for those of us who prefer paddling about on the surface but still appreciate the combination of robust looks and an uncannily weightless feel.
Oyster Perpetual 'Celebration Dial'
Folks were shocked when Rolex announced in 2022 that it was eliminating a handful of dial colours it had introduced in its Oyster Perpetual just two years earlier. More shocking: the new Oyster Perpetual "Celebration Dial," which brings back all those colours and throws them together on a dial made from fifty-one individual circles of enamel applied on a light-blue background. It comes in three sizes—31 mm, 36 mm, and 41 mm—and, like most fan favourites, has already earned an unofficial nickname: "Bubbles." Rolex debuted a number of playful watches this year, but this one is the life of the party. And if you're worried it won't match your clothes, you're thinking about it the wrong way. It goes with everything.
Perpetual 1908
The dressiest of Rolex's releases this year is also one of the most surprising. While the "Bubbles" Oyster is bold but grounded in a classic design, the Perpetual 1908—a 39 mm certified chronometer available in white or yellow gold and with black or white dials—is something else entirely. It feels distinct, a notable departure from the tooly aesthetics of the brand's mainstream lines. If this signifies a new family of watches to come, that's even more major. Rolex is not known for following trends, but the 1908's restrained design language feels like a sage and, er, timely nod to the rising interest in subtle, superlative dress watches—even among those for whom a nicely tailored suit is a dim and distant memory.
Photography by Ryan Slack
Styling by Nick Sullivan
Originally published on Esquire US
The big news from yesterday's men's singles final at Wimbledon was not so much 20-year-old Carlos Alcaraz's inaugural win (congrats btw, Carlos) but the fact that it represented a tectonic shift in the landscape of tennis. Youth defeated grandeur, ushering in the post-Djokovician era. He has already surpassed Novak in the watch department.
Clearly, it's not just Jack Sinner who's bringing eye-catching accessories onto the courts, because post-match, Alcaraz slipped on a very special Rolex Daytona to accept the Gentleman's Singles Trophy—one that suggests he has more than just a cursory eye for timepieces. It was the Cosmograph Daytona Ref. 116500LN, featuring a black Cerachrom bezel, yellow gold case and meteorite dial. (Yes, a super thin, flat disc of real, extraterrestrial rock.)
Alcaraz has previous dealings with Rolex. Following in the footsteps of Roger Federer, Juan-Martín Del Potro, and Dominic Thiem, qt the age of 18, he signed an ambassadorship agreement with the watchmaker. Last September, when he won the US Open, he was wearing another Cosmograph.
The tennis star has got to the top of world rankings for his unstoppable speed, and so it's hardly any surprise that Alcaraz has favoured a design historically made with racing drivers in mind. (In fact, it was named "Daytona" in honour of the famous Daytona International Speedway in Florida.) This particular model earned cult status when actor and race car driver Paul Newman was seen with a Daytona 6239, a gift from his wife, Joanne Woodward, with the words 'Drive Carefully Me' engraved on the back.
Sadly, Daytonas are notoriously hard to come by, and Alcaraz's otherworldly Cosmograph has been discontinued. It might be easier to just win Wimbledon, and maybe they'll give you one.
Originally published on Esquire UK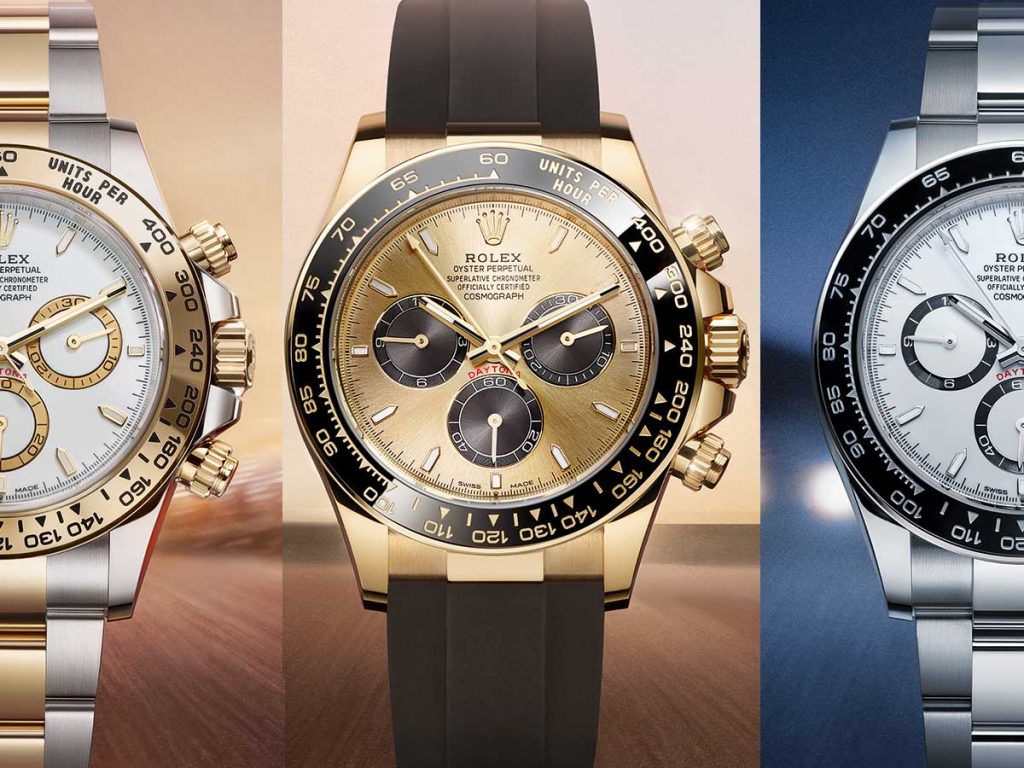 Jump starting a vintage year for the 'king' of the industry, Rolex has unveiled six new Daytona models, to mark the 60th anniversary of its all-conquering icon.
Announced at the Watches & Wonders fair, the watch goliath revealed that it would be adding some tasty new editions to the Oyster Perpetual Cosmograph Daytona collection that already has a waiting list as jam packed as a NASCAR starting grid.
Such is the popularily of the 'grail' watch timepiece, it is popularly referred to simply as the 'Daytona', and any new additions are released among a frenzy of interest.
This year the Daytona collection comes with the addition of six new versions and a Rolex-community pleasing new feature. The new models are in Everose gold, Oystersteel with a white face, Oystersteel with a black face, Oystersteel and yellow gold with a white face and Oystersteel and yellow gold with a gold face.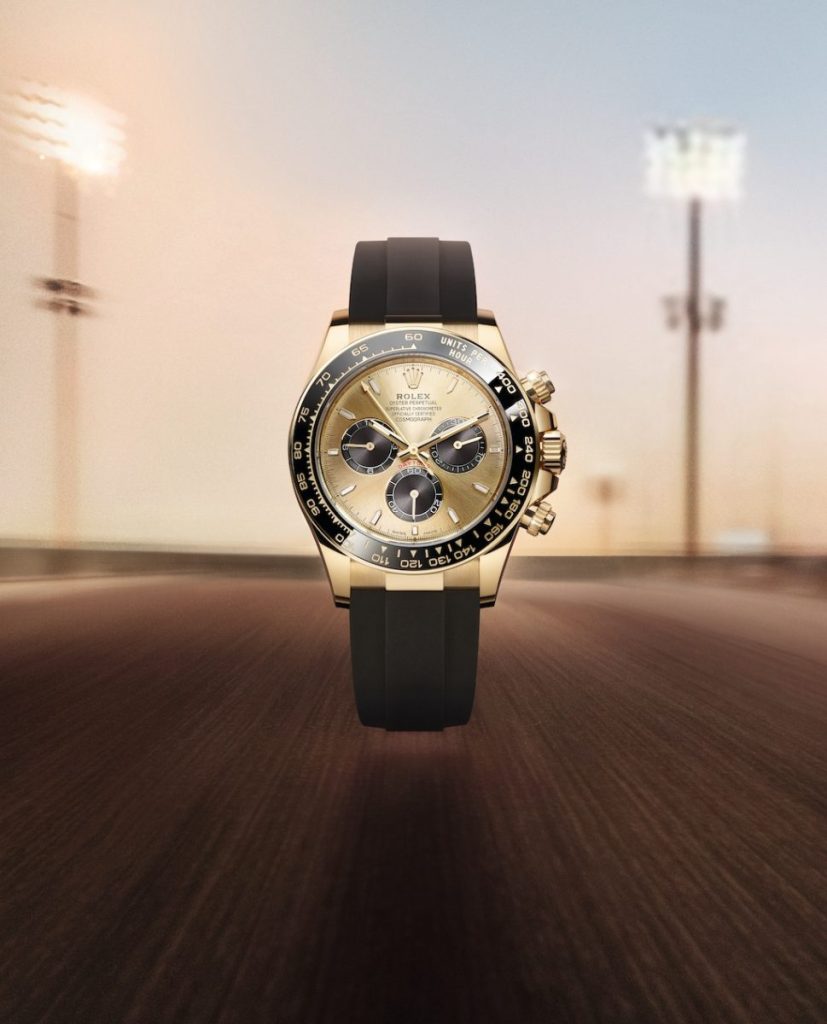 Careful not to mess with perfection, the case and dial markers have only been slightly redesigned, but the range now features Rolex's latest 2023 movement – the calibre 4131 – under the hood.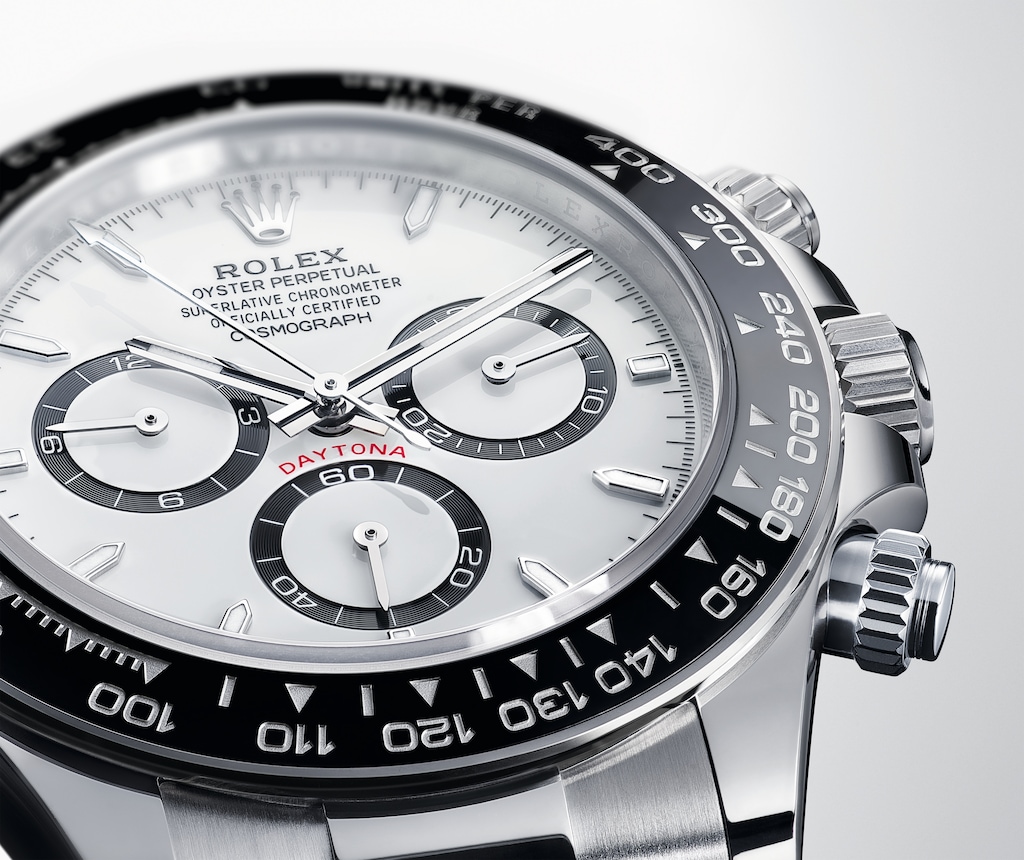 The new versions feature restyled hour markers and counter rings, plus redesigned lugs and case sides. The platinum version comes with an ice blue dial and an oscillating weight made from 18k yellow gold.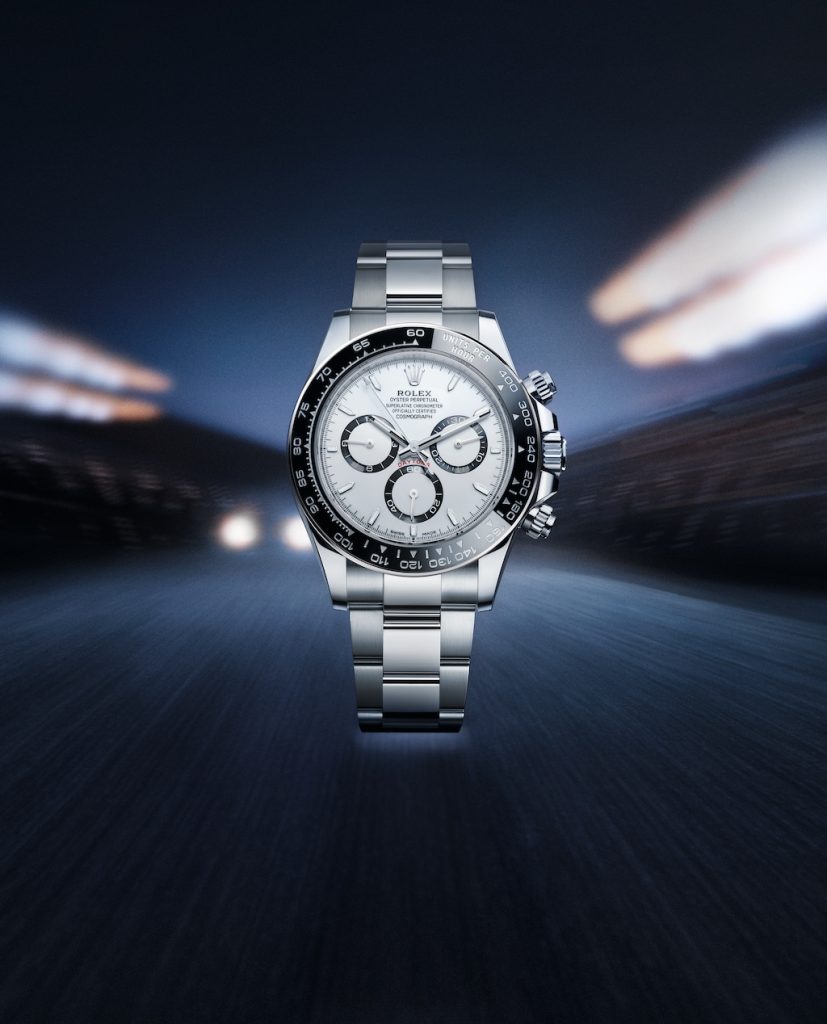 All models now feature a transparent sapphire case back – a first for the Oyster Perpetual collection, and something the Rolex community has been keen on for some time.