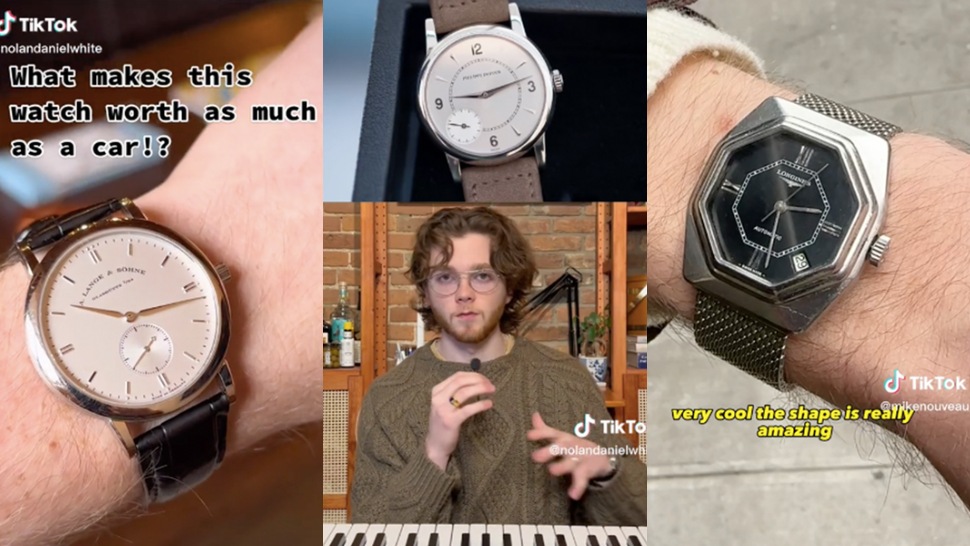 When he was 13, TikTok creator Nolan Daniel White visited the newly opened A Lange & Söhne boutique in Miami, where a saint-patient salesman named Aleksandr forgot about his commission for a couple of hours, while he draped White's skinny wrist in five- and six-figure watches. Wandering out, now one of the few middle-schoolers who could tell a GMT from a tourbillon, he swore that when he was no longer making paper-round money, he'd get one on his arm again. It took him seven years.
Granted, his white gold Saxonia was a loaner, part of a #sponcon hook-up with Hodinkee, as the watch-blog-turned-retailer tried to tap his Gen Z audience. But just feeling the alligator leather on his wrist, seeing the dial slide from white to dark grey as it caught the light, felt good. So as well as the contracted Instagram post, he fired off a TikTok.
More than 55,000 people follow White on IG. A handful double-tapped the Saxonia. But on TikTok, his paean to Glasshüten horology racked up 100,000 views, thousands of hearts, hundreds of comments. It wasn't an outlier. White posts watch stuff sporadically—mostly his menswear-centred channel is influencer standbys like buying guides and shopping trips in his Montreal hometown—but if it ticks, TikTok loves it. His most-viewed video ever, posted this January, is a 60-second bio of Phillipe Dufour, the one-man manufacture behind the most complex wristwatches ever assembled.
"I'm always considering, how can I make something quite niche appeal to a wide audience who might not know that an automatic movement even exists?" he says. "I kind of see myself as a bit of an entry point." And compared to Instagram, which has gone from cool-kids enclave to the de facto town square for every dealer, collector and brand, TikTok is the wild west. Its algorithm, a modern-day philosopher's stone that can transform base content into gold, remains inscrutable, discussed in hushed terms by would-be influencers as if it's listening (which, according to rumours about ByteDance's relationship with the Chinese government, it might be).
"Instagram used to be how a younger demographic—late-20s to early-30s—would get into watches," says Zoe Abelson, founder of vintage dealership Graal. "But at first it was a very niche collecting hobby and a lot of dealers didn't use it to their advantage. And it became one of my biggest sources of new clients." She thinks TikTok's in that early stage. Or, perhaps, an even more manic stage that Instagram, a much simpler concept, never went through. "The audience is even younger, and they're getting just a sliver of access to what the watch world is really about. It's honestly not the best representation of watches and I don't know if enough people that could really represent the watch world—in my mind, properly—will ever get to TikTok."
Even the people who are there haven't figured out what users—ergo, the algo—want. Right now, it seems to be a mix of 47th Street watch traders, celeb-spotting, and nerdery. Plus, of course, endless call-outs, because every platform's algorithm rewards beef. It's a lot of fun—a weird, anarchic kind of fun. Want to see a 22-year-old flipping Rolexes in a train station car park? Here's Vookum. Prefer an angry Irishman calling out celebrity fakes? That'd be Nico Leonard. Or maybe you just want to know what watches random New Yorkers are wearing and how they got them. If so, Mike Nouveau has your back.
Disparate as they seem, one thing does link them. "Storytelling," says Nouveau, a vintage watch dealer and buyer at Craft + Tailored. TikTok is about narrative, whether a tense negotiation or quickfire biography. And it's hungry. "You have to post every single day, and a story every single day, that's the tricky part. Then it starts trending downward and you think, OK, now I have to think up something different that's still within the realm of watches."
Which is perhaps why some of WatchTok's biggest stars aren't really Watch Guys at all. Brad Podray, aka Scumbag Dad, started mixing in watches with his parody character as a way to confuse people. "I like feeding my audience crazy comedy and then giving them content whiplash with a watch post or a dental concepts lesson," he says (in his non-TikTok life, he's an orthodontist). But his posts reflect his taste—strange time-tellers, like the magnetic ball bearings on the Eone Bradley, or the almost completely illegible Time Adds Up by Project Watches. "I find that the more confusing watches work best on TikTok. If a watch is difficult to read or people argue whether it's worth the price, it gets more engagement."
They're affordable, too, which appeals to a neophyte audience. Though TikTok's youth is generally overstated—yes, most of the people creating content are Gen Zs, but there are as many millennials watching these days—the hardcore collector crew is still on Instagram. "The majority of my followers are people that have never been into watches and watch collecting," says Ben Cook, aka @ben_watches, whose best-performers tend to be budget buys, Rolex alternatives and pricking the more ridiculous bits of watch culture. They're versed in TikTok, but not haute horlogerie, so something authentic always beats the perfect wrist roll. "On TikTok, it feels like people are more dedicated to 'keeping it real'," Cook says. "I like to state exactly what I think and not worry about what others think. It allows for more debate."
That might be why the big boys are struggling to transition. DailyWatch, followed by more than 2.5m on IG, barely scrapes four figure views on TikTok. Fratello, founder of the #speedytuesday hashtag, has fewer than 15,000 followers. Hodinkee, despite dabbling in TikTok since 2021, has mustered only 286 likes. And yet the #hodinkee hashtag has more than 16m views, as others piggyback on the defining voice of the Instagram era.
But if the major players haven't reached TikTok yet, the Watches 2.0 world they created has. Brynn Wallner, founder of female-focused watch magazine Dimepiece, has heard the siren call but so far resisted. Terms she coined, however—describing the Cartier Panthère as the 'It Girl Watch', or the industry's pink-it-and-shrink-it tendencies as "teeny-tinies"—are proliferating regardless. "I do wonder if Instagram is going to end up like people of my generation see Facebook," she says—old, irrelevant, infuriating.
There is, she admits, a twinge of jealousy. "I spent two years getting up to nearly 40,000 followers. On TikTok, you could do it in two months." But—in what she stresses isn't her shouting-at-clouds moment—she's put off by TikTok's algorithmic catnip. "It's very consumer-forward, the push for virality is the biggest thing." The finer details of George Daniels' co-axial escapement won't grab someone coming in cold, which is why 'For You' is dominated by content pegged on celebrities and big brands.
Not that much of it is created by any of those big brands. Rolex owns its channel but hasn't posted, ditto Audemars Piguet, and Patek Philipe has people squatting its handle. The kind of first-proper-watch brands that do well with young audiences, like Tissot and Hamilton, have barely dipped a toe into the platform.
"But no brands are good on TikTok," says Nouveau. The advertiser land grab is starting, slowly—revenues trebled from $3.88bn to $11.6bn last year, still a fraction of Meta's $113 billion—but it's still a tricky place to make branded content work, with as much risk as reward. Duolingo and Ryanair have cracked it by seemingly not caring about cracking it. "You need to be super-ironic, very knowing," says Nouveau. Words that are anathema in Geneva.
One brand that does seem to get it is Tag Heuer, which has embraced the platform's nuances as it has racked up over 1.7 million followers and 7.3 million likes. "Over time we've seen a sanitisation of social platforms," says creative communications director Pascal Tea. "But the most successful TikTok content we've seen is whenever we can have an open dialogue with our audience and create content that excites them. It's conversational, creative, inspirational and entertaining."
Wherever TikTok goes, it's unlikely to be an Instagram-killer. That's still where deals are done, Nouveau says, in part because TikTok's messaging and archiving features are so janky. But the new app opens new doors. On IG, potential clients have to find you. On TikTok, you're thrust at them. "I wasn't even going to put my face in the videos, but within my first week, I had someone offer me 50 watches that he and his father had collected," says Nouveau. "As a vintage watch dealer, the hard part is finding watches. They're very easy to sell, if you have high-quality stuff. So within the first week I thought, OK, TikTok is kind of interesting. I have access to an audience that's been completely ignored."
From: Esquire UK