While researching her role for a new film Past Lives, Greta Lee watched a South Korean reality show in which a celebrity is reunited with a childhood sweetheart. Being confronted by your first love is, unsurprisingly, a physical experience. "It's initial shock, terror, a look of death, then ecstasy, joy and a desperate, deep sadness, all within a matter of seconds," says the 40-year-old Korean-American actor on a video call from Los Angeles, where she lives with her husband, the writer Russ Armstrong, and their two sons.
It was a specific feeling she needed to tap into for the romantic drama from writer-director Celine Song, which is out now in cinemas and was released earlier this summer in the United States to considerable critical acclaim. The film charts the story of two friends from South Korea: Nora, played by Lee, and Hae Sung, played by Teo Yoo, who were separated when Nora's family emigrated to Canada. A couple of decades (and relationships) later, the pair reconnect for an intense week in New York.
Before Nora and Hae Sung's reunion was filmed, Song asked the actors not to interact. "Admittedly, at the time I felt like, 'Oh, this is kind of hokey and manufactured,' but I'm glad we went along with the experiment, because it really helped me hone in on the biology of longing and what it does to your body," says Lee. Yoo and John Magaro, who plays Nora's husband Arthur, actually met for the first time on screen; for months, Lee had acted as a "conduit" between the two, a distance that Song encouraged. "She's supremely manipulative," Lee jokes.
Taking on Nora, a nuanced romantic lead, "felt really, really radical at the time—and very nerve-racking", says Lee. While she was starting out as an actor, doing theatre in New York, the roles available for Asian-Americans were scarce and, as Lee points out, she wasn't cut out for stereotypes: "I was not very good at playing a lab technician or a doctor." Later, however, she proved very cut out for scene-stealing turns in Girls, as the clueless and cut-throat gallerist Soojin, and more recently as Maxine in Netflix's time-bending hit Russian Doll and Stella in The Morning Show, which is about to start its third season. In 2025, she is set to star alongside Jared Leto in the third instalment of Tron.
Central to Past Lives, says Lee, is the Korean concept of in-yun. Not precisely translatable, it refers to the time-spanning connections between people: if you meet in this life, you encountered each other in a past life. "Now that I've done the movie, I can't not see in-yun everywhere," Lee says, with the air of a recent convert to a niche religion. "You and I have in-yun now," she says, pointing to me. "You can have in-yun with a chair," she adds, pointing at her chair. Wherever you stand on the idea—as Nora says in the film, in-yun is "just something Korean people say to seduce someone"—it's an effective way to raise the romantic stakes; both balm and delusion. "It's really a coping mechanism, isn't it?" says Lee, cheerily. "We're all just trying to make sense of the injustice that we only get to live once."
This interview took place before the SAG-AFTRA strike.
Originally published on Esquire UK
The last time Kid Cudi spoke with Esquire, he had just found the path to self-love. That was a little over a year ago. Today, the rapper-slash-artist-slash-designer's debut campaign with Calvin Klein came out. In it, he's confident and sexy, sometimes lounging on red bed sheets, sometimes half-underwater. He's standing tall, shirtless in black-and-white photos, hands on his hips, looking at the camera head-on with a glint in his eye that says, "Don't fuck with me; I know what I'm doing."
"I think when I did that interview, I was at a place in my life where I was just beginning a new chapter," Kid Cudi says. "But since then, so much has happened. And it's just a really beautiful thing that I've been able to let go of the shit that's been holding me down all these years, and I've been able to really, truly step into this new chapter with a clean slate."
Oh, the difference a year can make. Kid Cudi has always been certifiably cool—the 39-year-old never, it seems, misses the mark, whether it's in the realm of music or television or fashion. He's got his finger on the pulse, his eye on the prize, and, lately, the confidence and empowerment to back it. If a picture can speak a thousand words, his Calvin Klein campaign tells a story of growth, confidence, and a whole lot of self-love.
This interview has been edited and condensed for clarity.
First of all, I love this campaign, and congrats on making your debut with Calvin Klein.
Oh, wow. Thank you.
Do you have any favorite memories from set?
I mean, dancing to the music and letting the camera pop off and feeling it, just being in a groove. Every time I do a shoot, I like to have music, but it was something about what it was, the weight of what we were doing. I just walked into epic-ness, so it was easy to kind of fall into the groove of things. My spirit came alive in those photos and I was just having such a great fucking time.
I have to ask, what's on your photoshoot playlist? Do you listen to your own music?
Well, it depends. Sometimes I like to listen to Ratatat and MGMT, stuff like that, because those are my favorite bands ever. I love having those guys set the tone. But if I'm working on new music, of course I'll play some of my own stuff, just to see what people around think of it. Sometimes I'm just really excited about something new I have and I just want to play it.
Calvin Klein is a brand that's so rooted in confidence, and making people feel and look confident. So what makes you feel confident?
Man, I think what makes me feel confident is knowing that I'm truly myself at all times. I'm 100 percent unique, me. And I know that's what carries me in every situation. The fact that I love myself. That's really it. That's what gives me the most confidence in the world.
The last time you spoke to Esquire was around this time last year, for your cover story. In that story, you spoke about the difference that years can make for a person, especially when it comes to things like self-love and growth and maturity. Between that interview last year and this interview today, what have been the biggest changes for you?
Oh, man, I think letting go has been the big thing. Letting go of the things that don't serve me, the things that don't make me feel good. Kind of letting things go and moving on and opening up new chapters. I think when I did that interview, I was at a place in my life where I was just beginning a new chapter. But since then, so much has happened. So much with business and movies and me writing movies, me writing TV shows. My clothing line has also taken off. There's just a lot that's happened since. And it's just a really beautiful thing that I've been able to let go of the shit that's been holding me down all these years, and I've been able to really, truly step into this new chapter with a clean slate. I'd say that's the biggest difference between last year and this year.
How do you let go?
Man, I think you have to pray on it and find peace and focus on your own happiness. Focus on the things that are right there in front of you and the people that love you and the people that are in your life, that support you, that make you feel special, that make you feel important. The same people that you give love to, they know that's really it.
As you said, you've got a lot on your plate. You're a fashion designer, you're working on TV, movies, music, and now you're also modeling for Calvin Klein. What keeps you inspired through all of that these days?
Just life in general and where I'm at and seeing that I can create and do anything. I think of anything that comes to mind, and I can make it happen. So that's what really inspires me, to know that. Because when Entergalactic came out, that was my first really big, ambitious outing. And it was well-received and the fans loved it, and we just got nominated for an Emmy. And it's just really knowing that, Hey, if I put my mind to something, it could turn out really fucking good. I got to lean into that a lot.
This Calvin Klein campaign seems to me equal parts playful and sensual. How did you channel both of those energies on set? Where did that come from?
I think the settings and the music is what really set the scene for a lot of the other stuff. The set, the black and white photos, the classic shots, you know, that was just them playing a lot of alternative classic rock shit. Me just kind of jamming out. But then the shoot where I'm in the bedroom, it's the vibes were a little bit more chill, and we switched it up based on the scene. But a lot of the outside stuff, we were doing mostly rock and alternative.
How would you describe your own personal style?
Oh, free.
Do you have any piece in your closet that you absolutely can't live without?
Yeah, my varsities from my clothing line [Members of the Rage]. I just wanted to make the perfect varsities, and they came out so wonderful. And I'm just going to be wearing them forever today, and all-time, you know what I mean? They're just perfect.
You've had such a big year, so much going on, but what's next on the horizon for you?
Man, the sky's the limit. I've got some movies in the works, pre-production. We're just trying to figure some things out and get some financing, more animation. Got some exciting news coming in October, I'll be at Comic Con debuting some news. The next collection comes out in January. We'll do our first presentation in Paris, so that's going to be pretty big. And then also in June next year we're doing our first runway, and that'll be in Paris as well. So I'm just really excited. I think next year is going to be really big. There's so much pressure to do a runway show, but I've been wanting to do one for years now, and I really feel like we could do something really special, something unique. It's all coming together. It's all happening.
Originally published on Esquire US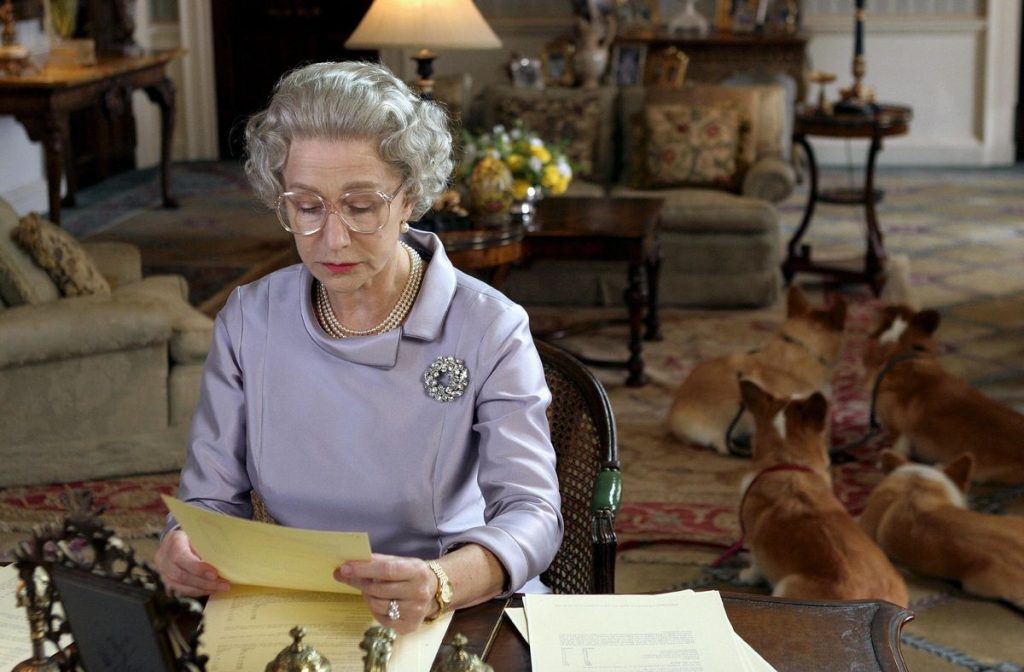 Of all the 20th century's most celebrated film stars, few had the range of Queen Elizabeth II. Broad comedy, state of the nation dramas, day-glo kids' animations, claustrophobic quasi-horror: when directors and writers wanted to say something about a UK where things were turning strange, they got the Queen to say it for them.
Her reign wasn't one Shakespeare would have fancied as source material. Beheadings? Zero. Fratricidal wars? Nada. Quests for vengeance against an interloper who killed her dad and married her mum? Thin on the ground.
For a long time on screen she was the same Queen who turns up in anxiety dreams and stares blankly out of the frame of postage stamps, less a flesh-and-blue-blood person than power and hauteur in a tiara. But after Peter Morgan and Stephen Frears' The Queen in 2006 her reserve and restraint became something more dramatic and rich, and that only sharpened as she aged. In The Crown Claire Foy teased it out to make her an uncertain Queen, looking for a fresh start while desperate to preserve some sense of the past, a cypher for a collapsing, anxious ex-centre of ex-empire.
She wasn't 'one of us'; that was the whole point of her. But as a symbol of a country hanging on in quiet desperation, she gave one of the great performances.
To mark the Coronation of King Charles, we thought we'd run through the films that shed the most light on the institution and its leaders.
The Best Movies About The Queen and Royal Family
It's a mark of quite how much Frears and Morgan – and Helen Mirren – turned the Queen from an empty vessel into a character whose still waters ran so deep that Mirren only needed to flinch here or twitch there to win a deserved Oscar. After the death of Princess Diana, the royals snap to protocol and precedent. But it's Tony Blair (a brilliant, steely Michael Sheen) and his landslide Labour government which capture the suddenly traumatised mood. Revolution was, briefly, in the air.
The countercultural headwinds of the Sixties posed some tricky questions for the royals. "Most people care much less [about royalty] than they did," the Sunday Telegraph said in 1967, "particularly the young, many of whom regard the Queen as the arch-square." The solution, a fly-on-the-wall documentary offering unprecedented access to the day to day business of monarchy, was seen at the time as making the royals too relatable. The Queen agreed, and Royal Family hasn't been on TV since 1977. But there's something endearingly naive and guileless about it now. It's worth it for the opening shots of Charles fishing in Scotland, riding a bicycle along a normal high street and waterskiing alone.
Elizabeth R: A Year in the Life of the Queen (1992)
Forty years after taking the throne, another fully approved fly-on-the-wall doc dropped in on the Queen with the idea of getting underneath the veneer. The Queen's narration does do that, but the unhurried rhythm finds something deeper. There are no awkward family barbecues this time, but a steady stream of functions, parties, portraits, ribbon-cutting, tree-planting, ship-naming and ribbon-cutting turns gradually into an accidental portrait of the tedium which made up her day to day. It's all a bit Wernham Hogg.
In the decades since Elizabeth R filmmakers have jumped back to the Royals' nervous Nineties as the big dramatic seam to mine. Peaky Blinders writer Steven Knight's slightly over-egged but charged, spooked script makes hay with it here. The focus is on a single weekend at Sandringham in 1991, where Princess Diana finds herself isolated and unravelling. It's a chamber piece that has more in common with The Innocents or The Yellow Wallpaper than The Crown. Stella Gonet's Queen hovers at the edges, but Spencer shows the damage that comes of prioritising The Firm above everything.
Elizabeth: A Portrait in Parts (2022)
Over the last 70 years there have been more than enough archival rummages which piece together the standard run of the Queen's life – childhood, accession, coronation, Beatles, middle age, Nineties horribilis, nation's grandma – are ten a penny. This was a more playful and slyly subversive way of celebrating the Platinum Jubilee, knitting together clips you'll have seen before (lots of waving) with ones you definitely haven't (Adam Curtis-style interview B-roll; a 1992 trip to Dresden at which she was roundly booed) and a soundtrack running from George Formby to Stormzy. It gets at both the dream of the Queen and the flesh and blood woman it was projected onto.
Part of the ongoing brain-warp of leaving Elizabeth II behind is the fact that her going prises the last of the nation's fingernails from the idea that we are the same country as the one that defeated fascism. While she was alive you could squint and imagine her a living link to the foundation myth of modern Britain; now it's slipping from living memory. So while she's not got top billing in Tom 'I Also Made Cats' Hooper's film about her father George VI (a terrified Colin Firth) struggling to say anything except "bollocks" as war stalks Europe, The King's Speech sums up that vague sense and plots her place in it.
A Royal Night Out (2015)
On VE Day Princesses Elizabeth and Margaret, then 19 and 14, appeared on the Buckingham Palace balcony with the King and Queen to wave at the crowds. Soon, they wanted to get in amongst them. This breezy film is something like a very posh version of American Graffiti as the spunky young gals get into romantic scrapes on their big night uptown. They do the conga at the Ritz, Margaret slips into an illegal gambling den and Elizabeth has to go find her. "I think it was one of the most memorable nights of my life," the Queen said in 1985. It won't make for one of the most memorable films of your life, but it's quite good.
Originally published on Esquire UK
May is Asian American and Pacific Islander Heritage month, so we invite you to join us in celebrating all of the achievements and the rich history of the AAPI community. With diverse storytelling becoming increasingly abundant, it's never been a better time to honor all the incredible, artful stories that are AAPI-led. Media representation is no longer relegated to supporting roles and stereotypes anymore. We proudly tell our own stories—with the nuance and humanity that we deserve.
No matter what kind of story you're in mood for—wistful, tear-jerking, or knee-slappingly funny—there's an AAPI-led film for you. If you like to celebrate this month by lounging on the couch and vegging out, flip on Harold and Kumar Go To White Castle. If you prefer more heart-wrenching movies, grab a Kleenex box and hug your friends while watching The Joy Luck Club. If you're throwing a themed party complete with Tsingtao's and snacks, throw on all the Rush Hour movies and make it a marathon.
There's no easier—or more fun—way to celebrate than to watch one of these classics and remind yourself of the rich tapestry of AAPI culture and history.
1) Minari
In 2021, Minari was nominated for six Academy Awards—with Youn Yuh-Jung winning for Best Supporting Actress, the first Korean actress to do so. Celebrate these historic wins and catch some powerful performances from Steven Yeun, Han Ye-ri, and Youn Yuh-Jung in this story about an immigrant Korean family trying to make their American dream come true. However, the struggle of starting over in rural America and assimilating to their new life is much more difficult and complex than they ever could've imagined.
2) Better Luck Tomorrow
After his first film release, Shopping For Fangs—which was also John Cho's film debut—director Justin Lin released Better Luck Tomorrow. It features an ensemble Asian male cast that was dubbed by many male and East Asian members of the AAPI community as the first time they truly felt represented on screen. Lin funded the film through his own credit cards and life savings, rather than making the film with an all white cast. His struggle paid off majorly, as Better Luck Tomorrow received critical acclaim and became a mainstay of AAPI film history.
3) The Joy Luck Club
The Joy Luck Club is a classic tale about family and love, with a powerhouse cast of AAPI women including Tsai Chin, Kieu Chinh, Lisa Lu, France Nuyen, Rosalind Chao, Lauren Tom, and Ming-Na Wen. Get ready to watch an ensemble performance that is the ultimate examination of mother-daughter relationships. The Joy Luck Club is story about growing up, love and loss, and generational differences—all things most of us can relate to.
4) Okja
Bong Joon-Ho's Okja is a wild science fiction action film about one young Korean girl's love for a genetically enhanced pig that she helps raise. Once her "super pig" wins a competition fronted by a huge corporation, he is taken from her. Okja boasts a remarkably passionate performance from Ahn Seo-Hyun and a memorable supporting role from Steven Yeun. A fantastical story with an important and touching moral, Okja was an instant classic.
5) Bend It Like Beckham
Bend It Like Beckham follows Jess Bhamra, a British Indian Punjabi Sikh young woman who wants to pursue playing soccer—or football, as they call it across the pond—but must face the mounting pressures that her parents place on her to follow their wishes. Jess has to face racist discrimination, the challenge of competing for athletic scholarships, and a blossoming romance with her soccer coach. Parminder Nagra and Keira Knightley bring tons of charm to the film as a pair of fiercely competitive, but supportive best friends.
6) Harold and Kumar Go To White Castle
One of the most iconic stoner comedies ever made (that wasn't written by Seth Rogen), Harold and Kumar Go To White Castle was landmark representation for low-achieving Asian Americans who just want to chill, get stoned, and eat White Castle. Absurd and hilarious, it cemented John Cho and Kal Penn's status as comedy stars.
7) Turning Red
Pixar and Disney's Turning Red tracks the coming of age of a young Chinese Canadian teenage girl, Meilin Lee. Mei is stuck between being a loyal daughter who meets her parents' expectations and being true to herself and her own interests. Life gets much more complicated for Mei when she inherits a familial magical ability to transform into a red panda whenever she experiences extreme emotions. Talk about a teenage nightmare! Fun, sweet, and heart-warming, you won't want to pass this one up.
8) Slumdog Millionaire
Another Academy Award-sweeping AAPI-led film, Slumdog Millionaire danced its way into our hearts in 2009. Dev Patel established himself as a heartthrob in the Danny Boyle-directed drama. The film tells heart-racing tale of a young man striving to reunite with a childhood love and climb his way out of devastating poverty.
9) Always Be My Maybe
Always Be My Maybe, which stars Ali Wong and Randall Park, is a true romantic comedy–which we are starving for nowadays. The two show undeniable chemistry as they trade hilarious quips and land in awkward situations that bring them closer. The film also boasts incredible guest stars in Keanu Reeves and Daniel Dae Kim—just in case you needed any extra reasons to enjoy this one.
10) Tigertail
The first feature film from Alan Yang—known for his work directing and writing on Parks & Recreation and Master of None—Tigertail is a multigenerational immigrant tale. It follows a young man who, through his ambitions for a better life, loses sight of his first love and his own identity. Tigertail is a touching, heart-wrenching story about the impact of trauma and the regrets we carry with us.
11) Everything Everywhere All At Once
No list of films celebrating AAPI culture could be complete without naming 2022's Everything Everywhere All At Once, a powerhouse of a film that swept seven Academy Awards (including Best Picture). It even became the top-grossing movie ever released by A24. The film also earned Michelle Yeoh the Oscar for Best Actress, becoming the first AAPI-identifying woman to win the award. But forget all the hype and just watch it for it is: a fun, fantastical, and touching tale about family and the forever struggle of making meaning in life.
12) Rush Hour
What better way to celebrate AAPI heritage than with the groundbreaking buddy cop movie, Rush Hour? For many Asian Americans, this was one of the mainstays of Asian representation in mainstream movies for the '90s and early aughts. Do the jokes hold up? Maybe. But does the action and odd, but somehow irresistible chemistry between Jackie Chan and Chris Tucker hold up? Absolutely.