Take a second and think about your favourite go-to scents. Chances are, you're thinking about something that's woody, musky and perhaps powdery—sensual notes that are typically at the base of some of the best-selling men's fragrances out there. Dior Sauvage and Bleu de Chanel for example, contain base notes of vanilla and amber, and sandalwood respectively.
These grounded notes belong to the warmer side of the fragrance wheel where olfactive families the likes of amber, woody, and fougère (French for "fern") reside. The latter of which is probably the most used olfactive family in masculine scents. In fact, both the aforementioned Dior Sauvage and Bleu de Chanel are classified as such.
A fragrance is more often than not, quite a subjective experience. While there tends to be a gendered approach to it—as with most things—there's hardly any reason why a scent shouldn't be used because it's crafted and tagged to be worn by a specific gender. Having said that, there's a common understanding that masculine fragrances favour a heavier overall feel. That's totally fine, except in cases where humidity levels already weigh one down.
There's a reason why warm-profile fragrances are typically worn in the colder months of the year. The rich and sometimes intense notes of warmer fragrances may be great for a lingering sillage, but in humid conditions, they're often overpowering. Couple that with incessant sweating, and you've got yourself quite an uncomfortable combination.
Green fragrances are one of the more underrated scent profiles, especially in the men's fragrance space. Green sits somewhere in between floral and aqua scent profiles. They're meant to capture the feeling of being in the outdoors with natural notes of grass as well as the sharp freshness of cucumber-esque notes. An inherent lightness lies in the base notes exuding a typically subtle scent, but green formulations can be mixed with more full-bodied accords to create quite a well-balanced fragrance.
Consider a green fragrance like a much needed spritz of cool mist in the summer heat—inviting and thoroughly refreshing.
Where the wild things are
Because the great outdoors, in essence, comprise of a myriad of scents, it's not exactly right to say that green fragrances have little aromatic impact. Take Guerlain's Herbes Troublantes for example. The first whiff is immediately light and refreshing, brought about by essences of thyme, mint and rosemary. It then settles to a powdery body, but only just a tinge.
The same can be said of Jardin à Cythère by Hermès. Inspired by the Greek island of Kythira, the fragrance is a sublime combination of grasses and olive wood that is tied together with fresh pistachio. There's a slight warmth that comes through but like a breath of fresh air, Jardin à Cythère gives off an overall feeling of brightness.
Citrus notes help to elevate both Acqua di Parma's Fico di Amalfi and Maison Francis Kurkdjian's Aqua Media. While Italian lemon gives the former a distinct lemony accent, the latter gets its citrus inflections thanks to a verbena accord that heightens the citrusy aspects of verbena leaves. Both fragrances pack quite a punch at the start before smoothing out to a clean and natural finish.
For something slightly on the floral side, opt for Highgrove Bouquet by Penhaligon's. Its deceptive in the sense that one wouldn't probably expect a dose of sweet floral to cut through. Yet at the same time, it's wonderfully light and airy.
Start small
If you're hesitant about leaving behind the musk, there are a number of green fragrances that have been teamed up with musky accords. Start off with Creed's Green Irish Tweed—one of the house's best-selling fragrances—consisting of a familiar sandalwood base. It's in the inclusion of Egyptian geranium, lavender, violet as well as bergamot that tips the fragrance to the green side of things.
Chanel's Coco Noir bridge the olfactory space between amber and green quite beautifully. It's an overall musky scent but is somewhat muted by the presence of bergamot and geranium rose leaf. And yes, it's categorically a women's fragrance but who could even tell?
Probably the most musky of the lot in this edit—at least in the initial whiff—Aesop's Erémia remains vibrant and fresh. The top notes are mostly citrus-heavy with yuzu and grapefruit, and then balanced with bergamot. Its middle goes full green with green tea and mimosa, but it's in the base that the green profile is further enhanced with galbanum. To tie it all down, patchouli affords Erèmia that distinct musky scent you'd easily be drawn to.
Photography: Jaya Khidir
Styling: Justin Neo
Walk into the Hermès flagship store in New York and you'll think you've gate-crashed a Supermarket Sweep for millionaires. The well-turned-out shoppers seem primed to drag an arm across a shelf, gathering as many pieces as possible from one of luxury's oldest brand names. Naturally, there are more restraints—and significantly fewer shopping carts—in this 20,000 square foot temple of tastefulness, which opened on the Upper East Side last October.
"The store is really a masterpiece," says Véronique Nichanian, artistic director of the Hermès men's universe since 2008. "For a big store, it feels really intimate." it is a means to highlight Hermès' superb menswear, which Nichanian has been overseeing for a staggering 35 years, beginning in 1988 when she was appointed artistic director of men's ready-to-wear. In any industry, longevity like that is unusual. She is a unicorn in terms of style. Hermès men's has evolved under her leadership from the bougie bon chic, bon genre style of the late 1980s—all blazers, suits, and patterned city-boy ties—to relaxed, contemporary apparel and accessories fit for a hangout session that just so happens to take place on a private jet.
"For me, more and more, it's about simplicity," Nichanian says. "I've always loved working with materials, with cloth. I like simple shapes. But I find that men have really changed, too; they are more and more into clothing that is relaxed. Wearing a suit and a tie is no longer by obligation; now it's a choice, a pleasure. So men are broadening and investing in their casual wardrobes like never before."
It's easy to believe, with a grand old name like Hermès—with its silk scarves and Birkin bags and iconic orange packaging—that you're buying into a vision of permanent Frenchness here, something stuffy even. Not so. "I never really liked that traditional bourgeois view at all," Nichanian explains. "I think it's vital to move, inject colour, play, twist things to surprise people. We always do things at Hermès with a sense of humour, lightness, and charm."
The men's summer 2023 collection, which was revealed in Paris in June, is a confirmation of the air of sophisticated, contemporary elegance that permeates Hermès under Nichanian's direction. The company, which is getting close to its bicentennial, sees itself as a conduit to modern excellent taste rather than fighting change. It is not trendy, but it is unquestionably in style.
Much of the appeal comes from the makeup of the clothes. For summer, there's near-weightless construction, unimpeachable quality, and colours rarely associated with men's fashion. Nichanian uses the word légèreté, or lightness, frequently in our conversation, which jumps between French and English. The concept matters just as much emotionally as physically. "I really wanted to give the collection a real sense of lightness, a feeling of escape," she says. "The world feels heavy at the moment; I think men need summer clothes that feel less urban. There was a lot of inspiration in David Hockney's art for me—all that California light, those swimming pools, things seen refracted through water—that provided a sense of fluidity, even a sense of humor."
That playfulness is discreet. You may see an understated H embossed on a leather bag or a belt here and there. But that's pretty much it. "We've been doing things a certain way for nearly two hundred years. We don't need to put big logos on everything," Nichanian says. "People talk about Hermès with a real sense of reverence but also with a real fondness—a certain joie de vivre—compared to many other big brands, which I think personally take themselves far too seriously. Of course, business is business, and brands are like people at the end of the day—each to his own, you know. For us, Hermès is all about its personality."
Photography by Jason Kibbler
Styling by Nick Sullivan
Grooming by Kevin Ryan for Ludlow Blunt salon
Model: Hamid Onifade for DNA Model Management
This story originally appeared in the April/May 2023 issue of ESQUIRE magazine
Originally published on Esquire US
Watch snobs, hear us out: Before you turn your nose up at fashion watches for men or any piece that does not bear the prestigious Poinçon de Genève, consider the possibility that jewellery and, yes, even fashion brands have been coming out with head-turning timepieces for ages.
Luxury French fashion house Hermès, for example, made serious inroads into the horological world by putting up its very own booth at Salon International de la Haute Horlogerie for the first time in 2018. French fashion brand, Louis Vuitton, produced a watch that earned the mythical Poinçon de Genève: the Flying Tourbillon, released in 2016.  
Times are changing, and these fashion and jewellery brands have shown they take their watch departments very, very seriously. And there's another thing these brands that combine savoir-faire with technical excellence can do: When it comes to producing true objects of desire, they have nailed it down to an art.
Still not convinced? Here are a few of the companies that have made some of the most beautiful timepieces over the years.
Cartier
Say the name "Cartier" to any woman, and her eyes will no doubt light up with visions of its legendary jewellery—the Love bracelet, the Juste un Clou bangle, and the jaw-dropping Tutti Frutti and Panthère collections, just to name a few. But you, of course, will recognise that Cartier makes incredible watches, and you would be proud to have one on your wrist. Brand founder Louis-Francois Cartier did, after all, take over the workshop of master watchmaker Adolphe Picard in the 1800s, forming the company's earliest foundations on innovative clocks and fashionable wristwatches. Thanks to the patronage of royalty that included King Carlos I of Portugal and King Edward VII of Great Britain, its reputation would later be cemented as the "jeweller of kings."
Our pick: The Cartier Tank Solo
The Cartier Tank was inspired by the tanks used in World War I—as far as origin stories go, it doesn't really get any cooler or more badass than that. The Solo is a modern addition to the collection, yet retains all the features that make the watch an enduring classic.
Hermès
With its highly coveted handbags, such as the Kelly and the Birkin, true luxury definitely equates to Hermès. From its early beginnings as a harness and saddle supplier, the French luxury house is now best-known for its quality leather and signature silk scarves apart from branching out into perfumes, jewelry, and even accoutrements for the home. Naturally, the brand first created saddle-stitched cases for pocket watches and leather watch straps before dedicating itself fully to watches for men and women by establishing La Montre Hermès in Bienne, Switzerland in 1978.
Our pick: Cape Cod
Created by Hermès creative director Henri d'Origny in 1991 when he was tasked with making a square watch, the case and dial take cues from the brand's distinct chaîne d'ancre motif, resulting in a shape that is unmistakably Hermès. Bonus points if you get it with the famous double tour strap, a twice-winding leather wristband designed for the house by Martin Margiela in 1998.
Bulgari
The Italian jewelry house was made famous by Elizabeth Taylor, who turned the Serpenti into an icon when she was photographed wearing it on the set of Cleopatra while filming in Rome. In her personal life, she was known to be a prized Bulgari client, too, care of a tumultuous romance with Richard Burton that resulted in even more gifts of diamonds and jewelry for the Hollywood star. But Bulgari's watches are worthy of just as much admiration and awe for the way it blends the Italian flair for design with Swiss watchmaking's technical expertise. The company showed how serious it was about the latter with the establishment in 1980 of Bulgari Haute Horlogerie in Neuchatel, Switzerland. It also acquired the Daniel Roth and Gérald Genta brands in the year 2000, leading it to introduce its own in-house mechanical movements by 2010.
Our pick: Bulgari Bulgari
You could say that this was the watch that started it all, originally intended to be a Christmas gift to the house's top 100 clients in 1975. Recognisable by the engraved "Bulgari Bulgari" logos surrounding the bezel, it was conceptualised as a tribute to the design of ancient Roman coins.
Louis Vuitton
By now, everyone is familiar with the French fashion giant's humble beginnings as a travel trunk-maker in 1854. This later expanded into that famous monogram adorning just about everything, including a notorious punching bag designed by Karl Lagerfeld. But just as LV has a knack for turning all of the things it touches into precious objects of desire, so it goes with its watches. It's a relatively new player, considering it marked its entry into the field with the launch of the Tambour fine watch collection in 2002. But it has certainly worked double-time and caught up since, producing many gorgeous fashion watches for men in between, leading up to the inauguration of La Fabrique du Temps Louis Vuitton in Geneva in 2014.
Our pick: Tambour Damier Cobalt Chronograph
It's fitting we should throw it back to the Tambour collection, but this new edition comes with a twist: interchangeable straps that allow you to quickly switch up the look, even without specialised tools. The Damier canvas is also ever-so-subtly visible on the dial, but you'll be able to spot that eye-catching V from across the room.
Tiffany and Co.
Now it's time for the American entry into this list: Tiffany and Co., whose legend will forever be tied to New York, Audrey Hepburn, breakfast, and that instantly recognisable robin's egg blue. Though of course it is primarily known for jewellery, thanks to its association with dreamy engagement rings and the famous 128-carat Tiffany Yellow Diamond proudly displayed at the flagship store on Fifth Avenue, the company has been selling timepieces since 1847. In fact, one of the flagship's most recognisable features is the nine-foot Atlas Clock right above the door—also the inspiration for Charles Lewis Tiffany's coining of the phrase, "New York minute." Tiffany also created America's first stopwatch, the Tiffany Timer, in 1868.
Our pick: Tiffany Atlas
An homage to the Atlas Clock that has been standing guard since the 1850s, the Atlas watch uses the same Roman numerals that New Yorkers have used to check the time over the years. In two-tone rose gold and stainless steel, it could prompt you to create a New York minute of your own.
From: Esquire Ph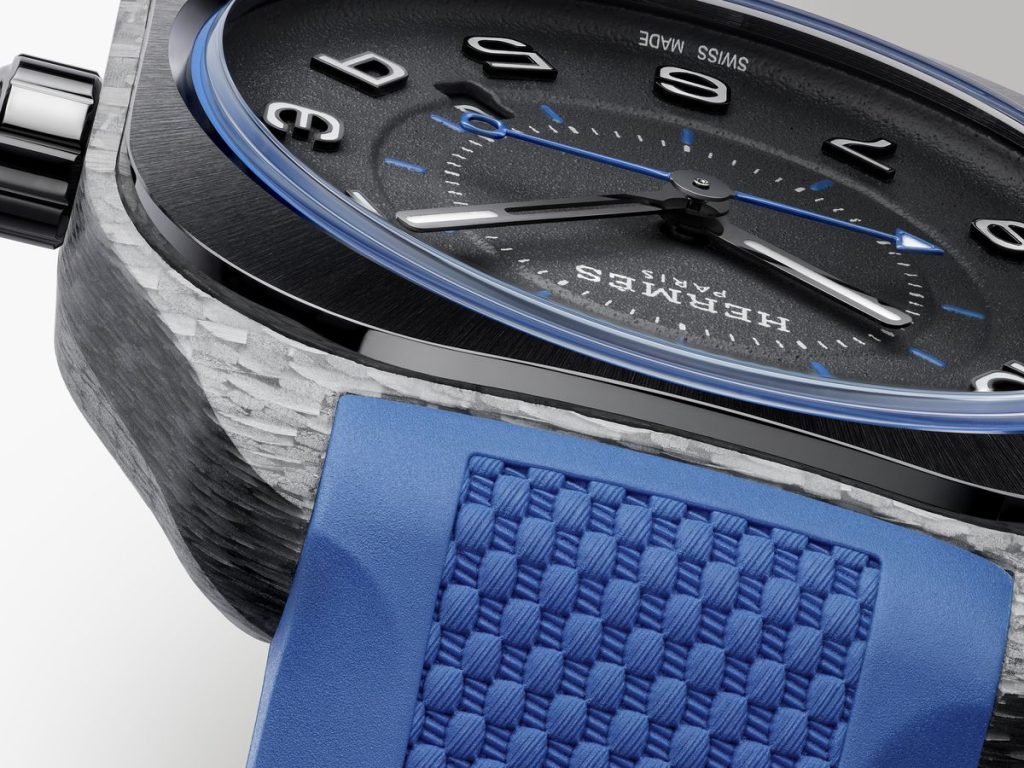 Hermès stands apart in the watch world.
Not for esteemed French fashion house the idea of licensing its name to a third party manufacturer, to be sold in airport concessions and department stores like some other boldface fashion brands.
Nor is it forging into some cyber-future with a kaleidoscopic LED smartwatch complete with an animated face running its own version of Google's OS software, as is absolutely on-brand for Louis Vuitton
Instead Hermès has ploughed a great deal of money into establishing its own haute horlogerie watch manufacturer. Since 1978, it has concentrated on producing mechanical watches intended to compete on the same stage as the Swiss greats.
It has done so using the DNA familiar from Hermès clothing and accessories – playful, chic, reassuringly French – and given us a portfolio of watches unlike any other.
The Heure H, with its face that's a square inside a rectangle and its mirrored dial. The Carré H, a circle inside a square, its dial referencing a compass and a pendulum. The Cape Cod Grandes Heueres, its hours marked at irregular intervals, giving the impression time is accelerating or slowing down.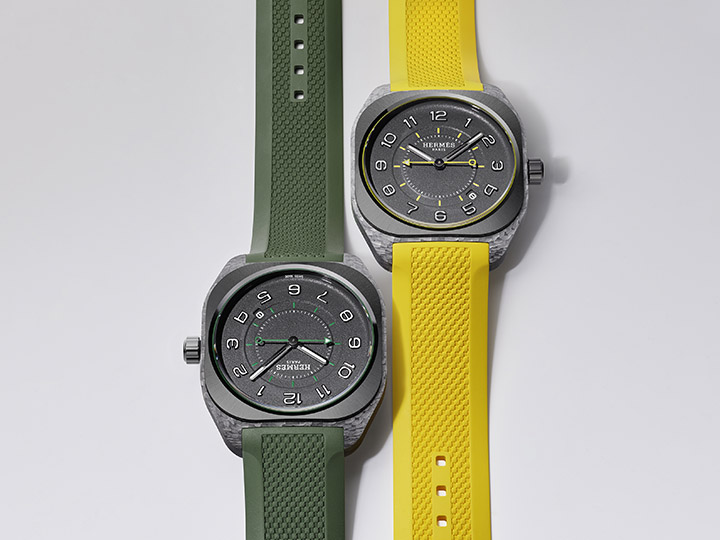 These efforts have not gone unnoticed. It has won multiple prizes at the Grand Prix d'Horlogerie de Genève, the awards that all media is contractually obliged to refer to as 'the Oscars of the watch world'.
In 2021 it launched the H08, a new collection of easy-wearing but elegant everyday watches, that came in three options: titanium, a black DLC-coated titanium model, and one with a graphene case. The H08 – the name represented Hermès' eighth collection – was also distinguished by high-end finishing, custom off-beat typography and an unusual cushion-shaped case. It featured a mixture of straight lines and curves, as well as a mix of surface finishes. It was sporty. It was dressy. It was really a very nice watch.
According to Morgan Stanley last year Hermès watch division announced a rise in profits of 73 per cent, making it 'the fastest-growing Swiss watch brand' of all. Watches now represent the fastest-growing division within Hermès.
It launched a further H08 in a dark blue, PVD-treated titanium case topped off with a sunburst satin-brushed black ceramic bezel and screw-down crown – blue being traditionally a strong seller for men. In January it followed this with a version in a black DLC-treated titanium case back, and a rose gold case.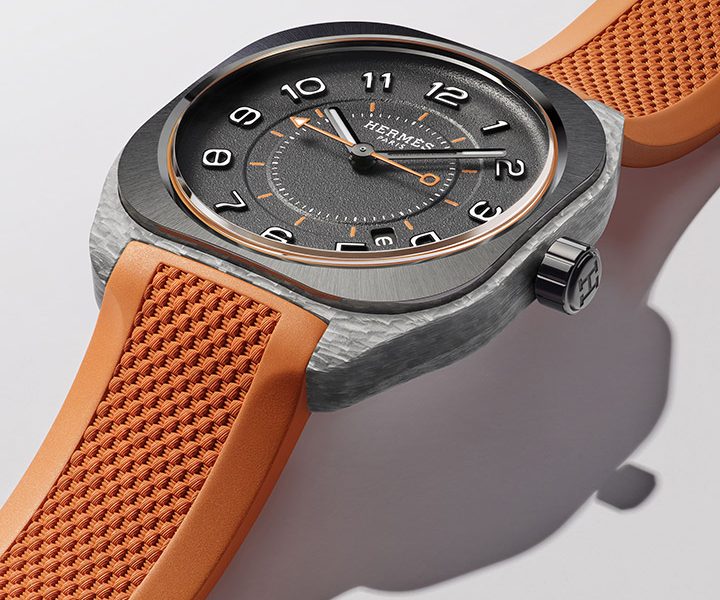 Now Hermès has doubled-down on the success of the H08, releasing four new versions in blue, green, yellow and orange. As per previous models the rubber straps match the coloured accents, second hand and chapter ring. The cushion-shaped case again measures 39mm x 39mm, and the watches are powered by Hermès own movement, the H1837, which comes with a 50-hour power reserve.
One the one hand, this is not Hermès busting out any bold new moves we've come to expect from a brand known for busting out bold new moves. On the other, it knows it has a hit on its hands. And as the wider men's watch world embraces bold and adventurous colours across its dials and straps, you can hardly blame them for joining the party.