We did the grinding, drinking, and hyper-caffeinated testing for you.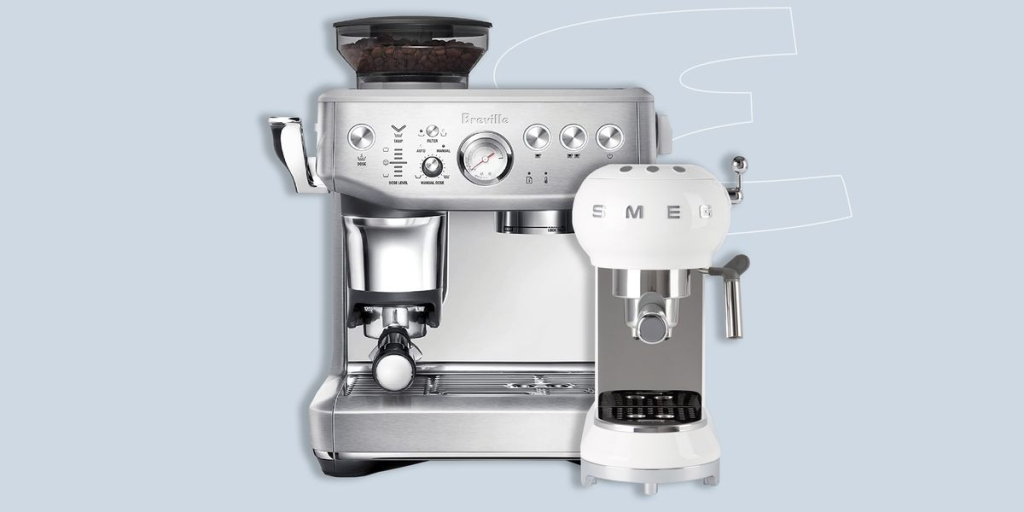 We take our beans seriously over here. No really, we don't fuck around when it comes to beans. Nobody is more freakish about coffee than we are. (That's a lie, the nerds on r/coffee are probably decades ahead of us, in that regard.) But we absolutely know what a good cup of coffee is, and we know how to make it. Whether we're lounging our dream home, trekking the outdoors, or anywhere in between, we want something strong, smooth, and maybe even iced.
And when we're in serious need of a strong cup of mud, where do we turn? To our home coffee machines. And our editorial staff has gone through a lot of them. We've tinkered, tried, and tested just about everything on the market. When we're going to sleep at night, we're thinking about that perfect first sip in the morning, or we're thinking about how much we hate our current machine and need to try a new one.
Maybe you should quit caffeine for a bit... This seems like an unhealthy fixation.
Well, we're in too deep! We're going to write passionately about the our favorite coffee makers—the best coffee makers money can buy—and we're going to continue feeding our caffeine addictions. So join us, grab a mug, and get to scrolling. Everything on this list meets our impossibly high standards.
THE BEST ICED COFFEE MAKER
De'Longhi Eletta Explore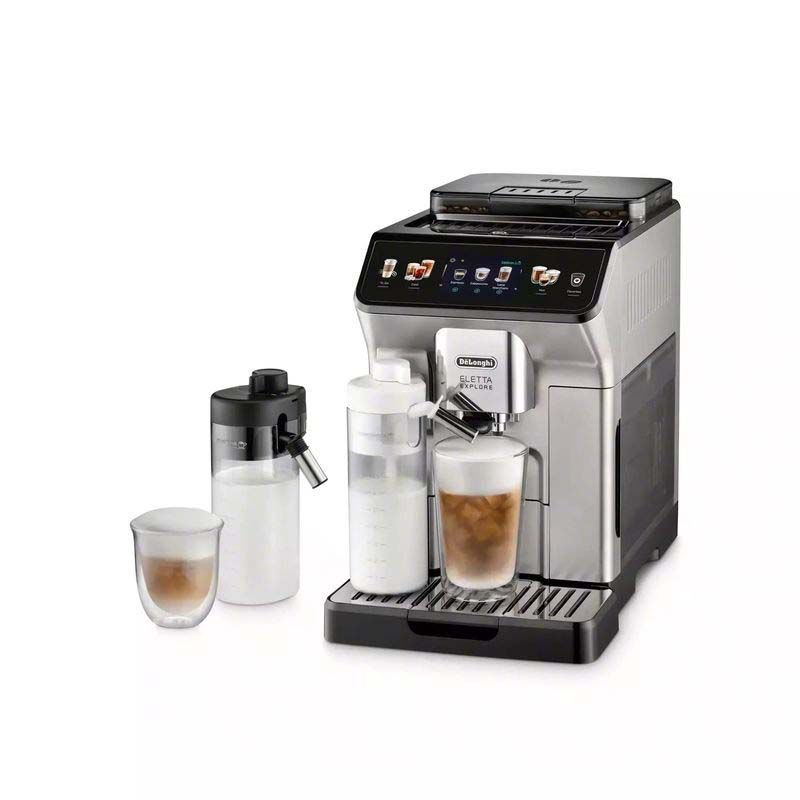 Pros
Has self-cleaning capabilities

Included accessories like cups and ice trays

Two milk frothers makes a huge difference

Has self-cleaning capabilities
Cons
A serious investment
I already wrote nearly 1,000 words on why the De'Longhi's Eletta Explore Machine Is Worth Every Penny, but here's the short version: It gives me cafe-quality drinks in my own kitchen. Look, a lot of people (most of us in this article) say this, but the Eletta Explore goes beyond a regular old cup of Joe or shot of espresso. You can make iced lattes, cappuccinos, and any other specialty drink that comes from coffee beans. Sure, a lot of machines can do this, but these don't taste like they've come from a pod, they taste like they were made by your favorite barista at your favorite local coffee shop.
But there's one feature that really makes this machine stand out over others: The way it makes iced coffee. The De'Longhi comes with De'Longhi cups, of course, and even a De'Longhi ice cube tray. The cubes are perfectly sized and turn your hot coffee drinks into iced ones. But! It goes one step further, because this machine has two milk frothers, one for hot milk, one for cold milk. Since this can froth milk cold (any type, even plant based), the fluffy milk pours over those perfect ice cubes and doesn't melt them. The result: The perfect iced coffee. Maybe even better than your usual spot. —Krista Jones, Senior Commerce Editor
THE EASIEST COFFEE MAKER TO USE
Philips 3200 Series Automatic Espresso Machine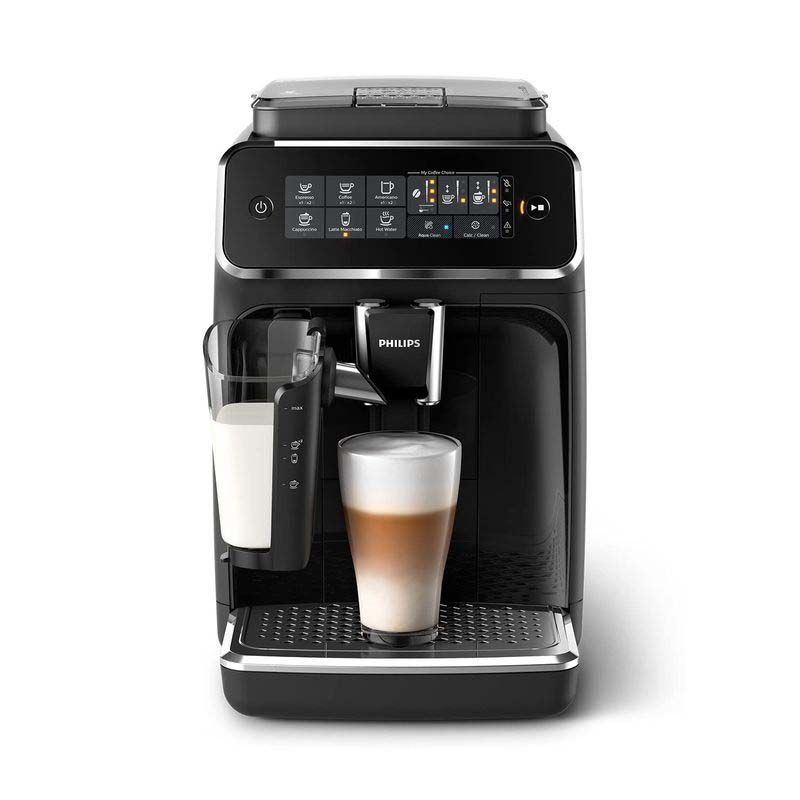 Pros
Huge catalog of drinks to make

Intuitive one-touch interface

Frother is easy to clean
Cons
Not great for iced coffee
I think about coffee makers a lot. Always wondering if there's a machine or method out there that's somehow better than the system I've employed for however long in my home at that given moment. I've got an automatic drip coffee machine, an expensive espresso rig, French presses, stovetop espresso pots—maybe you get it. And if you're like me—as in, unable to commit—there's actually finally a machine that's well-suited to your short attention span. The Philips 3200 lets you have coffee, espresso, cappuccino, and lattes at the press of a button. (Seriously, you press "cappuccino.") It's intuitive as hell, and your settings are highly customizable. And the LatteGo milk froth system has to be one of the best frothers I've seen. Requiring minimal effort to make and almost none to clean.
A word of caution before I go: Don't get your hopes up too high for the "iced" option. This thing, while impressive, does not include a refrigeration system, so your drink will still need to be chilled post-brewing. —Madison Vain, Digital Director
BEST COFFEE POD MAKER
Bruvi The Bruvi Bundle
Pros
B-Pods biodegrade in landfill, no need to recycle or compost

Strong, weak, or low-acid options
Cons
Only compatible with B-Pods you have to purchase
First thing I noticed about The Bruvi was it's look. The off-white and wood finish makes it feel so homey. Seeing it in the kitchen would physically lower my heart rate. Making coffee with this thing was my daily detox from harsh stainless steel.
Beyond the look, I was blown away by how much it can do and how intuitive it is. Coffee, espresso, iced, cold brew, Americano, tea, low acidity, big cup, small cup—all with one press of a button on the easy to read screen. That easy! It brews quietly, and it plays a soft little tune when you're done. The best thing, though: This is the most eco-friendly pod machine on the market. The guilt-free pods are made to biodegrade in the landfill. —Luke Guillory, Associate Commerce Editor
BEST AFFORDABLE COFFEE POD MAKER
illy Easy Espresso Machine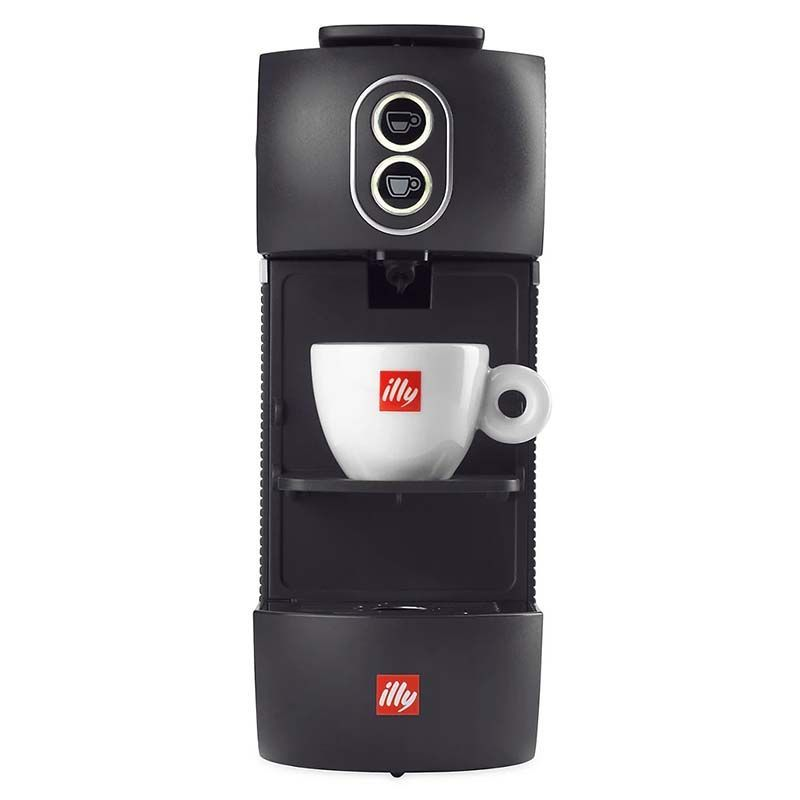 Pros
Makes bolder, richer coffee than other pod machines

Small footprint makes it great for apartments

Compostable pods
Cons
Italian-style, espresso only
When I want to make my coffee fast and head out the door, the Easy Coffee Machine is my secret weapon. Unlike many pod coffee machines I've used, this one has a rich, bold flavor in every cup. The ESE pods are eco-friendly and compostable, which would be a win itself, but it helps that the taste carries that strong, vibrant aroma that Illy coffee beans are known for. It's ridiculously easy to use this machine—just fill it up with water, put in your pod, and boom—you have a delicious, steaming cup of coffee waiting for you. Plus, it certainly helps that the sleek, compact design is perfect for any kitchen countertop, no matter how much space you have (and trust me, I don't have a lot of it). —Trishna Rikhy, Associate Style Commerce Editor
BEST BUDGET COFFEE MAKER
Bialetti Moka Pot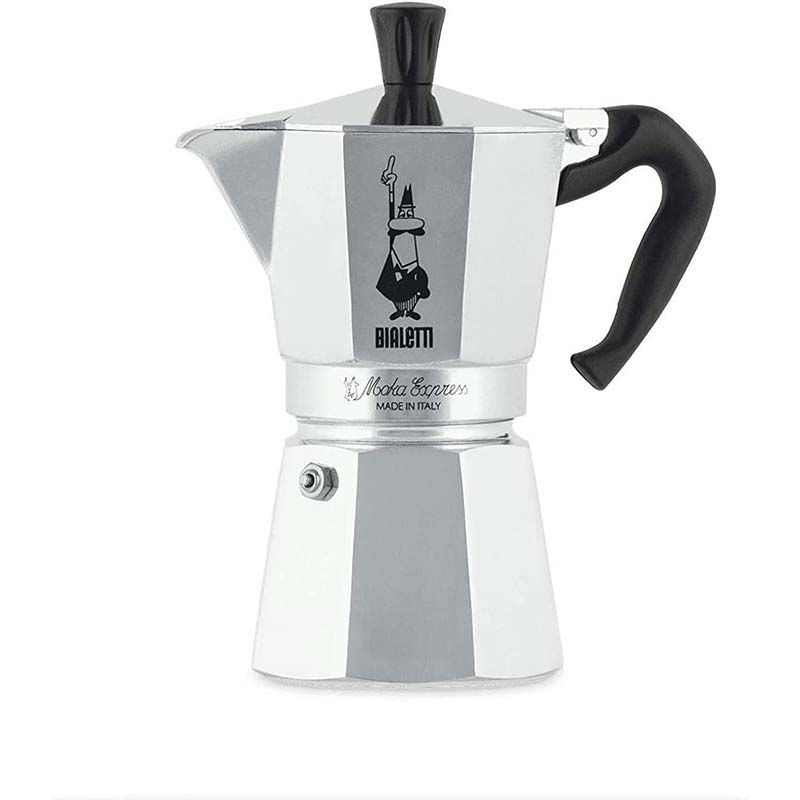 Pros
Incredibly cheap

Small enough to pack away in a cabinet

Makes rich, perfect coffee
Cons
Only makes a small amount at a time

Takes awhile to brew
I had to talk about the humble Moka Pot. I bought one back in college, and I still use it most days. These things are the backbone of homemade coffee across Italy, and they're one of the best-ever pieces of Italian design. As easy to use as a French press or percolator, but the end result is a richer and smoother psuedo-espresso.
If you're dipping your toe into at-home espresso, this is the starting point. With just a hotplate and handheld milk frother, you can make your own macchiato, latte, cappucino, or cortado. For size and price, nothing will take you farther. —L.G.
BEST LOOKING ESPRESSO MAKER
Smeg Espresso Machine Black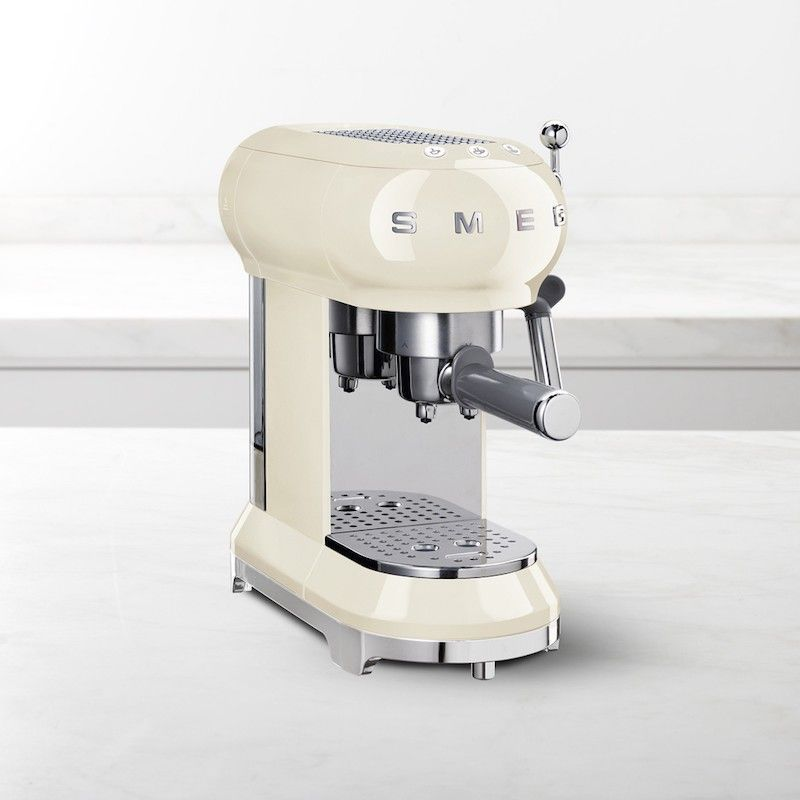 Pros
Beautiful look

Slim, doesn't have a huge footprint

A nice handful of colour options
Cons
Only makes espresso and steams milk

But eventually I wanted to upgrade to a proper espresso machine. And I'm not a huge coffee snob (yet!), so for the purpose of this review, I did the pretty machine.
Before this review, I wasn't a fan of SMEG's retro design vibe. I thought the whole "look" was too much, too try hard, annoying, or whatever. Turns out, I was just coping with the fact that I was too broke to afford it.
The second I put this espresso machine on my countertop, I took back everything bad I'd ever said about the SMEG look. It looks so, so, soooo good. The 50s-inspired shape I thought was "too much" is actually just beautiful. The rounded edges and pop of color is the perfect antidote to all the sharp lines in my kitchen. The textured top is the perfect place to store espresso cups and saucers. Plus, the cream color isn't too bold, so it really just blends in.
Oh! And it's the a great simple espresso maker. There's three buttons: Single shot, double shot, and steam. No iced this or pre-made that. I bought a frothing pitcher, and now I can go barista mode and make whatever espresso-plus-milk drink I want. Most importantly: I look good doing it. —L.G.
BEST PRO-LEVEL ESPRESSO MAKER
Breville Barista Express Impress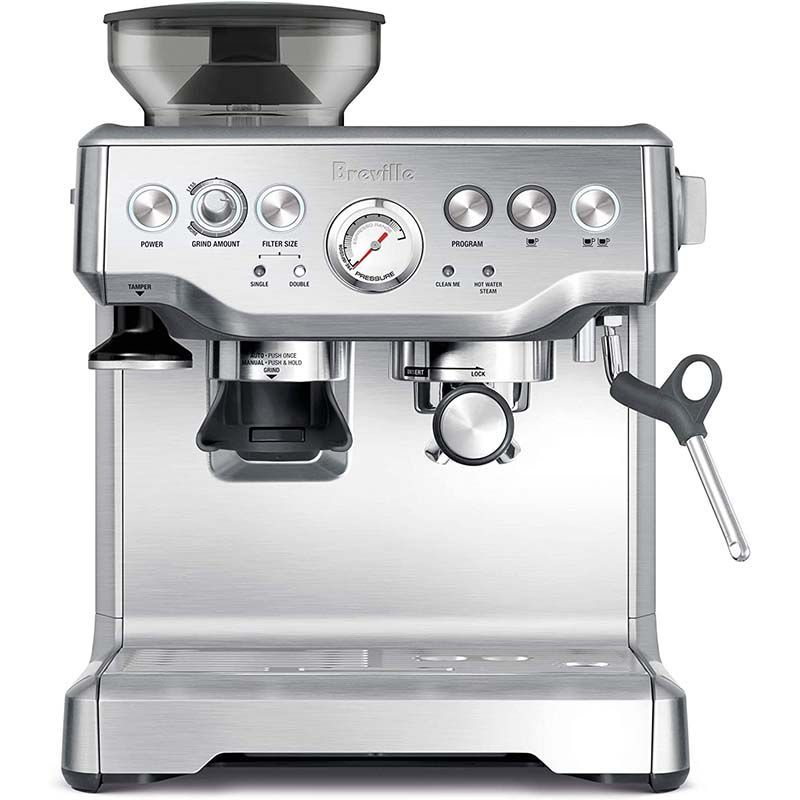 Pros
Grinds the beans right in front of you

Barista-level customisation and performance
Cons
Takes a while to learn your way around the machine
While I love my machine that makes iced coffee, I love one more machine that makes just straight up good espresso. A recent winner of our Home Awards, the Breville Express Impress is all about the grind. This thing is precise. It took me awhile to learn all its little tips and tricks, but now it makes me feel like a true Italian barista whipping up a bold cup of espresso. One of the hard parts about using a machine like this is you often have to guess your grind, but this one takes that scary work out of it for you. The Precision Measurement feature actually autocorrects your dose, making it easier to get the right flavor and blend. It also features a very, very cool assisted tamping method with a seven degree 'barista twist' that helps you pack it down. All of this while offering 25 grind settings, so you can pick exactly what you want. Of course, there's a professional-feeling frother option on this machine too, perfect for a latte. Overall, it's all about customization here. If you want a machine where you can choose every single detail about your cup of espresso, this is it. And considering all that, it leaves a much smaller footprint than most other competitor models, and it doesn't look bad sitting on your countertop, either. —K.J.
BEST OUTDOORS COFFEE MAKER
Snow Peak Collapsible Coffee Drip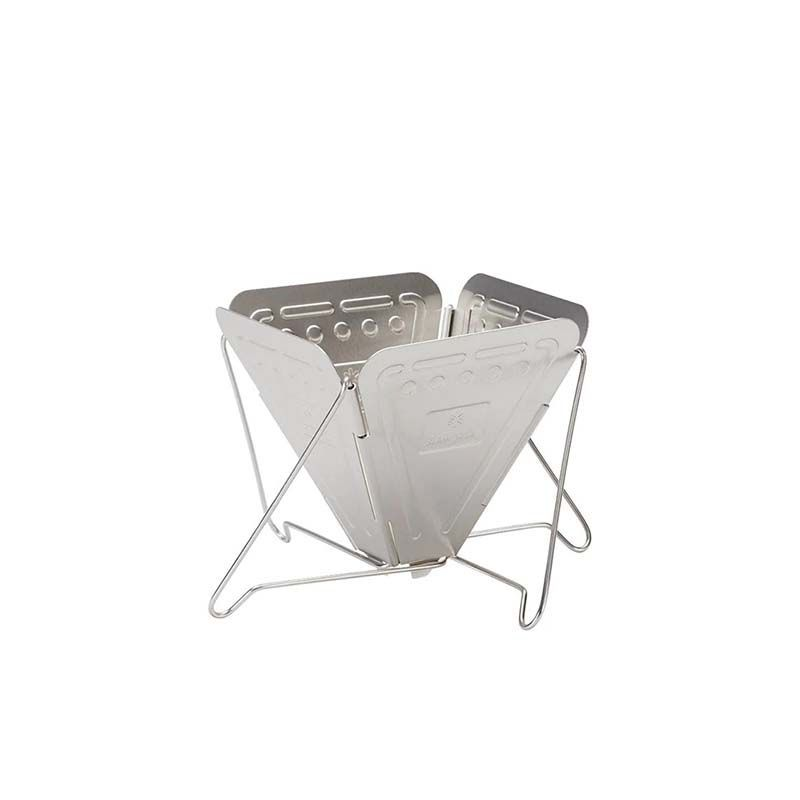 Pros
Lightweight and packs down nice and thin

Can be used over any much or carafe

Durable stainless steel will last longer than other models
Cons
Fairly small

Large groups will require multiple brews
I developed a Stockholm syndrome situation with cowboy coffee. I told myself I enjoyed the black sludge at the bottom of my camping mug—that it's woven into the culture of America's wild, untamed outdoors. Fuck that, honestly. The only way cowboy coffee is any good is if you're using cardamom-spiced Turkish grounds. In which case, it ceases to be cowboy coffee and just becomes Turkish coffee.
The solution was a backpacking coffee maker. But the world of backpack coffee makers is full of products that were either too complex or too ugly for me. Snow Peak's collapsible stainless steel model was the only one I loved.
First, the price is reasonable. Second, it's light enough (4.9 oz.) and packs down thin enough to be an easy backpacking option. And third, it makes good, consistent coffee. I don't have to fiddle with an AeroPress or clean a French press. It's just hot water over a filter full of grounds. Rinse my cup, toss the filter, fold up the drip, and go. —L.G.
BEST SMART COFFEE MAKER
Spinn Smart Espresso & Coffee Machine
Pros
Grinds beans (and the correct amount) for you

Makes a huge selection of drinks

App is easy to navigate
Cons
Brewing from your phone requires you to put a cup down beforehand
I also tested probably the most complex coffee maker on this list. The Spinn is as easy as a pod machine, but it grinds the beans fresh, so you end up with an infinitely better tasting cup of coffee.
This thing can make about 30 unique drinks—cold brew, drip, milk drinks, even the base for an espresso martini. So, the simple interface on the front of the machine was pretty much useless beyond setting it up. I made 99.9 percent of my drinks from the app. Which, unlike any other app-based appliance I've used, was incredibly easy to set up and always reliable.
The app is easy to use, the machine makes a ton of drinks, the bean grinding only takes a few seconds, and refilling the machine is as easy as opening the top and dumping in more beans. (You can actually sign up with Spinn, and auto order beans when your maker is getting low.) Typically, I'd say I don't want all this tech in a coffee machine, but I'd be lying if I said I didn't have the time of my life making an espresso while I was still laying in bed. This is the future. —L.G.