There's no love song finer /
But how strange the change /
From major to minor /
Ev'ry time we say goodbye
- "Ev'ry Time We Say Goodbye" by Cole Porter
As a child, you're a blank slate. When people say, it is written in the stars, they are basing it on long-dead planets, their light burnt out long before their rays could reach us. Was it a sign of things to come when Bruno Major, aged seven, took up the guitar? Or maybe, we're reading too much into it.
But it made sense, in hindsight. Of course, he'd gravitate towards music. It was always a constant in the Major household—a brother who would later be part of London Grammar; a father who plays guitar; a tickle of the ivories of the piano in the house.
At seven, Major was gifted a guitar for Christmas. Six hours a day, he'd play on it; his red-raw fingertips giving way to calloused bumps.
It was like wearing a coat tailored made for him: music felt as familiar as it was exciting. Major knew at the time—as certain as children knew about the rising of the sun or that the love from their pets would never leave them—that he would end up being a musician.
Metal appealed to the teenage Major. As a teenager, changes to his body and emotions swept over him like a tsunami. He saw his first Korn concert at 13; wore eyeliner; painted his nails black; played in a metal band, the culture spoke to him and, contrary to the general misconception, the genre has a high level of musicianship that Major appreciated.
"There was a lot of crossover between metal and jazz," Major says. "In some way, metal was my foray into jazz because I started to learn about modes and scales like 'that's the Dorian mode or that's the Phrygian mode', which are the basics of jazz."
He became a session guitarist at 16 and pursued a jazz degree at Leeds Conservatoire (formally Leeds College of Music). Moving to London, Major tried to find his voice in the music world. It was after talking to a homeless man that he felt inspired to write his first song. Unable to find anyone to sing it, Major sang it himself. And then he sang another of his song. And another.
Major uploaded his compositions to his Soundcloud account, where it caught the ears of the music labels. He'd signed to Virgin Records, who flew him out to LA and gave him the star treatment as he recorded his first album.
Then the label unceremoniously dropped him. Calling the album "rubbish", Virgin Records refused to release it. (An EP called Live was the only recording that was released with the label; three of the four songs would be featured in his future albums.)
Devastated, Major returned to Northampton. He lived off what was left of his advance and took up a job with a local theatre company to pen music for Shakespeare plays. His confidence as a songwriter took a nose dive, he tried writing but didn't think they were any good. Major was tethering, the option of quitting a looming possibility.
It was a car ride with his mother that would give him a fresh perspective. She imparted a balm: that what he was going through are all "part of [his] tapestry". That stayed with him. (Days later, he would pen "Tapestry", which later be included in his 2020 album, To Let a Good Thing Die.)
Major decided on an ambitious project of writing a song every month for a year.
"Originally, the idea was a song a month for the rest of my life," Major explains. "My manager was like, Dude, I don't think you should do that. Maybe just try for a year? But it was pretty intensive. The songs had to be delivered a week before the monthly deadline. So actually, it was a song for three weeks, then I deliver it, take a few days off and then start again."
He had no expectations. The project was an exercise in whether he could write a song with an imposing deadline. Some songs were easy ("Just the Same" was written in 20 minutes), others were hard (Major almost missed the deadline with "Easily").
All 12 songs were compiled into an album called, A Song for Every Moon. It was released independently and garnered 30 million streams in a year. The experience taught him a lot. Major learnt how to let go, to put something out even if he thought it sucked. By not having to overthink, Major made better music. This was the start of his career
The world is made smaller by the Internet. He'd want to perform in South America; he'd want to return to India. ("I was in India playing for another artist.") That he is able to reach people all over the world, that magic isn't lost on him.
"Being on tour is wild. You get up, work out, you eat, you do the gig, you travel, repeat. After a while, you get to enter into a flow." He gestures to our interview, "This sort of breaks it up. It's fun.
"I love travelling and I can understand why people would find it boring after a while but I love it. In fact, the only problem for me is when the tour finishes because you have to return to normalcy."
Bruno would post a video on his Instagram about the 24 hours he'd spent in Singapore. It's a whirlwind affair with snippets of our photoshoot, a visit to the local Spotify office, rehearsals and then the big sold-out show at The Capitol. At the end of it, he looks relieved, energised even before the video cuts out.
With all that he has going for him, imposter syndrome sneaks in. "There's a weird thing with writing where it doesn't feel like you've accomplished anything. Like, with the latest album, Columbo."
After touring for Moon, Major rented a home in LA and worked on his sophomore album, To Let A Good Thing Die. This follow-up to Moon was about the arc of a relationship; Major had broken up with a girlfriend and while acknowledging that it's better to let things go, love is ever-present.
He was about to embark on a world tour to promote it when travel became heavily restricted thanks to the Covid-19 pandemic. He moved back into his parents' Northampton house; he played video games and drank. As an independent artist, Major's main form of promotion is touring. He pivoted to placing more emphasis on his social media presence, performing online and interacting with his fans. Like the rest of the world, Bruno was waiting out the pandemic.
"I was extremely fortunate. I was in a nice place; I was with people that I loved, we were healthy."
But still, he wished something more could be made with the second album. It's one of those youthful yearnings, both envied and forgiven, where a man in his life of 30, needed to make something of himself.
So the moment travel restrictions were lifted, he booked himself on a plane to LA and stayed in Silver Lake. For the next six months, he lived twice as hard as he could, trying to make up for all the lost time. It was a prolific period in his life; an explosion of creativity.
The pandemic was a period of introspection for Major: who is he if he couldn't tour or make music as he once could? It forced him to examine who he is on the inside. Borne out of a rebirth from Covid, this would be the theme of the third album.
He started driving around in a vintage car that he christened "Columbo" as its paint job matches the colour of the trench coat of Peter Falk's endearing TV detective. This represented a renewed freedom post-pandemic. Even after he'd crashed the car, Columbo would become the album's title track.
"I made Columbo in my bedroom. I converted one of the bedrooms in my house into a studio," Major says. "My success is defined by having created the thing that I am proud of. And I'm more proud of Columbo than I am of any of my previous albums."
Studying at the feet of jazz masters, Major cites his heroes like a devotee reciting the psalms by heart: Kurt Rosenwinkel; Biréli Lagrène; Wes Montgomery; Joe Pass; Cannonball Adderley… these are famous jazz musicians but they're not household names.
Major once saw Rosenwinkel play in London. Despite the modest attendance, Rosenwinkel performed like the absolute master he is at his craft. "He has more talent in his fingernail than 99 out of 100 of the artists that are on the top 100 popular music charts," Major says. Success does not equate to the greatness of one's art and inversely, the lack of success does not mean that you're a terrible musician.
At the end of the day, it's always Major and his songs.
"I think it helps when you do not have preconceptions or expectations. I never really thought anybody would want to listen to my music, I'm grateful to be here. It's mostly just me and my songs. Everything else that comes along with it is a wonderful bonus.
"[There are perks] but they are temporary things. As Pharrell says, if you have a library card, make sure that you use it because at some point it will expire. It's highly unlikely that in 30 years' time, people would want me for interviews and photo shoots… maybe, I dunno. Who knows? But my music will still be there and people will be listening to it."
---
We see the stars at night, our awe is caught by their luminance. And we marvel that in the empty blackness, a light persists.
Photography: Shawn Paul Tan
Styling: Asri Jasman
Grooming: Christian M
Photography assistant: Xie Feng Mao
Styling assistant: Lance Aeron
That concludes fashion month, I suppose. Buyers, stylists, models, and celebrities have been traveling between fashion capitals over the past few weeks to learn how the world's best-dressed men will be dressing for next summer.
So, what's the verdict? Are we all going to be dressed like highlighter pens, or will neutral shades reign supreme once again? Will the silhouettes be baggy or Meet Me in the Bathroom-level skinny? Will our wardrobes be even more gorpcore-y or Y2K or... neither? Without further ado, here's our trend breakdown.
Everyday Essentials, But Make it Fashion
Showing at Fendi's leather goods factory, Silvia Venturini Fendi presented a collection that played tribute to the callous-thumbed artisans that fill her team. Suits came with stitches for fitting alterations and shirts were printed with toolkits, but it was in the accessories where you could see a direct connection to workers' uniforms. Models walked with F-monogrammed coffee cups (some in holders, some in hand), documents, measuring tape and name tags as if they were just clocking in for another day.
This trend for accessorising everyday items and elevating the supposedly mundane continued into Paris Fashion Week. Louis Vuitton also had a fellow caffeine addict walk their runway, this time with a straw poking out of the coffee cup lid, as well a model who sported a leather version of the LV shopping bag.
Orange is the New Black
It's natural for summer collections to be a bit on the brighter side, but no one was expecting the sheer amount of clothes that were imbued with a satsuma-esque shade of orange. While the colour can be intimidating for even the most extroverted dresser, designers made it look as effortless as an Easy Peeler: Dries Van Noten paired pumpkin shorts with a tucked-in double-breasted blazer, while Etro's more brazen take—a tinsel tank and hoody combo—is for the risk takers. For a contemporary take on suiting, Zegna's pastel pieces shouldn't be ignored, and should prove to be a go-to for wedding attire next year, but for casual, everyday-wear, Bianca Saunders' graphic tees are a must.
It'll Be a Hat Heavy Summer
Recently, the baseball cap has had a comeback, and it appears that the sporting fervor will continue into next summer as well. Fendi, Martine Rose and Saul Nash all had their own takes, varying from Italian leather to acid-wash denim. But there was more outré headwear, too. Kim Jones had his models wear colourful beanies (at an askew angle) while at Kenzo, Nigo showed wide-brim sun hats and printed berets.
Plain Shirts Won't Cut it
The rules of smart-casual dressing have always included a time-tested formula: pair a nice shirt with some more relaxed bottoms and... there you have it. Foolproof, which is why it featured heavily across the spring/summer '24 shows. But for this season, you should expect shirt designs that are brasher and a lot more eye-catching. Dior, for example, bejewelled a work shirt with a load of blue crystals, while Ami and Dries Van Noten both had heavily sequinned button-downs within their collections. Prada even stuck on 3D florals and some fringing onto theirs. The message is clear: the bolder the better.
This season also saw brands embrace a concept that has been embraced in womenswear for decades: the going out top. Fendi had a halterneck shirt where the arms drape behind, and Loewe presented a metallic blouse that sparkled like a disco ball. And for more retro takes, Saint Laurent had sleeveless pussybows and sheer blouses aplenty.
High Waistbands and Higher Hemlines
It's lucky that the Y2K low-rise trend has barely entered the menswear-sphere, despite having dominated womenswear for seasons now. In fact, brands are rebelling against it. Waistlines were well above the belly button at Loewe and Prada in both trousers and shorts form respectively, while the use of cummerbunds at D&G and Wales Bonner gave the visual illusion of longer legs and shorter torsos.
Hemlines have also started retreating north, despite seasons of the long and slouchy silhouette. All of the longer-length bottoms at Dior were cropped just above the ankle, and at Hermès the hems were turned up to give full view of the models' fisherman sandals. Waistbands and hemlines are moving on up.
Florals? For Spring? Groundbreaking
Perennial plants have been blooming in menswear for the last few years, and seeing them blooming in this season's collections isn't all that unusual. However, they were blown up to larger and slightly darker sizes as opposed to the more twee prints we had previously seen. As mentioned earlier, Prada had 3D lilies stitched onto shirts, but also positioned them alongside prints of slightly gloomier (potentially underwatered) styles. Emporio Armani centred their black-heavy collection around a ginkgo leaf, where it featured as cut-outs on peak lapel blazers and woven onto lattice-like tops. Valentino had singular roses, an enlarged poppy motif and peonies as part of its sartorial garden, and Kenzo had rose heads printed and stitched onto its denim pieces.
A Suit and Sandal Combo
While pairing a linen suit with sandals isn't exactly a revolutionary move, the catwalks this year were particularly... toe-heavy. Expect wedding wardrobes to follow suit, for better or worse. Dries Van Noten paired a waist-hugging black suit with leather flip flops, and the toe-dividing footwear was also seen at Wales Bonner, where it was styled with a structured linen two-piece. If you have an aversion to seeing your tootsies outside of beach locations, follow Hermès' lead by sticking to a fisherman sandal. Suited and booted? No, it's about being suited and sandaled.
Seeing Double (Breasted Suits)
The sheer volume of suits and tailoring on the spring/summer '24 runways proved that, despite the pandemic's best efforts to the contrary, they are still in demand. Still, it was clear that there was one cut that reigned supreme for the season: the double breasted suit. They opened the show at Givenchy, worn with hands in pockets at Loewe, paired with contrasting trousers at Ami, as part of a three-piece suit at Paul Smith and in a horse-bit check print at Gucci.
Originally published on Esquire UK
192 bales of raw linen were transported from Normandy to Milan for the Zegna spring/summer 2024 runway show. They formed an oasis of sorts—Zegna calls the show L'Oasi di Lino (translation: the linen oasis)—within the Piazza San Fedele in Milan.
More than a showcase of what's coming up for the season, the show was once again a reiteration of Zegna's efforts at ensuring that its materials—the very basis of the brand—are sourced and produced with as little negative effects to the environment as possible. And before you call out the brand for potentially wasting raw materials for the show's scenography, Zegna ensures that the raw linen will be turned into its Oasi Linen fabric in Italy. It's also committed to certifying Oasi Linen as 100 percent traceable by 2024.
With that, the hero of the Zegna spring/summer 2024 collection is linen. A number of amalgamations were featured throughout the collection with treatments that displayed artistic director Alessandro Sartori's tactile mastery in materiality. And of course, his penchant for monochromatic looks.
The fit: There was an overall sense of ease and lightness to the collection that's typical of Zegna, and it's even more so owed to the generally linen-based fabrication. Shorts were cut roomy and grazed the knees, and were mostly part of coordinates—a Sartori-favoured leitmotif of constant reimaginings of men's suiting. Blazers were cut without lapels for a more streamlined appearance and oversized outerwear were designed with clean lines ensuring that elements were all flushed with little flourishes. On some instances where lapels did appear, they're actually a result of trompe-l'œil techniques, especially visible on the leather pieces (looks 27 and 33).
The collection's knitwear amplified the sense of tactility, adding both visual interest as well as contrasting textures. And if there's one thing that grounded the entire collection, it would be the triangular scarves seen on a number of looks. There's a sprezzatura sensibility about them that conjures this idea of an Italian summer—perhaps lounging around next to bales of hay (or linen) and without a single care in the world.
The details: Soft handbags crafted from supple leather made several appearances, echoing a similar kind of airiness of the ready-to-wear. The footwear though are the stars. The Triple Stitch was adapted into an espadrille-hybrid with visible rope-stitching running along the soles. Sartori also introduced a new slip-on shoe design cut from one piece of leather and affixed with chunky, textured soles for a truly sophisticated look.
Three exceptional looks: Look 14's classic Zegna fit with the addition of a triangular scarf for that added style factor; look 18 was a beautifully cut jumpsuit that retained elements of traditional menswear tailoring, especially in the interior; and look 45's textural masterpiece in the collection's standout flamingo hue.
The takeaway: This is not your grandfather's linen.
View the full Zegna spring/summer 2024 collection in the gallery below.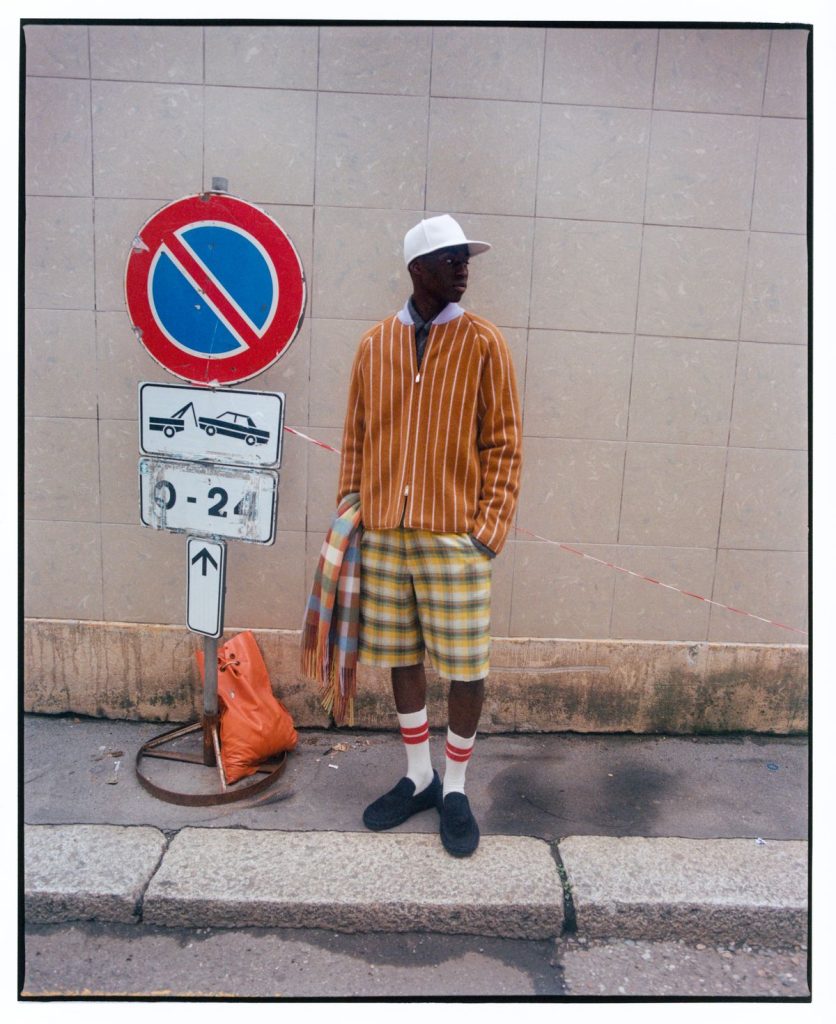 The proverb goes that good things come to those who wait, and you know what? It's usually true. There's no shortcut to making a great Sunday roast, no way to quicken the flight to a sun-struck tropical destination without causing an international incident. And in fashion, this mantra prevails; that six month (plus) wait for collections to drop post-catwalk can feel never-ending. But how long does it take for two cashmere devotees to formulate a collection that knitwear aficionados will be drooling over? In the case of the newly launched Zegna and The Elder Statesman collab, two and a half years.
Launching today, it was first teased during the former brand's autumn/winter '23 show last month. After multiple looks washed in grey, the first hint of the collection disrupted the neutral palette with a poppy knitted shirt and trousers – a key signifier of the colorful collection that was to come. The L.A-cool intrinsic to The Elder Statesman (and its founder, Greg Chait) mixed with Zegna artistic director Alessandro Sartori's contemporary tailoring results in a blinding use of shades and print – and even better, it's all made with cashmere.
It's also the first instalment of the Zegna's Oasi Cashmere project. Launched last September, the brand will collaborate with other innovators in the field to utilise natural materials to their advantage. By 2024, all cashmere pieces will be fully traceable and this initiative is meant to promote the craftsmanship necessary for making the yarn into a wearable piece of clothing. Not only will it push the brand into a more environmentally conscious direction, it'll allow some great, one-of-a-kind garms.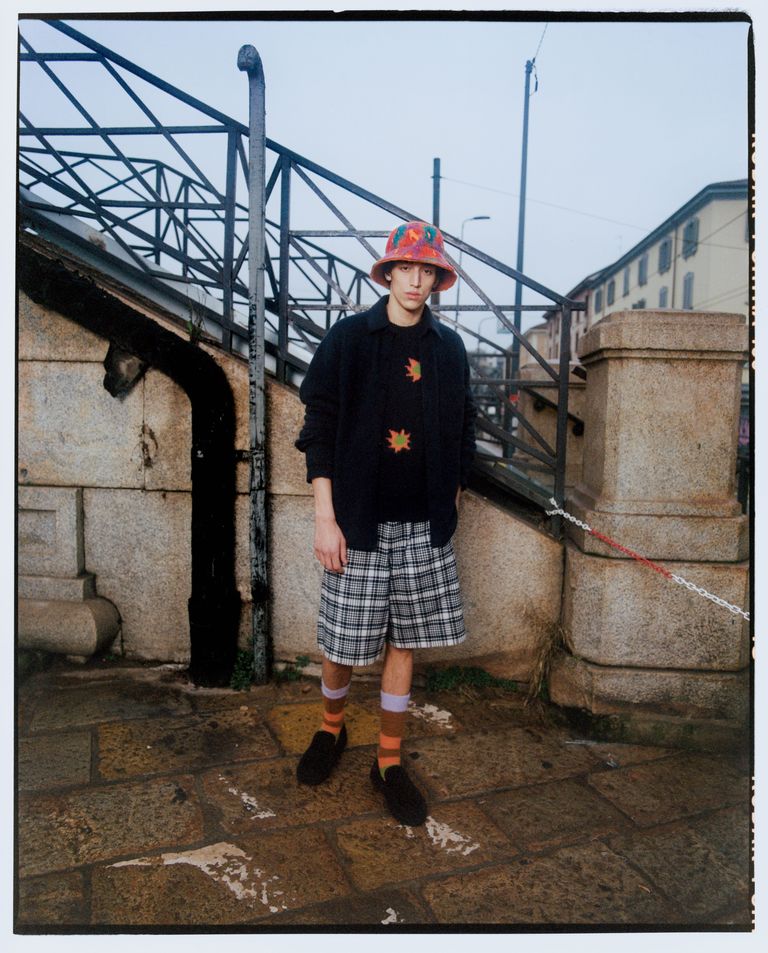 The attention to detail that went into this first chapter proves why it took so long to come together. In silhouettes that are suitable for day and night, you'll find a mixture of the design codes that makes the two loved globally. So-Cal flannels cut into tailored shirts and trousers; duster coats with blanket stitch trims; corduroy-esque suits ranging from lilac to aurora yellow. Youthful designs have been made with craftsmanship that'll appeal to the Venice Beach hype-beasts as well as the middle-aged artisan-lovers who want some wavy weekend-wear.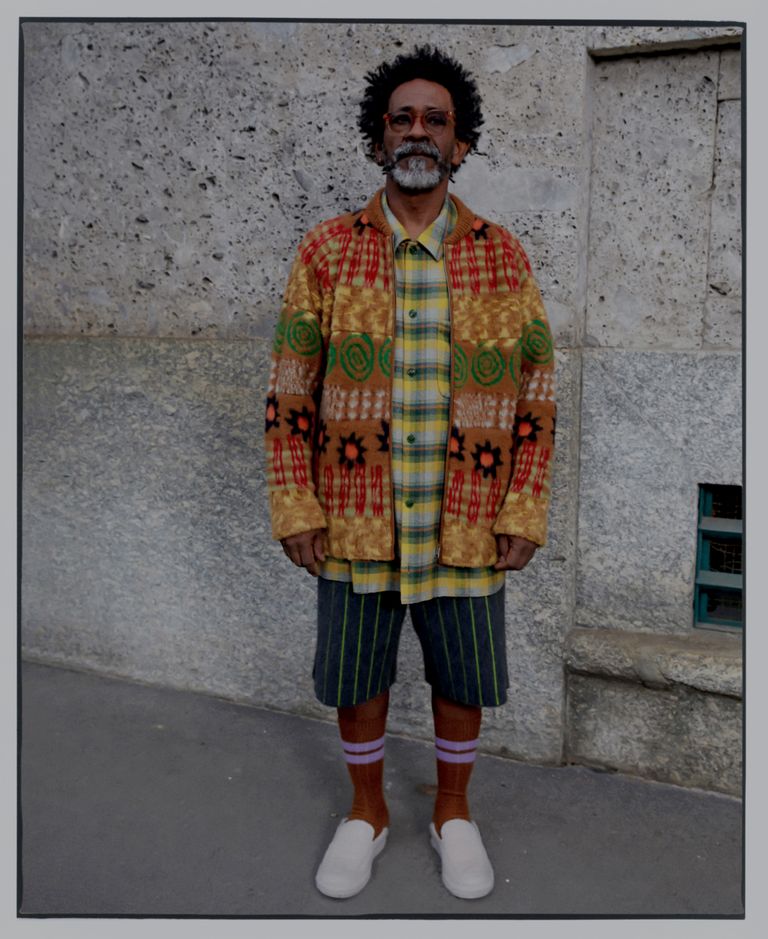 To celebrate, the two fiber-obsessed partners played host for an event during Paris Fashion Week. John Bodega, Maye Musk, and Arnaud Valois came to visit the immersive installation, where a case of flying cashmere specs and shelves filled with yarns were left for the guests to interact with. And by their reaction, it seems it's not just Sartori or Chait that can't stop playing with the goat-derived material.
Sadly, though, more patience is required. Dropping in stores this September, you've still got a little longer till you can cop yourself a feel of the pieces. Rest assured, it'll be well worth the wait.
Originally published on Esquire UK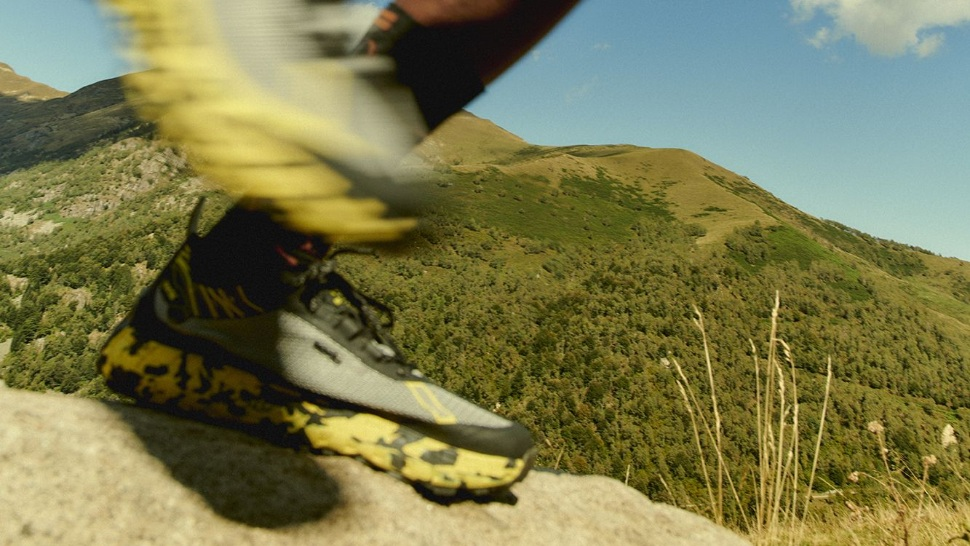 Whoever's overseeing the collaboration department at Zegna needs a raise. It's probably creative director Alessandro Sartori - a man with style in his very name—and we're sure he's been suitably remunerated for his impeccable work over the past seven years, but still... he's knocking it out of the park right now. Just look at those Nordas.
As part of a raft of collaborations—or "ongoing dialogues" as the brand like to call them—Zegna has pulled niche Canadian trail running brand Norda into the cashmere fold. Founded in just 2021, Norda makes just one kind of shoe (for now), thanks to years of searching in vain for the perfect design. "As lifelong endurance athletes with decades of combined shoe industry experience," reads the website, "we felt that none of the global brands had nailed the perfect combination of fit, cushion, grip, weight, breathability and material innovation. So we got to work."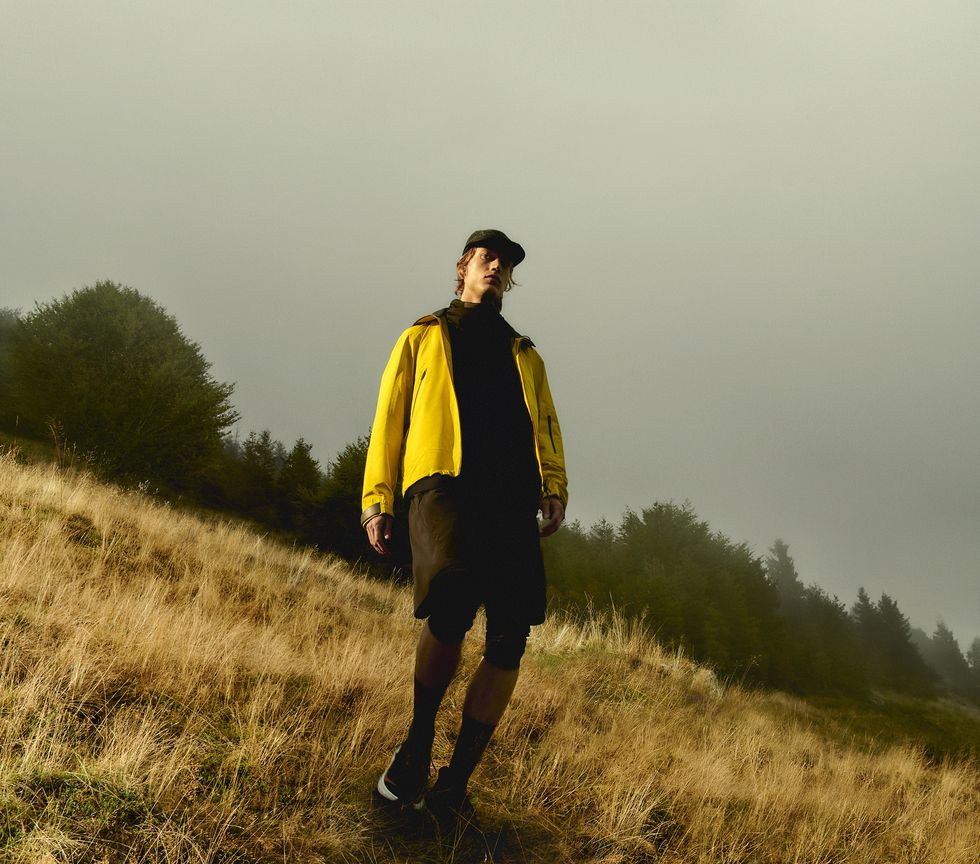 That work resulted in a seriously good, seriously cool shoe, and that shoe resulted in a phone call from the bigwigs at Zegna (we assume), which resulted in a collection of trail running kit "inspired by," it says here, "the trails of Oasi Zegna's natural territory, which is now discoverable in Norda's community-driven directory of the world's best trail-running locations." Oasi Zegna is the brand's 100km2 nature park in Piedmont, Italy.
Elsewhere, Zegna recently dialogued with wavy California cashmere company, The Elder Statesmen. The team-up will see the two companies revel in their mutual adoration for wool and craftsmanship and share processes, materials and designs to create a collection of typically out-there TES designs in impeccable Zegna fabrics.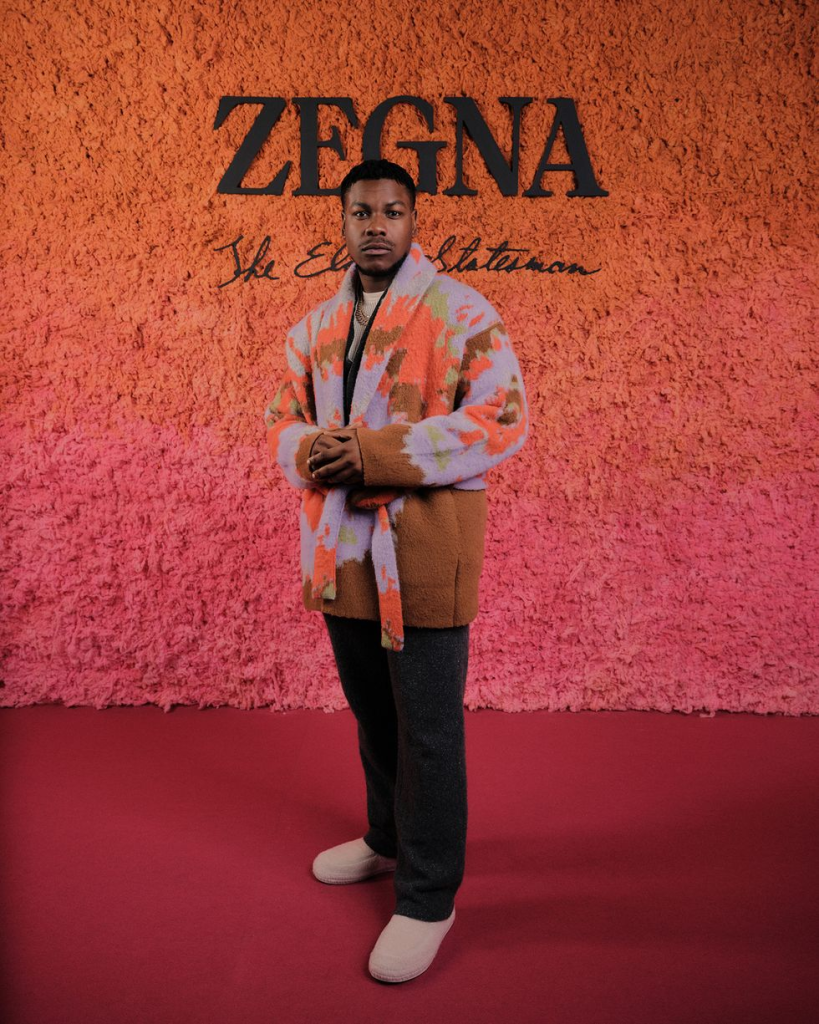 "We are honored to be working with, what we believe, is one of the best brands and manufacturers in the world," says TES founder and CEO, Greg Chait. "At the origin of this partnership are two companies who value the way things are made. In reality, we sometimes feel like ZEGNA's eccentric cousins who set up shop in Los Angeles, bringing a centuries-old craft to the new world. This partnership feels like a homecoming, and after two and a half years of deep and meaningful discussions with ZEGNA, our co-designed collection is a symptom of something much larger: a recognition of quality, craft, and a deep mutual respect."