Welcome to Dialed In, a weekly column bringing you horological happenings and the most essential news from the watch world.
---
Last year, Swatch set a fire. The MoonSwatch, created in collaboration with Swatch Group stablemate Omega, brought the storied Speedmaster to the masses in Swatch's proprietary bioceramic material for a price of just US$260—if you could get one before the in-store-only release sold out, that is. And now, a new collab with another Swatch Group member, Blancpain, is here to add fuel to the fire.
Last night, the Blancpain x Swatch Bioceramic Scuba Fifty Fathoms was announced. Just in time for the 70-year-anniversary of the launch of the original Fifty Fathoms diver. A fathom, for the nautically challenged, is six feet. Fifty fathoms, then, is 300, then considered the new frontier of water resistance in professional dive watches. Blancpain's creation quickly found favour with pioneers in scuba diving. Jacques-Yves Cousteau and his team wore the Fifty Fathoms as they filmed one of the most groundbreaking underwater docs ever made, The Silent World (1956). Diverse military units from U.S. Navy Seals to French and German marines also adopted it. As scuba evolved in the 1960s into a civilian passion, the watch followed as the pinnacle of the built-for-purpose tool watch. For dive watch collectors, the Fifty Fathoms lore means that it is invariably in the top three of any serious bucket list.
Rated to a fitting 91 metres of water resistance, the new collab watch comes in five very non-Blancpain colour combs, each inspired by the world's five oceans. Ostensibly the five watches are identical but there are some subtle variations drawn from the canon of the original Fifty Fathoms' professional and military service, like radiation and moisture indicators—conceived as extra safety measures for divers using the FF at depths.
Unlike the MoonSwatch, the new riff on the Fifty Fathoms has a mechanical movement: the Swatch Sistem51. Developed in 2013, it's composed of 51 components. Made entirely by a machine it offers an impressive 90 hours of power reserve when fully charged. The 42.3mm case is made in Bioceramic, a two-to-one blend of ceramic and bio-sourced material derived from castor oil. The NATO strap included with each is made, fittingly, from recycled, ocean-gathered fishing nets.
The automatic movement and superior depth rating inevitably push the Blancpain x Swatch Fifty Fathoms up in price compared to the MoonSwatch. Available only in Swatch stores from Saturday, 9 September, the non-limited-edition watch is priced at US$400. Expect long lines—and inflated resale prices on reselling sites for this reimagined icon of watchmaking.
Originally published on Esquire US
What could be more of a flex than performing at Lollapalooza while sporting an Audemars Piguet Royal Oak? Wearing a personalised, limited-edition Audemars Piguet Royal Oak for your performance at Lollapalooza. And it looks like that's exactly what Lil Yachty did this past weekend, strapping a version of the celebrity-beloved watch—reworked by the French operation MAD Paris—on his wrist for his headliner-worthy set (which actually took place a few hours before Lana Del Ray and the Red Hot Chili Peppers did their respective things on the main stages).
Want to throw another heavy-hitter name into the mix? Let's do it. MAD Paris didn't take on this project all by its own. Mathew Williams was also involved. If you need a refresher, Williams is the brains behind Givenchy as well as 1017 Alyx 9SM. This Royal Oak was customised for the latter brand and features a very clean dial that forgoes the customary tapisserie treatment in favour of a smooth, brushed finish. The clasp has also undergone a contemporary transformation, mirroring the industrial closure that Williams favours for belts, purses and various accessories.
The price to put your hands on something like the watch Mr Yachty is wearing? According to Hypebeast, the original iteration, which was produced in a series of 40, went for USD81,000—though there's no telling what kind of markup one might be looking at on the secondary market. If you ask us, that might deserve a little more main-stage time than Anthony Kiedis.
From: Esquire Us
Barbie's perfect pink shoes and vintage Chanel jewels are great and all, but in this Mojo Dojo Casa House, we're a little more homed in on a certain Ken-sential: a damn good watch.
For Ryan Gosling's Ken in Barbie, one TAG Heuer Carrera doesn't cut it. And why would it? The guy's just brought the patriarchy (sans rule by horses) back from the Real World and into Barbieland—sorry, into the Kendom. All the Kens are getting into Matchbox Twenty and The Godfather and beer and all that good ol' manly man stuff. The focal point of the scene is Gosling's Ken, who is decked up in an infamous fur coat, a black bandana, two pairs of sunglasses, and three Carreras tied to his wrist.
A gold Carrera perfectly embodies the Kenergy every guy needs. It's sporty, a little flashy, but eminently wearable. Ken opts for the 2448 NT from 1968 (inspired by the original from 1963!), the 1158 CHN from 1971 (check out that Côte de Genève dial!), and the 110.515 from 1974 (with a solid 18-karat gold bracelet!).
Each is a fantastic example of vintage Carrera style, showcasing the looks that turned the watch into such an icon. He became a genuine Watch Guy during his brief stay in the Real World, and his collection matches even the most eye-catching ensembles in Barbie's closet.
For a Ken whose job is "beach," he makes a pretty good watch collector. And, really, if he's taught us anything, it's that you can never have Kenough watches.
From: Esquire Us
Watchmaker ZENITH adds another tennis player to its ever-expanding 'Friends of the Brand' roster. Argentine tennis player Francisco Cerúndolo joins former tennis coach to Serena Williams, Patrick Mouratoglou, as well as a number of other personalities pursuing excellence in their respective fields, to be selected and acknowledged by the brand.
"I am honoured to become a 'Friend of the Brand' for ZENITH. It is a dream come true to be associated with a legendary Swiss watch manufacturer that embodies innovation, precision, and a drive to reach new heights," say Cerúndolo of the appointment. The 24-year-old visited the brand's manufacture in Le Locle, Switzerland and was able experience firsthand "the timeless craftsmanship and commitment to excellence". These, he says, are values that he resonates with as an athlete.
It can be said that tennis and sports are part of Cerúndolo's DNA. He was born into a family of sports enthusiasts—his parents are former tennis players, his sister plays field hockey as part of the Argentina national team, and his younger brother Juan Manuel is also a professional tennis player. In fact, Cerúndolo has even competed in the same tournaments as his brother.
What sets him apart is his resilience and promising talents in the sport. He gained the attention of tennis fans after winning his first Swedish Open—part of the ATP Tour—last year. And earlier in June this year, achieved his second title win in Eastbourne. The latter earned Cerúndolo the honour of being the first Argentinian to win a title on grass court since 1995.
There's little doubt that Cerúndolo will only get better just based on his current trajectory alone—increasing his number of wins year on year. It's a trait that ZENITH identifies as being in line with its philosophy: Time to Reach Your Star. And Cerúndolo's seem to be shining rather brightly.
The first episode of The Bear features Carmen Berzatto, who is miserable and in serious debt. He inherited the restaurant that his brother left to him before taking his own life. With the restaurant came hundreds of thousands of dollars in bills and loans that must be repaid, and not a single helpful hint from his brother on how to locate the money to save his mess of a sandwich shop. So, Carmy does what anyone in his situation would do—he goes home, opens his oven, and takes out a few pairs of the really rare, antique denim items he's been keeping there. (There are even more in his closet; the oven only serves as a storage space for extra goods.) Then, he organises an impromptu meeting in a parking lot and sells them.
We see Carmy's first journey into the realm of menswear ten minutes into the popular FX series, and it won't be his last. After The Bear premiered in 2022, all anyone could talk about was the show's fashion—and for a show about the art of making and serving food, that's kind of a big deal. The costume design in The Bear isn't as outrageously over-the-top as it is in Sex and the City or Emily in Paris, where the scene changes constantly. It isn't even Succession, where, for the last few seasons, catching moments of stealth wealth and unbranded luxury goods turned into a Sunday night sport. It's a show about family, trauma, chefs, cuisine, and forgiving, and among it all, fashion is the main character, the common denominator that threads it all together.
The outfits on The Bear might not look like anything overtly ostentatious—but for the niche menswear fanatics, isn't that the best way to go? It's about everyday, real-world fashion—a streetwear brand here, a designer item acquired on the spur of the moment there. Carmy's attire is understated, yet if you have a keen eye, you can see he obviously knows his stuff. He's rarely seen not wearing a white shirt and black pants—a classic combo, sure, but also a meticulous one consisting of a perfect (yet niche) tee and just the right fit of pants for a character that is obsessive and habitual and appreciates craftsmanship and history.
"Chefs have a particular eye for detail and what looks good—quality, cut, colour, which I think has come through with Carmy, with Syd, and with Marcus," says Courtney Wheeler, the show's costume designer. Carmy, the quintessential workwear king, is wearing a 75-euro German-made tee, Dickies, and Birkenstocks to represent the current gods of fashion. Everyone's favourite sous-chef, Sydney, has more unique vintage items on her person than the eye can see. Marcus, the beloved pastry-chef, who is rarely seen without a streetwear (or streetwear-adjacent) logo, whether it be Carhartt or Jordan or Fear of God. It's all done with intention and months of sourcing, plotting, bidding, and buying. Everything from the custom Thom Browne chef coat Carmy gifts Sydney to the USD2,500 waistband of the 1950s Levi's Carmy wears around his kitchen comes from Wheeler and her team diving into the characters' histories, their arcs, their thought processes, and the basements of every store in Chicago.
Wheeler discusses everything from the most significant events in season two to the final red Carhartt beanie in existence.
This interview has been edited and condensed for clarity.
Before we even get into talking about The Bear itself, I'm so curious to know what your reaction is to seeing everybody on the Internet freak out about the style of the show and the hype around the fashion.
It's really surprising. What we thought was going to be a very niche show, well-loved by the restaurant industry, turned out to be this bigger thing, which we're all stoked about. I think it happened to be a style show just because chefs, if you get to know them, have their own personal and unique style. So we definitely wanted to put that in the show and to put a point of view of real people who are in the world and have an interest in clothes.
I think that [The Bear] is true to that, in that I think chefs have a particular eye for detail and what looks good—quality, cut, colour, which I think has come through with Carmy, with Syd, and with Marcus. It's been really cool to see the reaction, it's really awesome that people appreciate the clothes. Even on set and in our personal lives, the cast and crew are all constantly looking at each other like, "Where'd you get that? What are you wearing?" We're constantly going back and forth. I do think we are a cast and crew that like clothing.
Did you go to restaurants and draw inspiration from the teams there for the show or was this something you noticed before even working on The Bear?
You'll always see someone and you'll make a note of that person looking good, but you don't really truly connect the dots until you start working on a show like this. And especially as a costume designer, you're always looking at people like, oh, that's great. But especially since The Bear started, I will never walk into a restaurant the same way. It was definitely a moment of always looking over the counter, always seeing what front of house is wearing, what back of house is wearing, asking them questions, like, "Why these? What pants are you wearing? Why? Tell me your decision-making process."
I have friends who are chefs who have great style, but I never really connected it to the industry until I started doing The Bear. Even within their uniforms, there's a way it hangs on their body and how they want to wear it. I love that. Especially the first season, we had the constraints of a uniform, but we get to bring people's personalities forward, in a way.
What was your process like in curating each character's wardrobe?
When we first did the pilot, Cristina [Spiridakis and I] came in with a blueprint for the characters, and she came in with mood boards. As you go into fittings and as you start talking to the actors, you have to flow a little bit more, and you lean into what's working and what's not working. Especially with that first pilot, we had just seen everyone in uniform. That was all we had to go on for months about what was going to inform their personality. But even then, if you notice, Marcus is wearing a red beanie in the pilot, with these black work boots. And when I went back to shoot the rest of the season, I had a conversation with Lionel [Boyce], and he was like, "I've been training, when I went to Copenhagen I've been wearing this beanie and these Infared Jordans." He's like, "Can I bring them to the show? Do you think that Marcus would wear these?" And I'm like, "I think that makes total sense."
So Marcus wears the same beanie that Lionel was wearing. We took his inspiration. It's funny, because this beanie has come back to haunt my department. We usually have alts for everything, and alts for everyone's kitchen shoes. Every time you see them in the kitchen actively cooking, we have at least three versions of those, because we change them out. But with Marcus and this beanie [after the pilot], we could not find the [green] colour. We could not find the Carhartt beanie...Marcus must have literally gotten the last one in stock. We reached out to Carhartt, we were in Copenhagen looking for it, we could not find the exact colour match. It's kind of haunting us and we'll address it in later seasons in my mind, but I'll cross that bridge when I get there.
Your sourcing process sounds wild. There are three characters whose style I find so different, but so distinct, and those are Carmy, Richie, and Sydney, who cumulatively wear everything from vintage pieces to Adidas trackies to plain white tees. Where did you find their pieces?
Oh, man, literally everywhere. Me and my assistant and our shopper—we are leaving no stone unturned, especially when it comes to shopping in Chicago. The first thing I do when I arrive is hit the streets. Even if we're not buying anything right away, we're in the shops. We're talking to our vintage sellers in Chicago, we're seeing what they have. We're going to the independent stores, and there's so many great local shops in Chicago. We're making those connections and seeing what's out there. We're in basements. Carlos from Knee Deep in Chicago is one of my friends now, because we're literally like, hey, we're looking for this and this. He goes: Go in the basement. Here's some seltzer water, knock yourself out. And we're doing that, digging through [bags of vintage] trash. We're doing that all over town.
So when I tell you it comes from Chicago, it comes from the thrift shops out there, it comes from eBay, it comes from Etsy. We have people in New York. When I tell you it comes from everywhere, it truly comes from everywhere. Even Ebon [Moss-Bachrach], who plays Richie, loves eBay. That's his source for where he shops in his personal life. There's this one shirt that we didn't get to use this season that, trust, next season it'll be on the top of the list. Ebon found it, and said, "Can Richie have this? Can you purchase it?" I'm like, bet. So I'm in eBay bidding war, making sure I get this item. I won it, which I'm proud of.
Oh my god, I can't wait to see next season what shirt that might be.
With Richie, his stuff is a mix of vintage and store bought. Even with his store bought stuff, sometimes we have to change the colour slightly and over-dye it, just in case it's a little too bright. Sometimes the accent colours pop too much, we have a wonderful dyer who will go in and hand-paint it for us. We've gotten Richie's stuff from Adidas and Lacoste, but also, thrift stores and vintage markets. Some of his T-shirts are deadstock vintage. He's a mix and Syd is a mix. Carmy, actually, we got one pair of vintage Levi's for. I don't think we see more than the waistband of them. Accounting will kill me—they know, they saw the receipt. It's a pair of USD2500 vintage 1950s Levi's that were beautiful, they're gorgeous, Jeremy was obsessed with them because they fit him perfectly. We didn't have to do anything to alter them, they were just perfect.
When you source things like those Levi's for Carmy, are we as the audience supposed to read that as Carmy going and hunting down this really rare, expensive pair of jeans for himself? Or is it more like "if you know, you know," but if you don't catch it, then it's just Carmy in some random pair of jeans?
Oh, that's such a good question. With Carmy, I will say he knows what it is. He collects denim, he probably has someone who he goes to, a source that he trusts where he's getting these pieces from, because most of the people who collect denim do. So if he's wearing that, he knows what it is. People were asking if Sydney would be wearing this Million Women March T-shirt she has knowing what it is, and I'm like, yeah! Sydney wearing a Million Women March T-shirt is not her buying it from Round Two or eBay like we did. She got that from her mom. That's something that her mom wore that she's holding on to. That Bulls T-shirt, she's probably found in her dad's closet and kept wearing it.
For characters like that, they're just picking up whatever. Someone who would be a little different would be Marcus, who's wearing a Black Ivy T-Shirt. He knows what it is, he knows what it means. He knows what his T-shirts stand for. He's wearing it because he's like, oh, I don't wear this out anymore, I'll just wear them to the shop.
What was your thought process when curating Carmy's wardrobe?
Carmy is a creature of habit. When we established him at the beginning of the season, for the pilot, we already knew he was going to wear the Merz B. Schwanen shirt. And then he was wearing the Carhartt Work In Progress pants, and then he had Dickies. He would flip between those brands, but he also had a couple different workwear pants. Also, for season one, he wore Whitesville T-shirts and he wore a Supreme T-shirt. But as it went on, especially for the second season, Jeremy and I streamlined him a little bit more. He truly only really wears the Merz white T-shirt, and he has a bunch of the Carhartts. Sometimes he'll wear his Dickies, but we wanted him to be focused more.
He knows what he wants, so he just buys more of that. He already has honed his style. Especially for this season, we're kind of playing with the idea that he's moving in now. So instead of the one blue sweater, you'll see him in the grey one. Maybe he has another sweater. He'll start playing with it more, just because he probably unpacked, but unless you see him in flashbacks, he's pretty focused and established in what works for him.
Of all the plain white T-shirts in the world, why did you settle on Merz B. Schwanen?
That was established in the pilot. By the way, fun fact: Right now, we shoot in a big studio out in Chicago. But for the pilot, our offices were across the street from Mr. Beef, which is what The Beef is based off of, but it was a defunct restaurant called Brunch. So we're sitting in the middle of this defunct restaurant, facing each other, being like, "What's a good T-shirt?" Kind of screaming to each other across the way. But Chris Storer loves the Supreme x Hanes, so we got some Supreme x Hanes in there. Then we got regular Hanes. We got some ALD T-shirts. When I tell you we got T-shirts from literally everywhere, I think we had about a dozen different brands. Jeremy walked into the fitting and it's literally just white T-shirts and black work pants and Birkenstocks. He looks at us, like, "This is what I'm doing?" We said, yeah, this is what you're doing, and he said, "Okay, great."
The Merz just fit him so well. And it's such a great cut. The white T-shirt is perfect. Merz has a perfect cut, it truly is a great T-shirt.
I saw a report that searches for "The Bear sweater" spiked on Google after season two came out, referring, obviously, to that grey sweater of Carmy's. Can you tell me about that piece?
I think that's so funny. I'm like, "You go, men of the world, finding things!" So that sweater is J.Crew men. I was always a J.Crew fan. It's just so classic, and their menswear has always been pretty strong, and lately it's been even more so. With Carmy, we go where the classics are. Whatever is well made, whatever has a great cut. He's not a fussy guy. Yes, he has a thing with denim, but I think it's different. He likes the history behind the denim, he likes how it's made, and he's someone who appreciates the craftsmanship.
I think for his everyday wear, he just looks for pieces that have great quality and cuts. If he just blindly picked a top and bottom up off of his floor or in his closet, they would go with each other at all times. It doesn't matter what he has chosen. Everything is just—he wants it to look good, but he does not want to think about it. And I feel like that sweater is just a natural progression of that. He can appreciate the sweater, the knitwear is there, and we just wanted to play with a new colour for Carmy.
Okay, we need to talk about that custom Thom Browne moment in the penultimate episode of season two. What's the story behind that, and why Thom Browne?
This is such a good story because it really means a lot for the show and means a lot for Chris Storer. But also, it was just a full circle moment. Syd's pilot episode shirt is this beautiful Thom Browne embroidered shirt from Dover Street Market. Me and Cristina were shopping at Dover before we left for Chicago, and she came from one end of the store, and I came from the other end, but we were both homing in on that shirt.
Chris was stoked about it, and it also reads so beautifully. In real life, if you look at it, it might be too precious for the kitchen, but on TV, it just added so much depth and it looks so good. So that was Syd's pilot shirt, but then she also wore the classic Thom Browne button-front for a lot of season one as well. The Thom Browne of it all comes from Chris kind of paying homage to his sister, who wore a lot of Thom Browne shirting when she cooked.
I love that suit on him. I think it's such a great character moment. And if you notice in that episode, he does go from what we're used to seeing him in—The Beef T-shirt, a pair of sweats, his Members Only jacket, which was another vintage find—to what he's wearing in the restaurant. He has on a dark-coloured Ralph Lauren chino with black Timberland boots, and it's like, yeah, that's what he would wear. He also wore those boots for his date scene last season. That's what he would put together for himself to say: This is me trying. And for him to go from that to borrowing the blazer from the restaurant—which, by the way, restaurants like that really do have a stock of shirts and blazers and ties in the back. But to go from that to the next episode where we see him in his suit, he's thinking, "This is what makes me feel good. This is what makes me feel good about myself. This is how I'm going to dress for the day." It's a form of using clothing as armour, clothing as a tool to help you. I'm so glad we got to to that for him.
Where was his suit from?
The suit is Boss. We played with different ones, in terms of process. We did a suit which was Boss, which was, say, between $700 and $800. Then we had suits for the fitting that were at a $500 price point, slightly lower. And then we did a really high-end suit that was about $2,000 or $3,000. It was about finding a middle ground, and that happened to be the middle price point we did. With Ebon, how it fit and how he felt in it was really important. The brand is not supposed to be important at all for his storyline, but I honestly do think it's believable that Richie said, I'm going to go out and buy this suit. It's recognisable, it's what a guy wears who knows his stuff.
Do you personally have a favourite character or episode to costume design for?
That's like picking your favourite child. I do love dressing Richie. It's so much fun. I mean, all of them are great, honestly. Even characters like Ebra, a lot of his shirts we have to build just because we shoot in the wintertime and I have a very particular way that I want his shirts to look, and it's really hard to find those patterns in those tones in winter. Marcus this season was so much fun to dress. Syd is obviously great. They all bring me so much joy for so many different reasons, because they all have this one thing that I'm obsessed with looking for for them.
Sydney, it's good vintage. Fak, it's T-shirts and hats. The workwear that Fak wears is actually Matty Matheson's own workwear line, Rosa Rugosa. It wasn't out the first season, so we basically asked them to make things for us, but this season, it's available and we used it for the staff at The Beef. They all have particular things that I like to home in on and look for for them. With Richie, it's his track pants. With Tina, it's her accessories. Liza [Colón-Zayas] is so funny, she'll be like, "Tina needs a bag. She needs a backpack, just in case she has to run." I'm like, okay.
You know who was really fun to dress, even though we only got to see him for about two seconds? Chester, Marcus's roommate and friend. We put him in a lot of vintage suits, a lot of Drake's, a lot of Brooks Brothers. He's stealthily one of my favourites.
My favourite episode this season, just because of how crazy it was, is definitely "Fishes." It was three weeks of madness to do all of those fittings and shop for all of those clothes, I'm glad I have such a strong team. It was all hands on deck. My tailors, my dyer, my coordinator, my PA. We went to L.A. and had to do a fitting there for 36 hours, it was so involved. But we got to do such specific characters in one episode, and it was so great. All the guest stars were so collaborative and so down with what we were doing. It was crazy, but so satisfying.
I felt like all those characters had such distinctive personalities, and you can see that in their style, but then Mikey just wearing a T-shirt at this formal family event. What was the reasoning behind that?
Mikey is one of those guys where if he's wearing an Under Armour shirt and clean jeans and a sneaker, he's like, "Yeah, this is me." I also don't think he's in the mind state to try. He's just waking up every morning and surviving, at that point. It is what it is. We did play around in the fitting and see if we should do a nicer sweater, but for where he is in his mental state and who he is, it felt like that was where he was at.
Can you share some of your favourite style Easter eggs from this season?
This isn't an Easter egg, but me and Jeremy just got a kick out of it. His jeans for "Fishes" are the A.P.C. classic jeans. We were like, of course Carmy, in his hunt to hone his style years ago, landed on the gateway to liking denim. Of course he'd be wearing that jean. I would say his whole look from that episode—he's wearing a Palace x Polo Ralph Lauren collaboration rugby shirt, it's just so specific to that time. He would definitely be like, "Yeah, this is what I'm wearing now," coming back from his travels.
There's so much that we put into it, and we are appreciative that people are noticing it. We did try to add a lot more kitchen workwear, even for people who are back of house and in the kitchen. Connor is wearing this white kitchen workwear jacket, we started putting people in Blundstone because that's what the kitchen world is wearing now. There are little things that we tried to incorporate for the characters to make it true to the world.
From: Esquire US
Hans Wilsdorf, the company's founder, couldn't have known, when he came up with the name "Rolex" in 1908,
When founder Hans Wilsdorf came up with the name "Rolex" in 1908, he couldn't have known the resonance that otherwise meaningless word would have a century later. By 1931, when the brand registered its iconic crown logo, he probably had some idea. Wearing those five points on your wrist is a sign, for many, that you've made it. And every new Rolex is a potential way to realise the dream. This year, the company introduced nine watches at Geneva's annual Watches and Wonders show. Here are the three we're most keen to wear, each guaranteed to capture a place in your imagination—and maybe your collection, too.
Titanium Yacht-Master 42
Rolex has a long history of experimenting with materials, creating its own proprietary (and jealously guarded) recipes for the platinum, gold, and steel it uses for most of its watches. Yet surprisingly, titanium joined the roster only late in 2022, when the brand introduced the Deepsea Challenge, tested and rated to an unfathomable 11,000 metres (or 36,090 feet). With the Yacht-Master 42 in RLX titanium—which is 30 percent lighter than the 904L stainless steel the brand uses elsewhere—Rolex offers a watch for those of us who prefer paddling about on the surface but still appreciate the combination of robust looks and an uncannily weightless feel.
Oyster Perpetual 'Celebration Dial'
Folks were shocked when Rolex announced in 2022 that it was eliminating a handful of dial colours it had introduced in its Oyster Perpetual just two years earlier. More shocking: the new Oyster Perpetual "Celebration Dial," which brings back all those colours and throws them together on a dial made from fifty-one individual circles of enamel applied on a light-blue background. It comes in three sizes—31 mm, 36 mm, and 41 mm—and, like most fan favourites, has already earned an unofficial nickname: "Bubbles." Rolex debuted a number of playful watches this year, but this one is the life of the party. And if you're worried it won't match your clothes, you're thinking about it the wrong way. It goes with everything.
Perpetual 1908
The dressiest of Rolex's releases this year is also one of the most surprising. While the "Bubbles" Oyster is bold but grounded in a classic design, the Perpetual 1908—a 39 mm certified chronometer available in white or yellow gold and with black or white dials—is something else entirely. It feels distinct, a notable departure from the tooly aesthetics of the brand's mainstream lines. If this signifies a new family of watches to come, that's even more major. Rolex is not known for following trends, but the 1908's restrained design language feels like a sage and, er, timely nod to the rising interest in subtle, superlative dress watches—even among those for whom a nicely tailored suit is a dim and distant memory.
Photography by Ryan Slack
Styling by Nick Sullivan
From: Esquire Us
Since its start in 1865, ZENITH has gone on to become the first vertically integrated Swiss watch manufacture in the world. Apart from its in-house innovation and manufactured movements, the brand is also known for its association with extraordinary figures, who dreamt big and achieved the impossible.
One such friend of ZENITH is the actor Desmond Tan, whose current favourite timepiece is the Pilot Big Date Flyback in stainless steel. We speak with the ZENITH ambassador about punctuality, rituals and the path taken to get into a role.
ESQUIRE SINGAPORE: Thanks for taking time to talk to us. First off, are you a punctual person?
DESMOND TAN: Well, I must admit, I've had my fair share of "rubber band time" moments in the past. Moments when I might have pushed the boundaries of punctuality. But, hey, that's the nature of the dreamy creative mind sometimes, right?
As I grow older (and wiser), I've come to appreciate the importance of punctuality. Time is a precious resource and being on time shows respect for both your time as well as others. I've learned to value punctuality. Especially now that I'm part of the ZENITH family where time is truly of the essence.
Having acted in both English and Mandarin dramas; are there nuances in playing roles meant for different demographics?
Absolutely! Language carries its own unique flavour. When you switch between English and Mandarin roles, there are indeed nuances to consider. The cultural context, the way emotions are being expressed and even the comedic timing can differ.
It's like switching gears and adapting to a different rhythm. But that's what makes it exciting! It allows me to explore different aspects of my craft and connect with diverse audiences. I truly embrace the challenge with open arms.
You've cast your lot with acting back then but if you weren't a thespian, what would you be doing now? Will it be in the realty game?
Ah, the tantalising "what if" scenario! Well, if I weren't gracing the TV screen, I'd probably be exploring the realm of entrepreneurship. Perhaps I'd venture into the realty game, as you mentioned. Maybe even start my own business in the pet industry... who knows?
The world is full of possibilities. I've always believed in reaching for the stars, no matter the path I choose. Whether it's acting or something else, I'm always ready to seize the opportunity and make it shine!
Do you get free time for yourself?
I've been craving a lot of these blissful moments of free time. Work has been overwhelming in recent months; I'm looking forward for a break to let my soul breathe a little. A quick reminder to everyone: "Amidst the chaos and weariness, don't forget to pause, inhale deeply and let your soul breathe"
So, what do you do in your free time? Watch TV? Read?
I hardly have time to follow through with any shows due to my busy schedule. So, I watch a lot of movies like cinematic masterpieces as well as indie gems. And when it comes to reading, I just realised that I've not been reading for years now. I will set it as a priority to get back into my books after my current acting project.
Do you ever think about your legacy? You've talked before about making an impact in Asia, not just Singapore; how is that going?
While I'm young at heart, I do occasionally ponder about the grand tapestry of life and the legacy that I want to leave behind. As for making an impact in Asia, it's an ongoing journey. I strive to create characters and tell stories that resonate with audiences all over the world. Whether it's through film, screens or even my fashion ventures, I want to represent Singapore as an inspiring creative who constantly reaches for greater heights as I dive deeper into my inner self.
I'm fortunate to have had opportunities to work on projects that reached audiences beyond the shores of Singapore and I'm grateful for the support and love I've received throughout my career. I believe that by continuing to push boundaries, collaborating with different talents and exploring diverse narratives, I can play my part in leaving a lasting impact on the Asian entertainment industry. So, watch out, world, because I'm just getting started!
What are some of the ways you get into your roles?
Well, each role is a unique adventure and I approach it with a mix of curiosity with tons of research coupled with a sprinkle of imagination. I dive deep into understanding the character's background, motivations and emotional journey; I embrace their quirks, mannerisms, thought processes and even their speech patterns. I draw inspiration from personal experiences, observations, and the wonderful people I meet along the way. And of course, I love exploring the different physicality and mindset required for each role. It's a joyous process of discovery, and it keeps me on my toes as an actor. As cliché, as it might sound, it's a constant learning process as an actor. 100% truth!
What is a question that you wish the media would have asked you?
"If you were to win a million-dollar lucky draw, what would you want to do with it? Shoot a movie or..."
As much as I love movie making, I also have a deep love for animals and I have a dream of building an animal shelter. I wish to create a sanctuary where animals in distress can find love, care, and a second chance at a happy life. I envision a place that provides physical and emotional well-being, with dedicated staff and volunteers showering the animals with love and attention. It would also serve as an educational centre, promoting responsible pet ownership and animal welfare. I wish to work towards a world where every animal has a loving home and a wagging tail or a purr of contentment! Any readers who share the same vision with a spare million dollars, you know who to contact!
Do you have any rituals or superstitions that you employ before performing live?
I do have a few quirky habits that help me get in the zone. I use different fragrances for different characters and I'll wear the fragrance when I'm driving to work.
Also, before the cam rolls, I would like to find a quiet corner to gather my thoughts and take a few deep breaths. Deep breathing is essential. It's my way of centring myself and focusing my energy. It's all about finding that little boost of confidence and creating the right frame of the character's mindset before the camera starts rolling.
As an actor and a public figure, is it hard to maintain some secrets for your self when the cameras aren't rolling?
The dance between privacy and public life is something I get better at over the past years—honestly, it's still a work in progress! In this digital age, indeed, maintaining secrets can sometimes be a challenge. However, everyone deserves a certain level of privacy, including public figures. It's about finding a balance between sharing parts of my life with my amazing fans and keeping some aspects sacred. At the end of the day, it's important to have a sense of self outside of the spotlight, to nurture relationships, and to enjoy those quiet moments that make us who we are. So, yes, it can be tricky but I'm learning to navigate it with grace.
Given that ZENITH means the "apex of success", what's your zenith moment in your life?
I recently spoke to a dear mentor of mine whom I haven't met for years and the first question he asked was, "How is the sweet taste of success? Enjoying it?" That immediately brought a big smile to my face. It was a simple yet deep question.
My mentor guided me to breakthroughs in my performance that led me to my first Best Actor Award and my career has been growing incredibly well since then. Looking back, it has been indeed many years of success as an actor and a human being. I believe success is a journey rather than a destination.
From receiving accolades for my performances to witnessing the impact my work has had on audiences, those moments have been exhilarating and humbling. However, I also believe that success isn't solely defined by external recognition or material accomplishments. It's about personal growth, pushing boundaries, and staying true to my passion for acting. Every project I take on, every character I bring to life, is an opportunity for me to strive for that apex of success.
But let's not forget that success is also a multifaceted concept. It's not just about individual achievements; it's about the collective journey and the people who supported me along the way. I am incredibly grateful for the love and encouragement from my fans, the unwavering support of my family and friends, and the incredible team I work with. Their belief in me and their dedication to our shared vision has been instrumental in all successes I've experienced.
While I have encountered moments that could be considered as a glimpse of that apex of success, I continue to chase after new horizons and challenge myself to reach even greater heights. After all, the zenith is a destination that keeps evolving, and I'm thrilled to see where this exhilarating journey takes me next!
The ZENITH Pilot Big Date Flyback.
This year's Only Watch event might well be almost five months away, but Hublot has given us a preview of what to expect by showcasing the remarkable MP-15 Takashi Murakami Only Watch Sapphire watch that Takashi Murakami and Hublot collaborated on.
While Hublot and the iconic designer Murakami have form that goes way back—they recently presented 13 new NFTs and 13 unique timepieces featuring the iconic smiling flower central to the Japanese artist's work—this new watch not only pulls from Murakami's legendary motif, but also presents a first-ever central flying tourbillon movement.
Murakami's flowers have long since been classed as something of a pop culture force, finding their way onto artwork and fashion for the likes of Kanye West, Drake and Kid Cudi. But while the smiley flowers have been bought and sold for high prices since 1995, the artist explained, in a 2005 interview with The New York Times, that they were, in fact, a manifestation of the repressed emotions and collective trauma experienced by Japanese residents after the 1945 Hiroshima-Nagasaki bombings.
For the Hublot Only Watch timepiece, the motif has been brought to life on the MP-15 by making it the actual case of the watch. Coming in at 42mm wide and 13.4mm thick, the case is made up of 12 petals set with a total of 444 coloured gemstones in a symmetrical and rainbow-like gradient. At the centre of the piece, the iconic smiley face is laser-engraved onto the domed sapphire crystal, which envelops the central flying tourbillon giving it the appearance of being stuck in mid-air. It's a truly spectacular piece that is hoped will fetch big money at auction.
Only Watch was created in 2005 by Luc Pettavino with one intent: raise funds for research on Duchenne Muscular Dystrophy. It has allowed the charity organisation behind Only Watch, the Association Monégasque contre les Myopathies, to raise almost SGD$146M.
The Only Watch auction will take place in Geneva on November 5. Find more information here.
From: Esquire Middle East
It's a common trope: the seasoned watch collector who already has it all, wondering what else out there could possibly excite him. He owns more than just the usual suspects, and counts among his collection the grail watches others can only dream of. What more could such a person want?
Perhaps it's finally time for him to look into vintage timepieces. Perhaps the esoteric independents could spark some interest. Or perhaps he is just not looking hard enough. Watches and Wonders this year showcased novelties that prove there is still much to see (and covet). From completely new lines to long overdue releases, the major manufactures clearly still have cards up their sleeves.
A Renewed Focus
What is arguably the most coveted timepiece for any seasoned collector this year is the new Perpetual 1908 from Rolex, which has introduced an entirely new line of dress watches for the brand. Let's begin by addressing the elephant in the room: Rolex's dress watches have simply not enjoyed the popularity of their sportier siblings.
Instead, the Cellini line of classically styled dress watches—which included the criminally underrated Cellini Prince—was largely overshadowed by Rolex's Professional range of timepieces in the past decade. It thus came as no surprise when Rolex quietly retired most of the Cellini collection last year. The sole remaining model, the Cellini Moonphase ref. 50535, was discontinued earlier this year as well, thus marking the end of an era for the brand.
Replacing the Cellini is the new Perpetual collection, which now serves as Rolex's main pillar for dress watches. The collection was unveiled at Watches and Wonders with just a single model, the Perpetual 1908. And oh, what a watch it is!
The Perpetual 1908's name pays homage to the year founder Hans Wilsdorf trademarked the "Rolex" name. Sized at 39 millimetres across and measuring just 9.5 millimetres high, it will suit most wrists and slip effortlessly under a cuff. To complement its modest proportions, Rolex has given it a clean, minimalist aesthetic that comes complete with several classic appointments. Note, for instance, how the fluted bezel is visually paralleled by the railway track chapter ring. In much the same way, the Breguet-esque hour hand and sword-shaped minute hand references dress watches of yore, albeit with a modern twist.
Mechanically, there is much to talk about as well. The Perpetual 1908 is powered by Rolex's new calibre 7140, which sports the Genevan manufacture's latest advancements in movement technology. The Chronergy escapement within it, for example, has greater energy efficiency and reliability than traditional Swiss lever escapements. In the same vein, calibre 7140's Syloxi hairspring offers all the benefits of a silicon balance spring, while also sporting a unique geometry that ensures concentric breathing. A long 66-hour power reserve completes the package by providing greater convenience.
The Perpetual 1908 is clearly just the first model in a collection that Rolex will soon expand, whether with complications or time-only watches in other sizes. There is, however, always an irresistible allure when it comes to firsts. For any connoisseur of Rolex timepieces, the new Perpetual 1908 will be a must-have.
There is, of course, the welcome conundrum of deciding which of the four available references one should get. The 1908 is cased in both yellow gold and white gold. Each variant is offered with either a white or black satin finished dial.
Long Awaited Chronographs
For aficionados of watchmaking complications, a trio of chronographs await. Three iconic brands (Swiss, German and Japanese, no less) have each unveiled a long overdue chronograph model to bolster their respective collections.
Patek Philippe's Calatrava Pilot Travel Time line, which was introduced in 2015, has finally received its first chronograph model: the Calatrava Pilot Travel Time Chronograph Ref. 5924. Consider this the brand's answer to collectors' call for chronographs in the Calatrava Pilot Travel Time range. The complication has, after all, been integral to aviation and pilot watches.
Presented in white gold with either a khaki green dial and matching calfskin strap, or a sunburst blue-grey dial with navy blue calfskin strap, Ref. 5924 offers a flyback chronograph with a 60-minute totaliser at six o'clock. The watch retains the line's signature Travel Time complication, thus allowing it to maintain the same visual codes that have informed its sibling designs.
A. Lange & Söhne's entry here is the Odysseus Chronograph. This is the Odysseus line's first chronograph, while also being the brand's first-ever self-winding chronograph. To preserve the Odysseus's distinct feature of outsized day and date displays, A. Lange & Söhne has opted for the unconventional layout of central chronograph second and minute totalisers. Interestingly, the red-coloured chronograph seconds hand will make as many revolutions as necessary to "return" to zero when it is reset—and do so in the direction that requires fewer revolutions. Superficially, it's a fun little feature on the watch, but this belies the mechanical complexity required for its execution. The minutes totaliser, which is tipped with a lozenge, will jump back to zero as per normal, but do so in the same direction as the chronograph second hand.
Grand Seiko rounds up the trio with the Tentagraph, its first mechanical chronograph. The name of the watch is a quirky portmanteau of its movement's features: TEN beats per second, Three-day power reserve, and Automatic chronoGRAPH. As part of the Evolution 9 collection, it speaks an updated design language based on 1967's 44GS watch, which has anchored the aesthetics for all Grand Seiko timepieces since. From the increased lug width and wider bracelets that now provide a more comfortable and secure fit, to tweaked dial elements for greater legibility, Evolution 9 marks a new chapter for the brand. In much the same way, the Tentagraph is a milestone that collectors will be well-served to take a closer look at.
Alluring Rarities
Collectors who seek exclusivity will find it in the highest echelons of watchmaking, where technical complexity and artisanal crafts meet. Such rarified works demand both the time and touch of the most skilled watchmakers and artisans, which necessitate limited (or just one-off) production runs. This translates into rarity, of course, but the challenge of access is often a joy in and of itself.
Jaeger-LeCoultre showcased this in the Reverso Hybris Artistica Calibre 179, which offers a new iteration of the gyrotourbillon movement. Here, the multiaxial gyrotourbillon consists of two elements: a brisk inner cage that rotates once every 16 seconds, and an outer carriage that doubles as the small seconds indicator by rotating once every minute. Gyrotourbillon aside, Calibre 179 displays two separate time zones across its faces, with Home Time supplemented by a 24-hour indicator. As for métiers d'art, Jaeger-LeCoultre has opted for lacquering as the anchoring technique. On the main face, a technique similar to champlevé enamelling is used, with depressions cut into the movement's main plate, then filled in with lacquer while leaving thin gold ribs behind as a decorative feature. Meanwhile, the dial on the reverse face sees lacquer being applied more traditionally, and supplemented with other finishes like microblasting and hand-chamfering. Given the work involved, the Reverso Hybris Artistica Calibre 179 is understandably limited to just 10 pieces worldwide.
Likewise, Cartier's Rotonde de Cartier Grande Complication Skeleton pocket watch melds mechanical ingenuity and artisanal mastery to illustrate a no-holds-barred approach to watchmaking. Its 9506 MC movement is among Cartier's most complex, and combines a minute repeater, flying tourbillon, and perpetual calendar—with skeletonisation to boot. To match this level of aplomb, the movement is housed within a white gold case measuring 56 millimetres across, which in turn is presented on a display frame constructed in rock crystal, obsidian and white gold. The timepiece is available in two references: one with a fluted white gold bezel, and the other with a diamond-set bezel. Five pieces of each reference will be available.
Vacheron Constantin offers a different take on exclusivity with its Les Cabinotiers Dual Moon Grand Complication. The double-sided watch counts a total of 11 complications including the minute repeater, perpetual calendar, celestial chart, sidereal hour display, and moon phase.
The technical expertise required to pull off such a feat is matched by the same attention to design and aesthetics. This can be seen throughout the timepiece, from the exceptional movement decoration to the micron-level precision that the moon discs are finished to. The timepiece is, unsurprisingly, a pièce unique. It does, however, showcase Les Cabinotiers' enviable position in the industry—to be able to create anything its clients can dream of, given sufficient time and resources.
A Return To Form
Finally, there are two brands that deserve special mention for rejuvenating their icons this year. TAG Heuer and IWC have reworked the Carrera and Ingenieur respectively, with the new iterations promising exciting releases for subsequent models in the years ahead.
For TAG Heuer, the new Carrera Chronograph "Glassbox" is the highlight. The timepiece has been released as part of the Carrera's 60th anniversary celebrations, and marks a tweaked visual identity for the line.
The "Glassbox" moniker comes from its domed crystal, which effectively "caps" the watch to reposition the tachymeter scale from the bezel to a sloped inner flange. This doesn't just echo domed crystals that were prevalent in the 1970s, but also presents a fresh take on the idea that, undoubtedly, represents a new chapter for the Carrera. Of course, the crystal of this modern iteration has been rendered in sapphire, instead of Hesalite (i.e. acrylic), which was the material of choice back then.
Powering the new Carrera Chronograph "Glassbox" is the Calibre TH20-00 self-winding chronograph movement. This is an updated version of the Heuer 02 movement that TAG Heuer launched in 2016, and comes upgraded with bi-directional winding as well as a visual upgrade to its oscillating weight, which has been sculpted to parallel the brand's logo. As testament to its improved reliability, TAG Heuer is also extending the watch's warranty from two years to five years.
The Ingenieur, on the other hand, sees the return of Gerald Genta's legendary Ingenieur SL Ref. 1832 in a new guise: the Ingenieur Automatic 40. The spiritual successor to what is arguably the archetypal Ingenieur reference that has made the collection what it is today is no mere remake though. Instead, IWC has given it various updates. The new textured dial, for instance, helps to create visual interest in what is otherwise a purely technical timepiece, while the modified bezel now features functional screws in lieu of decorative recesses.
Elsewhere, much attention has also been paid to the other aspects of the watch's design and mechanics. The original nose-shaped horns on Ref. 1832, for instance, have been replaced by conventional lugs that start with a middle link. This preserves the aesthetics of the Ingenieur's integrated bracelet—an important part of its visual identity—but creates a closer, more comfortable fit on the wrist for greater wearability.
In much the same way, the right case flank now has subtly protruding crown protection, which lends a more sporty character to the watch while also serving a functional purpose.
Clearly, there are still novelties aplenty that can excite, even for the seasoned collector. One only needs to know where to look.
In 1948, Omega celebrated its centennial by releasing a set of watches that were fit for "town, sea and country", which included the globally-adored Seamaster. To mark 75 years of making waves in the world of horology, 11 new editions of the Swiss marque's iconic models have been released.
Revealing the collection in a sun-drenched event in Mykonos, Greece, Omega presented styles ranging from the Aqua Terra to the Ultra Deep in a new colourway: Summer Blue. The shade takes inspiration from the sea, where these diver-approved watches really perform, and its hue gets deeper the higher the watch's water resistance is.
The Aqua Terra collection now includes three new models with a sun-brushed dial of the shade. The 38mm comes with sailboat indexes and a polished and brushed bracelet, powered by Omega's Co-Axial Master Chronometer 8800, while the 41mm offers wearers a choice of a matching bracelet or blue rubber strap and has the by Omega Co-Axial Master Chronometer 8900 driving it.
The stainless steel 43mm Aqua Terra Worldtimer has global destinations printed around its dial, and the hesalite glass bridges the outer and inner dials, revealing a 24-hour reading with light blue to indicate daytime and dark blue to indicate night. Just like the others in the AT collection, it's water resistant to depths of 150 metres.
The 41mm Seamaster 300—first released in 1957 as part of the "professional" trilogy—has a symmetrical case and crown in polished and brushed stainless steel, with matching bracelet, and in keeping with its commemorative cousins, the 42mm Diver 300M features a Summer Blue wave-pattern ceramic dial, varnished with a gradient finish to reflect its water resistance—300m, if you hadn't guessed by its name—while a blue ceramic bezel with the new Summer Blue enamel (Grand feu) diving scale encircles the dial.
First released in 2005, the Planet Ocean 600m has a blue ceramic bezel instead of its original and distinctive orange one. It's encircled by a PVD-treated and varnished dial in a gradient finish and comes complete with blue hands.
The 2023 Ploprof takes cues from its original 70s design, which was relied upon by French oceanographer Jacques Cousteau during deep-sea experiments. Its bezel ring is made with sapphire crystal, a nod to the chemically reinforced monolithic crystal used in those early versions. The famous screwed-in crown and two o'clock security pusher appear on the monobloc case of this newer style, and can also dive to 600ms.
The Ultradeep first made history in 2019, when it reached the deepest place on Earth: the Mariana Trench. This update nods to the fearless explorers before it, with an exact representation of the Challenger Deep mapped by the Five Deeps team appearing as a pattern on its dial. And when you shine UV light on this 45.5mm model, it reveals the words, 'OMEGA WAS HERE', pointing toward the world record dive of 10,935 m and showing the Western, Central and Eastern Pools.
From: Esquire Uk
CODE41 welcomes a second edition to the ANOMALY EVOLUTION family. In a move that comes two years after the first edition, this time there's an additional colour for a dash of dynamism. A testament to resilience, the ANOMALY EVOLUTION was designed in the middle of a watchmaking crisis and a global pandemic. A supply chain issue brought on at the height of the pandemic in 2021 saw newfound difficulty in procuring the ETA and Miyota movements that were utilised in both the Anomaly-01 and 02, effectively making them no longer available.
Enter the ANOMALY EVOLUTION Edition 2 which features the technical design of its predecessor the 01 while including the Swiss movement and date of the 02 version. Heavily involved in the watchmaking process, the community voted on the new orange colour of the ANOMALY EVOLUTION. This one-of-a-kind participatory approach is a staple for the Swiss watchmaking manufacturer.
The Movement
The movement ANOMALY EVOLUTION Edition 2 is a Sellita SW200-1 Special, with a precision of -7/+7 seconds per day. This is an enhancement from its predecessors the Anomaly-02 which had a precision of -/+12 and the Anomaly-01's precision of -20/+ 40 seconds per day. When it comes to aesthetics, the timepiece incorporates enhanced ergonomics and a reduced thickness of 11.2mm. ANOMALY EVOLUTION also comes with enhanced readability and amplified watertightness to 100 metres. An Incabloc shock absorber is also included for added durability to support the balance wheel. The introduction of an exhibition caseback allows the movement to be admired. 
Bridging the gap between tradition and innovation, CODE41 raised the bar of watchmaking. With total transparency with the community, it proves why the brand continues to be one of the biggest watch disruptors on the market.
The 300 Edition 2 pieces will be available for pre-order until 19 July 2023 on code41.com.
This was originally published on LUXUO.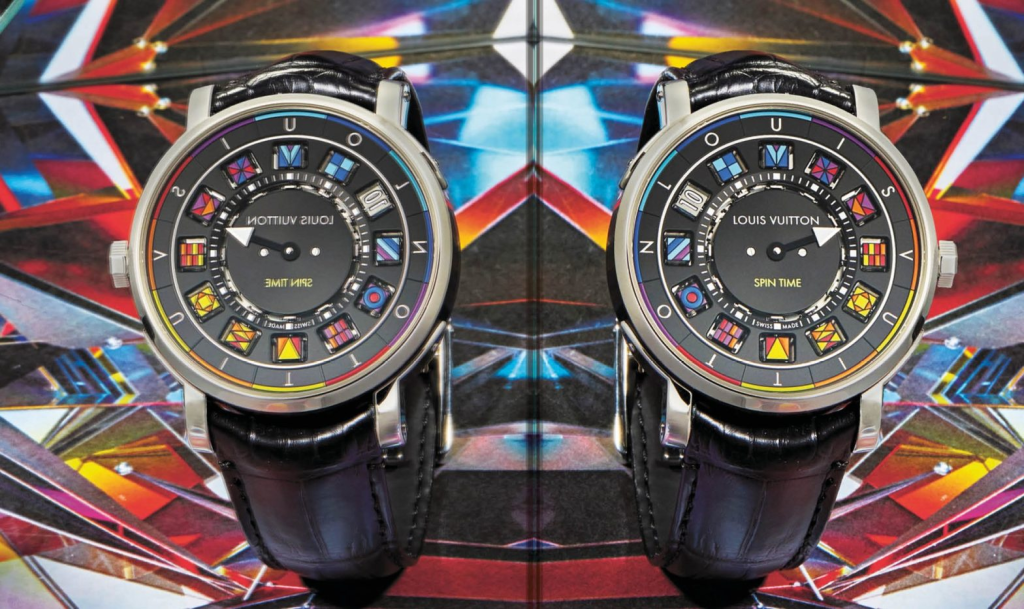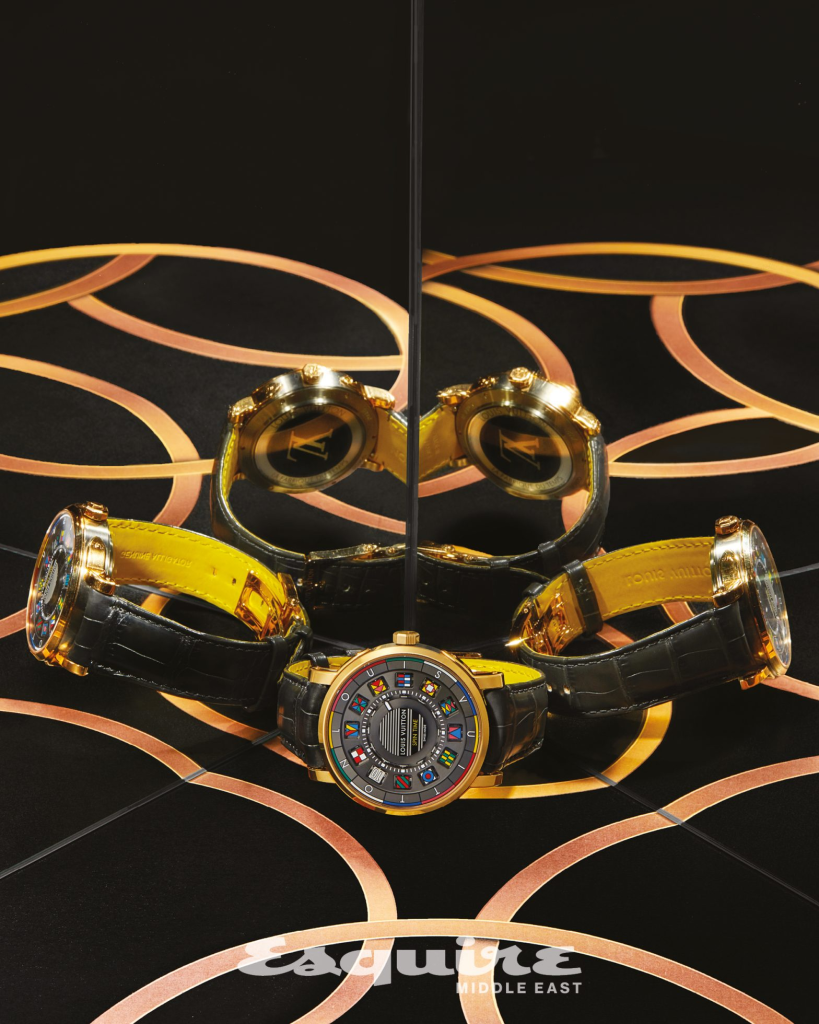 Escale Spin Time, gold case,
Louis Vuitton, AED188,000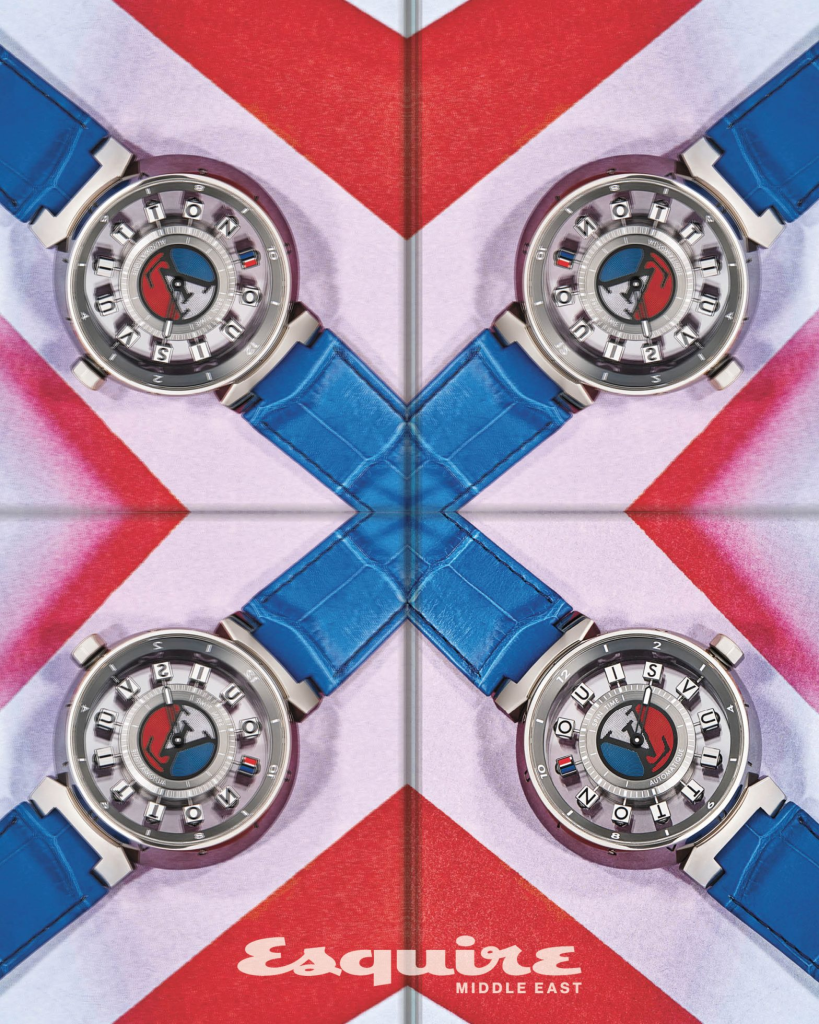 Tambour Spin Time Air, Louis Vuitton, AED215,000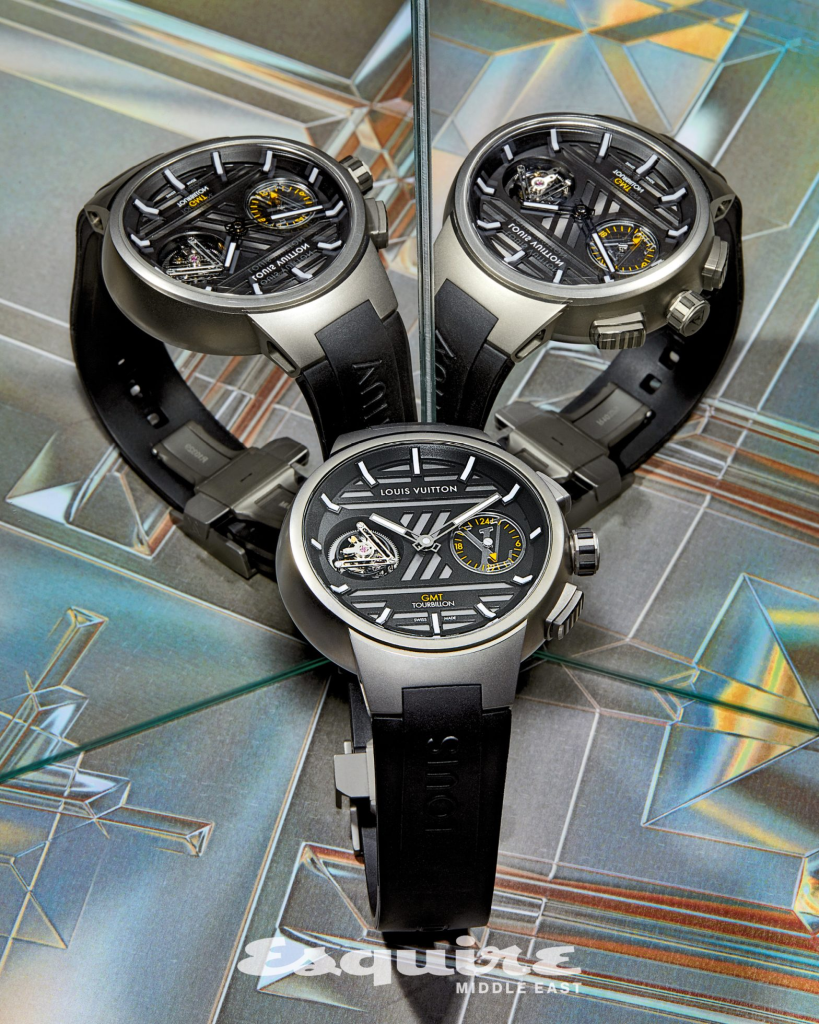 Tambour Curve GMT Flying Tourbillon, titanium case, Louis Vuitton, AED290,000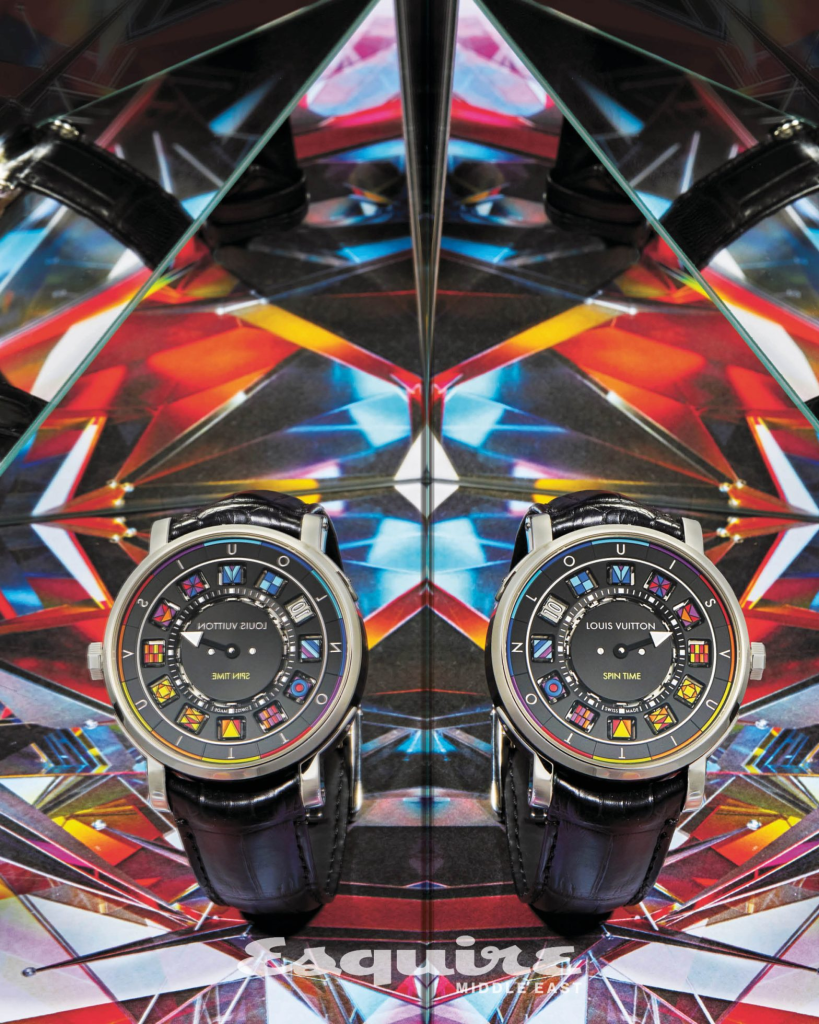 Escale Spin Time, Stainless steel case,
Louis Vuitton, AED131,000
Photography by Efraim Evidor
Styling by Cate Warde

From: Esquire Middle East