A return for Johnny Depp to Hollywood seems unlikely, if the actor's words are to be believed, meaning no more Pirates of the Caribbean films, or other major studio projects.
Goodbye, Captain Jack!
At the press conference for the premiere for Jeanne Du Barry, his new film directed by part-Algerian filmmaker Maiwenn, the actor was asked by Deadline if he feels boycotted by Hollywood, leading Depp to explain why he's done with the current culture of filmmaking in America.
"I don't think about Hollywood. I don't have much further need for Hollywood myself. It's a very strange funny time when everybody would love to be able to be themselves but they can't because they must fall in line with the person in front of them. You want to live that kind of life, I wish you the best. I'll be on the other side somewhere," says Depp.
The answer began with an acknowledgement that he does indeed feel that he was cut out of Hollywood, making reference to his forced resignation from the Fantastic Beasts franchise, as well the cancellation of his next Pirates of the Caribbean film with Disney.
"Did I feel boycotted by Hollywood? Well, you'd have to not have a pulse to feel at that point that none of this is happening, or that it's a kind of weird joke…Of course, if you're asked to resign from a film that you're doing because of something that is merely a bunch of valves and consonants floating in the air, you feel a bit boycotted," said Depp.
He also spoke about his treatment in the press in recent years.
"The majority of what you've read about me is fantastically, horrifically written fiction."
Why Saudi Arabia backed Jeanne du Barry
The film is supported by Saudi Arabia's Red Sea Fund, spearheaded by Mohammed Al Turki, CEO of the Red Sea Film Festival Foundation, a position he took last year.
Speaking to Esquire Middle East, Al Turki said that the primary reasons that they chose to support the film were the vision and ethnic heritage of Maïwenn.
"We look at so many projects for funding and this one really stood out because the story was beautiful, the director is a female powerhouse and multihyphenate who has an impressive track record behind her. Maïwenn is also of Algerian descent. We wanted to be involved in realising Maïwenn's dream to highlight Jeanne Du Barry, a name which is largely familiar to students of history but who was a fascinating woman," said Al Turki.
Al Turki was not aware that the film might get the top Cannes slot before deciding to fund the film.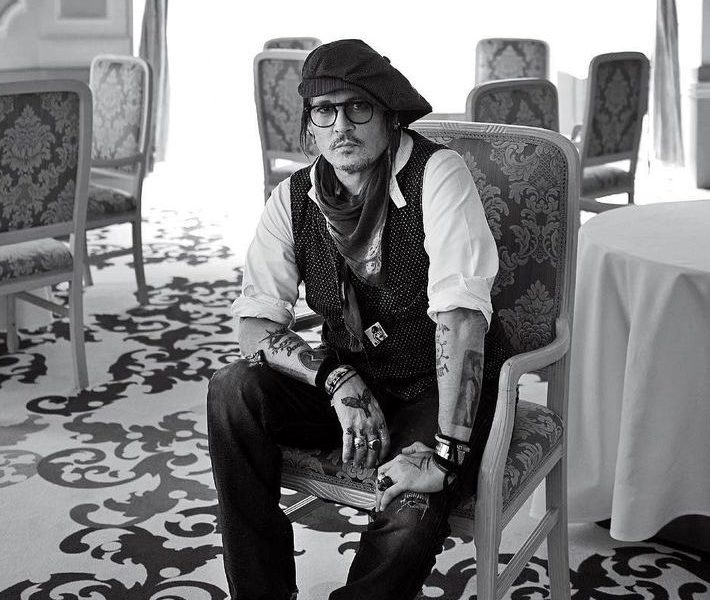 "Not at all, we obviously believed in the project and feel it deserves the honour of the Cannes Opening Night but it was a wonderful surprise to find out it had been selected!" Al Turki added.
Johnny Depp also went to AlUla, Saudi Arabia last year, meeting with Al Turki and other Saudi Arabian officials.
Johnny Depp speaks with Esquire Middle East
When we sat down with Johnny Depp in 2021, the actor touched upon about the way he was treated in the press before his last trial.
"I also know what it's felt like to be misunderstood. It's an area that I've explored myself. In terms of state of mind, it's when you suddenly feel like you're in the middle of the Colosseum in ancient Rome, and the place is packed, and everyone's staring, waiting for you to meet the lion," said Johnny Depp.
He also touched upon his historic discomfort with the way he was treated by Hollywood.
"Back in the 80s, I wasn't happy. I was working on a television series 21 Jump Street, and even though I have always loved the process of acting, there, it felt more like a daily grind. It was 15 to 16 pages a day of just a bunch of exposition and numbness. Luckily, those days have been exorcised," said Depp.
"I turned to John Waters to help me do the exorcism. It was invigorating to do Cry Baby with him, after having been accidentally turned into some kind of poster boy teen idol. The choice that I made with John was the perfect opportunity to make fun of what they tried to turn me into."