Haider Ackermann is highly considered one of fashion's greats. At one point, the late Karl Lagerfeld openly declared that Ackermann should be the one to replace him at Chanel should he retire (but of course, like most creatives, Lagerfeld changed his mind a few months after).
Ackermann's masteries of fabric manipulations and drape have earned him a devoted legion of following. His eponymous fashion label may be on pause at the moment, but the man has been busy racking up collaborations in the past couple of years—a sportswear collaboration with Fila and earlier this year, presented a stellar collection under Jean Paul Gaultier's couture house. And at the same time, Ackermann continues to dress an A-list clientele the likes of Timothée Chalamet and Tilda Swinton, who have all made noteworthy (and at times, viral) moments on red carpets in his creations.
His latest collaboration is a first for the fashion designer: a collaboration with luxury skincare brand Augustinus Bader.
"Haider and I met at various events over the past few years," says Charles Rosier, the CEO and co-founder of Augustinus Bader. "Our paths first crossed at a private cocktail party honouring Azzedine Alaïa, which was a large gathering of creative and like-minded people. But it wasn't until we met again at the Marrakech Film Festival that we actually discussed collaborating, and I was curious to see how Haider could interpret our vessel to create something truly unique. Fast forward to multiple meetings in Paris, moodboards backwards and forwards, many zooms later and it resulted in the partnership you see today."
Augustinus Bader is relatively new in the skincare industry. It was officially established in 2018 but the work that's made it a competitive entrant in luxury skincare is the result of more than 30 years of research by stem cell scientist and doctor of regenerative medicine, Professor Augustinus Bader. The brand's first launches—The Cream and its more potent sibling, The Rich Cream—have gained such a cult following that those who swear by them, wholly believe in their ultra moisturising benefits.
It's this fifth-year anniversary that have brought Ackermann and Augustinus Bader together. The fashion designer has reimagined The Cream and The Rich Cream in two separate limited edition sets. Each features a 50ml Nomad Refill and chrome 50ml Nomad ("This collaborative partnership also sees the vessel be refillable, meaning that this bottle is an object d'art to keep and reuse again and again. It's a keepsake forever, which was an important element of our partnership," says Rosier) designed by Ackermann that's a departure from the usual packaging by Augustinus Bader. And for that extra fashion-forward touch, the vessel is topped with Ackermann's name done in the blue that the skincare brand is associated with.
To find out more about the idea behind the collaboration, there's no one better than Ackermann himself to expound on the inspiration and his connection to beauty.
What was it about Augustinus Bader as a brand that got your attention?
When I first met Charles I was really intrigued about the idea of collaborating as I loved this brand and everything that it stood for: luxury, attention to detail, results-driven, dedicated to its craft. I wanted to do my research and use the creams first. The creme had such a calming effect on me, now I am devoted. The first word that spoke to me about the brand is when they talk about "healing". Healing is such a big word, but something we all deserve.
How does the Augustinus Bader brand ethos tap into the DNA of your brand?
There's a lot of alignment here in the respect of the "metier" of hands-on luxury craftsmanship in the work that we both do as brands: whether it's creating a collection by hand or creating a cream to be massaged into the skin—it's a very beautiful thing to do. I always come back to this idea of working around imperfection to elevate something to be the best that it can be.
What was the inspiration behind the chrome packaging?
When we first spoke about this project, immediately I knew it had to be a mirror. The packaging needed to reflect its owner. To have a mirror where you could look at yourself, and apply your cream wherever you are and have it be a reflection of yourself. I also wanted to have something very pure to mirror the purity of skin, as well as the intimate moment when you are applying your daily ritual. It's also very calming to touch and to look at, which is also vital, because it's about trying to find peace with yourself in that moment of application.
What does beauty mean to you?
To define beauty is rather difficult and very personal, but the search for beauty is an intriguing and exciting path. When we look at our reflection in the mirror, our imperfections are often the first thing we notice and our reflection might not always be what we want it to be. But it's always been my ambition to make a woman feel comfortable with herself, from the clothes that she wears to how she adorns her skin. I remember when I was young, looking at my mother and the tenderness with which she caressed her face and put her cream on. I was fascinated—there was something supremely beautiful about it. I have always appreciated the gesture of beauty.
Has the significance of beauty always tapped into your collections?
I have always said that backstage in the beauty area is where the major happens. The face is like a full diary into someone's soul: you see every emotion and expression line, be that happy or sad. I could spend hours observing someone's face—it's like reading a poem. So when I create a piece, I am fantasising about the whole life behind the kind of woman who will wear it. The complexion is a canvas from which I begin this story.
Haider Ackermann - Augustinus Bader Limited Editions will be available exclusively at the Augustinus Bader pop-up at TANGS at Tang Plaza from 20 October 2023.
Regressing to a past life finds Pedro Alonso filling the sandals of Filipo, an ancient Roman warrior. In an autobiography unlike most others, the actor—I'm referring, of course, to Alonso's present-day proceedings. There are details a journey towards spiritual liberation; how the encounters with a rebel leader (think Neo from The Matrix) open young Filipo's eyes to a hidden truth. Oh, and a troubling trade-off: to serve the system or to serve his principles.
For a man robbing the Royal Mint of Spain, this soldier's dilemma is easily answered. After all, the desire to illegally print billions of euros doesn't betray much love for the system. In Money Heist, Alonso plays Berlin—a character driven by a strict code of duty. So committed to the plan, in fact, that he opts to stave off a SWAT team by himself while the rest of his crew try to escape.
Alonso lives many lives—on-screen, in regressions, through his words and paintings—and he lives them all at once. Yet, in his eyes, they all seem to be one and the same.
"I try to work with my own nature," Alonso describes the process of playing Berlin. He pauses, to clarify that he's not a killer or pervert. "I'm not so tremendous nor terrible, but all of us have shadows and areas of light. I try to find the resonances, the notes that are innate to me. And I go deeper and amplify these aspects." It's a melting pot born from introspection. "I begin cooking it up like soup. I paint using references, fill in the blanks with my intuition. In some moments, I pray, in my own way, to try and figure out the mysteries. It's about putting myself in a place to disappear in the role."
Alonso's method is one of self-discovery. It doesn't call for him to transform into a character but, rather, to find the character within himself. He sleuths through the script. In search of lines (or the spaces between them) that connect with him on a visceral level. "I approach it like an investigator would. Trying to shine a light. To find meaning behind what's happening in my pure present—as an actor and as a human being too. I always want to discover the angle of view in a role that offers me the opportunity to grow as a person," Alonso says.
"Sometimes, it's not exactly in the script. I have to find the right perspective which allows me to bring something alive in the role. Without that intimate connection, I wouldn't be able to channel the right emotions." By way of his method, Alonso finds some roles to be simply out of reach. "There are actors who play almost the same character every time, and I admire them. Then there are others who have the ability to play different characters, and I admire them too. For me, it's important that there be an esoteric meaning in the opportunity to play a role. I don't believe I can play all sorts of characters.
"But I prefer not to anticipate what's going to happen in my career," he interjects—not for the first time during our conversation. Alonso is enamoured by the idea of being present.
It's a trait which he has picked up over his time spent in a red jumpsuit and a Dalí mask. "Berlin is in the pure present," he says. "He's in no rush to know what's going to happen next. That has been a good lesson for me." Alonso's unexpected return for the third season of Money Heist (albeit in flashbacks) helped solidify his indifference towards the future. "I died, and then I continued playing the role," he explains. "I've realised that it's best not to anticipate."
Each time that it's brought up, Alonso speaks about Berlin's death as if it were his own. "After my death," he says, "I had a new opportunity to live the process on another level." As it turns out, his close association with the character—which birthed his excellent portrayal in the first place—would now become his primary obstacle. In playing a younger version of Berlin, Alonso would have to strip him down of qualities which, so far, he had firmly committed to. "The best parts of the role disappear in flashbacks. I spoke about that with the writers. I told them, 'I'm going to die and I don't know if I'll be able to sustain the role after that.'"
A jump into the unknown then—accompanied by a fear of critics, but balanced out by a relentless search for personal growth. "For me, the miracle is that I received the support of the public," Alonso recalls the aftermath, yet again endorsing his thoughts on anticipating the future. "This difficulty, this handicap—it offered us the opportunity to uncover hidden parts of the role and paradoxically, these hidden parts were more luminous than the ones already known to us." It takes a lot to elicit sympathy for an egocentric narcissist with a tendency for misogyny and murder, but as the story goes so far, Berlin's set to bow out a fan favourite.
Coming up on the final season, Alonso says, "We've put together all the different aspects of the role here. I pray, in my way, to be able to offer the spectators an explanation which makes them perceive the entire journey of the character."
As the curtains close, for good this time, Alonso isn't one to seek comfort in familiarity. "I understand that in life there are cycles. Everything has a beginning and everything must have an end," he reflects. "I feel like this is a good time to close off this amazing experience. What happens after this is going to be a new cycle and we'll see what that entails."
So, What's Next?
A Netflix project under wraps, a documentary about shamanism on hold, but most imminent is Alonso's role in a movie by Oscar-nominated director Rodrigo Sorogoyen. "If Berlin is super sophisticated, the role that I'm playing next is the opposite," he says. "[The character's] rudimentary, irrational— almost a brute. It's a very different role and I'm beginning to feel the fear creep in because I don't know what's going to happen with my process. I'm very thankful for the opportunity though."
Contemplating the blank canvas ahead of him, Alonso draws parallels between acting and painting. "Many years ago, I discovered that when I read literature written for painters, I understood it better than the texts written about being an actor. I connect better with the sensibility of the painters. It aligns with the way I process information. This has allowed me to approach acting more intuitively," he shares.
"I try to play my roles the way I'd paint. When you're in front of a canvas, you can have a plan but the most incredible thing is to be open to accidents. When I paint, I mostly use my right hand. But I've discovered that when I do this, my brain forces me to be precise and controlled. It isn't interesting. So I've started using my left [hand] to mess up the strokes, after which, I try to reconcile the painting. I like painting in an impulsive way and using these 'mistakes' as opportunities.
"The same goes for acting. If I'm playing a sequence and something unexpected happens, it can be a gift. It's more mysterious. It's more authentic. If you demand control, you'd see it as a problem. But if you're open, it can be the best thing— you stop trying to anticipate moments and instead, find yourself connected with what's happening right now."
Further connecting the dots between his artistic endeavours, Alonso quotes Italian sculptor Ignazio Jacometti—"I paint so I can see better." Through his sequences, musings, paintings and past lives, he discovers pieces of himself—each one helping him hone in on a greater puzzle. "I discovered these treasures in my adult life and it was a surprise for me. I began to paint when I was 33; I started writing, the way I do now, six years ago at 44. I'm not a professional painter or writer but I enjoy both. I recognise myself in my work. It's difficult to be absolutely clear but these are the lenses that I try to regulate with more and more precision—to be open to the mystery, the infinite mystery."
Though he stumbles upon contrast and conflict, across characters portrayed and disciplines pursued, Alonso views such qualities as being intrinsic to life. "I try to be the person that I am, with all my paradoxes."
All of the original Money Heist series is now out on Netflix.
Photography: Monica Suarez De Tangil
Styling: Sara Fernandez Castro.
Originally published on 7 December, 2021.
While researching her role for a new film Past Lives, Greta Lee watched a South Korean reality show in which a celebrity is reunited with a childhood sweetheart. Being confronted by your first love is, unsurprisingly, a physical experience. "It's initial shock, terror, a look of death, then ecstasy, joy and a desperate, deep sadness, all within a matter of seconds," says the 40-year-old Korean-American actor on a video call from Los Angeles, where she lives with her husband, the writer Russ Armstrong, and their two sons.
It was a specific feeling she needed to tap into for the romantic drama from writer-director Celine Song, which is out now in cinemas and was released earlier this summer in the United States to considerable critical acclaim. The film charts the story of two friends from South Korea: Nora, played by Lee, and Hae Sung, played by Teo Yoo, who were separated when Nora's family emigrated to Canada. A couple of decades (and relationships) later, the pair reconnect for an intense week in New York.
Before Nora and Hae Sung's reunion was filmed, Song asked the actors not to interact. "Admittedly, at the time I felt like, 'Oh, this is kind of hokey and manufactured,' but I'm glad we went along with the experiment, because it really helped me hone in on the biology of longing and what it does to your body," says Lee. Yoo and John Magaro, who plays Nora's husband Arthur, actually met for the first time on screen; for months, Lee had acted as a "conduit" between the two, a distance that Song encouraged. "She's supremely manipulative," Lee jokes.
Taking on Nora, a nuanced romantic lead, "felt really, really radical at the time—and very nerve-racking", says Lee. While she was starting out as an actor, doing theatre in New York, the roles available for Asian-Americans were scarce and, as Lee points out, she wasn't cut out for stereotypes: "I was not very good at playing a lab technician or a doctor." Later, however, she proved very cut out for scene-stealing turns in Girls, as the clueless and cut-throat gallerist Soojin, and more recently as Maxine in Netflix's time-bending hit Russian Doll and Stella in The Morning Show, which is about to start its third season. In 2025, she is set to star alongside Jared Leto in the third instalment of Tron.
Central to Past Lives, says Lee, is the Korean concept of in-yun. Not precisely translatable, it refers to the time-spanning connections between people: if you meet in this life, you encountered each other in a past life. "Now that I've done the movie, I can't not see in-yun everywhere," Lee says, with the air of a recent convert to a niche religion. "You and I have in-yun now," she says, pointing to me. "You can have in-yun with a chair," she adds, pointing at her chair. Wherever you stand on the idea—as Nora says in the film, in-yun is "just something Korean people say to seduce someone"—it's an effective way to raise the romantic stakes; both balm and delusion. "It's really a coping mechanism, isn't it?" says Lee, cheerily. "We're all just trying to make sense of the injustice that we only get to live once."
This interview took place before the SAG-AFTRA strike.
Originally published on Esquire UK
To healthily live every day
Like many other actors when they debuted, Jung Hae-In played the lead character's brother or friend. It was not till 2018 when he paired with Son Ye-Jin in the romance drama, Something In The Rain, his role as a "warm boy" caught the public's attention and he was conferred the title of "National Cougler", that Jung's career reached its turning point.
During this interview, Jung's leading role in D.P. season 2 was about to be aired, his part as a soldier is a stark departure from his previous "warm boy" roles in romance dramas, which can be said to be another breakthrough for Jung's career.
During D.P.'s first season, it had already triggered social discussion in its native country as the drama explores the South Korean military's hierarchical practice and the associated bullying. Jung's role of a private assigned to a team, tracking down military deserters, endured various experiences in the process. Likewise after the series aired, not only did it ignite many heated discussions, it also evoked memories of people's own experiences during their military service. The drama received critical acclaim and went on to win "The Best Drama" at South Korea's Baeksang Arts Awards, so naturally all eyes are on the new season's plot. "The characters in the second season are explored more in-depth than the first season, delving into the characters' inner contradictions and battles. The second season will also add new characters to enrich the plot," shares Jung.
He will be promoted in the new season, and the series will continue to explore why the dark side of the military is deliberately ignored, and why bullying and discrimination are daily military occurrences that are not taken seriously.
Coincidentally, D.P. season 2's airing marks Jung's 10th anniversary since his debut. Jung's childhood dream was to become a bioengineer. That is until after his college entrance examinations, and he was on the way to the movie theatre, when he was discovered by a talent scout. Thereafter the idea of becoming an actor began to germinate, and he subsequently enrolled himself in acting courses.
His parents were initially opposed to the switch, but Jung managed to win their approval and support through his persistence and enthusiasm for acting. "Since then, I have enjoyed acting very much. Different works and roles have also allowed me to accumulate rich performing experience, and I believe my acting skills will change and evolve with age. My goal in life is to be able to continue to act, but I will not say that I have achieved my goal yet. I'm continuously moving toward my dream. My dream is actually quite simple: to be healthy and to live every day and with a grateful heart," says Jung.
Unburdening
Having been in the industry for a decade, it's logical to sort out and summarise Jung's performance over the years. "If I had to choose my proudest work, it would be difficult. Put it this way, I would think D.P. brought me a breakthrough in my acting career, because the character and plot are completely different from all my previous work.
"The thing is, I have never deliberately counted how long I have been in the industry. Whether it is five or 10 years, it's just a number. The most important thing is that I hope I will not regret my past performances if I were to watch them in the future. In the past 10 years, I have acted in more than 20 dramas and movies, and I have enjoyed satisfaction from these works, regardless of how tough the process was, or the challenges I faced. I still find it very interesting.
"Of course, I will want to take a vacation and have a good rest. If my body sends a signal, I will definitely take a vacation to recharge and clean the slate of my previous roles, so I can absorb new subject matters and perspectives. I think this kind of treatment is applicable to everyone, energy can only be added if there is an offloading."
Apart from acting, Jung also likes to sing. He fell in love with South Korean singer Lee Moon Se's song when it was included in the original soundtrack of the drama he acted in.
"I fell in love with his song when I heard it, I listened to it on repeat. I generally pay attention to lyrics when I listen to songs as well as the emotions carried in them. Recently, I've taken a liking to sports too and I really enjoy playing golf. Contrary to how it appears, golf is not an easy sport, and I'm attracted to overcoming unique challenges," shares Jung.
Barbeque expert
Jung has always been stereotyped as a "warm boy" or a "National Cougler" in his career thus far. The truth is that his persona also falls in line with the "warm boy". When he is not working, he enjoys dinner with his friends. He particularly enjoys barbequing and would volunteer to grill food for others to enjoy, so much so that he is fondly hailed "barbeque expert".
"I like to help others barbeque meat because I'm confident of my skills, and I feel that I'm very good at controlling the heat and taste. But I'm not a master chef and I usually cook simple dishes like stew or fried rice at home," says Jung.
Looking forward to the future, Jung doesn't have too many thoughts, he just hopes to do his best for every role. "If I hadn't become an actor, I think I would still work hard to equip myself to become an actor eventually. To be honest, if I'm not an actor, I can't think of what else I would like to do. Every time I watch the work of my seniors, it reinvigorates and motivates me. I respect the two seniors, Han Suk-Kyu and Lee Byung-Hun, and I appreciate that they can perfectly present different images and characters in each role. If I had to choose my favourite movie, I would say it's About Time, the portrayal of people and time in it is quite beautiful," says Jung.
There's a spark in Jung's eyes whenever he talks about acting. With his hard work and determination, becoming the next best actor could just be around the corner.
Photography: Choi Moon Hyuk
Art Direction: Paddy Chan
Styling: Yoon Seul Ki
Photography Assistants: Kim Dong June, Seo Hye Yoon, and Jeon Sung Woo
Makeup: Soon Yeol
Hair: Sung Chan
There's no love song finer /
But how strange the change /
From major to minor /
Ev'ry time we say goodbye
- "Ev'ry Time We Say Goodbye" by Cole Porter
As a child, you're a blank slate. When people say, it is written in the stars, they are basing it on long-dead planets, their light burnt out long before their rays could reach us. Was it a sign of things to come when Bruno Major, aged seven, took up the guitar? Or maybe, we're reading too much into it.
But it made sense, in hindsight. Of course, he'd gravitate towards music. It was always a constant in the Major household—a brother who would later be part of London Grammar; a father who plays guitar; a tickle of the ivories of the piano in the house.
At seven, Major was gifted a guitar for Christmas. Six hours a day, he'd play on it; his red-raw fingertips giving way to calloused bumps.
It was like wearing a coat tailored made for him: music felt as familiar as it was exciting. Major knew at the time—as certain as children knew about the rising of the sun or that the love from their pets would never leave them—that he would end up being a musician.
Metal appealed to the teenage Major. As a teenager, changes to his body and emotions swept over him like a tsunami. He saw his first Korn concert at 13; wore eyeliner; painted his nails black; played in a metal band, the culture spoke to him and, contrary to the general misconception, the genre has a high level of musicianship that Major appreciated.
"There was a lot of crossover between metal and jazz," Major says. "In some way, metal was my foray into jazz because I started to learn about modes and scales like 'that's the Dorian mode or that's the Phrygian mode', which are the basics of jazz."
He became a session guitarist at 16 and pursued a jazz degree at Leeds Conservatoire (formally Leeds College of Music). Moving to London, Major tried to find his voice in the music world. It was after talking to a homeless man that he felt inspired to write his first song. Unable to find anyone to sing it, Major sang it himself. And then he sang another of his song. And another.
Major uploaded his compositions to his Soundcloud account, where it caught the ears of the music labels. He'd signed to Virgin Records, who flew him out to LA and gave him the star treatment as he recorded his first album.
Then the label unceremoniously dropped him. Calling the album "rubbish", Virgin Records refused to release it. (An EP called Live was the only recording that was released with the label; three of the four songs would be featured in his future albums.)
Devastated, Major returned to Northampton. He lived off what was left of his advance and took up a job with a local theatre company to pen music for Shakespeare plays. His confidence as a songwriter took a nose dive, he tried writing but didn't think they were any good. Major was tethering, the option of quitting a looming possibility.
It was a car ride with his mother that would give him a fresh perspective. She imparted a balm: that what he was going through are all "part of [his] tapestry". That stayed with him. (Days later, he would pen "Tapestry", which later be included in his 2020 album, To Let a Good Thing Die.)
Major decided on an ambitious project of writing a song every month for a year.
"Originally, the idea was a song a month for the rest of my life," Major explains. "My manager was like, Dude, I don't think you should do that. Maybe just try for a year? But it was pretty intensive. The songs had to be delivered a week before the monthly deadline. So actually, it was a song for three weeks, then I deliver it, take a few days off and then start again."
He had no expectations. The project was an exercise in whether he could write a song with an imposing deadline. Some songs were easy ("Just the Same" was written in 20 minutes), others were hard (Major almost missed the deadline with "Easily").
All 12 songs were compiled into an album called, A Song for Every Moon. It was released independently and garnered 30 million streams in a year. The experience taught him a lot. Major learnt how to let go, to put something out even if he thought it sucked. By not having to overthink, Major made better music. This was the start of his career
The world is made smaller by the Internet. He'd want to perform in South America; he'd want to return to India. ("I was in India playing for another artist.") That he is able to reach people all over the world, that magic isn't lost on him.
"Being on tour is wild. You get up, work out, you eat, you do the gig, you travel, repeat. After a while, you get to enter into a flow." He gestures to our interview, "This sort of breaks it up. It's fun.
"I love travelling and I can understand why people would find it boring after a while but I love it. In fact, the only problem for me is when the tour finishes because you have to return to normalcy."
Bruno would post a video on his Instagram about the 24 hours he'd spent in Singapore. It's a whirlwind affair with snippets of our photoshoot, a visit to the local Spotify office, rehearsals and then the big sold-out show at The Capitol. At the end of it, he looks relieved, energised even before the video cuts out.
With all that he has going for him, imposter syndrome sneaks in. "There's a weird thing with writing where it doesn't feel like you've accomplished anything. Like, with the latest album, Columbo."
After touring for Moon, Major rented a home in LA and worked on his sophomore album, To Let A Good Thing Die. This follow-up to Moon was about the arc of a relationship; Major had broken up with a girlfriend and while acknowledging that it's better to let things go, love is ever-present.
He was about to embark on a world tour to promote it when travel became heavily restricted thanks to the Covid-19 pandemic. He moved back into his parents' Northampton house; he played video games and drank. As an independent artist, Major's main form of promotion is touring. He pivoted to placing more emphasis on his social media presence, performing online and interacting with his fans. Like the rest of the world, Bruno was waiting out the pandemic.
"I was extremely fortunate. I was in a nice place; I was with people that I loved, we were healthy."
But still, he wished something more could be made with the second album. It's one of those youthful yearnings, both envied and forgiven, where a man in his life of 30, needed to make something of himself.
So the moment travel restrictions were lifted, he booked himself on a plane to LA and stayed in Silver Lake. For the next six months, he lived twice as hard as he could, trying to make up for all the lost time. It was a prolific period in his life; an explosion of creativity.
The pandemic was a period of introspection for Major: who is he if he couldn't tour or make music as he once could? It forced him to examine who he is on the inside. Borne out of a rebirth from Covid, this would be the theme of the third album.
He started driving around in a vintage car that he christened "Columbo" as its paint job matches the colour of the trench coat of Peter Falk's endearing TV detective. This represented a renewed freedom post-pandemic. Even after he'd crashed the car, Columbo would become the album's title track.
"I made Columbo in my bedroom. I converted one of the bedrooms in my house into a studio," Major says. "My success is defined by having created the thing that I am proud of. And I'm more proud of Columbo than I am of any of my previous albums."
Studying at the feet of jazz masters, Major cites his heroes like a devotee reciting the psalms by heart: Kurt Rosenwinkel; Biréli Lagrène; Wes Montgomery; Joe Pass; Cannonball Adderley… these are famous jazz musicians but they're not household names.
Major once saw Rosenwinkel play in London. Despite the modest attendance, Rosenwinkel performed like the absolute master he is at his craft. "He has more talent in his fingernail than 99 out of 100 of the artists that are on the top 100 popular music charts," Major says. Success does not equate to the greatness of one's art and inversely, the lack of success does not mean that you're a terrible musician.
At the end of the day, it's always Major and his songs.
"I think it helps when you do not have preconceptions or expectations. I never really thought anybody would want to listen to my music, I'm grateful to be here. It's mostly just me and my songs. Everything else that comes along with it is a wonderful bonus.
"[There are perks] but they are temporary things. As Pharrell says, if you have a library card, make sure that you use it because at some point it will expire. It's highly unlikely that in 30 years' time, people would want me for interviews and photo shoots… maybe, I dunno. Who knows? But my music will still be there and people will be listening to it."
---
We see the stars at night, our awe is caught by their luminance. And we marvel that in the empty blackness, a light persists.
Photography: Shawn Paul Tan
Styling: Asri Jasman
Grooming: Christian M
Photography assistant: Xie Feng Mao
Styling assistant: Lance Aeron
It was a year ago that Kiehl's recreated a New York City Subway station at ION Orchard—complete with musical performances too. The brand makes a return to the very same spot with another Subway-themed pop-up installation, but this time, as a driver to instil the importance of sustainability as well as to highlight its own efforts in the cause.
The Kiehl's NYC Subway: Trash To Art installation provides visitors with the full-suite of experience one would expect of a typical Kiehl's pop-up. In addition to a range of activities dedicated to educating visitors on key skincare products as well as a personalised skin consultation, the pop-up highlights Kiehl's sustainability efforts which includes its refillable solutions in its skincare, hair and body categories. Like the name suggests, a number of art installations have been crafted from post-consumer materials—mainly Kielh's-related products, of course—such as the "Kiehl's Super Tree" and the "UFC Waterfall". The latter is positioned right above an empties drop-off point that encourages visitors to discard their empty and cleaned beauty empties. The goal is for Kiehl's to reach its target of collecting 60,000 empties for the month of September.
The brand has taken it a step further. A trio of Singaporean artists were commissioned to interpret trash into art that are now displayed as part of Kiehl's NYC Subway: Trash To Art. In their own words, they share with us more about the process of recreating something out of trash as well as their thoughts on sustainability as part of artistic expressions.
Maisarah Kamal and "The Empire State Building"
The concept for the artwork was born from my fascination with discovering beauty in overlooked places. I became captivated by the idea of transforming everyday plastic bottles and containers, such as those from Kiehl's products, into a representation of the iconic Empire State Building, symbolising New York and embodying Kiehl's essence. As I worked on the project, it also made me think about how we often overlook the value of things we consider as waste. This led the artwork to take on a deeper meaning, becoming a statement about reusing and repurposing materials.
The primary challenge in creating this artwork was in the cleaning of the interior of the bottles, as there are often residues left. Additionally, sourcing suitable found wood and metals to complement the sculpture presented another hurdle. The journey encompassed everything from achieving cleanliness to meticulously selecting various types of plastic bottles/containers, ranging from Kiehl's products, to incorporate into the artwork. The diverse array of shapes, textures, and colours further contributed to the complexity of the task. Therefore, this creative endeavour wasn't a linear process, but rather one that opened up a multitude of possibilities demanding careful consideration and decision-making.
Seeing beauty in unexpected places is a big part of how I make art. I think there's something special in things that we usually don't notice. This way of thinking doesn't just apply to one artwork—it's in all my creations. I like to make art that surprises people, using different materials or showing things in new ways.
Every artist should think about using sustainable methods because of the current state of the world and environment. Artists possess a unique way of highlighting important issues in ways that make people think. When artists use sustainable methods to make art, they're showing that they care about the Earth. This can inspire others to do the same. It's like being part of a collective effort to stop problems like climate change and waste—even small changes can add up to a big positive impact.
One sustainable skincare hack that I highly recommend is opting for refillable products instead of purchasing new plastic bottles or containers. By opting to buy refills, you significantly decrease the amount of plastic waste generated. This small change not only reduces your environmental footprint but also encourages companies to offer more eco-friendly options.
Stephanie Jane Burt and "The Big Apple"
I was inspired by the nickname of New York being "The Big Apple" which has become an iconic symbol of the city. I utilised old Keihl's tubs to create "The Big Apple".
Planning the initial outline and working with Sketchup to design each layer of the apple structure were some of the challenges I faced while conceptualising "The Big Apple". I had to calculate the dimensions of each tub and how many would fit per layer in the structure.
I usually work with found materials or upcycle my previous materials into new works. Sustainability is a big factor in the repurposing of discarded materials, turning them into a language for my art practice.
I think that artists are self-aware and have a deep understanding of the way they engage with the environment and the world. Having respect for the way they treat materials and engage with them should be key components of their practice.
I like using water from rinsed rice as a toner for my skin.
Joyce Orallo Lim and "My Forever Blooms"
My artwork is inspired by the main ingredient of the Calendula Toner, which is the calendula plant. Starting from the base: As a business owner of Chokmah, I do a lot of importing and therefore have accumulated pellets from shippings. The flowers on the base are from a previous Kiehl's pop up. The stems are made from fabric rolls that were thrown away—I collected them from Chinatown. The strong base for the stem are made from my kid's formula cans held by an eco-friendly material called jesmonite, a mixture of the remnants from the workshops that I run. The beautiful big petals are made from the offcuts of my photobooths decorations and dance costumes. The big calendula toner is from the decorations of a previous Kiehl's pop up too—I asked if they had any past "trash" that they wanted to throw away that I could use to integrate into my installation.
One of the challenges I had was, because my installation was going to be a big artwork, worrying if I'd have enough trash to use to construct it. Thankfully, I have a community who believes in sustainability so when I requested for items to be used, there was no lack of it.
Art and education are equally important to me, therefore I believe in educating the community through my art in the hopes that they will be encouraged to also be sustainable in creating their own art.
I encourage every artist to have an element of sustainability in their art forms. But art is subjective; every artist has a different point of view and I respect that too.
Sustainability in skincare is so important to me that I would research on the ingredients used. That is why I love Kiehl's skincare because the calendula flower petals are now sourced from a hydroponic farm. This system uses 96 per cent less water and 98 per cent less land than conventional farming, and allows the flowers to be harvested in two-month cycles versus the traditional eight-month cycle.
Interview answers have been edited for length and clarity.
The Kiehl's NYC Subway: Trash To Art pop-up installation is now running until 13 September at B4 Atrium ION Orchard.
This is not a promo for a TV show or film.
Features with actors are usually about film or TV projects but the current strikes in Hollywood may inevitably be putting the kibosh on many future cover stories. Daniel Wu can't talk about his recent media productions but he can talk about everything else, even the strikes and why they're occurring.
"It's a repeat of what happened on Spotify several years ago," Wu says. Just before he jumped onto our Zoom interview, he was organising his residual checks. For all the projects that he had worked on, the shows that are on streaming pay pennies on the dollar. "You put your music on Spotify and you get a penny for 1,000 plays. The creator gets almost nothing back for their content. Musicians can make that money back by touring but not actors. There are no other avenues for us to earn a living except when we make films or TV shows. That's what is at stake at the moment, hence the strikes."
It's a complicated affair and it'll take more than a cover story to break it all down but here it is, in a nutshell: the Writers Guild of America (WGA)—a union that represents screenwriters working in Hollywood—is striking because residual deals from streaming platforms (Netflix, Apple TV+, Disney+) are below acceptable living wages. There's also the contention about the use of AI to replace writers.
The WGA strike coincided with the Screen Actors Guild and American Federation of Television and Radio Artists (SAG-AFTRA) strike. Again, this is due to unfair streaming residuals and the replication of their likeness without compensation via AI. These combined strikes have postponed this year's Emmys; productions for, both current and future projects, were shuttered; films and TV shows that were already made were adjourned to later dates. Todd Holmes, an entertainment industry management professor at Cal State Northridge, based his calculation on the last WGA strike in 2007 and estimated that it might cause a USD3 billion dent in California's economy.
While Wu may not be vocal on his social media platform ("I don't talk about too much about the strikes on IG because everyone else has already said what's needed to be said.") but he is very much a union man.
"I'm totally for the strike, even though it's a bummer that we can't work now. But this is too important for the whole industry to shape what the future is going to be for everyone."
With the ongoing strikes, you'd think that Wu would have loads of downtime.
You'd be wrong.
Before the pandemic took a stranglehold on the world, the actor, Sung Kung—he of the resurrected Han from Fast and the Furious franchise—Brendan McGrath and Wu formed Student Driver. It's a lifestyle brand that hypes all the positives of car culture; a tongue-in-cheek take on the student drivers in America—recognisable by the yellow caution sticker on the back of their cars. It's a jab at the noob-ness of a tire tyro but it's also the label's philosophy that no matter how experienced or good you are, you're always learning. That essentially, you are a student.
Kang and Wu realised that they could leverage their celebrity to promote Student Driver. "It wasn't for any narcissistic reason," Wu quickly adds. "If you look at our IG accounts, we're trying to show what we're into and what we're passionate about. We wanted to inspire people and use Student Driver as a place to gather like-minded people.
"You put your music on Spotify and you get a penny for 1,000 plays. The creator gets almost nothing back for their content. Musicians can make that money back by touring but not actors. There are no
other avenues for us to earn a living except when we make films or TV shows. That's what is at stake at the moment, hence the strikes."
It became a meeting place for car enthusiasts from all over; a crossroads where racers mingle with designers, mechanics and the like. "Student Driver became much bigger than just selling stuff," Wu says. "It became a community where we are learning from one another."
Wu always wanted to have his own line of merch but there was never a compelling reason for him to do so. He didn't want to see things happen for the sake of it happening.
Take his only directorial project. Titled, The Heavenly Kings, it was a mockumentary about the Cantopop industry in Hong Kong. But it wasn't enough to cover a fictional band for the film, it had to feel real. So, Wu created a fake boyband called ALIVE with Terence Yin, Andrew Lin and Conroy Chan. For the next 18 months, Wu orchestrated press tours, live shows and even released an EP, all the while directing the film.
No one, aside from the main cast and close collaborators, knew about the project. Not even the press, a majority that felt betrayed when the truth was disclosed after the film's release. For their efforts, The Heavenly Kings garnered Wu a Best New Director award at the 26th Hong Kong Film Awards.
"I think directing is one of my strengths," says Wu. "I think that came from my architecture background; I look at the bigger picture instead of just focusing on one part as an actor."
Celebrity and being an actor are often mistakenly conflated. One can lead to the other but each occupies their own space. Wu never set out to be a celebrity but he never set out to be an actor either. In 1997, he travelled to Hong Kong, wanting to witness the country's handover to China. At his sister's suggestion, Wu took up modelling and months later, the director Yonfan saw Wu in a clothing ad and wanted him to star in his film, Bishonen.
Have you ever loved something so much that you don't want to ruin it by interacting with it? That was Wu's reasoning for turning down the role. "I love movies so much that I don't want to screw it up with my acting."
But Yonfa pursued and eroded Wu's apprehension. Bishonen afforded many liberties to Wu in film and TV. With an impressive oeuvre of films under his belt, Wu still finds the fame that comes with being an actor strange.
That's why he still keeps in touch with his best friend Ian Urban. Since 12, Wu and Urban have been thick as thieves. "He was a big part of my formative years," Wu says. "Keeping him and people like him in my life, helps me stay grounded. Reminds me of where I came from."
Urban and Wu lived in the same area so they carpooled to school. They took Spanish (and were failing it as well). They were heavily into the arts. Urban was the reason why Wu got into cars and racing.
That love for cars abated when Wu moved to Hong Kong. The country was never conducive to racing and vehicles were expensive to begin with. "Can you imagine modifying them on top of it?" Wu asks. "And modding is technically illegal there."
When he returned to the US, the first thing Wu did was tap on Urban, who was a driving coach for the Audi Club, and another family friend, who was an instructor for another track day events group.
They would head to track day events, where Wu would learn how to race on the track. He adapted to it quickly. For the five years that he was back in the States, he did as many track days as he could. Eventually, he climbed to the top 10 per cent of fastest racers on the track.
In the Bay Area, Wu shared a garage with Urban where they built and worked on cars. Down from where they are, is Patrick Ottis Co. that restores vintage Ferraris. Wu and Urban would pass by the garage all the time but they were afraid to enter, "because the cars in there are worth millions, right?" Wu says.
"One day, we were walking by their garage and Tazio [Patrick's son] was out front and said hi." They started talking and he gave them a tour of the place. A friendship bloomed over their shared interest in building cars and endless hours at the race track. That soon morphed into a mentorship when Wu learnt to race professionally. Eventually, they embarked on their first endurance racing programme. Committed to a whole season, their first race was a two-hour race at Sonoma Raceway. The next was a night race at Buttonwillow Raceway Park. As soon as darkness blanketed the sky, Wu freaked out. But as he acclimated to the conditions, Wu managed to place third. "The moment I stepped out, I felt this happiness of finishing and not crashing."
"When I first met him, he was 48 or 49. That was 22 years ago. And now he's 70. To me, the time that my wife and I have been together doesn't seem that long. It zips by. The last 10 years that my daughter has grown, that has gone real fast too."
He credits it to his martial arts training, which he still practises three days a week. Wu likens racing to being on a film set. "The director could be screaming at somebody, things are going slow, they are losing light... You can't pay attention to that." He frames it as "finding that calm". When night falls and the dust kicks up to obstruct your vision, stick to the technique, stay calm and trust yourself to get through the chaos.
For the NASA (National Auto Sport Association) Utah Sunchaser race, Wu had to compete in an LMP3 model, a car that he hadn't raced the night before. Starting at 6pm, the six-hour race runs until midnight. When Wu was in the driver's seat, he discovered the headlights were aimed to the right... but all their turns were to the left. He couldn't see the bends so sometimes he'd swerve too late or too early; driving his car off the track.
It's almost enough for anyone to throw in the towel but Wu knew his team depended on him. Win or lose, he needed to shake to do better.
If racing on the track is fast, living a life is quicker. Especially, when death is present at the periphery. Wu's near-death experience with a burst appendix in 2019 was a "wake-up call to live in the moment". Years later, when he was at his father-in-law's 70th birthday party, "I did a mental calculation," Wu says, "when I first met him, he was 48 or 49. That was 22 years ago. And now he's 70. To me, the time that my wife and I have been together doesn't seem that long. It zips by. The last 10 years that my daughter has grown, that has gone real fast too."
That's why he's not working as much as he used to. He allocates a certain amount of time per year for work and spends the rest of his time on the things that matter.
Both his parents have passed. Wu posted an image of his father, opining that he would have been 94 this year. I mentioned that he's almost a spitting image of his dad. "Hopefully my hair stays longer than his," Wu says jokingly. "I think he went bald in his 20s, so right now, I think I'm doing okay in that department."
Other than their looks, they also shared a common passion for a fancy family car.
In 1988, Wu's dad retired and as a gift to himself, decided to purchase a Porsche 911. This felt truly odd to the 14-year-old Wu, as his dad had never been interested in cars and for the frugal family living in Berkeley suburbs, that was an absolute extravagance.
At the car dealership, his dad gave Wu carte blanche to pick out a hue for the exterior ("I picked the weirdest colour because that's the kind of person I am.") and Wu asked if they could add a whale-tail spoiler ("A regular 911 doesn't come with a tail but a 911 Turbo does."). His dad acquiesced to both suggestions.
The Porsche became a thing that father and son would talk about often. While his dad rarely drove it—and if he did, it was only on the weekends and within speed limits, the car rides spent with him were moments to connect. This experience also cemented his passion for cars.
Currently, the Porsche sits in the Petersen Automotive Museum in LA to coincide with Porsche's 75th anniversary exhibition. "He kept the car really clean," Wu says. "Even when I took it over 10 years ago, it still looked brand new." But the automobile on display will be far better purposed when Wu takes it back and takes it out for a drive. "It's a nice way to memorialise and think about my dad."
During Covid, when his daughter, Raven, was in primary one, Wu had to oversee her home distance learning. She was enrolled in a Chinese immersion class and Wu underestimated how little she had absorbed from the module than he originally hoped. "I got a little angry and said, how come you don't know that? As the words came out of my mouth, I could hear my dad's voice."
Wu had to pull back, assess the situation with Raven and figure out the right way to go about it. "Having a kid made me re-evaluate how to strike a balance between how I was raised and how I need to raise her. I'm still stern but I usually edit the first thing that comes to mind and try to say them in a better way.
"I don't want my kid to be scared of me. I don't want her to be afraid to talk to me, to ask me for advice. My relationship with my dad was better later in life but in my younger days, I've never confided in him about anything."
It's being judged by his father's standards that halted Wu from being open. He didn't think he would understand. Even when Wu started acting, his dad would ask when was he going to get a real job.
"I'm not an expert and I've never tried to present otherwise, which is why I have an issue with people saying, oh, your life is perfect, blah blah… No, I make mistakes everyday. Things that I could be better at and that includes being a father. I'm trying my best. You're not successful all the time but you try to be better."
It wasn't until many years later that his dad visited and stayed at a 12-hour shoot where Wu was. At the end of his set, his dad patted Wu on the shoulder and simply said, "You work really hard."
"That was huge to me," Wu says. "He was finally accepting what I do." For Wu, parenthood is a progression. "I'd do what my dad never did: apologise. I'll tell my daughter what I just said was a little too much. I'm sorry, I didn't mean to make you upset." His kid might not grow into the person he expects her to be but that's something that Wu says he has to deal with.
"I'm not an expert and I've never tried to present otherwise, which is why I have an issue with people saying, oh, your life is perfect, blah blah… No, I make mistakes every day. Things that I could be better at and that includes being a father. I'm trying my best. You're not successful all the time but you try to be better."
Which is such a refreshing thing to hear from a celebrity or actor, whatever. That as a parent, I'm painted less of a monster, and that the world is more forgiving. We have no idea where the finish line is. All of us, on this road of life, trying to get to our destinations; headlights in the dust and darkness.
We may never reach that stage of enlightenment. But we are alive and there is always the prospect of learning from our pasts.
Photography: Kigon Kwak
Fashion Direction: Asri Jasman
Art Direction: Joan Tai
Styling: Jungle Lin
Producer: Yu Guoran at APEX Communications
Production Assistant: Lu Jiang
Executive Producer / Casting Director: Even Yu at APEX Communications
Grooming: David Cox
Lighting Assistant: Kim Minju
Ayden Sng appears in the oblong box. It is a Friday evening and he has carved out a rare pocket of free time to do this interview.
Through the middling-resolution of the screen, he appears fresh-faced, beaming; even as he is in the throes of filming the Channel 8 series All That Glitters (née Road to Riches).
The Mandarin drama series begins with a murder before it flashes back to the past, where we follow the journey of three friends and the events that led to the tragedy. Starring Desmond Tan, Jeremy Chan and Sng, it was shot in Alor Setar, Malaysia; Hat Yai, Thailand; and Singapore.
Sng plays one of the three friends, but his character offers the bonus of being the series' antagonist; a role that he states that he "had been waiting for a long time."
"Well, not necessarily waiting to play the 'villain'," Sng specifies, "but the thing about bad guys is that they usually aren't one-dimensional. That's the sort of role with depth that I have been wanting to play."
The key is not to think of them as villains. Sng cites the Joker (played by Joaquin Phoenix) as someone you would empathise with and root for. "In some sense, I felt a lot of the self-rationalising, self-justification that the character goes through." Sng wants to bring an authenticity to his character. There's a backstory to his role, where his ambition is primarily driven by self-preservation; when all is said and done, Sng hopes to deliver something relatable to the audience, regardless of his character's alignments.
And if the audience were to perceive him differently when they see him on screen, Sng takes it as a win. "If you act sufficiently well that people think that's you in real life, it's a testament to your performance."
There's another reason for Sng's willingness to take on this role, and it parallels the same motivation of his character: self-preservation. And by that, Sng is looking to prolong his career as an actor by not being typecast.
In any industry, a role is ascribed to you because you have traits that fit into the stereotype. Cast your eye at the median boy band and you'll notice the typecasts: the wild one; the bad boy; the leader. These are formulaic functionary, easy pop-culture digestible, accessible and charming.
"It's the same for actors," Sng says. "When you begin, right off the bat, they'll try to figure out what your general vibe is. Then they will label you regardless of whether it is your identity or not. Even for the show I'm doing now, the executive producers met with a lot of resistance when they announced their intention to cast me because the character is someone uneducated, uncouth; who sells satay at the hawker centre."
Ayden is too educated, he's too polished for this role. Ayden Sng can play someone who works in a nine-to-five white-collar job. Ayden Sng can play one of the bros or the boy next door. The good son; the good son-in-law. That's the box he is put in. Except it's a comfortable casket. It limits his potential to see how far he can stretch his acting wings. For All That Glitters, his role is a complete departure from the ones he'd done before. This is a part that requires him to be—in his own words—"beng".
"To be in that persona took a lot out of me than with previous roles," Sng explains. "And because this is a melodrama, there are tons of emotional and violent scenes so the difficulty index for this is probably 10 out of 10.
But despite the stress, it is a much-needed invigoration. It's this venture into uncharted territory that he rediscovers his love for acting.
If only more people were to see him that way.
"My interest and commitment to this craft is sometimes eclipsed by the fact that I work with a lot of brands." By that merit, he can be viewed as a male huāpíng (Mandarin for "vase" but it's also slang for a "pretty but useless person"). It's a frustrating perception but Sng understands it is not an easy thing to dispel. "It's not something that I can demand. It'll take time and a body of good work to justify that.
That's usually the first impression people will have of Sng when they encounter his Instagram account. It's understandable. His feed is filled with images of him posing with brands; film and TV announcements; some behind-the-scene stills. But Sng is proud of his interest in fashion and grooming; it opens him to a lot of brand collaborations. "This allows me to continue acting. Good roles after good roles that will hopefully lead to good performances and eventually people will see me as a good actor."
Sng wants more opportunities to branch outside of Singapore. He wants to add a regional or even a global stage to his oeuvre. He had a chance to do so with a film called Seven Days, which is about a ghost possessing her grown-up younger brother's body for seven days to resolve any regrets before moving on.
His first feature opened doors to other film projects that Sng is in discussion with. "As an actor, that's something you look forward to," Sng says. "Not because you want that regional recognition but with that level of production, you're exposed to a whole set of different experiences."
Last year, Sng filmed Hungry Soul in Batam. Co-produced by CJ Entertainment (the company behind Parasite), Sng saw how the production operates, which was vastly different from his experiences in Mediacorp. "It's not necessary about who is better. It's about being exposed to how things are done in different countries. I feel that a Taiwanese production focuses a lot more on improvisation. Whereas in Singapore, things are less fluid but that also means you do get a lot more quality control.
Citing an example of his experience shooting in Taiwan, Sng claims that each take is different but in some of those takes, Sng saw something brilliant that's birthed from improvisation. It's different and that's the sort of variety that you'd want to have as an actor.
For the immediate future, Sng wants to work on more films ("Because film acting is different from TV,") and also to take part in co-productions overseas.
It's a promising prospect, one that Sng is optimistic about. It would be a platform where he can manifest himself into the kind of actor that he wants to be.
This sort of mentality shapes his identity: he eschews the blown chances, the what-could-have-beens and instead is hyperfocused on looking forward. The industry that he's in sometimes feels like a game that he has to play, always having to prove himself according to their terms. Not many actors get to chisel out their own niche (look at Yeo Yann Yann and Anjana Vasan).
But Sng is pragmatic. This is a long game, one that you need to play well at. You can either hate the game or continue to build yourself and be certain of your identity.
"Being in this industry forces you to mature quickly. Because if you don't, you might lose yourself."
As he grows into himself,Sng finds that he doesn't need to explain himself to people the way he did before. When the pandemic happened and lock-down was in effect, it didn't impact Sng all that much, other than not being able to work for several months. His lifestyle remained the same—Sng was pretty happy about staying indoors.
"I don't like spending time outside of my home much, but it's not that I'm antisocial," Sng explains. "I still talk to people online, via Zoom or whatever. You don't have to go to a social setting to have meaningful conversations. I got to experience those types of things at home, and with my pets, and I felt content."
People who hear this tell him that he sounds old.
"I don't think of it as any form of judgment, to be honest. I'm ok being known for that. In the last interview that I did, I used this term called 'the joy of missing out'. That's one way that I live my life. If you don't ask me out, great. I'm happy to focus on the things that I truly want in my life."
This, according to Sng, is like creating his own joy machine. To seek out happiness in your loved ones or pets; even in the hobbies you engage in. Sng collects colognes and perfumes so whenever he has visitors, he'll introduce them to his home-based fragrance bar. "I'll ask them to try something that they have never had before. Are you into daytime scents, fresh scents? Are you into floral and citrusy stuff? Why not opt for amber or oud?"
Another source of joy comes from his cats. Growing up, his family had a German Shepherd. "But that wasn't the most pleasant experience for me," Sng says. "The reason I'm drawn to cats is, perhaps, my personality is a bit like theirs. I'm a huge homebody. I love to stay indoors. The thought of walking a dog outside doesn't sit well with an introvert and a germaphobe. "Cats are really clean. They groom themselves all the time.
He'd wanted to own a cat since he was studying at Duke University ("But I didn't want to deal with the process of bringing it back to Singapore.") One of his best friends from university, who was also his neighbour had a cat that he would volunteer to look after. When he returned to Singapore, he planned to get a cat once he got his own place.
With that checked off, he now has three Bengals, and quite possibly more in the months to come. A pair of Maine Coons are expected to arrive at his doorstep this year.
"I don't mind being branded that crazy cat uncle. Having cats give me a sense of fulfilment and it doesn't matter what others think; at the end of the day, I'm obligated to myself and nobody else."
Photography: Joel Low
Fashion Direction: Asri Jasman
Art Direction: Joan Tai
Styling: Wilson Lim
Make-Up: Peter Khor using ESTÉE LAUDER
Hair: Christvian Goh using REVLON PROFESSIONAL
Photography Assistant: Eddie Teo
Location: Bulgari Resort Bali
In the acting world, Corey Mylchreest is considered to be in the throes of infancy. He is a relative unknown as far as actors go, but his portrayal as King George III on Queen Charlotte has got him newfound fans and acclaim.
The spin-off from Bridgerton, Queen Charlotte follows the titular queen in two phases of her life. The elder Queen Charlotte is still played by Golda Rosheuvel from the original series, with the younger queen portrayed by India Amarteifio. Cast opposite her is Mylchreest, as the young King George III. The series focuses on their marriage and the effects of King George III's ailment.
Still reeling off from junkets and interviews, Mylchreest has to contend with one more: ours. Thus, a day before his photo shoot with Esquire Singapore, we meet over a Zoom video call for his turn on the hot seat. Mylchreest's hair has grown out, which softens the angles of his mien. He's relaxed, his posture slants, favouring his right, as he sits in what appears to be the nondescript room beneath the attic.
I congratulate Mylchreest on the success of Queen Charlotte and his performance in it and ask, not certain if the question puts him in a spot, because Queen Charlotte is a Bridgerton spin-off, how he feels about the hype around the sex in the series overshadowing the drama, the complex human nature and acting?
"In the eyes of the beholder, that's where the story lies," Mylchreest says. "But that is the point of all storytelling—it is for the audience, not for us. It doesn't really matter what I think; whatever the audience chose to focus on, that is success for the show."
While there were challenges in filming Queen Charlotte's intimate scenes, Mylchreest sees more difficulty in accurately portraying George's mental affliction without bordering on caricature.
"That was something that I was really worried about. We wouldn't be diagnosing King George and that brought a heightened importance to what I think is the antidote to caricature: specificity and detail."
For his role, Mylchreest dives deep into the sea of research. He spoke to a specialist about the script; on whether he was going in the right direction to highlight the moments where George transitioned from confusion to lucidity.
"There was a doctor's report," Mylchreest adds. "A sort of daily report that was sent to Charlotte. They were delivered later in his life but it was still useful to read. It was so factual, so black-and-white. It'd describe the days when George would talk non-stop for 12 hours and would start to foam at the mouth because he has been speaking for so long. Then, there was an entry that said, though his mind was still ravaged, George seemed physically at peace.
"It's very clinical, without emotions, these documents, but the pain of that moment seemed to scream out. By then I'd done a lot of research and it was then that my empathy peaked. I just wanted to hug him. He didn't have an easy life by any means."
Like Mylcreest's research into KingGeorge III, I've embarked on my own into Corey Mylcreest.
Search results on him reveal myriad interviews of him doing press for Queen Charlotte. There is only one social media platform that he's on—Instagram—and on his feed, his first post is dated 7 April 2022. The casting of Queen Charlotte was announced the day before, 6 April 2022. For a Gen Z, you'd think that he would be more active on social media.
"I have a private account," Mylchreest says, "but the last time I was on it was maybe four months ago, and before that, I wasn't on it for about three or four years. I think I jumped off it in 2019 because I find Instagram, or social media in general, a hotbed for procrastination. I don't think it's necessarily the healthiest place for people's mental health."
But Mylchreest sees benefits in getting on social media. It's a fantastic vehicle for getting the word of Queen Charlotte and any other projects he's part of out there. "If I was going to be on it, I'd want to make it limited in some way. Not only to protect my own privacy and the people around me that I love, but also to protect my own work ethic."
Is that part of the reason for privacy? That if the public were to know more about your personal life it would affect how you'd portray other lives on screen.
"That's a really good question," Mylchreest says. He thinks about this for a while. "I think that there's an inherent usefulness in the mystery of someone. Especially when you use your appearance like an instrument. Sometimes the less someone knows of you, the more powerful your character portrayal can be."
He highlights an example: people who have known him all his life, would watch a film that he is on, and then in the slivers of the act points out, That's Corey! I saw a glimpse of him. "For people who aren't initiated into my private life, I think those kinds of moments can pull you out of the story. To tell a story requires the audience to suspend disbelief. A forensic knowledge of the actor can break that."
But this is what he is willing to reveal about his life: he can't remember when it started but, as that old saw with any origin story of many actors, Mylchreest has always been interested in acting since young. "I remember doing plays at school and it was the most fun I'd have in that week. I gladly stayed on even when it was time to go home."
There's a quote from a composer that his mom used to tell Mylchreest: the thing that you should do in your life is the thing that makes the hours feel like seconds.
Time's steady beat quickens as Mylchreest enrolled into Guildhall [School of Music and Drama]. Each Saturday, he would spent five hours learning advanced lessons like Stanislavski's acting techniques; discovering that there was method behind what you see on stage. It soon dawned on Mylchreest that drama school was a possibility. That there will be no half-measures in pursuing an acting career. "I didn't even try to go to the university. I knew this was going to be something that I wanted to do and I did for four years of training at RADA (Royal Academy of Dramatic Arts)."
While incredibly supportive, his father professed concerns and suggested that he get a vocational degree as a backup. "That came from a place of love and concern," Mylchreest is quick to add. "I understand where he was coming from. Maybe if I were to have children, I'd do what my dad did."
His mother, on the other hand, championed his decision. She grew up in a working-class environment in Huddersfield, Yorkshire, and escaped on a full music scholarship. "She understood what it was like to have such love for the creative and the need and hunger to dive into it."
"I think that there's an inherent usefulness in the mystery of someone. Especially when you use your appearance like an instrument. Sometimes the less someone knows of you, the more powerful your character portrayal can be."

Corey Mylchreest on keeping a private life
Mylchreest graduated from RADA in spring 2020: not the best time for launching an entertainment career when the world was ground to a halt. All things considered, the young actor was lucky; he already had an agent before the lockdown. The Sandman would pass his way. Mylchreest never read the comic series the show is based on but he met with casting director Lucinda Seisen and auditioned for the lead, Dream. After a few callbacks, Mylchreest was about to go in for a chemistry test when the decision came down the line that "he was too young". They had him read for other parts.
"And then, about four months later, I got an email offering me the role of Adonis," Mylcreest says. "I think it was a pity hire because they knew that I had auditioned many times and didn't get anything."
It was a role so small that if the character wasn't in it, it wouldn't have any ramifications on the story. But there are no small roles, Mylcreest reminds me. Only small actors. Mylcreest came up with a whole backstory for Adonis—why he was there that evening, why he needed to be admitted to see the Magus.
His appearance as Adonis lasted less than 30 seconds. He had two lines—"Oh, the Magus insists, does he?" and "Can we still come back tomorrow?"—which he captioned on his Instagram: "'Best two lines delivered on screen'—my mum".
Jokes aside, this foray into a multi-million dollar production would prove useful. In the past, Mylchreest acted on intimate sets of short films. For The Sandman, he is awed by the hugeness of it all. The scene was filmed at Joyce Grove, a Jacobethan-style mansion that Mylchreest pointed out was where Ian Fleming, the creator of James Bond, spent most of his childhood at.
"There was a rumour at the time that Harry Styles was going to buy the place, which everyone seemed excited by, but I just remember being completely racked with nerves." He was a speck in the grand scheme of things; surrounded by 60-70 extras, all dressed in 1920s ball gowns and three-piece suits. Restored cars from the era criss-cross in the background. Massive lights bathed the expanse of the set; cranes with attached expensive cameras swept and swivelled. A hubbub of different departments; cogs in the film machine, setting up for the shoot.
"But to be honest, by the time the camera started rolling, I was so nervous that all the backstory just flew out my head." Sheepishness creeps into the edges of his face. "I was just glad that I knew the lines. I was told to, at a certain point, turn and deliver my line but I could never quite see where the camera was and we had to do it a few times. I felt really bad for the director and everyone because we had to reset everything."
Regardless, this experience prepared him for his first day at Queen Charlotte. "I was incredibly nervous when I started filming Queen Charlotte but I'd have been even more so if I hadn't filmed The Sandman.
But his roles in The Sandman and Queen Charlotte are vastly different and the necessity for preparation and research into the latter warranted more attention.
On the set of Queen Charlotte, before shooting commenced each day, Mylchreest would run through scenes and ideas with India Amarteifio to make sure that they are on the same page. They would run the scene in the hotel they stayed at or over the phone or Zoom but what's important to Mylchreest is the preparation needed for a shoot.
"I say this with acknowledgement that I am just starting my career, so I know very little in comparison to others who have been acting far longer. On Queen Charlotte, I found it useful to know the scene inside and out. I would record the lines of the other person and run through a slew of questions for the scene."
This allows Mylchreest to figure out the "points of concentration". The process could determine his character's intention; where he might go to and come from; what the relationship with the other player is like. "What this [preparedness] allowed me was once to earn my own trust in the moments that matter. Once I got onto set I have this whole host of possibilities in front of me that I could then let go of because I've done them a million times. I don't have to worry about lines or where it sits in the story.
"There is only the way forward."
Mylchreest tasked himself to read Andre Roberts' bio on King George III and accessed 20,000 of the king's personal writings. There was another avenue of exploration into King George III that Mylchreest could venture into and that is the portrayal of the king by other actors before him.
The depictions of King George III are many and mostly unkind. He's been played by Jonathan Groff in the musical Hamilton; Nigel Hawthorne in The Madness of King George; Tom Hollander in the mini-series John Adams... the list, albeit short, goes on.
"I wasn't sure whether [watching another actor's portrayal] will be a good idea because sometimes you can start overthinking your own performance. I saw some clips of Lin Manuel's Hamilton and The Madness of King George and both of those depictions feel like they exist in completely different worlds to the George that we see in Queen Charlotte. If anything, it gave me confidence because I knew that I was going in a different direction with him. There would be almost no comparison." 
Queen Charlotte delves more into the king's hobbies of gardening and science, with a focus on astronomy. He's known as Farmer George; the king has an assemblage of scientific equipment and wax lyrical about the constellated wilderness.
A crown too heavy for his head; his head full of stars, the mind of King George III belies more than just "madness".
Still, his mental health is a lightning rod which provides conflict to Queen Charlotte's narrative. There are swaths of text about King George III's manic episodes—he would often repeat himself; his vocabulary became more florid and complex; he shook hands with a tree because he believed it to be the King of Prussia—these and other instances baffled doctors of the time. Ranging from bipolar disorder to porphyria, there wasn't a conclusive diagnosis of the nature of the king's malady. 
In Queen Charlotte, the character experiences bouts of lunacy and the show is careful not to define it. Near the end of episode three, taken by mania, George removes his clothing in the silence of his garden. A smattering of stars lights the night sky. Arms raised and eyes bright with awe, George calls out to Venus, "I knew you would come." We do not see what George saw that evening but his frenzy is evident.
In another interview, Mylcreest mentioned that before his scene, he'd listened to the theme song from Succession to get into the role of King George III. Given his familiarity with the HBO drama, how did he find the finale?
"I haven't watched it. I started watching [the series] about a year and a half, two years ago... which is already very late, I know. It was the final episode of season one where [Jeremy Strong's] character (Kendall Roy) had this look of resignation where he realised that he has to return to be under his father's wing. There was an immense sense of claustrophobia; this feeling of being trapped and then this track came on.
"I paused the scene, screenshotted it and taped that image on my character book." Mylcreest picked a notebook off-screen of the Zoom call and brings it into frame. He points to an affixed image of a crestfallen Kendell Roy. "I saw that and I thought that's George or, at least, that's an element of George."
And because Mylcreest's process was to listen to his playlist on repeat when he does his research, he's unable to watch any more episodes of Succession. "It's very important for me that the song didn't remind me of anything else if I was preparing for a scene. I needed to subconsciously make that song be just for that." So, he stepped away from further updating himself on the Roys' shenanigans until recently, after Queen Charlotte wrapped, Mylcreest resumed catching up on Succession. He's halfway through season two if you must know, so no, he doesn't have a take on the finale but he sums up the series in a word: "phenomenal". 
In any project that Mylchreest takes on, the result is a collaborative effort. "It takes a village to raise a child and every piece of art is a collective baby. If I feel invalidated for my work, then that's not a great feeling but I don't feel that way at all. I understand that the actors are the face of the show but there are hundreds, if not, thousands of people who work on it—remove a few of them and the entire thing falls apart."
He recounts a piece of advice that his acting teacher imparted: "When you're in a scene, be selfish to be generous". It is an old game of improv, the basic tenets of creation between two parties, where, via generous contribution and its genial acceptances, a scene blossoms.
This give-and-take makes for a stronger scene. To paraphrase a certain quartet of musical scousers—"the love you take is equal to the love you make."
And these exchanges in Queen Charlotte are what gave the series its chewy centre—relationship dynamics worthy of viewers' investments; rapports that even spill over into the cast's personal lives after production has ended.
"I'm so proud of everyone's work in Queen Charlotte and, truly I mean, this from the bottom of my heart, I have friends for life."
It's not every day that you see this level of graciousness. If there was ever a show of congeniality, it was usually virtue signalling. But in interviews and in behind-the-scenes videos, Mylcreest is a mensch. He is effusive about his co-stars and what they bring to the table, he's self-deprecating.
Needless to say, the landscape of Mylcreest's auditioning process has completely changed for him. Queen Charlotte has opened up doors that would have been very firmly shut to him. Mylcreest knows how indebted he is to the show.
As to what is next for Mylcreest? At the time of the interview, he empathically says that he doesn't know. He is, as he calls it, "in a state of unknown" at the moment.
"There are some things in the pipeline that I'm waiting to hear updates on," Mylcreest says. "I'm meeting people for something incredibly exciting." Then he adds this bit that catches me off-guard. "And even if the project moves on without me, the world will have some brilliant pieces of art coming their way."
This period of unknowability is a terrifying prospect but while others see only the damning absence; Mylcreest sees a space of possibilities, as countless as the stars above.
Photographer: Zoe McConnell
Agency: JOON
Photo Assistant: Carissa Harrod
Digi tech: Nick Graham
Stylist: Thea Lewis-Yates
Styling assistant: Jamie Fernandez
Groomer: Stefan Bertin c/o The Wall Group using 111 SKIN
Producer & Casting Director: Even Yu @ APEX Communications
Production Manager: Guoran Yu @ APEX Communications
Production Coordinator (UK): Kate Zhu
Post: Frisian
Location: Lordship Park
Watch: Cartier
"I am going to kill you."
Pedro Pascal says this to me with a smile, which doesn't mean that he's joking. We're sitting across a table from each other and occupying two of the twenty seats at the tiny Tokyo Record Bar on MacDougal Street in Greenwich Village. A few days earlier, I had polled a handful of clued-in New Yorkers with the following question: "What's a good vinyl bar to take Pedro Pascal to?" Unanimous answer: Tokyo Record Bar! I was imagining a chill lounge space where we'd have some privacy to talk, play a few records, and maybe drink a little tequila. Pascal thought that's what it would be like, too. Which is not a coincidence—because that's what I told him.
But Tokyo Record Bar is not that kind of place at all. Instead, it's a (very good!) seven-course meal in a (very cool!) basement with a (very delicious!) sake pairing. Meanwhile, it's six-thirty in the evening, and Pascal's got dinner plans with his "very bossy, please don't print that" little sister, Lux, at eight. The clock is ticking, and now we're locked into a whole experience. It feels a bit like the world's grooviest hostage crisis.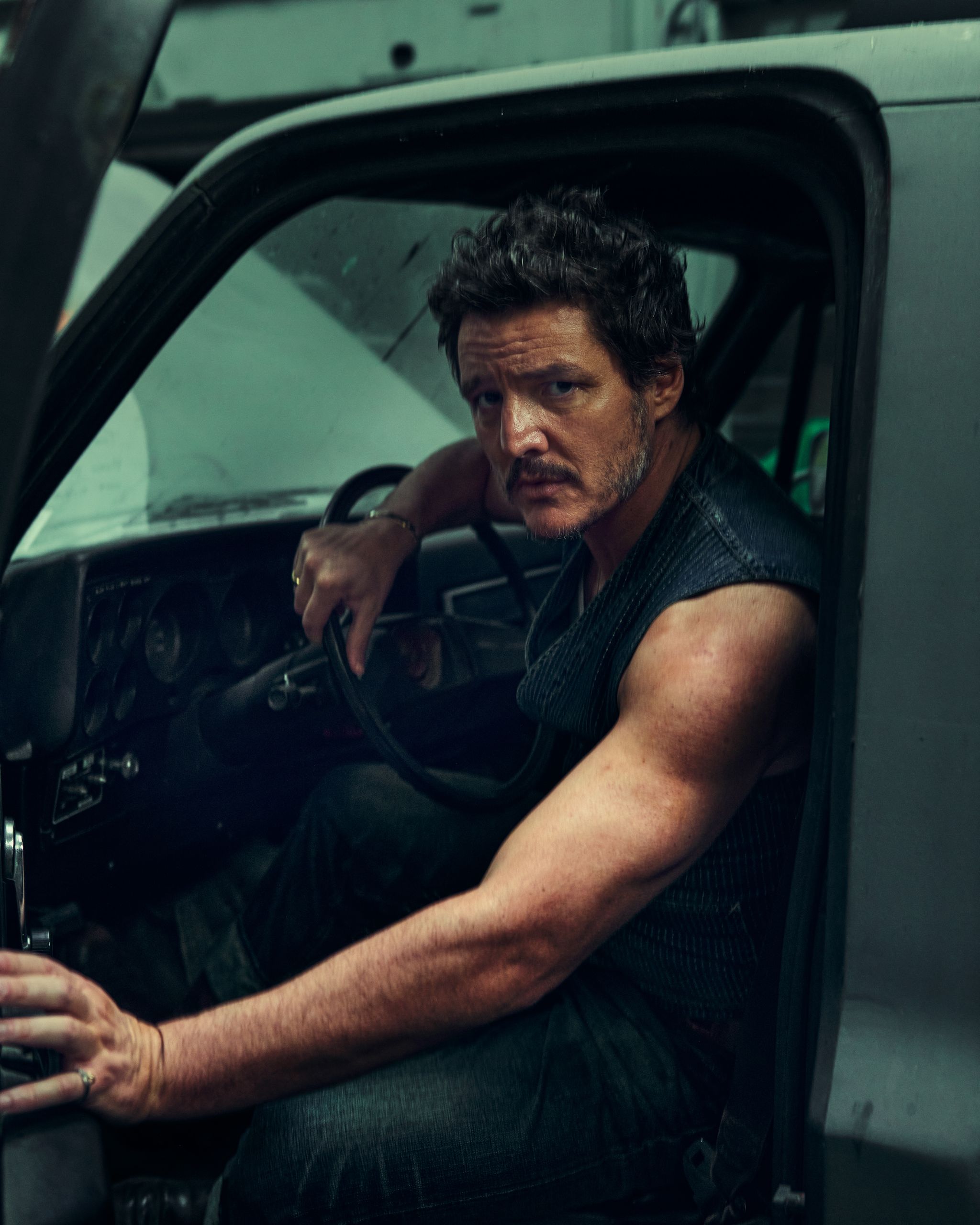 But it is an experience, and we're going to enjoy it. A reggae cover of Michael Jackson's "Don't Stop 'til You Get Enough" spins on the turntable, and we sing along because it's impossible not to. We are suddenly aware that we're easily the oldest patrons in the house. "Is anyone in here thirty?" he asks, subtly gesturing around the room. "Maybe, but for sure nobody here is forty," I answer. The sake arrives, we fill each other's cups, we say cheers, his friendly eyes light up, and he leans in to tell me something.
Just then the music stops mid-song. "ALLL RIIIIIIGHT!" hollers our hostess from the center of the room. "HOW ARE WE DOOOOINNNGGGG?!?" Pascal's eyes meet mine and widen as she explains the rules of the place—how to make song requests, what we can do with ourselves if we have any food allergies we failed to disclose when we made the reservation, that the main rule is to HAVE FUN!!!—with the peppy energy of an improv teacher. This is going to be a Whole Thing.
"I was about to tell you that I was kidding and I'm not going to kill you," Pascal says as the hostess finishes her introductory remarks and Reggae Michael lurches back into gear. I nod, and he nods. He waits a beat. "But I am going to kill you."
---
You do not want Pedro Pascal to want to kill you. And it's not because he has convincingly played some cold-blooded killers onscreen over the past several years. No, what you—all of us, apparently—want is simply more Pedro Pascal in your life. Because if you're like 99 percent of the population with access to premium streaming TV right now, you can't get enough of him. And you want him to be your hero or your fashion muse or your pal or maybe even your daddy. He's a sex symbol and a serious actor in one friendly but unknowable, cuddly but perhaps slightly dangerous package. One of one.
To say that Pascal is having "a moment" doesn't quite do justice to the kind of exceedingly rare, career-transforming period of cultural resonance that he's experiencing. After spending much of his twenties and thirties living the life of a struggling actor, Pascal, at forty-eight, has suddenly been propelled to a lofty new level of fame. His face has been familiar for years. There was the short arc on Game of Thrones that ended with his character's memorable skull-crushing death, for instance. And his role as a relentless DEA agent for a few seasons on Netflix's early prestige-era Narcos. But his life has been changed by a pair of blockbuster TV series: This winter he captivated viewers in the role of Joel, an antihero survivor in a postapocalyptic America, in season 1 of HBO's runaway hit The Last of Us. Then he returned for a third season playing the title character on Disney+'s The Mandalorian. In one he defends a surrogate daughter in a world ravaged by fungus-powered zombies. In the other he protects Baby Yoda (aka Grogu) from Imperial Forces and other threats.
Each of these franchises is a massive piece of intellectual property: a video-game adaptation and a Star Wars spin-off, respectively. Rather than getting lost in all the noise and effects, Pascal has managed to craft characters that provide the emotional center to the storytelling—elevating both the shows and himself in the process. "He's a part of some spectacularly successful things," says his longtime friend and fellow actor Sarah Paulson. "But sometimes in those situations, the show is the superstar. It's really exciting to see that he is the thing that is becoming the superstar out of this."
It's an uncommon mix of qualities that may account for Pascal's near-universal appeal. "I've always said there are two kinds of actors: There are actors you feel slightly intimidated by, and then there are actors you want to take home and hug and give some soup," says Craig Mazin, a creator and executive producer of The Last of Us. "And he's both. Somehow he's both."
Jacket by Dolce & Gabbana; vintage jeans by Lee; vintage belt available at the Leather Man, N. Y. C.; boots available at Stock Vintage, N. Y. C.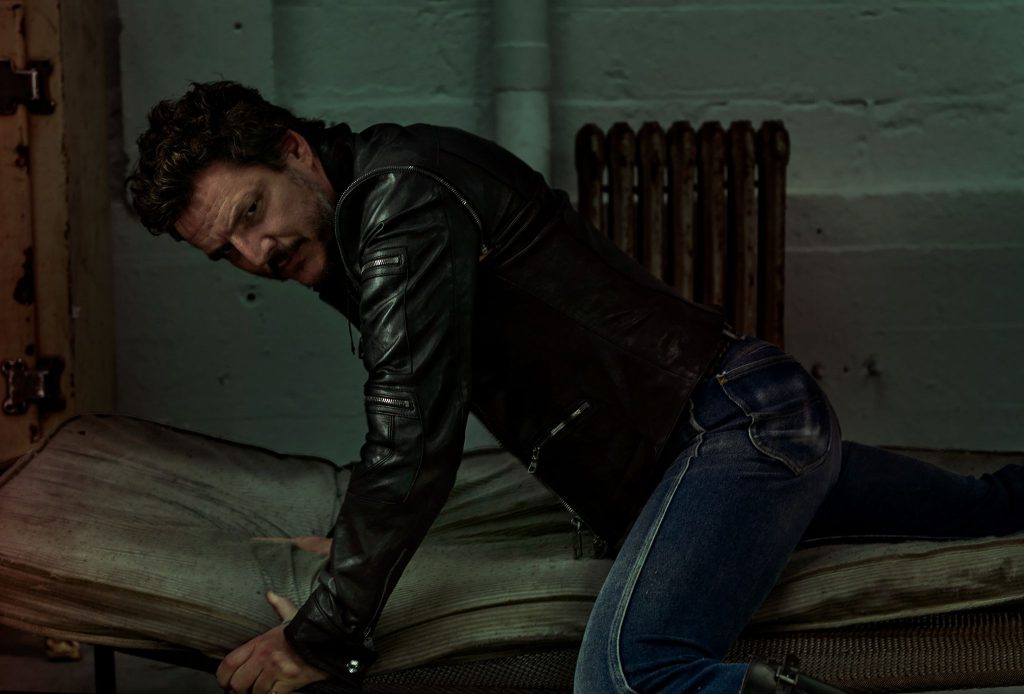 Things are moving at a speed that would be destabilizing for someone less prepared to handle the success. But Pascal gives every impression of being comfortable at the center of the whirlwind. Over the course of a few lengthy conversations—and seven tasty courses at Tokyo Record Bar—he reflects on his long road to stardom, his peripatetic life, and what might be next for him. Whereas many actors his age may credit their homelife with keeping them grounded, Pascal does not have kids or even a steady home of his own these days. There's an apartment in L.?A. that has sat empty while he's been working on sets in far-flung locations like Canada, Europe, and Pittsburgh. "I had a moment of thinking, You're in your forties and you don't own a home? Grow up. But I'm relinquishing expectations around what it is to be middle-aged and what it means to be fully grown up," he says. "Why am I trying to force a square shape into a triangle?"
And then he sighs and puts it simply: "I just don't want to make any decisions."
---
The streets of New York City typically offer celebrities a degree of anonymity. Actors and rock stars alike blend into the flow, and busy New Yorkers either don't notice their presence or feign indifference. Pascal used to live in the city, and while he's had a few years of being famous ("Around 2014, I started to feel some people's facial expressions change around me on the train"), right now is a new thing. The usual rules don't apply. Virtually everyone he passes is very much aware of him, and he's increasingly attuned to that reality. He walks with his shoulders back and straight, his stride quick and decisive, but his head just slightly down. A couple times per block, someone will pass him, turn around, and approach to ask for a picture. And a good half of them say a version of this: "I'm just so happy about what's happening for you right now." Frequently those exact words in that exact order. A lot of people do this. Pascal is gracious to each one—he maintains eye contact, he connects, and the fan leaves happy. He's grateful for the love he feels, but to an observer, it's easy to see how the intrusion could start to become problematic at some point.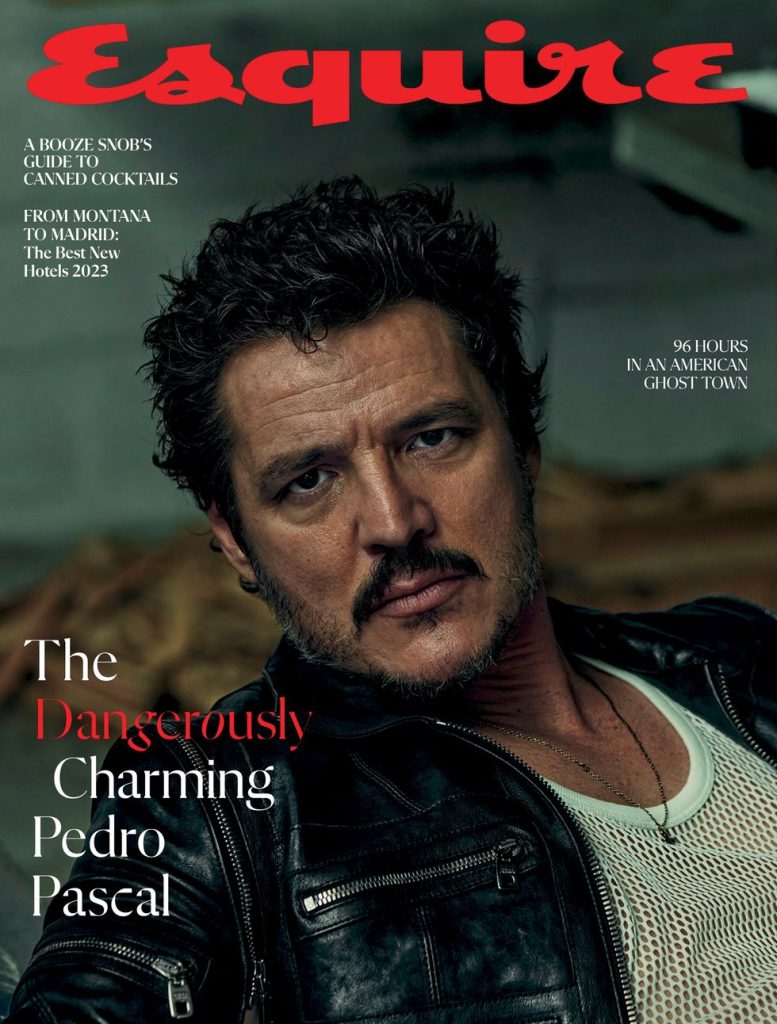 Our dinner at Tokyo Record Bar is happening exactly a week after Pascal hosted Saturday Night Live for the first time, and he's still recovering. "I'm usually not all that interested in challenging myself," he says unconvincingly. He mentions a few exceptions, such as shooting The Last of Us for twelve months in Alberta and going toe-to-toe with his idol ("my god") Nicolas Cage in last year's The Unbearable Weight of Massive Talent. "SNL was all of those challenges stuffed into one week of my life," he says. Then he smiles and adds: "I could not have had a better time."
If you saw it, you know how true that is. "Anybody who watched that episode," says Pascal's close friend Oscar Isaac, "I mean, how could you not just fall in love with him? I think that's why there's so much goodwill, because you can feel that big heart bursting inside that chest of his."
What is in Pascal's chest at the moment is mucus. He's a little bit under the weather, with a cold that's been lingering since he woke up from the SNL after-party. He's going to need to rest, but there's no telling when that will happen. He has ongoing press for The Last of Us, as well as The Mandalorian to promote. And in May, he'll be in Cannes for the premiere of Strange Way of Life, a western short he filmed last year with Ethan Hawke and famed director Pedro Almodóvar. In the movie, Pascal and Hawke play former gunslingers who rekindle an old friendship—possibly of the romantic variety. Almodóvar raves about Pascal. "I asked Pedro to play someone solid, emotional, crafty, a cheat if necessary, warmhearted," he says. "And he played all those nuances with incredible ease. He can be adorably sentimental and hard as nails. He's a great comic actor, and he can also be impenetrable if necessary."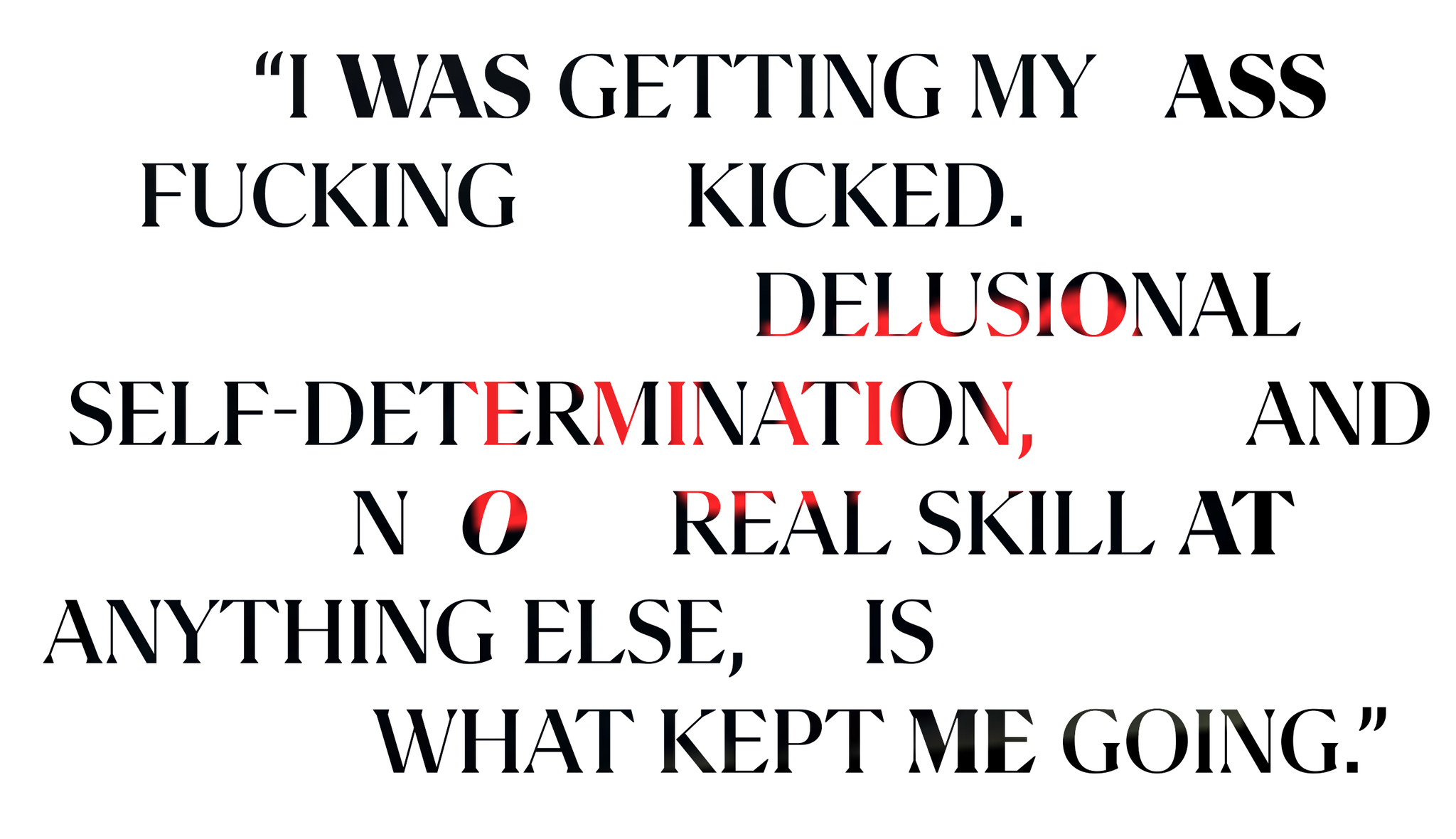 But the most important thing this week is that Pascal's family—including his older sister, Javiera, and his younger brother, Nicolás—is flying in from all over the world to watch Lux, who will soon be getting her M.F.A. from Juilliard, perform in Ayad Akhtar's The Who & the What. There are dinners to plan, hotel rooms to sort out. He is desperate not to let anyone down. And he wants to maximize his time with Lux, whom he hasn't seen since he was in New York for a movie premiere last year. "I get anxious about when I'll be back again," he says. "So I'm just trying to see her as much as possible."
In 1976, when he was just nine months old, his mother and father—she was a child psychologist and he was a fertility doctor—fled Chile to escape the dictatorship of General Augusto Pinochet, who'd seized power two years earlier. They got asylum in Denmark, then moved to the U.?S. and initially settled in San Antonio. The family later moved to Orange County, California, when Pedro was eleven. He's flipped between the east and west coasts ever since.
Pascal pulls out his iPhone to scan the QR code for Tokyo Record Bar's sake menu. The picture on his lock screen is of Prince, mid-eighties, mid–guitar solo. His parents took him and his older sister to a movie theater in San Antonio to see what Pascal accurately calls "the very rated-R Purple Rain" in 1984. His dad loved to go to the movies. "My mother had too restless a mind for that, an artist's mind," he says. "But in that theater, she fell in love with Prince." So young Pedro fell in love with the movies and with Prince.
Jacket by Dolce & Gabbana; vintage jeans available at What Goes Around Comes Around; vintage boots by Florsheim; necklace by Werkstatt: Mu?nchen; bracelet and silver-and-gold ring by Title of Work; gold ring by Britt Bolton.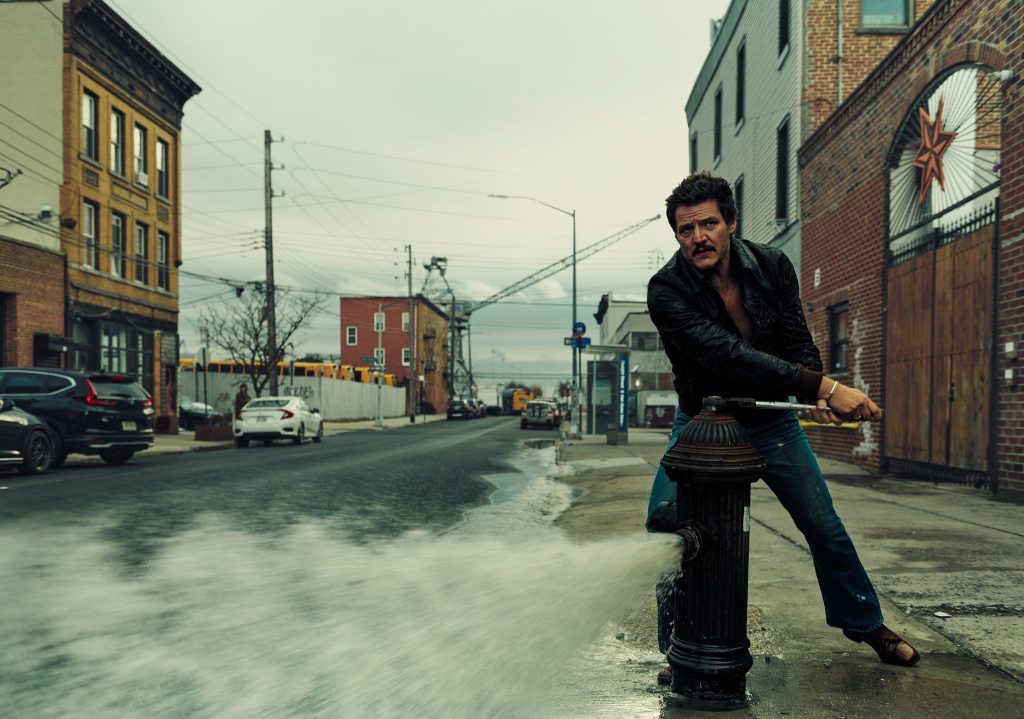 His mother would drop him off at the movie theater in the morning and tell the staff she'd pick him up at six. And a kid can watch Raiders of the Lost Ark only so many times. "I saw The Big Chill," he says, "and there was this joke about herpes, which I had no idea what that was, but everyone laughed, so I laughed. You want to keep up." He saw the trailer for the Coen brothers' Blood Simple. Heavy stuff. "It was exciting not getting it. Knowing that that was the thing that was waiting for you."
After Daft Punk and A Tribe Called Quest, Pascal's song comes on. It's "Come See About Me" by Diana Ross and the Supremes. His shoulders bounce. His expressive eyes express joy. "Come see about me, leave me alone, come see about me, leave me alone." He laughs. "That's my catchphrase." When I look down, I notice that he has snuck his third course, a (very tasty!) lettuce wrap, onto my plate. Sleight of hand. I will be eating for two tonight so that he can bring an appetite to the family dinner. "This will be your first exposure to my evil," he says.
The song wakes a memory up. "My mom did have that blouse from The Big Chill, though. The vintage one. Here, let me look it up." I know which one he means, but he Google Image searches anyway, and suddenly we're two middle-aged guys bopping to Diana Ross and yelling excitedly about JoBeth Williams. He is maybe back on the fence about killing me.
---
Another one of the grown-up movies Pascal watched with his family was the 1982 Costa-Gavras film Missing, a thriller based on true events and set in the Pinochet-era Chile his parents had left behind. There's an extremely tense scene in which Sissy Spacek's character is stuck in the city after curfew. "She reminds me of my mom. She's not a hundred pounds, five-foot-two, just like her." He was seven, and in his eyes as he tells the story, he still is. "I had a visceral reaction to that once I realized that she could have been in that kind of peril. It overwhelmed me. I started crying and I kind of can't remember what happened after that."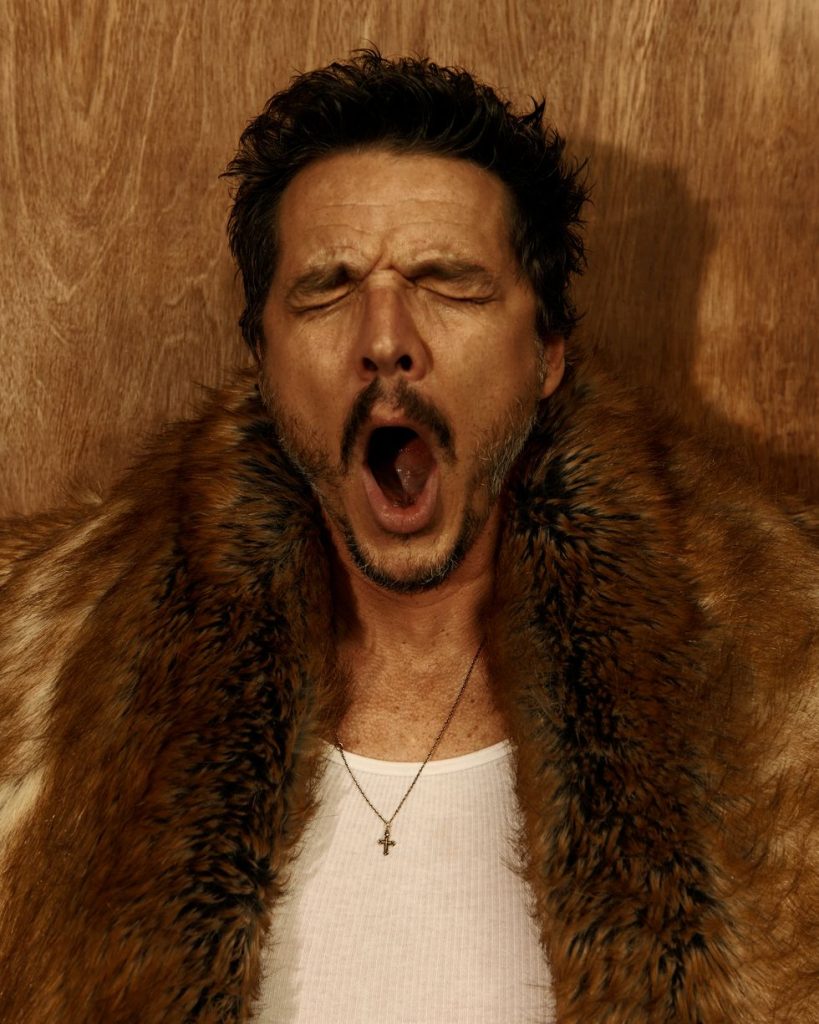 These days, he sees his mother in Lux, who is seventeen years younger than Pascal. She and Nicolás returned to Chile with their parents when she was just a baby. "She ruled the household right away. When my older sister and I would visit, we were like intruders. Our mother was her mother, but for us to think that we were entitled to this woman's attention in any way was absurd."
We are talking during a particularly grim week for trans people, a population that includes Lux, and you are probably reading this during another one. I ask what this moment in time is like for her, and his immediate reply is: "You mean in terms of the pandemic?" His eyes tell me he knows that's not what I mean, and I'm immediately sorry I asked. Can't Lux just be Lux, have an exciting week, do her graduation show, see her family? Why does she have to dignify every Twitter and CPAC jackass with a response? Can't everyone who isn't straight or cisgender just exist, without having to make a statement? It's possible I'm projecting all of that onto his answer. But also, maybe not. I'm telling you: Those eyes are expressive.
"I wouldn't want to speak on her behalf," he continues, "but she is and has always been one of the most powerful people and personalities I've ever known. My protective side is lethal, but I need her more than she needs me."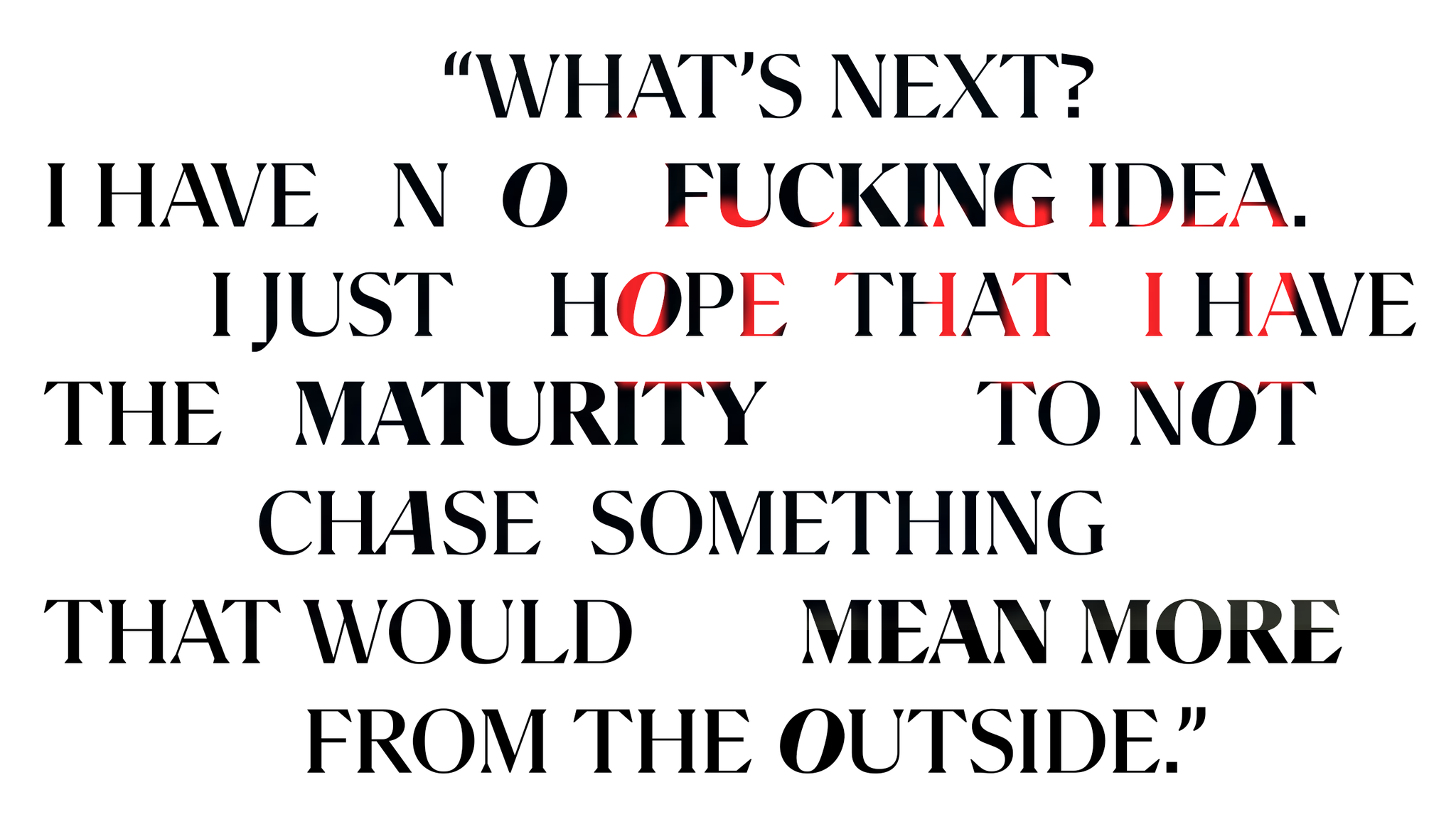 Texts from siblings and cousins are still coming in—an Airbnb has fallen through here, the location of tonight's dinner has been forgotten there. We get the check and start to hightail it out of Tokyo Record Bar. But not before the guy next to us, who's been keeping his cool this whole time, tells Pascal he's a big fan and he's just so happy about what's happening for him right now. And then the chef does the same.
---
The mysterious grown-up feeling Pascal got from movies as a kid led him to New York in 1993 to attend NYU's Tisch School of the Arts. He quickly fell in with a group of recent graduates of the city's celebrated Fame school, LaGuardia High. "I got an entire New York family through them," he says, "to the point where they still forget I didn't actually go to high school with them." Sarah Paulson was a member of that family, another person to see the light in the darkness of the movie theater. "We would go to see movies all the time in those years," she tells me, "and we would get so lost in them. You can fill in the blanks about the why of that however you like, but I think there were things we wanted to escape mentally, emotionally, spiritually."
Pascal relives these years for me over brunch at Cafe Mogador on St. Mark's Place in the East Village the Monday after our fraught experience at Tokyo Record Bar. He had a lot of lean times post-NYU. "I was getting my ass fucking kicked," he says. He spent the late nineties auditioning for commercials and industrial films while waiting tables at a laundry list of Sex and the City–era New York restaurants: Time Cafe, El Teddy's, Pangea, Ruby Foo's, and on and on—most of which he got fired from, and two of which he says are the places where he "really learned how to drink." He'd get close on an acting job, and they'd go with the other guy, but the feedback would be good enough for his representation not to drop him. "I guess that, and this delusional self-determination, and no real skill at anything else, is what kept me going."
Coat and knit, Saint Laurent by Anthony Vaccarello; necklace by Werkstatt: Mu?nchen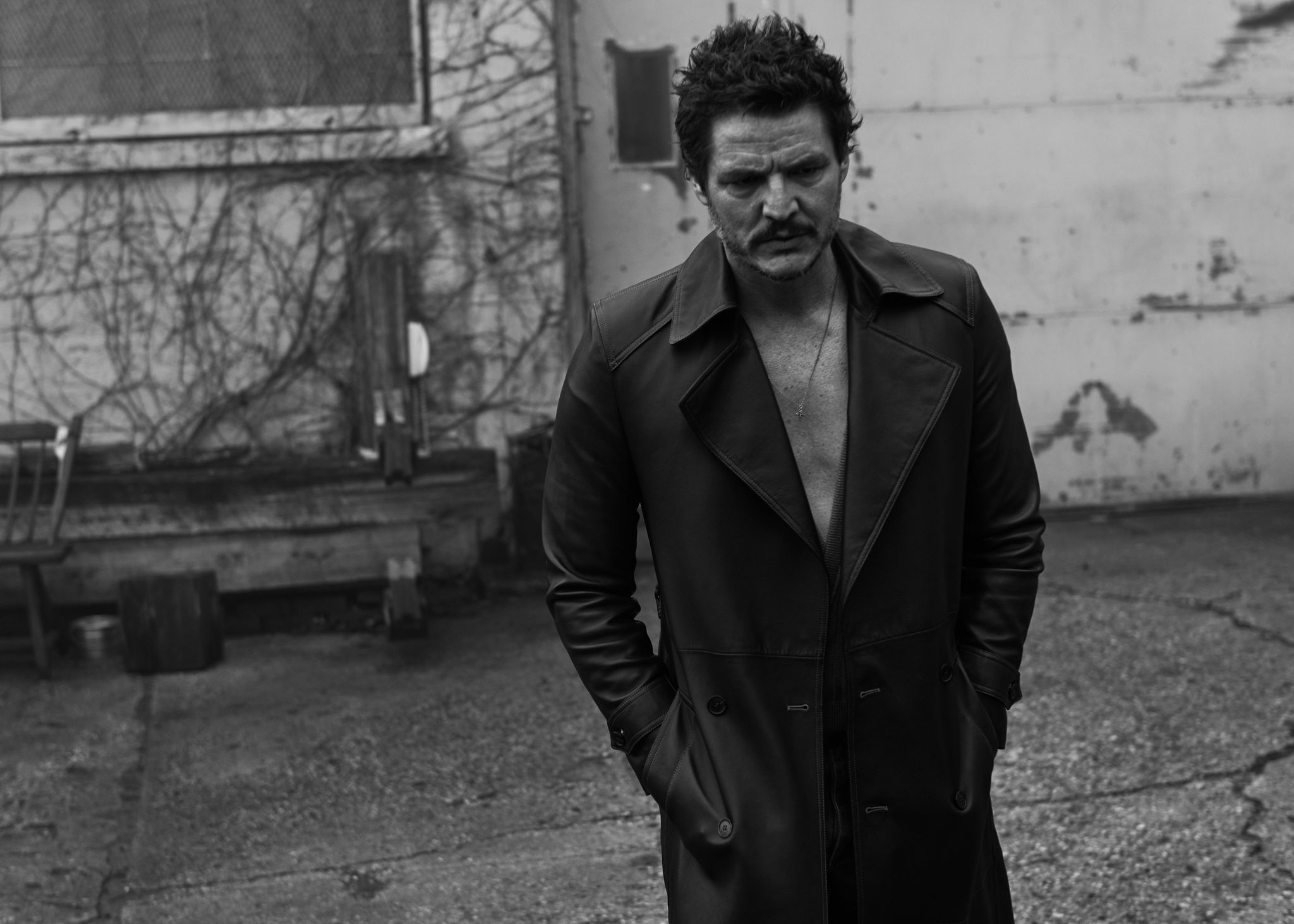 And then the next year, back in Chile, his mother died. Pascal, who was twenty-four at the time, flew home immediately to be with his family, including his much younger siblings. "They were very young kids, so much younger than me and my older sister, so even if they hadn't lost a parent, we would still feel parental toward them. And I didn't naively think I could fill a space like that, but I just always wanted to be like, I'm here." To honor his mother, he began using her maiden name, Pascal, as his stage name.
The date on his mother's gravestone is February 4, and this year that happened to be the date Pascal was hosting SNL. "I was so scared that week that I was talking to her." He would get home after a long day of rehearsing for the show, "and then there would be that terror waiting for me—that practical fear of bombing in front of the world. And then I talked to her, and it was really comforting. I had sort of the realization that it would be nice to talk to her more."
"What did you say to her?" I ask.
"I love you. I miss you. Thank you. I'm scared. I would love it if you would help me believe in myself, because I know you do. You know?"
A breath. "That's enough."
It's obvious that the pain of losing his mother is still profound and very present for Pascal, which makes it difficult to discuss. But it's not just his own feelings he's thinking about. Safeguarding the emotions of others—including his siblings, his father, and their extended family—is always front of mind for him. "It could have to do with the fact that I don't have my own family, and that my siblings and my chosen family are where I invest all of my emotional energy," he says. "But I'm also a little protective of people's experience in general."
Even mine. "The possibility of you feeling bad about the record place the other night? That haunts me," says Pascal. "I would want to erase that for you." That protective urge comes through naturally in his work. He is intuitively empathetic. An instinctive guardian.
---
Around 2000, Pascal moved back to New York and returned to the grind—more auditions, more near misses. "He's talked about this publicly," Paulson says, "but there were times when I would give him my per diem from a job I was working on so that he could have money to feed himself." Pascal worried that it was never going to happen for him. "I died so many deaths," he says. "My vision of it was that if I didn't have some major exposure by the time I was twenty-nine years old, it was over, so I was constantly readjusting what it meant to commit my life to this profession, and giving up the idea of it looking like I thought it would when I was a kid. There were so many good reasons to let that delusion go."
Jacket by Dolce & Gabbana; tank by AMI; vintage jeans by Lee; necklace by Werkstatt: Mu?nchen; gold ring by Britt Bolton.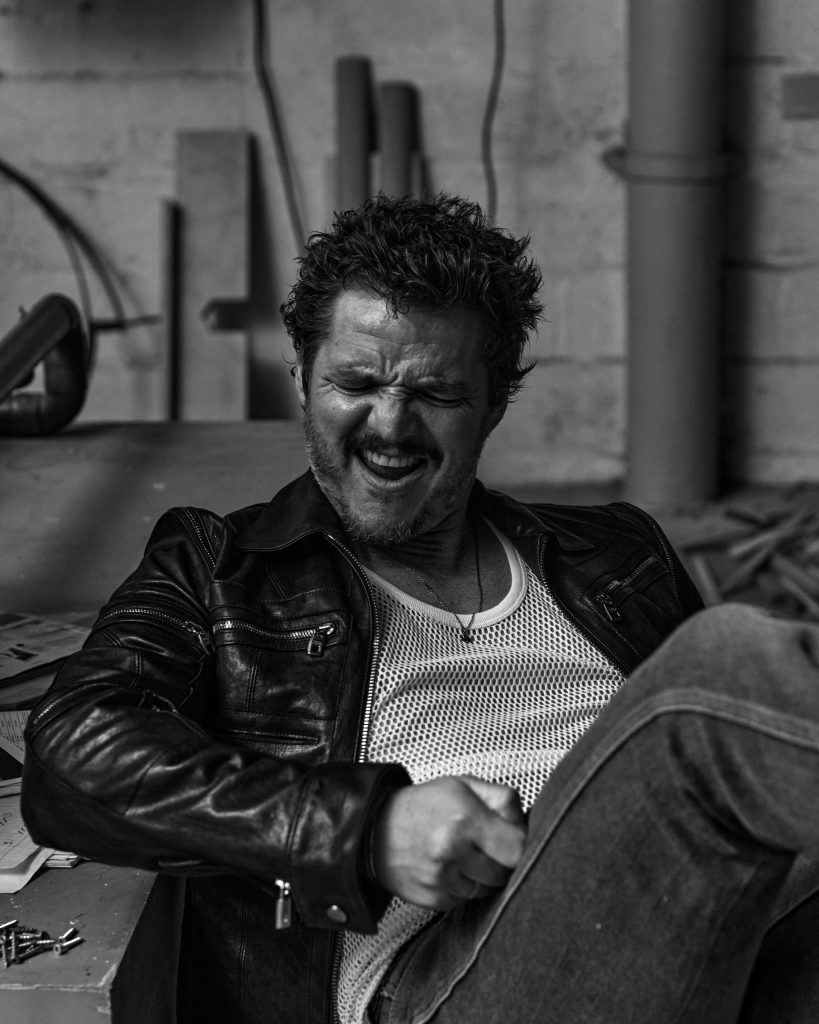 In 2005, he was cast in Manhattan Theatre Club's off-Broadway production of Beauty of the Father along with Oscar Isaac. The two developed a tight bond. "There doesn't seem to be a separation in his depth of feeling, as a human being on earth and as a character in a play," says Isaac. "The emotional through line is consistent, just really raw and honest." Isaac has had a bit of a career liftoff himself since then, and now he's getting to watch it happen to his friend. "He's my family," says Isaac. "And I don't have a fucking clue about the fame part of it—I just see somebody who's finally really getting the recognition that he's due."
Indeed, the fact that Pascal had to work through so many setbacks on his journey to superstardom makes it all the more satisfying for his fans in the industry. "This was not somebody Hollywood sweated to make a star," says Mazin, the Last of Us co-creator and EP. "They didn't keep him out, but they didn't drag him along, either; they just sat there with their arms crossed. And he fought all the way, and every single time, he connected." He adds, "I'm just honored that my name will be forever near his in a Wikipedia page."
Pascal's emotions are right on the surface, radiating out through those expressive eyes. So it's a little surprising that some of his Hollywood peers compare Pascal to one of American cinema's most famous stoics: Clint Eastwood. Jon Favreau, the creator of The Mandalorian, tells me, "The original Boba Fett armor and the T-visor were based on Clint Eastwood's the Man with No Name, where they used angles and the brim of his hat to hide his eyes. We wanted to adhere to that tradition, and Pedro felt that he had the power and the ability to breathe life into a costume and made it something more." Bradley Cooper, who is a friend and a fan, also references the Hollywood gunslinger: "I would argue that he's playing kind of a Clint Eastwood iconic archetype in The Last of Us."
Mazin says he had Pascal in mind for the role of Joel on The Last of Us from the beginning: "It was about finding that vulnerability in Joel, to rely on the fact that the natural tough-guy-ness was there but not to lean too hard into it. Pedro has this likability, but he also has this other thing where he can very successfully play tough, tough men who do bad, bad things."
When the cameras aren't rolling, Pascal takes on a much different, and sometimes sillier, persona. Bella Ramsey, who plays Ellie on The Last of Us, says she and her surrogate father on the show have developed a shared protectiveness. "I've learned from him to be kinder to myself, which is a thing he's not very good at, in terms of the pressure he puts on himself," says Ramsey. "But I guess that's something that he taught me hypocritically, then I taught to him back." A pressure valve arrived in the form of Pascal's surprising affection for an early-eighties Olivia Newton-John pop hit. "He would break out in song a lot on set," she says. "?'Xanadu' in particular. I don't think it's on the official soundtrack, but Pedro singing 'Xanadu' is the theme song of The Last of Us."
Okay, let's address this daddy business. Daddy is a word that comes up in the Pedro Pascal conversation and his various social-media fan accounts a lot. Like, a lot a lot. He plays around with it, too, saying things like "I am your cool, slutty daddy" into cameras on red carpets. A sketch on his episode of SNL addressed it head-on, as the cast yelled things like "You are so father," "We have to make you daddy," and "You have us in a choke hold"—things that are both chaste and explicit, childlike and informed by deep fetish-speak. Sexual but not. It's, um, kinda weird. Paulson, who made a cameo in the sketch (as Mommy), says: "I've been dealing with this mommy business for a few years now, and I actually don't understand what a lot of it means."
Craig Mazin has a theory about Pascal's daddy appeal: "I think everybody either has fond memories of a positive father figure in their life or they have a terrible gaping space in their heart where a positive father figure ought to have been. Nostalgia or longing for let's call it nontoxic masculinity. And he has that, but he also has this expressive pain behind his eyes."
Pascal shrugs. "Plus, I'm old."
Whatever it is, Paulson says, "Knowing Pedro as intimately as I do, I would not want him to be my daddy, personally. I want him to be my pal that I can hang out with until all hours of the night, but Daddy?"
---
Season 1 of The Last of Us ended exactly the way the first video game did, which means—spoilers will follow; you have been warned—Joel has learned the vaccine can be produced only via a surgery on Ellie's brain that will kill her. So he has murdered the hell out of most everyone in the hospital they spent nearly the whole season trying to get to, and he has just lied to her about it. It's brutal. And it is possible that the pure love from the public might get a little more complicated. "Maybe at that point I'll get myself off the streets for a while," he says with a sparkle. "Maybe it'll be time for a vacation."
Coat and knit, Saint Laurent by Anthony Vaccarello; necklace by Werkstatt: Mu?nchen.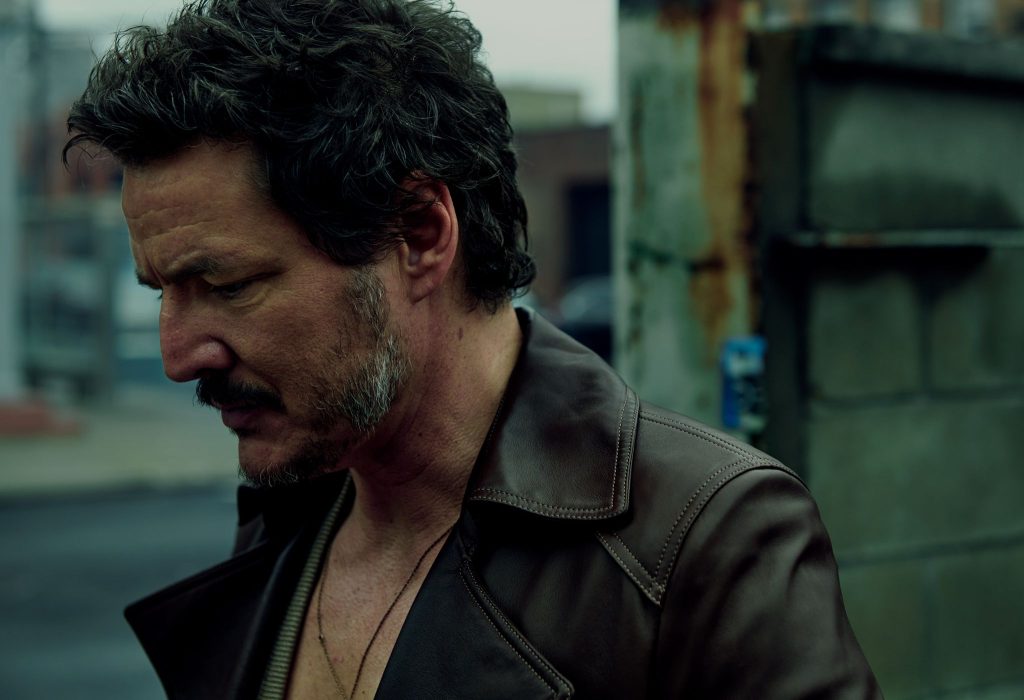 There is an open secret we should bring up here. If you've played The Last of Us Part II, which millions of people have, you know that?.?.?.?something kind of major happens to Joel. Season 1 has taken some liberties while still following the plot of the first game fairly closely. So it's fair to assume that we'll have to prepare ourselves for, let us say, a show with a lot less Joel in it. Ramsey has not come to terms with the possibility. "If that does take place in the show," she says, "I don't know that I'm emotionally ready for it." Mazin isn't talking. "This should be fairly obvious to anyone by now, but I don't fear killing characters," he says. "But the important thing to note is that neither Neil [Druckmann, who co-created and exec-produces the series with Mazin] nor I feel constrained by the source material."
Pascal hasn't played the game or watched the scene where the thing happens, but he knows about it. And while he has no information about where the writers will go, he says, "It wouldn't make sense to follow the first game so faithfully only to stray severely from the path." He looks at me, eyes lit up with mischief, and shrugs again. "So, yeah, that's my honest answer." Some open secrets have to stay that way.
---
We begin to wrap up at Cafe Mogador, and the conversation turns to the challenges of working with the Grogu puppet. There are two, he tells me, including "one that is connected to what feels like the wires that control the Space Shuttle. Its eyebrows and eyes and lips and jaw muscles and ears and everything move in the most realistic way; it feels like a very real scene partner." And then it's time to go. As we leave, a woman pops out to say hello and that she's a fan and that she's just so happy about what's happening for him right now. It's her birthday, he asks her name, and they make conversation for a moment before she excuses herself because she doesn't want to bother him. We walk back to his hotel and talk some more about Prince. Earlier, I'd told him about the time I was in the same room with the Purple One and he had a bodyguard who was in charge of a giant plastic swear jar that people had to put a dollar in if they took the Lord's name in vain. This delighted Pascal: "I think I might believe in God now."
There is something undeniably inspirational about the way Pascal has followed his long and winding path to this point. He has a few more projects in the pipeline and, at the moment, almost infinite potential next steps. How does he plan to leverage his newfound clout? All he knows for sure is that his next move won't be motivated by trying to keep this level of heat. "What's next? I have no fucking idea," he says. "I just hope that I have the maturity to not chase something that would mean more from the outside."
"It's just so psychotic," Paulson says. "Everybody wants a piece of him." She has some advice for Hollywood producers about why viewers connect with him, and how they should be regarding him. "You just want him to succeed," she says. "And that to me, I feel like, is the sign of a major movie star. I'm ready for him to take the reins from the guys from romantic comedies past, like Bruce Willis and Mel Gibson and all these guys. He can be all that. Let's remake Die Hard with Pedro. Remake all the Lethal Weapon movies with Pedro."
Hey, it could happen. But there is plenty to navigate along the way. This is the moment when he stops being the underdog and starts being the Big Dog. When the public scrutiny gets more intense. When the people who want to tell him how happy they are for him transform one by one into people who want something from him.
I don't know if he saw the paparazzo who snapped pictures of us as we walked; I just know I didn't. It's not until later in the day that the photos show up on Pedro Pascal Instagram fan accounts and someone sends me a link. ("P loves those New Balances," says a commenter.) We hug goodbye at the corner near Pascal's hotel, and he definitely sees the guy in the tracksuit with the FedEx envelope who pulls out something for him to sign. Then there are three of them, and then six, and ten. No joy in the eyes, only want. They don't say they're huge fans or that they're just so happy about what's happening for him right now. Instead, it's: Here. Sign this. Take a picture. Give me something to put on eBay. They've been here all day, waiting. I see him sign a couple items, but I lose sight of him as the huddle blocks him out.
I just see the door open and then close behind him.
---
Story: Dave Holmes
Photos: Norman Jean Roy
Styling: Bill Mullen
Grooming: Coco Ullrich for La Mer at TMG-LA.com
Production: Crawford & Co.
Prop Styling: Michael Sturgeon
Tailoring: Todd Thomas
Creative Direction: Nick Sullivan
Design Direction: Rockwell Harwood
Visuals Direction: James Morris
Executive Director, Entertainment: Randi Peck
Executive Producer, Video: Dorenna Newton