This year's Only Watch event might well be almost five months away, but Hublot has given us a preview of what to expect by showcasing the remarkable MP-15 Takashi Murakami Only Watch Sapphire watch that Takashi Murakami and Hublot collaborated on.
While Hublot and the iconic designer Murakami have form that goes way back—they recently presented 13 new NFTs and 13 unique timepieces featuring the iconic smiling flower central to the Japanese artist's work—this new watch not only pulls from Murakami's legendary motif, but also presents a first-ever central flying tourbillon movement.
Murakami's flowers have long since been classed as something of a pop culture force, finding their way onto artwork and fashion for the likes of Kanye West, Drake and Kid Cudi. But while the smiley flowers have been bought and sold for high prices since 1995, the artist explained, in a 2005 interview with The New York Times, that they were, in fact, a manifestation of the repressed emotions and collective trauma experienced by Japanese residents after the 1945 Hiroshima-Nagasaki bombings.
For the Hublot Only Watch timepiece, the motif has been brought to life on the MP-15 by making it the actual case of the watch. Coming in at 42mm wide and 13.4mm thick, the case is made up of 12 petals set with a total of 444 coloured gemstones in a symmetrical and rainbow-like gradient. At the centre of the piece, the iconic smiley face is laser-engraved onto the domed sapphire crystal, which envelops the central flying tourbillon giving it the appearance of being stuck in mid-air. It's a truly spectacular piece that is hoped will fetch big money at auction.
Only Watch was created in 2005 by Luc Pettavino with one intent: raise funds for research on Duchenne Muscular Dystrophy. It has allowed the charity organisation behind Only Watch, the Association Monégasque contre les Myopathies, to raise almost SGD$146M.
The Only Watch auction will take place in Geneva on November 5. Find more information here.
From: Esquire Middle East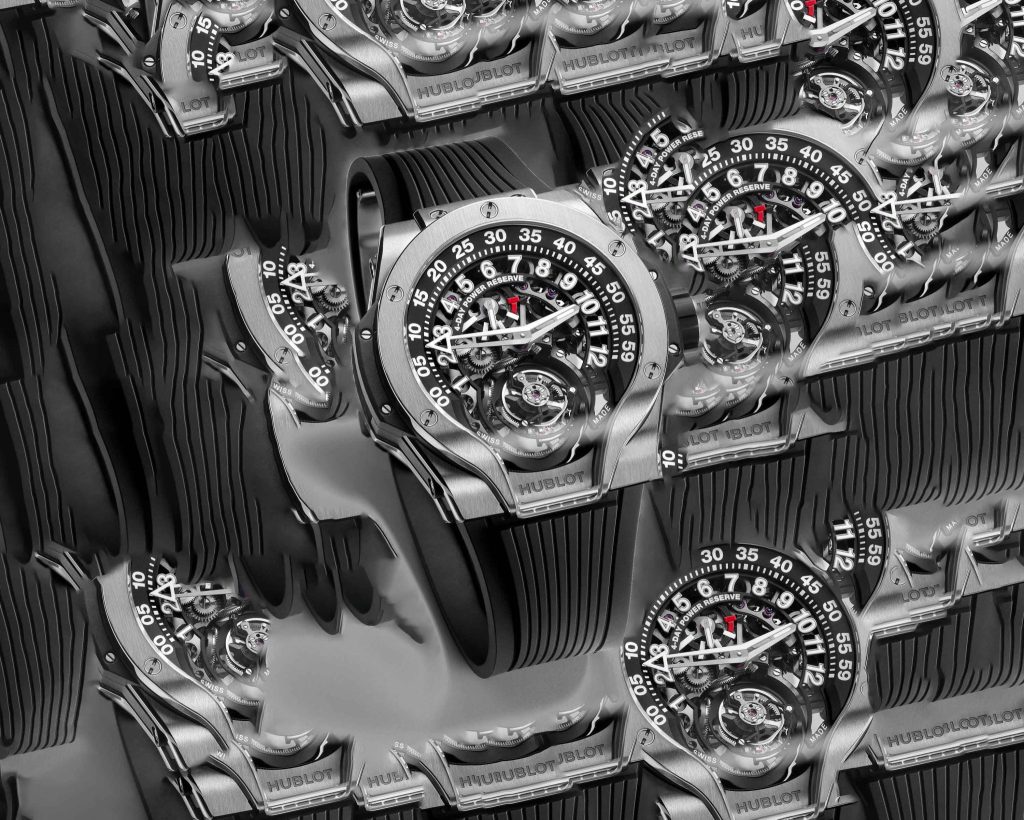 A mini movie of whooshing watches accompanied by a hardcore electronic soundtrack reminiscent of Depeche Mode in their early days welcomes visitors to the Hublot lounge at Watches & Wonders watch fair in Geneva.
As a photograph of French football superstar Kylian Mbappe wearing a jewelled Hublot Square Bang Unico smiles down on an expectant group of watch fans, chief product and purchasing officer Raphael Nussbaumer introduces a series of new watches that bring the blockbuster bling for which the brand is famous.
The star of the show for Hublot this year is the MP-13 Tourbillon Bi-Axis Retrograde, one of only 50 pieces priced at AED 600,000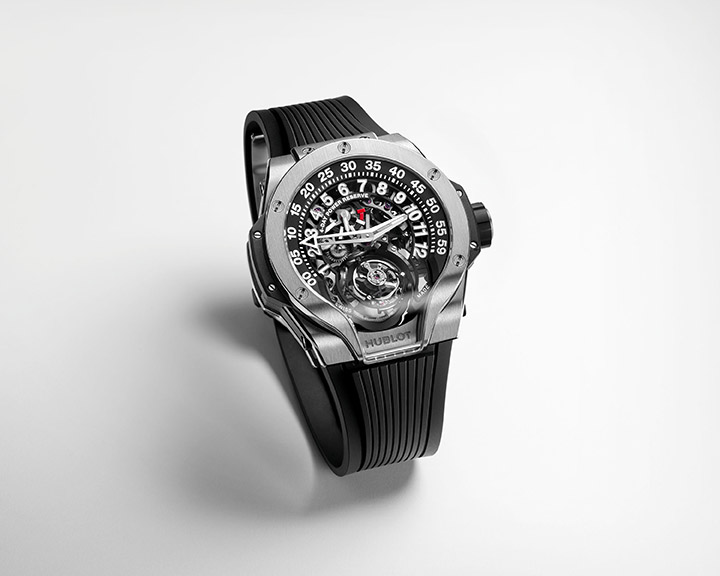 A riff on the giant 50mm MP-09 released in 2017, the new more manageable 44mm piece features a tourbillon with two axes. Made entirely in-house, the Tourbillon completes a full rotation every minute on one axis and every 30 seconds on the other and watching the mechanism operate on two speeds is a captivating sight. Making the tourbillon both skeletonised and suspended, meanwhile, gives it a feeling of weightlessness.
This complex tourbillon would be enough for most watchmakers, but Hublot rarely does things by halves. The second complication is the bi-retrograde part of the watch that refers to the hour and minute hands that move on their own scale and jump back to their starting position once their trajectory is completed.
Made from satin-brushed grade 5 titanium and fitted with a sporty black strap, the new manual winding MP-13 has a power reserve of 96 hours with 374 components beavering away inside. The drooping bezel at 6 o'clock is certainly an eye catching feature but may not be to everyone's liking.
It's a big, bold, brash watch at 16.7mm thick and yet the MP-13 is more ergonomic than its 2017 ancestor. Hitting Hublot boutiques in May, the exciting and highly complex MP-13 is the latest release from the MP series that Hublot began in 2011. And in case you're wondering, MP stands for masterpiece, which this watch most certainly is.
From: Esquire Middle East