Kim Taehyung, also known as V from BTS, has been chosen as the ambassador for the latest Panthère de Cartier campaign. The brand praises the global pop icon for his captivating "creative spirit and magnetic gaze," perfectly embodying the essence of the panther-inspired collection, ultimately leading to his appointment.
In the campaign, V effortlessly radiates charisma as he wears the iconic Panthère jewellery collection. The collection includes a sculptural diamond ring, a tête-à-tête panther bracelet, and the Révélation d'une Panthère watch. Perfectly complimenting V's mysterious and sophisticated appearance.
The senior vice president chief MKG officer says, "When it came to personifying the magnetism and aura of the panther, our choice naturally fell on V. He possesses a captivating look and a strong character, guided by creativity as a dancer, musician, and art lover. His unique style and elegance make him the perfect fit for this role." Thus, appointing him as the new ambassador was the most fitting decision.
V now joins esteemed personalities the likes of Blackpink's Jisoo as Cartier ambassadors. This appointment also marks the second luxury jewellery brand ambassadorship for BTS—Jimin was officially announced as the ambassador for Tiffany & Co. last year.
Watch snobs, hear us out: Before you turn your nose up at fashion watches for men or any piece that does not bear the prestigious Poinçon de Genève, consider the possibility that jewellery and, yes, even fashion brands have been coming out with head-turning timepieces for ages.
Luxury French fashion house Hermès, for example, made serious inroads into the horological world by putting up its very own booth at Salon International de la Haute Horlogerie for the first time in 2018. French fashion brand, Louis Vuitton, produced a watch that earned the mythical Poinçon de Genève: the Flying Tourbillon, released in 2016.  
Times are changing, and these fashion and jewellery brands have shown they take their watch departments very, very seriously. And there's another thing these brands that combine savoir-faire with technical excellence can do: When it comes to producing true objects of desire, they have nailed it down to an art.
Still not convinced? Here are a few of the companies that have made some of the most beautiful timepieces over the years.
Cartier
Say the name "Cartier" to any woman, and her eyes will no doubt light up with visions of its legendary jewellery—the Love bracelet, the Juste un Clou bangle, and the jaw-dropping Tutti Frutti and Panthère collections, just to name a few. But you, of course, will recognise that Cartier makes incredible watches, and you would be proud to have one on your wrist. Brand founder Louis-Francois Cartier did, after all, take over the workshop of master watchmaker Adolphe Picard in the 1800s, forming the company's earliest foundations on innovative clocks and fashionable wristwatches. Thanks to the patronage of royalty that included King Carlos I of Portugal and King Edward VII of Great Britain, its reputation would later be cemented as the "jeweller of kings."
Our pick: The Cartier Tank Solo
The Cartier Tank was inspired by the tanks used in World War I—as far as origin stories go, it doesn't really get any cooler or more badass than that. The Solo is a modern addition to the collection, yet retains all the features that make the watch an enduring classic.
Hermès
With its highly coveted handbags, such as the Kelly and the Birkin, true luxury definitely equates to Hermès. From its early beginnings as a harness and saddle supplier, the French luxury house is now best-known for its quality leather and signature silk scarves apart from branching out into perfumes, jewelry, and even accoutrements for the home. Naturally, the brand first created saddle-stitched cases for pocket watches and leather watch straps before dedicating itself fully to watches for men and women by establishing La Montre Hermès in Bienne, Switzerland in 1978.
Our pick: Cape Cod
Created by Hermès creative director Henri d'Origny in 1991 when he was tasked with making a square watch, the case and dial take cues from the brand's distinct chaîne d'ancre motif, resulting in a shape that is unmistakably Hermès. Bonus points if you get it with the famous double tour strap, a twice-winding leather wristband designed for the house by Martin Margiela in 1998.
Bulgari
The Italian jewelry house was made famous by Elizabeth Taylor, who turned the Serpenti into an icon when she was photographed wearing it on the set of Cleopatra while filming in Rome. In her personal life, she was known to be a prized Bulgari client, too, care of a tumultuous romance with Richard Burton that resulted in even more gifts of diamonds and jewelry for the Hollywood star. But Bulgari's watches are worthy of just as much admiration and awe for the way it blends the Italian flair for design with Swiss watchmaking's technical expertise. The company showed how serious it was about the latter with the establishment in 1980 of Bulgari Haute Horlogerie in Neuchatel, Switzerland. It also acquired the Daniel Roth and Gérald Genta brands in the year 2000, leading it to introduce its own in-house mechanical movements by 2010.
Our pick: Bulgari Bulgari
You could say that this was the watch that started it all, originally intended to be a Christmas gift to the house's top 100 clients in 1975. Recognisable by the engraved "Bulgari Bulgari" logos surrounding the bezel, it was conceptualised as a tribute to the design of ancient Roman coins.
Louis Vuitton
By now, everyone is familiar with the French fashion giant's humble beginnings as a travel trunk-maker in 1854. This later expanded into that famous monogram adorning just about everything, including a notorious punching bag designed by Karl Lagerfeld. But just as LV has a knack for turning all of the things it touches into precious objects of desire, so it goes with its watches. It's a relatively new player, considering it marked its entry into the field with the launch of the Tambour fine watch collection in 2002. But it has certainly worked double-time and caught up since, producing many gorgeous fashion watches for men in between, leading up to the inauguration of La Fabrique du Temps Louis Vuitton in Geneva in 2014.
Our pick: Tambour Damier Cobalt Chronograph
It's fitting we should throw it back to the Tambour collection, but this new edition comes with a twist: interchangeable straps that allow you to quickly switch up the look, even without specialised tools. The Damier canvas is also ever-so-subtly visible on the dial, but you'll be able to spot that eye-catching V from across the room.
Tiffany and Co.
Now it's time for the American entry into this list: Tiffany and Co., whose legend will forever be tied to New York, Audrey Hepburn, breakfast, and that instantly recognisable robin's egg blue. Though of course it is primarily known for jewellery, thanks to its association with dreamy engagement rings and the famous 128-carat Tiffany Yellow Diamond proudly displayed at the flagship store on Fifth Avenue, the company has been selling timepieces since 1847. In fact, one of the flagship's most recognisable features is the nine-foot Atlas Clock right above the door—also the inspiration for Charles Lewis Tiffany's coining of the phrase, "New York minute." Tiffany also created America's first stopwatch, the Tiffany Timer, in 1868.
Our pick: Tiffany Atlas
An homage to the Atlas Clock that has been standing guard since the 1850s, the Atlas watch uses the same Roman numerals that New Yorkers have used to check the time over the years. In two-tone rose gold and stainless steel, it could prompt you to create a New York minute of your own.
From: Esquire Ph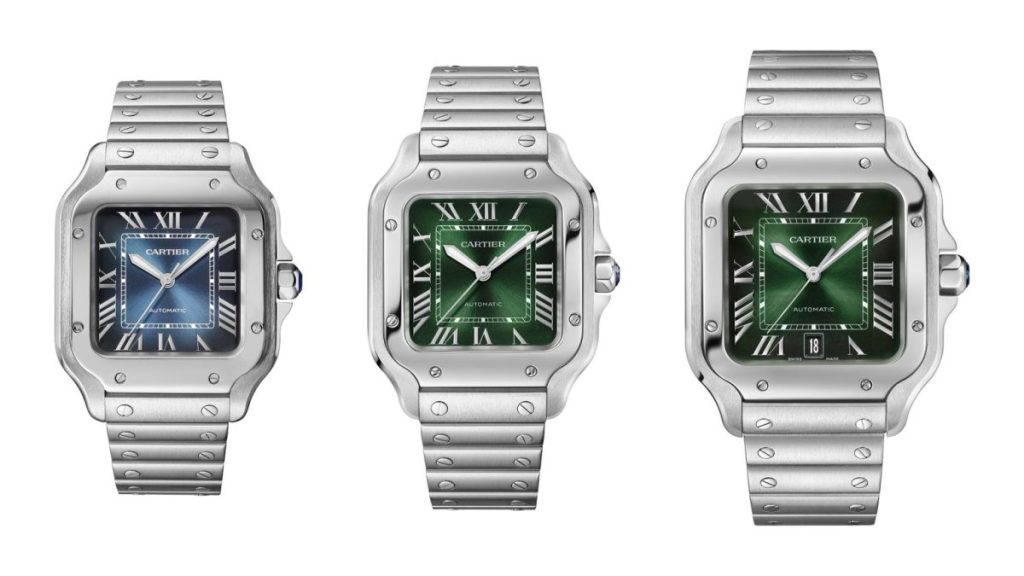 Jaeger-LeCoultre has installed a cylindrical rain shower, TAG Heuer brought in a vintage Porsche 911, Hublot has a giant LED planet glowing in different colours while Oris set up a teddy bear. Some of the installations built by horology brands to grace their booths at Watches & Wonders 2023 are almost as impressive as their watches sitting in gleaming display cases.
You might expect the French gem specialists Cartier to welcome guests with a huge diamond sculpture perhaps, or maybe a platinum panther in homage to their famous feline mascot. But instead, Cartier has relied on their astonishing products to do the talking – and really nice, thick carpet underfoot.
Cartier has not one but two areas at the Geneva watch fair, filled with timepieces and high jewellery. Walking into either of them is a trip to a place of rarefied luxury where extraordinary jewellery and watches carry price tags in the neighbourhood of AED 2 million. Here, knowledgeable experts in black silk gloves present Cartier's latest novelties, including the talked-about green dialled Santos de Cartier.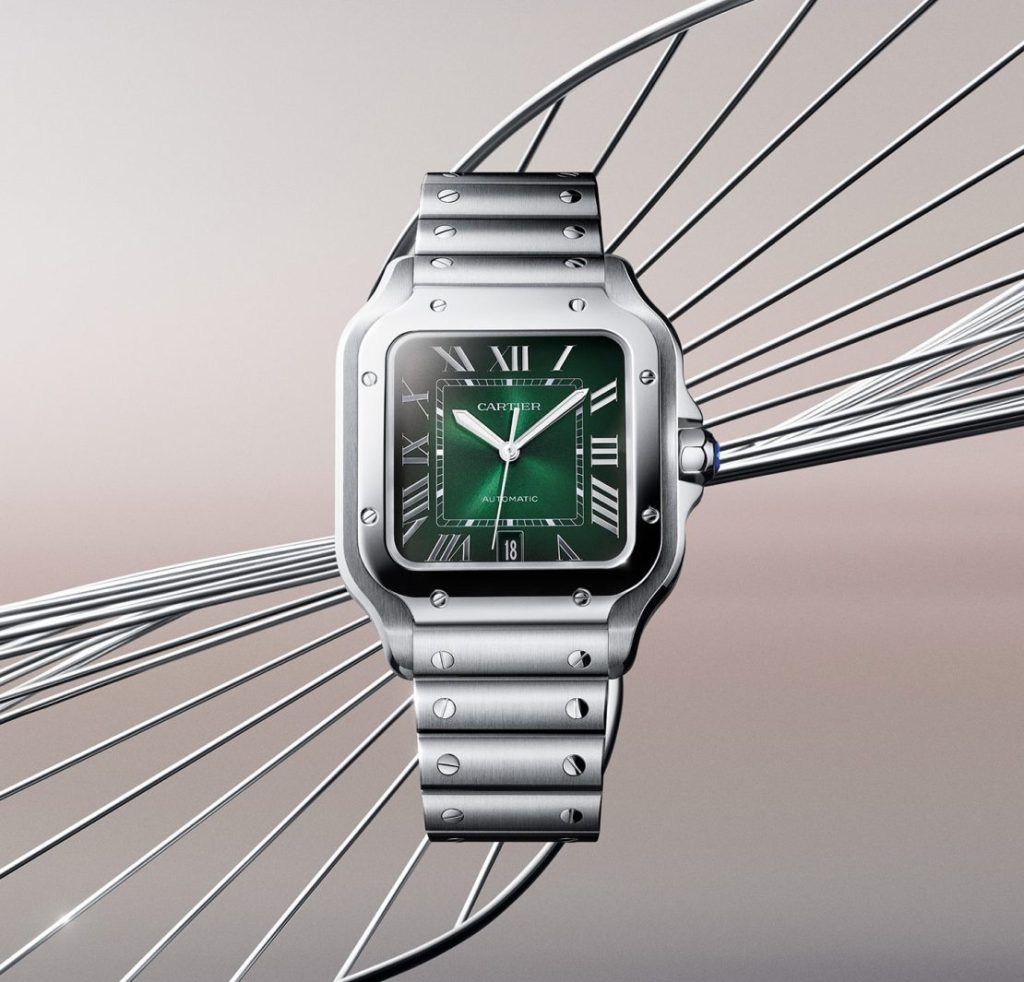 Black, blue and white dials have graced this elegant watch in the past since its 2018 relaunch and now green makes its debut, seemingly a couple of years after the boom of emerald dials across the industry. But when you have that shimmering metallic green dial and dynamic sword hands on a watch as sophisticated and sporty as the Santos de Cartier, a little tardiness can be forgiven.
Available from June 2023 in medium and large sizes (35mm and 40mm), the stainless steel Santos de Cartier has a distinctive case that is kind of round yet kind of square and bolted by its trademark eight screws.
First introduced in 1904 but launched by Cartier as a sports watch in the 1970s, the Santos case is said to mimic a bird's eye view of the Eiffel Tower – Google it, and you'll see what Louis Cartier meant.
Presenting the pieces in Geneva in 2023, a Cartier watch expert explains, "The green dial is an example of the bold design that embodies the pioneering spirit of the brand," before adding with a grin, "it also just looks super nice."
From: Esquire Middle East
No one does it quite like Cartier. Watches & Wonders tends to feel like some kind of tournament – especially in these opening stages - with the brightest and best of the industry competing for the biggest splash; the obvious standout that gets everyone talking. Early frontrunners include Tudor's 37mm Black Bay 54, or Patek's 6007G (available in three colours; indicative of an early trend at the show), and others will emerge over the next few days.
But then you visit the Cartier stand and the competition fades away. Like the Sunday night legend at Glastonbury, the jeweller/watchmaker seems to exist on another plane altogether, offering elegance, quality, artistry and timeless style in abundance.
Take the Tank Normale, the latest inductee to Cartier's Privé collection, which features limited edition, nuanced riffs on the marque's existing pieces. First unveiled in 1919, the Tank is undoubtably Cartier's most famous design, indeed one of watchmaking's most iconic creations, and the Tank Normale pays homage to the original watch with matching proportions and a bevelled sapphire crystal glass.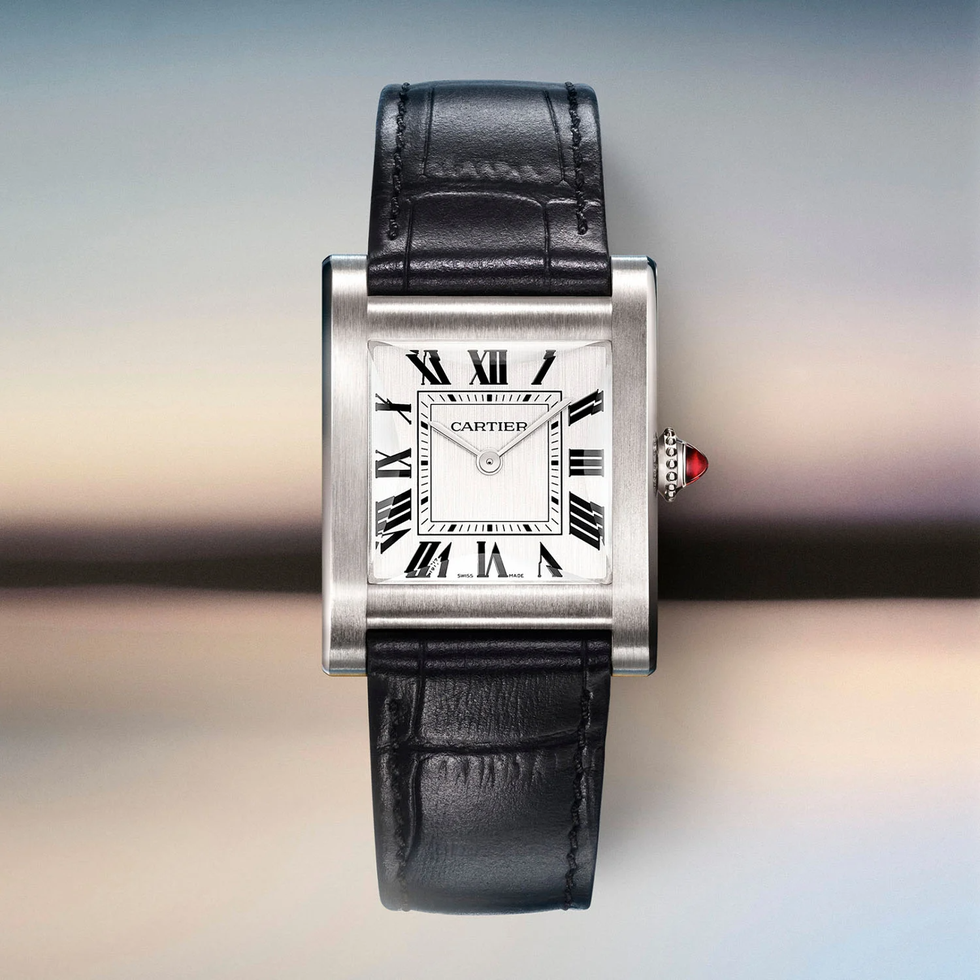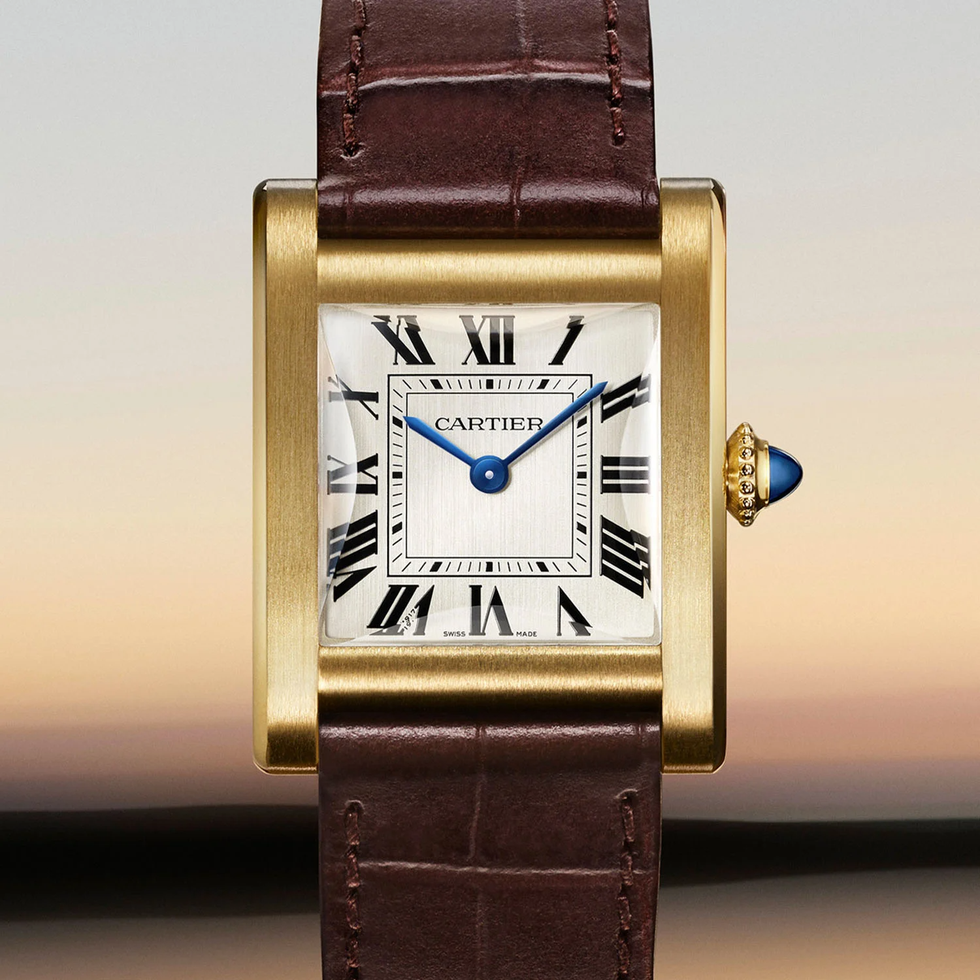 The new Privé edition is available in three iterations, and in a range of finishes. There are yellow gold and platinum models, with blue sapphire cabochon and brown alligator strap, and a ruby cabochon winding crown and black alligator strap, respectively. Then there are two skeletonised models – also in yellow gold and platinum – limited to just 50 pieces each. But the standout winners are those on the new bracelet in – you've guessed it – yellow gold or platinum. So far, we're yet to see a more inherently cool watch at the show.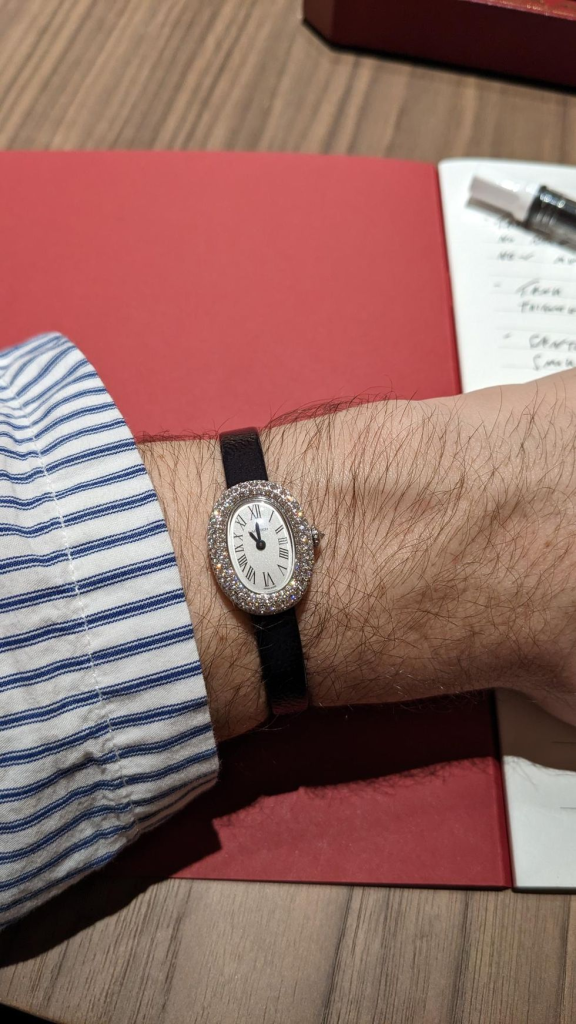 Elsewhere, following on from last year's Crash, Cartier has extended its mastery of the tiny timepiece with a diamond studded Baignoire. Nothing would look better with the right tuxedo, or even a T-shirt and jeans. But again, it's not really a competition.

From: Esqcuire UK