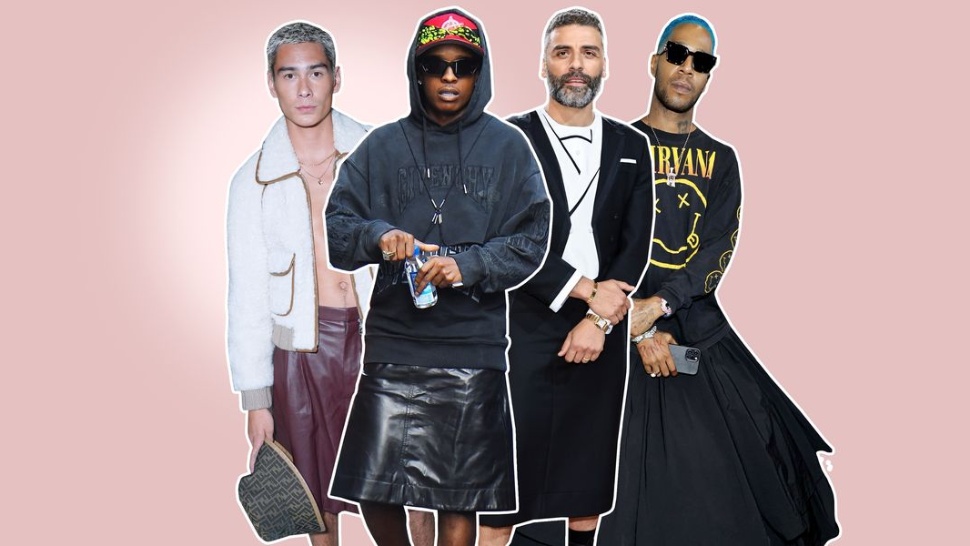 We've been building up to this moment for years. We've seen men's skirts percolating on fashion runways and bubbling up in the cooler corners of fashion capitals around the world. We've watched it infiltrate red carpets and social media feeds. And now we can say, without skirting around it at all (ha!), that men's skirts are officially ready to enter the mainstream.
Let's be clear: This isn't to say that men's skirts are new in any capacity. Men have been wearing them for centuries, all the way back to the days of tartan kilts—and well before that, too. Even in modern men's fashion, designers have been pushing long, pleated, kilt-like designs for decades. Names like Raf Simons, Jean Paul Gaultier, and Rick Owens have sent male models in skirts down runways since the '90s. And in 2007, Thom Browne, who is now all but synonymous with "skirts for men," sent his first male model in a skirt down the runway.
What's changed is that a guy wearing a skirt no longer feels radical. Sure, sartorial envelope-pushers like A$AP Rocky and Kid Cudi have worn skirts. But so have comparatively reserved dressers like Oscar Isaac and Brad Pitt. In fact, so many celebrities, influencers, and early adopters have embraced the garment that it's (slowly) becoming, well, just normal.
"It wasn't to make a statement," Browne says of his first men's skirt. "It was something that felt right to me at the moment—a continued evolution of the gray suit in a new proportion and silhouette."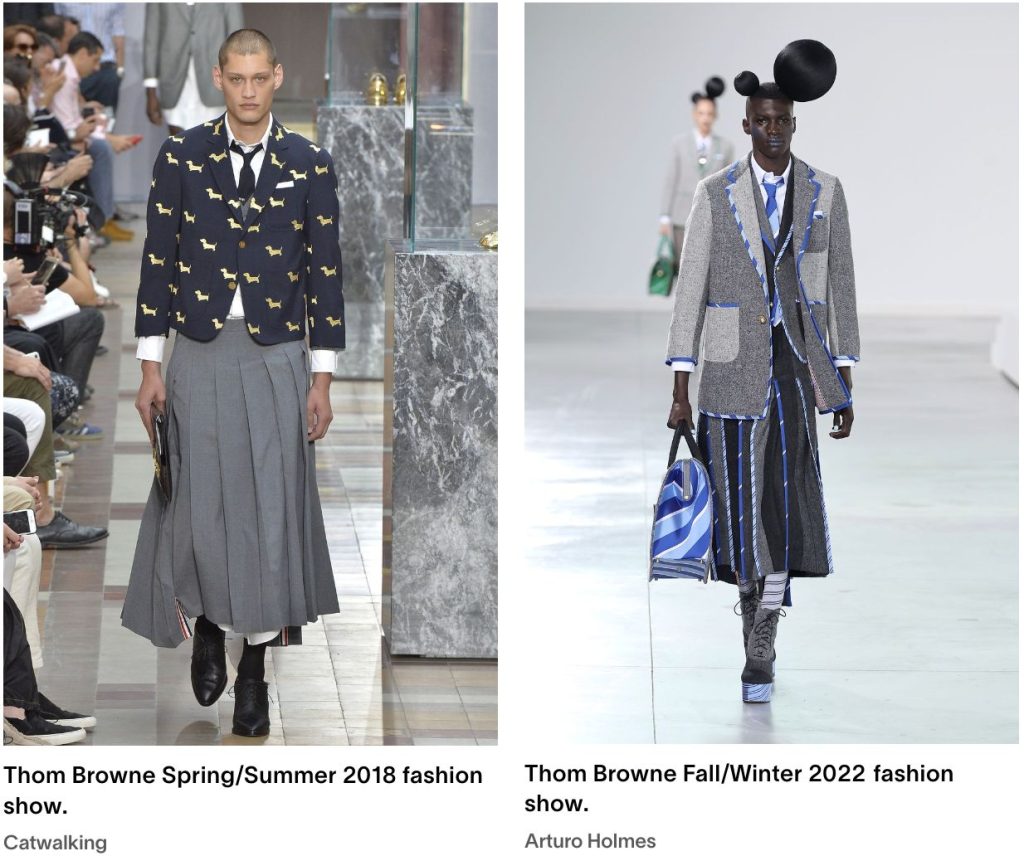 Browne is a certifiable bellwether of where mass menswear is headed, a progenitor of the shrunken, slim suiting that dominated the landscape for a decade-plus before looser, loucher proportions entered the fray a few years ago. He's equally adept at avant-garde creations and traditional pieces like the blazer and button-down—which accounts for the fact that his offerings tend to saturate the red-carpet set before moving into the closets of (style-inclined) regular guys. The recent uptick in the popularity of his men's skirts—David Harbour, Lil Nas X, Pete Davidson, and Dan Levy have all worn them in the last couple of years—is a solid indicator that the style is readying itself for a jump to the masses.
"Genderless fashion is the future of fashion," says Federico Barassi, vice president of menswear buying for forward-thinking retailer Ssense. "From a cultural and societal perspective, skirts are a reflection of the times we're living in."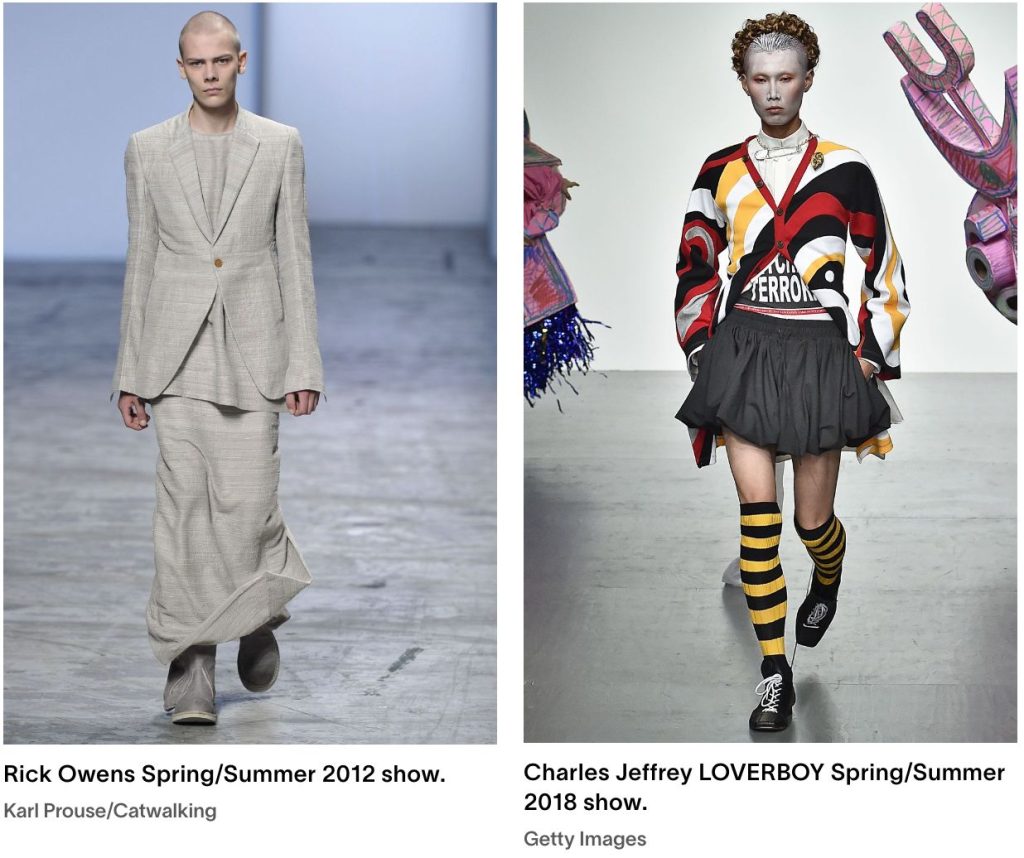 The numbers don't lie. "Over the past several years, data from our clients' shopping behaviors and interests indicate that many are already shopping from both sides," he explains, "going from womenswear to menswear and vice versa across different types of products." As for skirts specifically? "With more celebrities and mainstream figures leading the way and embracing the skirt as a sartorial form of self-expression, we'll certainly see this openness for genderless fashion continue to evolve," says Barassi.
Part of that evolution is the expansion of available styles and aesthetics. Labels like Adidas, Dries Van Noten, Commission, and Marine Serre sell skirts that could easily be swapped in for baggy jeans or track pants. "If we look at fashion as a form of creative expression, skirts can be a versatile addition to any wardrobe," adds Barassi. "Mainstream brands like Thom Browne, Jil Sander, and Rick Owens have been offering up different styles, lengths, colors and textures for a multitude of occasions: casual weekends, nights out, and so on."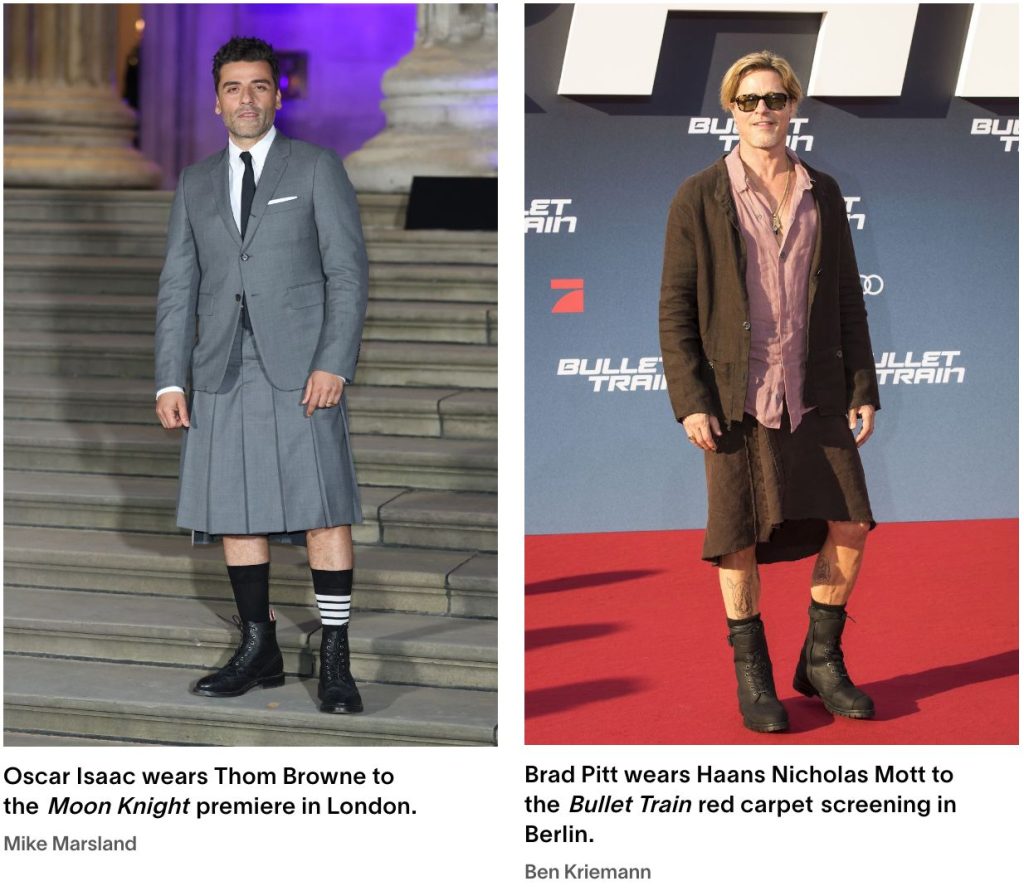 "I think, once newsworthy, men's skirts are now acceptable in more places," says Michael Fisher, the celebrity stylist behind Oscar Isaac's skirted Thom Browne look at the Moon Knight premiere last year. "The key is to own it."
Owning it is easy enough, when you look at the skirt as a garment that's as malleable as a pair of jeans. You can wear one dark and tight, loose and light, or anywhere in between. That's why, everywhere in pop culture, celebrities have been popping up wearing skirts that don't stray from their normal aesthetic. There's skater-boy style icon Evan Mock in a brown leather Fendi skirt, king of fashion A$AP Rocky in a black leather midi from Givenchy, Kid Cudi in a grunge-y Nirvana shirt and black maxi skirt, and Jaden Smith in the Louis Vuitton skirt that nearly broke the Internet.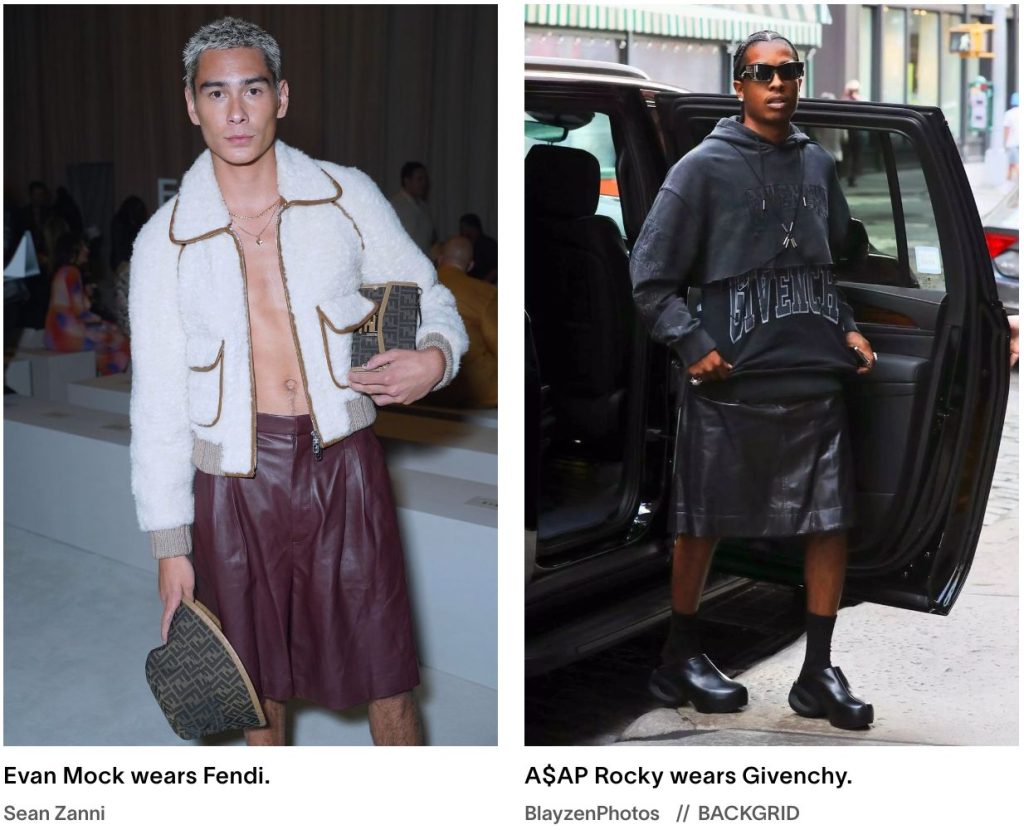 It's not just the designer space, either. In the era of thirst-trapping male TikTokkers in pearl necklaces and boy-king influencers basking securely in their masculinity by presenting as more and more androgynous with each refresh of your feed, brands that cater to the general public have had to adapt to the growing demand for accessible menswear skirts. The trendiest of fast fashion brands, like Jaded Man and ASOS Design, have affordable, wearable skirts for men—a solid indicator of their impending entree into the mainstream.
"Menswear dress codes continue to loosen up and become more personal," says Fisher. "Skirts seem to pop up every few years in different forms—like wraps or kilts—but this time they are here to stay as a legit option."