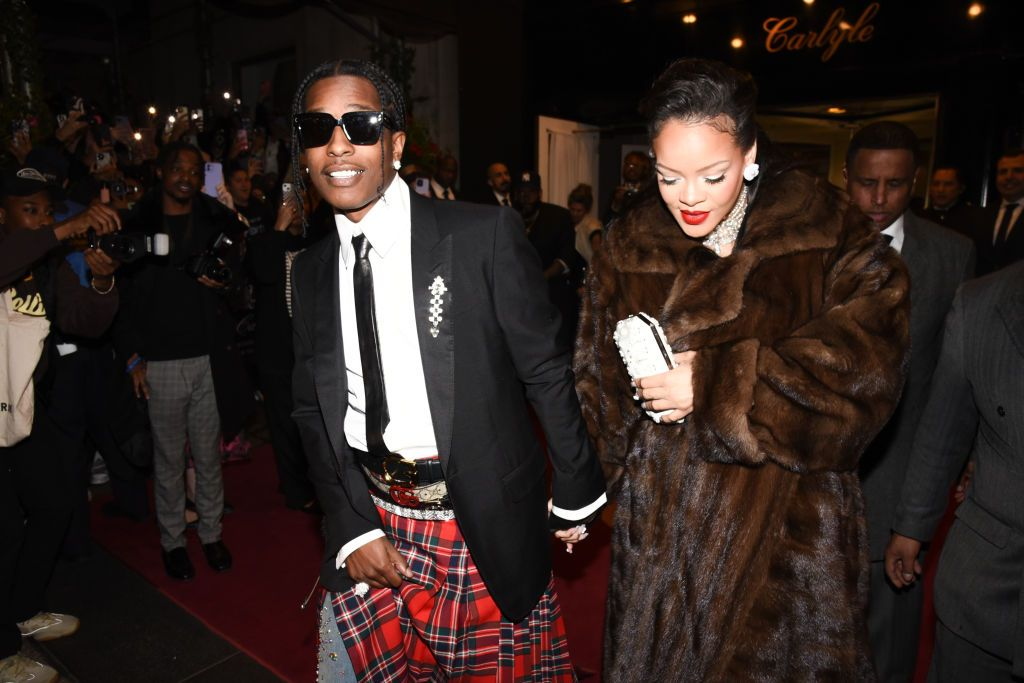 The couple showed up fashionably late, but nailed their looks regardless.
One thing about A$AP Rocky? He's gonna wear a fit. Whether he's celebrating his birthday or just out to lunch, the rapper is always dressed like a style god, so really, it's no surprise that for the biggest night in fashion, A$AP pulled up to the Met Gala in a killer look.
He showed up well after the red carpet was over, sure. But with Rihanna entering the building with him, you have to ask yourself: If it takes most of the day for one celebrity to get ready, how long does it take two celebrities, both known for their fashion, to get ready? The answer is all day—like, the whole damn day—but it was worth the wait.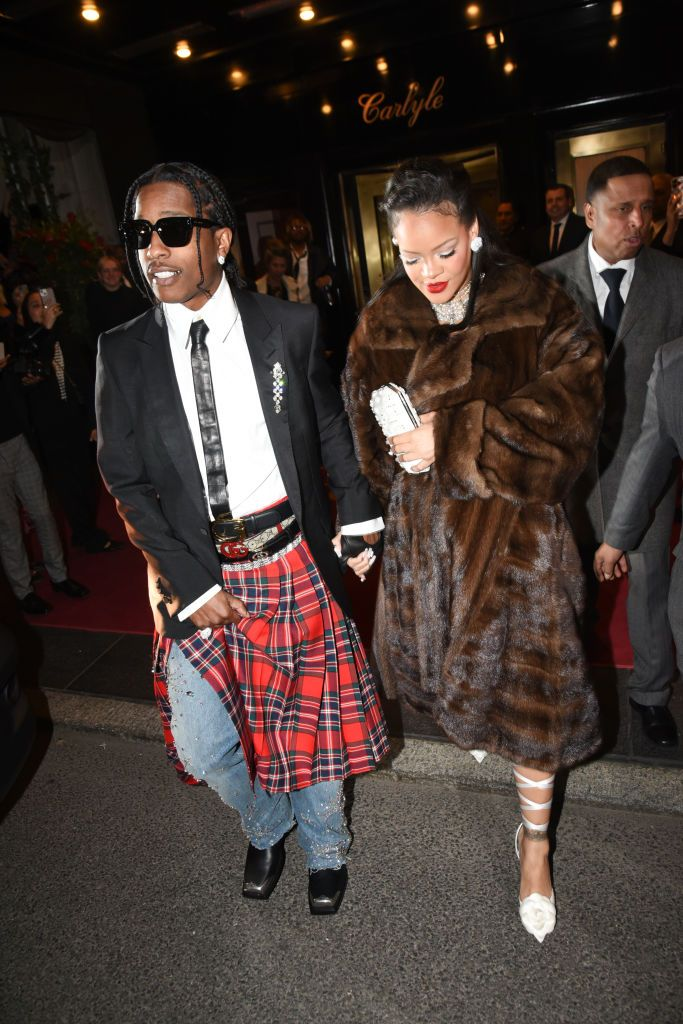 For the "Karl Lagerfeld: A Line of Beauty" theme, A$AP and RiRi stuck to their signature aesthetics, with elements of Lagerfeld's fashion vocabulary interwoven. A$AP recreated an iconic Karl Lagerfeld look, with a red tartan kilt, thick black belt, white button-down, black tie, and perfectly tailored blazer, with jewelry from Maison Boucheron. Unlike Karl, though, A$AP layered the kilt over a pair of baggy jeans—street style meets high fashion, on the rapper's terms yet indebted to Karl's influence.
Rihanna took a page from Karl Lagerfeld's book, too—but not his own wardrobe. The singer left for the Met Gala wearing a vintage Fendi 1997 look by Karl Lagerfeld, with a voluminous brown fur coat, slicked-back hair, and heavy jewels around her neck.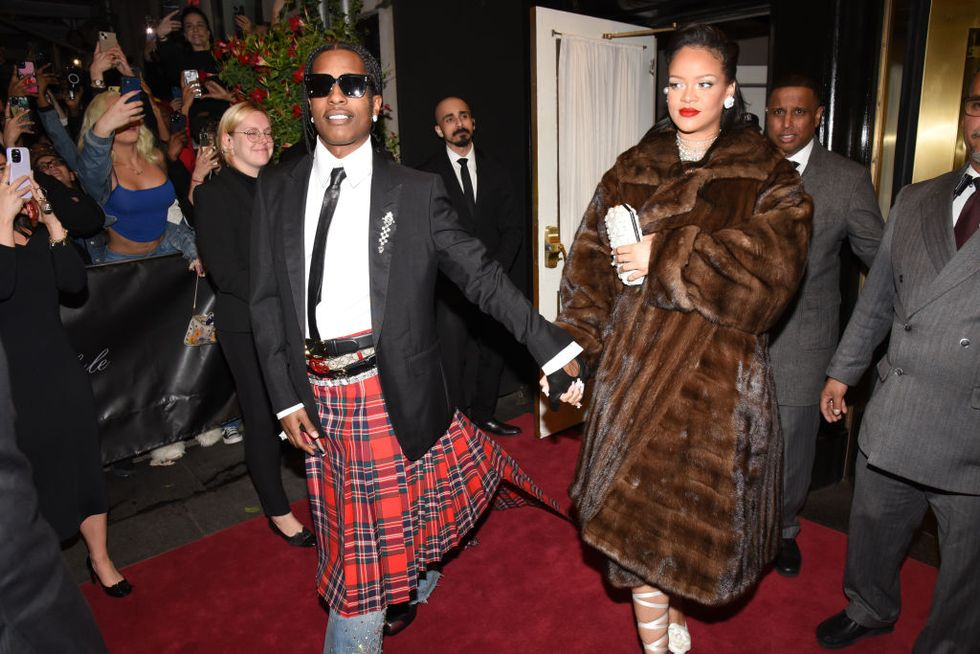 Once arriving to the red carpet, however (which stayed open seemingly just for her arrival!), she appeared in a voluminous, flowery white Valentino gown, complete with a coat made of white fabric roses and sunglasses that have their own eyelashes.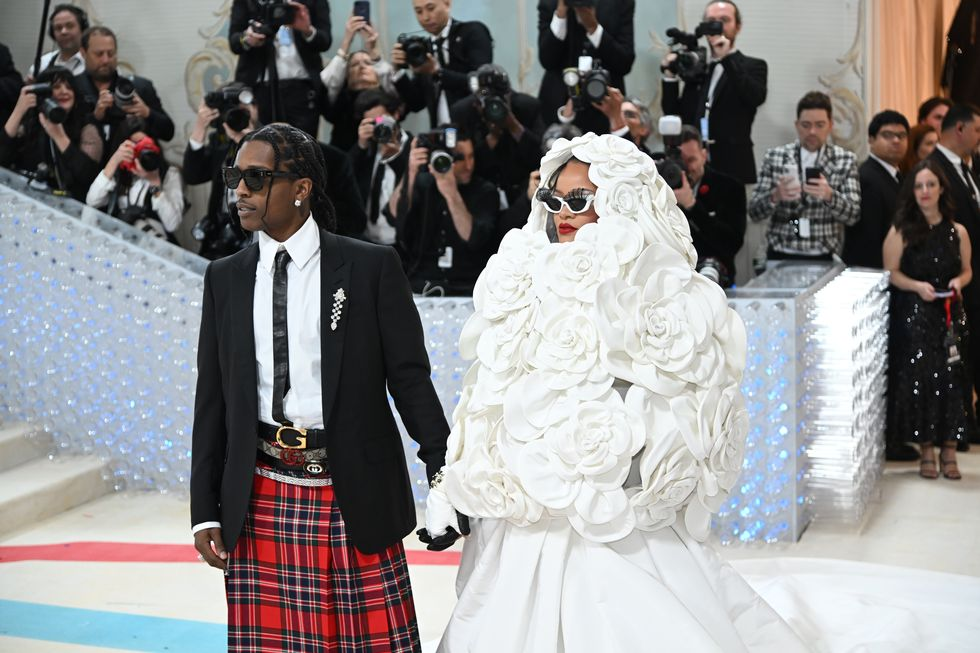 The night certainly saw a lotof elements of Chanel and of Karl as a whole, in tweed and in tailoring and in pearls and black and white. Few, however, channeled Karl himself or archived looks for their Met Gala outfits—at least not as effectively as A$AP and Rihanna did. So we are forced to declare that, tardiness aside, they just won the Met Gala.

Originally published on Esquire US