OK, so even the best men's leather jackets are divisive. We're often told that they're cool. We're shown that they're cool, in fact. Marlon Brando. James Dean. Brad Pitt in that film where everyone hits each other and isn't allowed to talk about it. But beyond the big screen, in the world where people don't hit one another and don't talk about it, Regular Guys can feel a little awkward in leather jackets.
But that needn't be the case. There's a leather jacket for everyone and understanding the different options available (as well as the histories behind them) is the first step to finding the right piece. That's why we've defined the main types – from biker to bomber and everything in between – and offered our picks for the new season from a wide range of brands. There's some styling tips in there too.
Sure, the best leather jackets for men don't come cheap. And taking the plunge can be a daunting experience. But follow our expert guidance, and you'll end up investing in a wardrobe essential that will last a lifetime, moulding to your body and becoming something of a second skin (nailing that cost-per-wear ratio in the process). Without further ado, here's everything you need to know to nail menswear's riskiest (but most rewarding) piece.
The Different Types of Leather Jacket
Classic Biker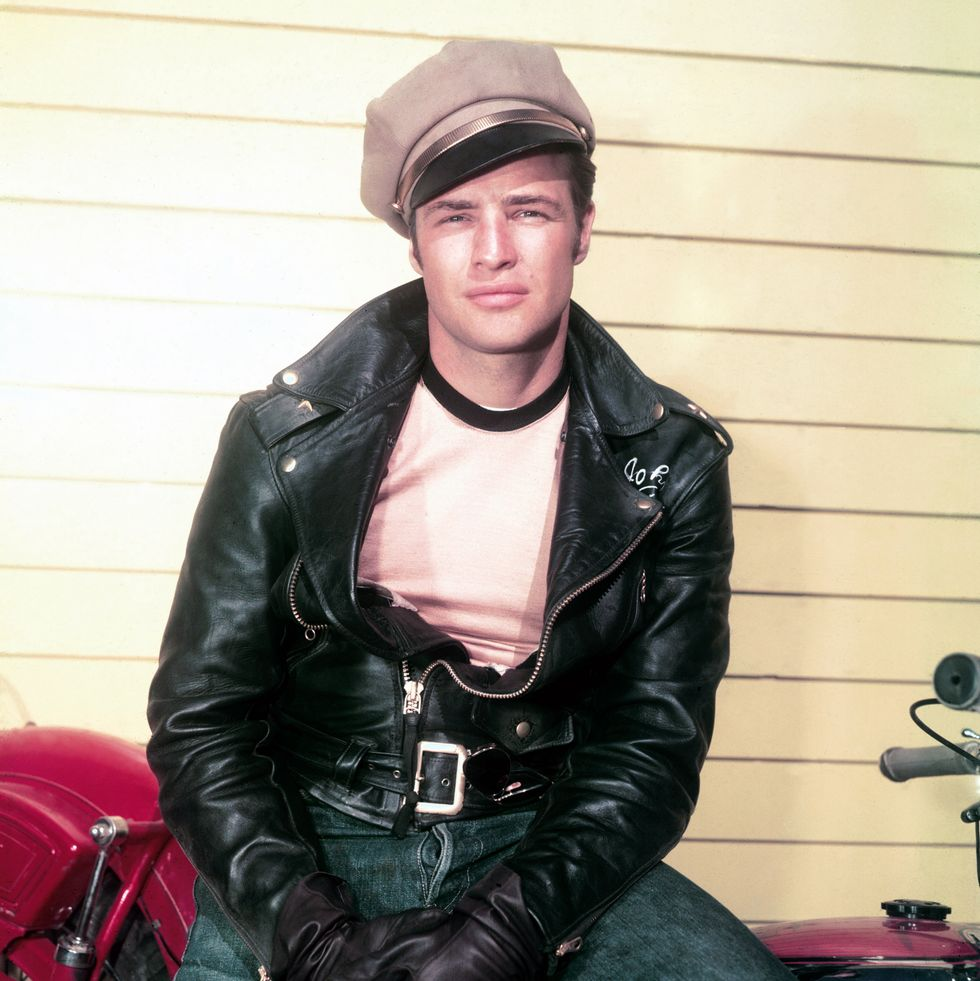 Marlon Brando, the leather jacket OGSilver
Screen Collection//Getty Images
One jacket to rule them all. Ask a child to draw a leather jacket and this is what you'll end up with.
Created by leather legend Schott NYC for Harley-Davidson in 1928, the first iteration of its kind was named the Perfecto after founder Irving Schott's preferred cigars. With a cropped, belted body, diagonal zips, epaulettes, notch lapels and four pockets, the archetypal biker jacket still has all of these features. If it doesn't, then it's not a legit biker jacket, sorry.
It has a history. James Dean wore one. So did the Ramones. And while they pulled it off by token of youth and confidence and global fame, you can cheat your way in with the first two, and slot above plain T-shirts (grey or white, ideally) and black straight-ish leg jeans. Nobody this side of 'nu rave' should be wearing spray-on denim with a leather jacket.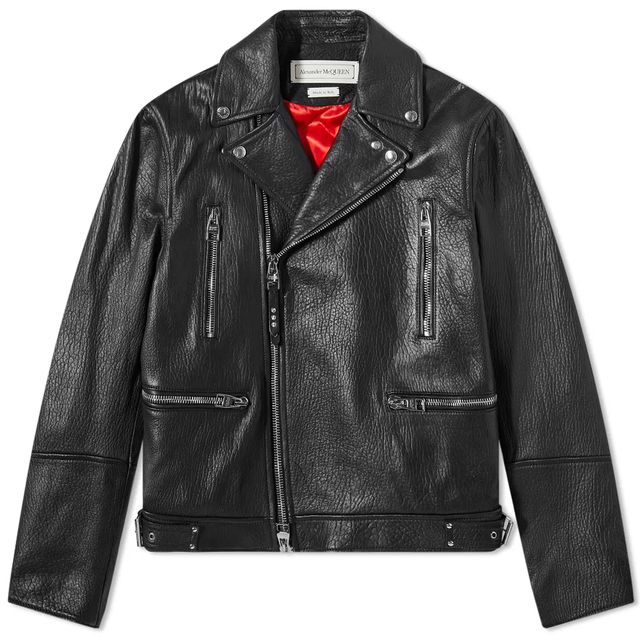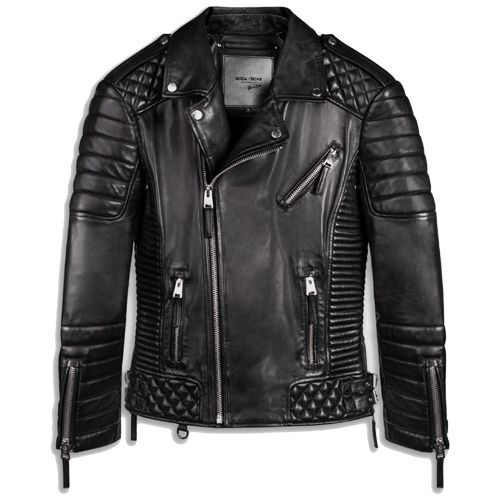 Alexander McQueen
End
Boda Skins
Boda Skins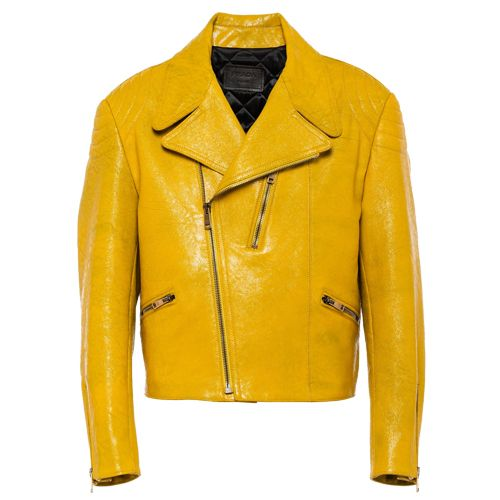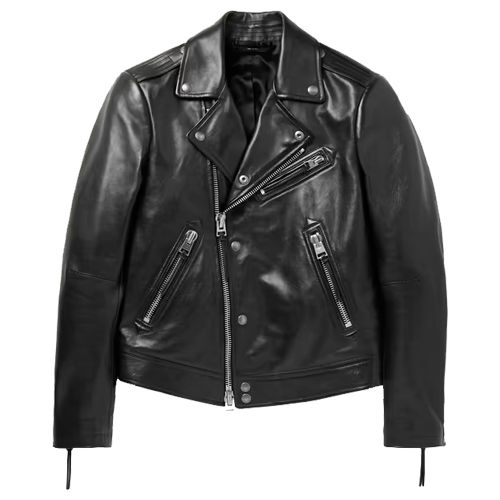 Prada
Prada
Tom Ford
Mr Porter
Cafe Racer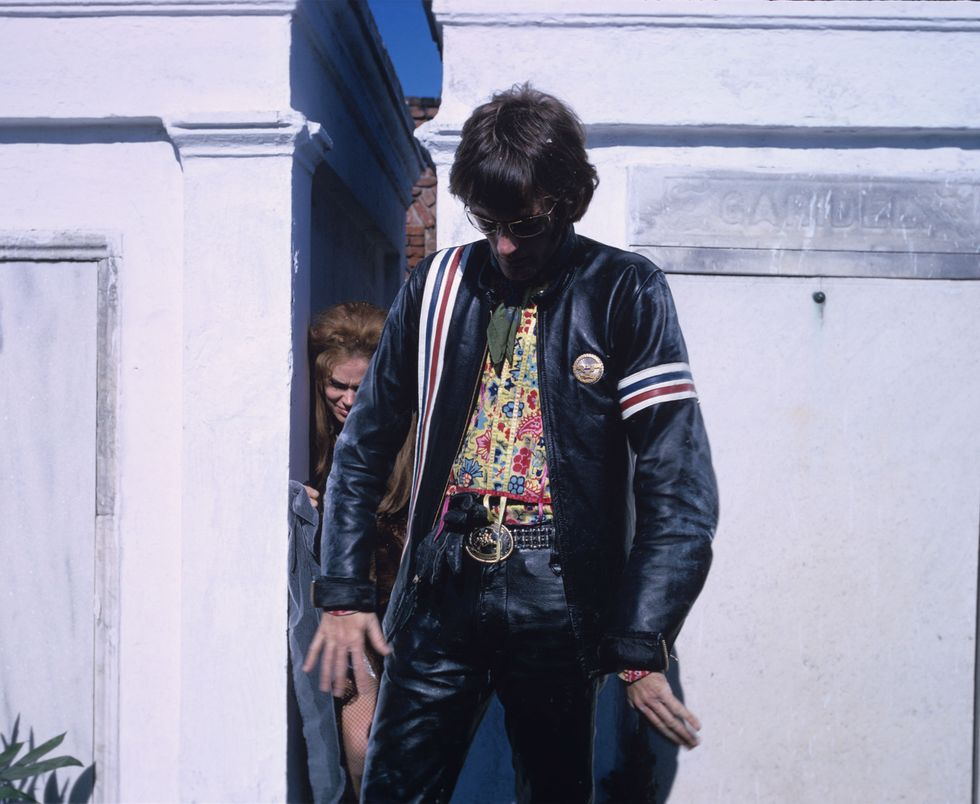 Peter Fonda and his stars-and-stripes cafe racer jacket in Easy Rider. Leather pants optional
Susan Wood/Getty Images //Getty Images
If a full-blown biker jacket feels a little too Alice Cooper, the cafe racer provides a more middle-of-the-road alternative. Named after the lightweight motorcycles that soldiers would race between pubs and cafes, this leather jacket is a stripped-back take that does away with the detailing of its American counterparts.
The clean-cut look has a touch of the bomber about it, which means the cafe racer jacket is more versatile – and more forgiving – than the biker jacket. It's got a hint of its attitude, but wouldn't call a policeman a pig until he was out of earshot. So perfect for the man who wants to dip his toes into the world of leather jackets but needs something that'll work across the majority of his wardrobe.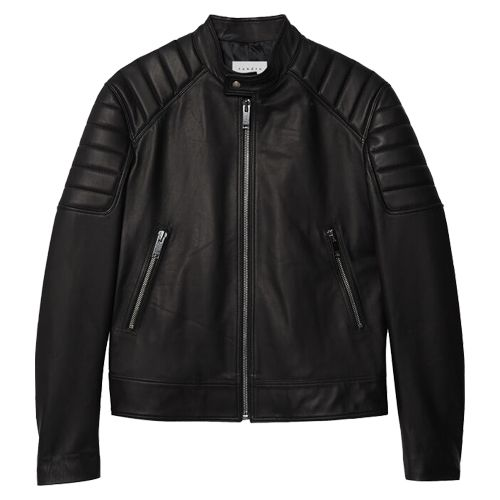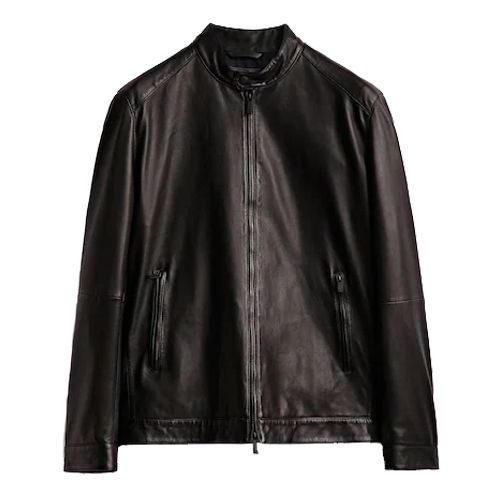 Sandro
Sandro
Massimo Dutti
Massimo Dutti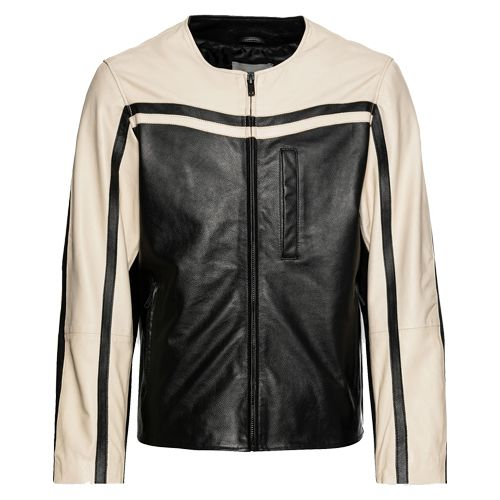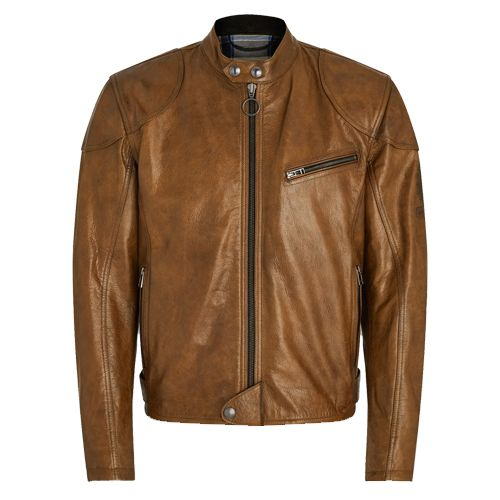 Deadwood
Belstaff
Belstaff
Aviator and Bomber Jackets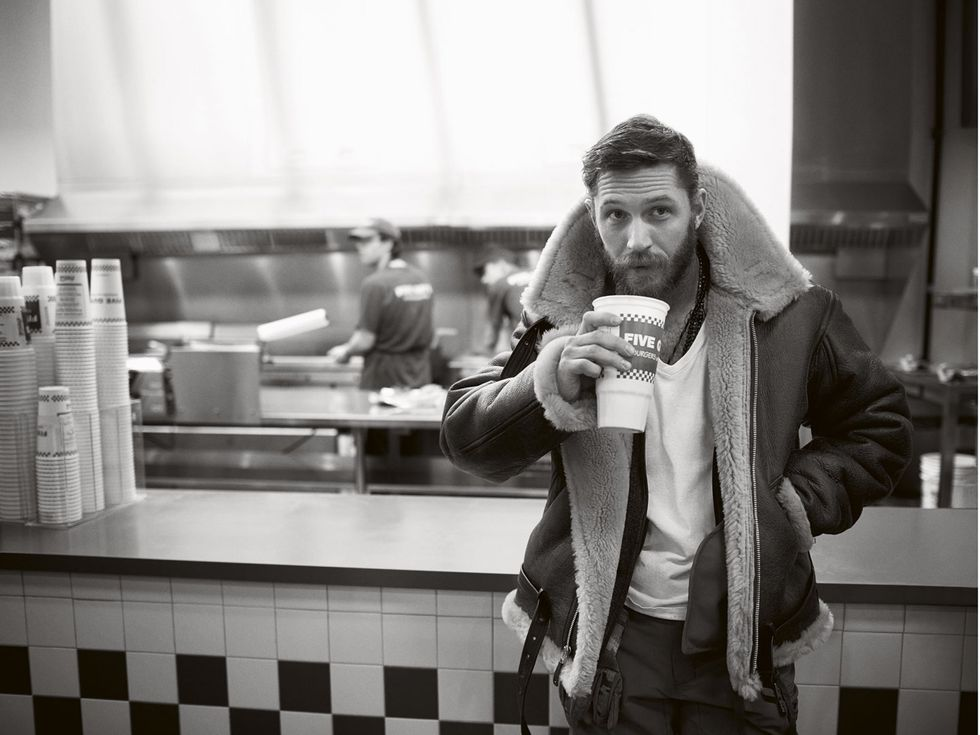 Tom Hardy, staying grounded in a killer flight jacket
Greg Williams
From two wheels to two wings, leather's use as an outerwear material doesn't end with motorcycle clothing. For a century, those who take to the skies on the regular have embraced the fabric for its ability to stave off the worst of the cold.
There are two key styles of leather flight jacket: the classic bomber and the shearling aviator. Both are boxy, for warmth and ease of movement in a cockpit, but where the bomber features a round, knitted collar, the aviator boasts one with sheepskin lining, which can be buckled up for added cosiness.
Bombers and flight jackets are best suited to men who want more from their leathers. A flight jacket looks good, but it's also highly functional in winter weather. Team it up with cold-weather favourites like heavy selvedge denim, work boots and chunky knitwear. Avoid the temptation to add aviator sunglasses, unless you actually are Tom Cruise.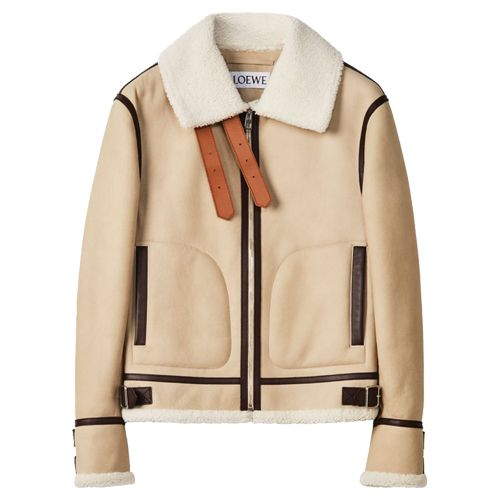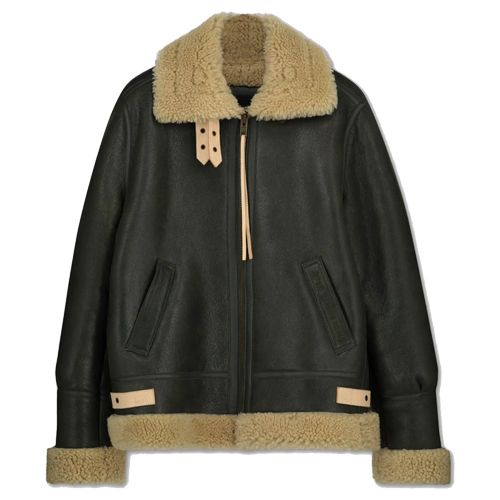 Loewe
Loewe
Filling Pieces
Filling Pieces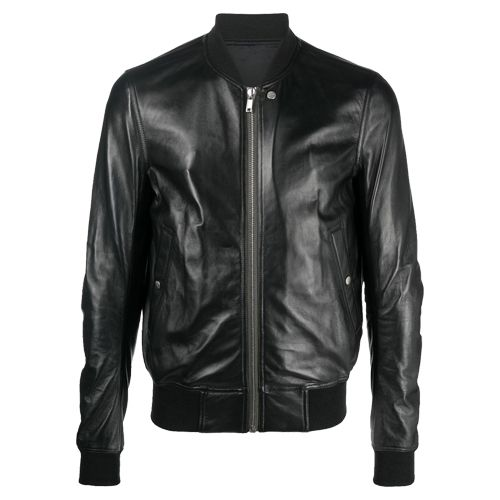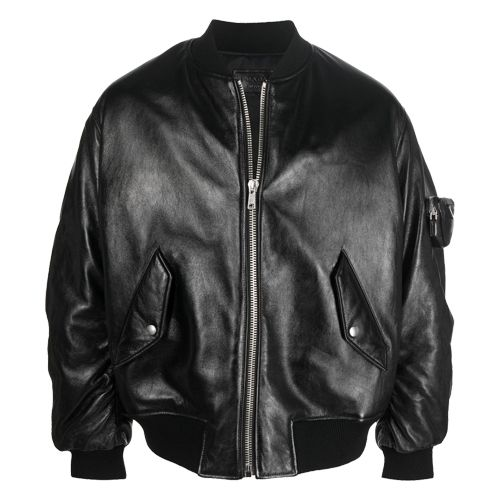 Rick Owens
Rick Owens
Prada
Prada
Leather Field Jacket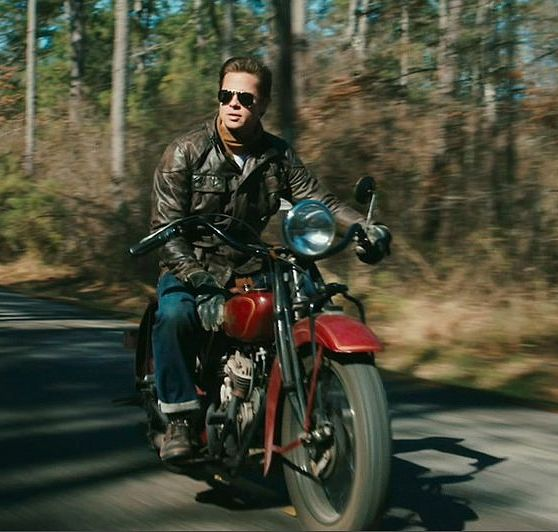 Benjamin Button might age backwards, but his leather Belstaff jacket is timeless
Paramount
Motorbikes weren't always ridden by rebels without a cause. In their first decades, they were the pastime of young adventurers, who'd bomb between each other's country piles. The original British motorcycle jacket was crafted with them in mind, and has a more refined, functional design.
Championed by English outerwear institutions like Barbour and Belstaff, this quintessentially British motorcyclist jacket features four pockets to the front, ideally including an angled chest pocket for your maps, with a press-stud and zipper closure to keep the wind out and a tonal belt to the waist.
The brilliance of this style lies in its versatility. There aren't many leather jackets that can be successfully paired with tailoring, but a Belstaff Trialmaster looks as good over a suit as it does a hoodie. For an easier way in, try it in brown leather with navy dress pants, a rollneck sweater and Chelsea boots.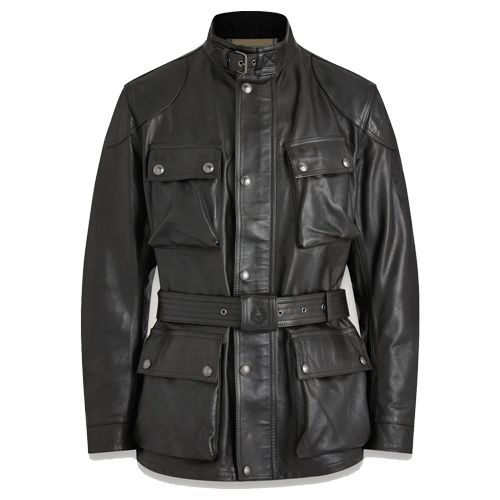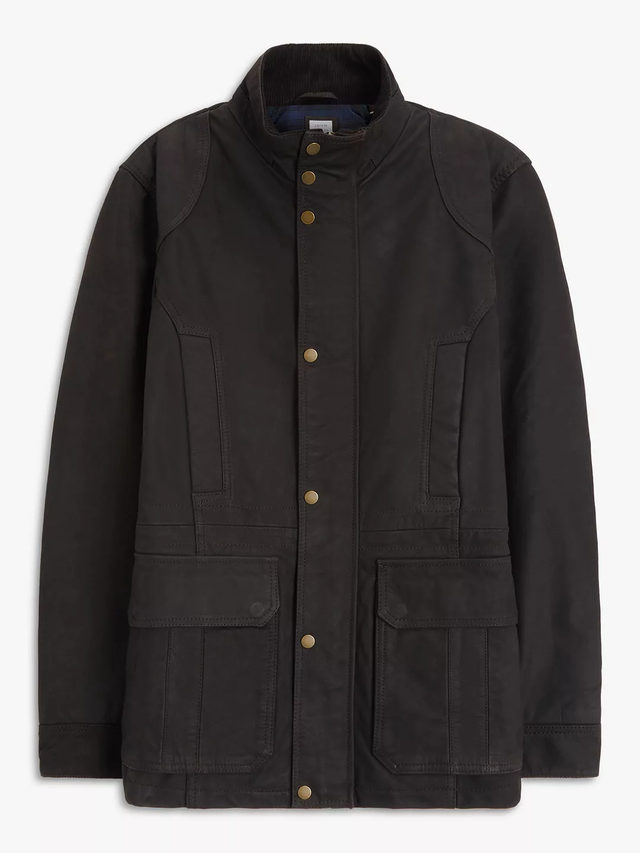 Belstaf
Belstaff
John Lewis
John Lewis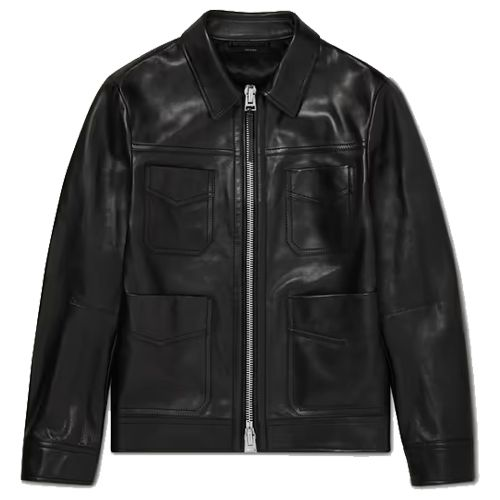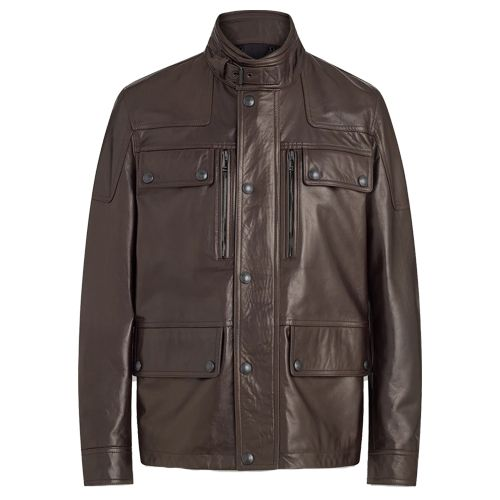 Tom Ford
Tom Ford
Belstaff
Belstaff
Leather Blazer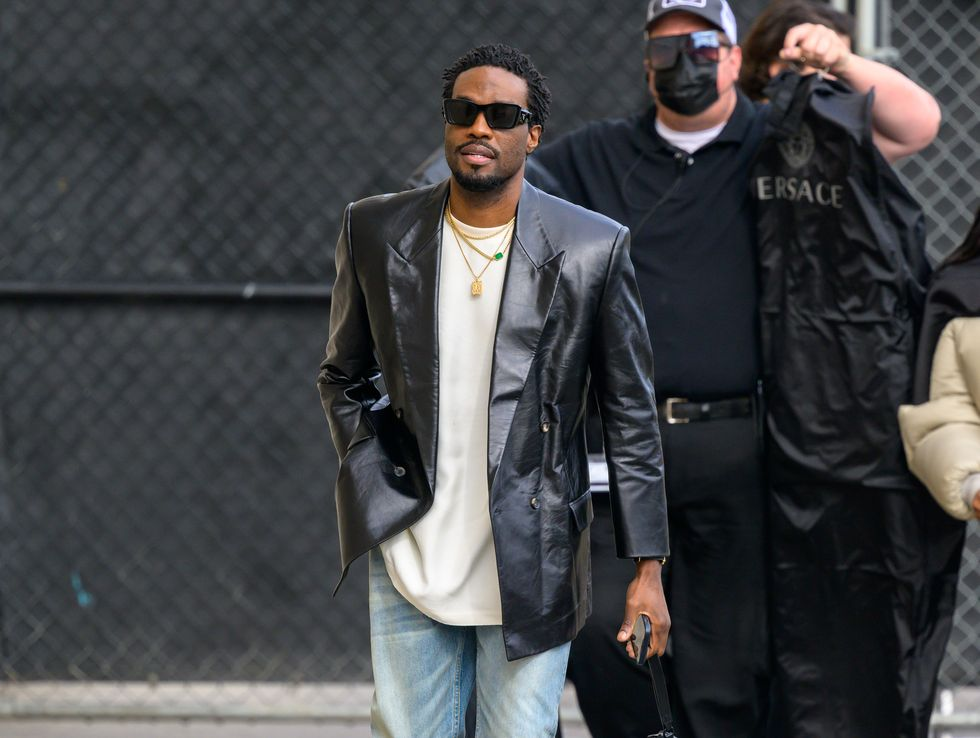 A leather blazer is by no means a safe choice, but once you've committed to such a purchase, we all but guarantee you'll never look back. In fact, you'll probably keep it forever – it's just one of those unfailing menswear hero pieces.
And since your next leather blazer purchase could potentially be your last, it's vital that you sidestep any that conform to current trends (a heavily jewelled Y2K-inspired blazer is definitely not OK) and focus on the buttery suit jackets you could wear for a lifetime. Our best advice is to follow in Yahya Abdul-Mateen II's footsteps and stick with black so that you needn't think twice about throwing it upon any ensemble.
But if a black leather blazer is too Joey from F.R.I.E.N.D.S for your liking, there are some wonderful, just-as-versatile brown options out there – our favourite being the lamb leather croc-effect offering from Copenhagen-based menswear label Sunflower.
Best Leather Jackets – Leather Blazers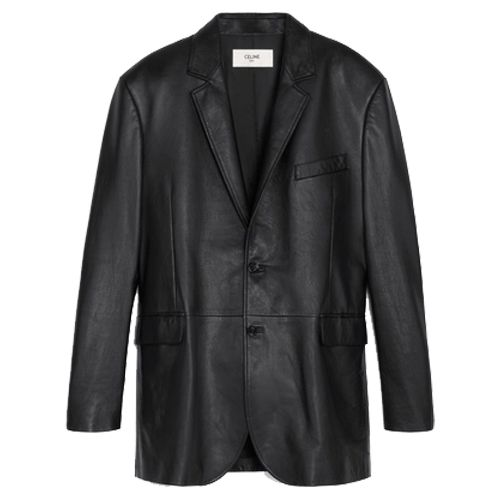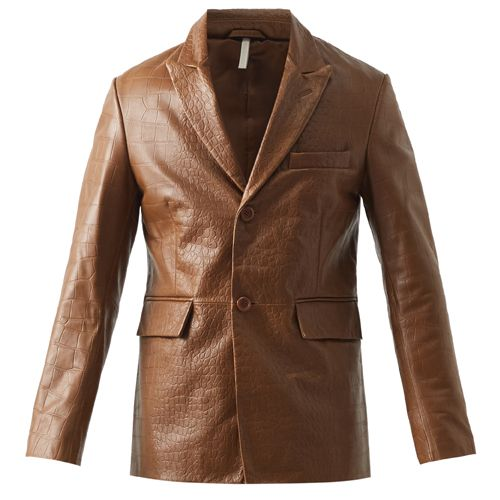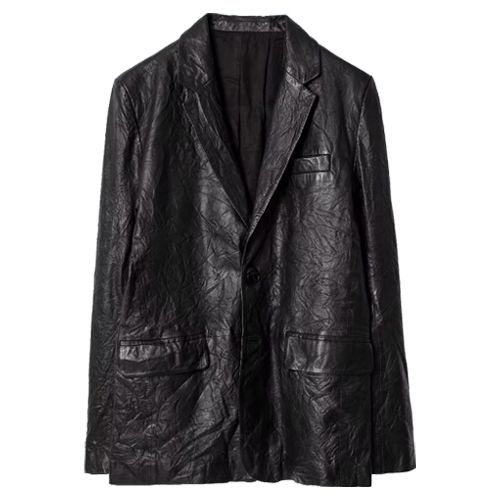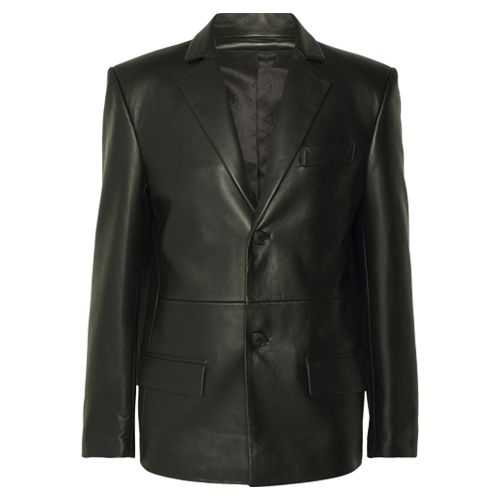 Zadig & Voltaire
Zadig and voltaire
Han Kjøbenhavn
Zalando
Leather Puffer Jacket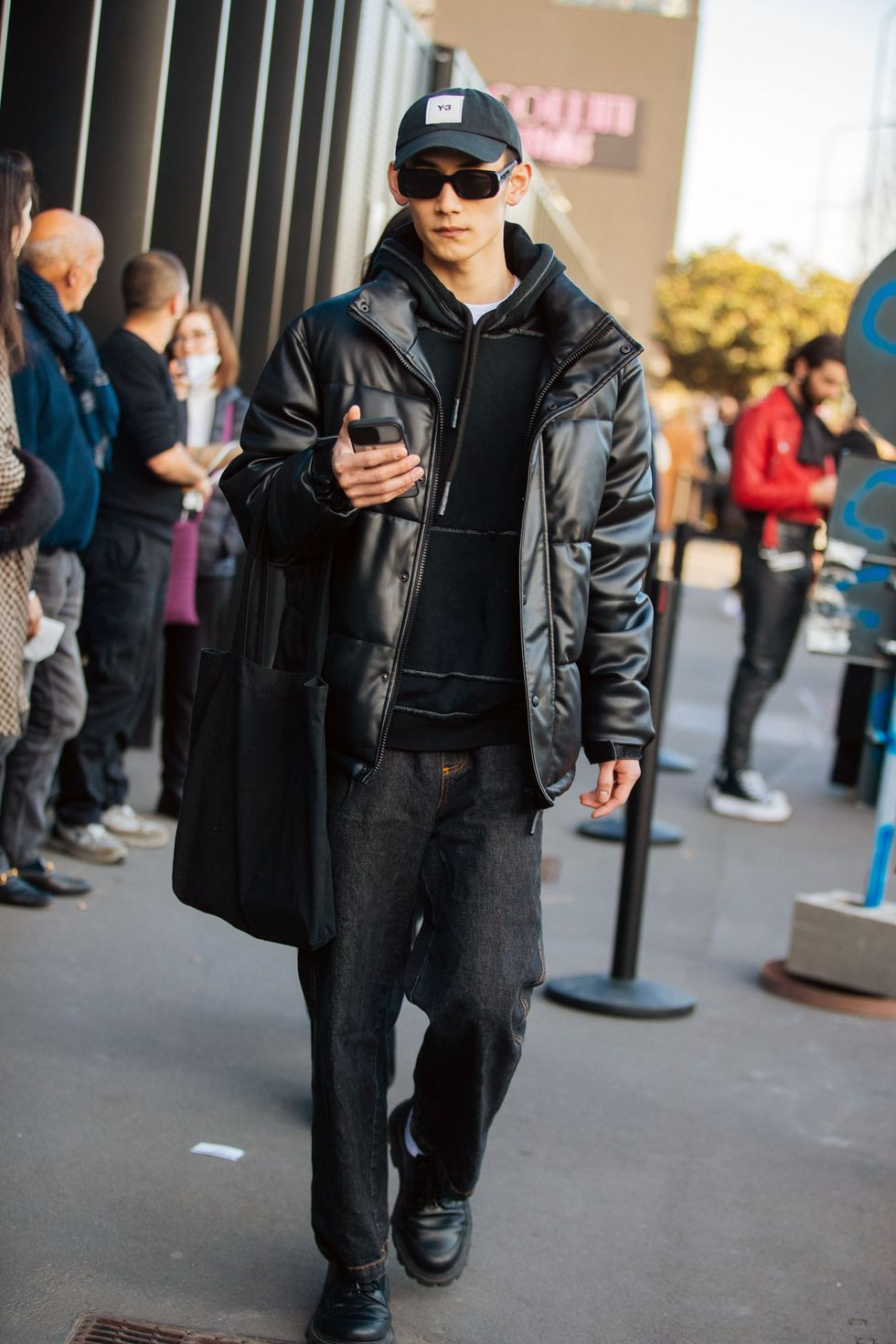 The leather puffer is the young, rich and handsome cousin of the leather jacket family. Counting versatility as one of its greatest attributes, it blends in just as well at boujee affairs as it does on the streets — thus, it's a piece rarely left at home.
Especially during the colder months as a leather puffer is just as practical as it is versatile. A leather layer that actually intends to keep you warm. Yves Salomon's leather jacket, for example, contains high insulation stuffing that comprises feathers and down. And Deadwood's Denver puffer employs recycled PET bottles to form its warming filling.
Like most leather jacket styles, vegan leather options are also available – the most noteworthy being the Nanushka Hide, made from the Budapest-based label's very own alt-leather and favoured by London's in-crowd. But if you're searching for a more affordable faux leather puffer, you can, as always, rely on Zara.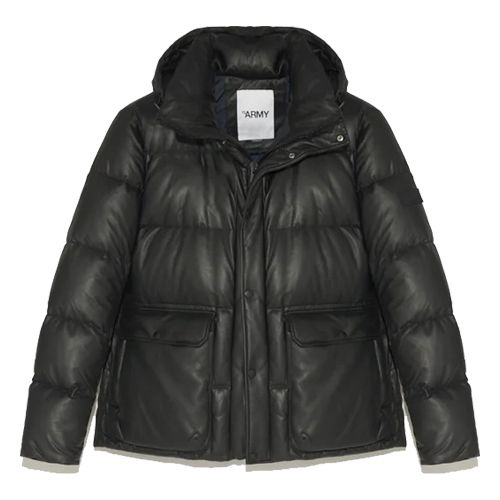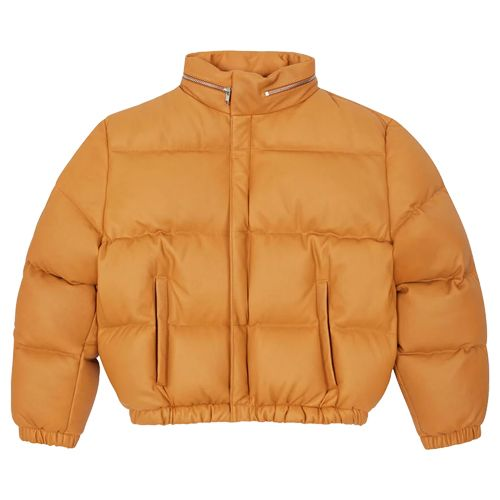 Yves Salomon
Yves Salomon
Kenzo
Kenzo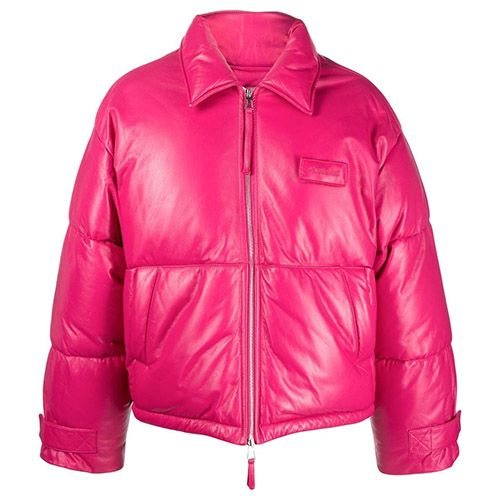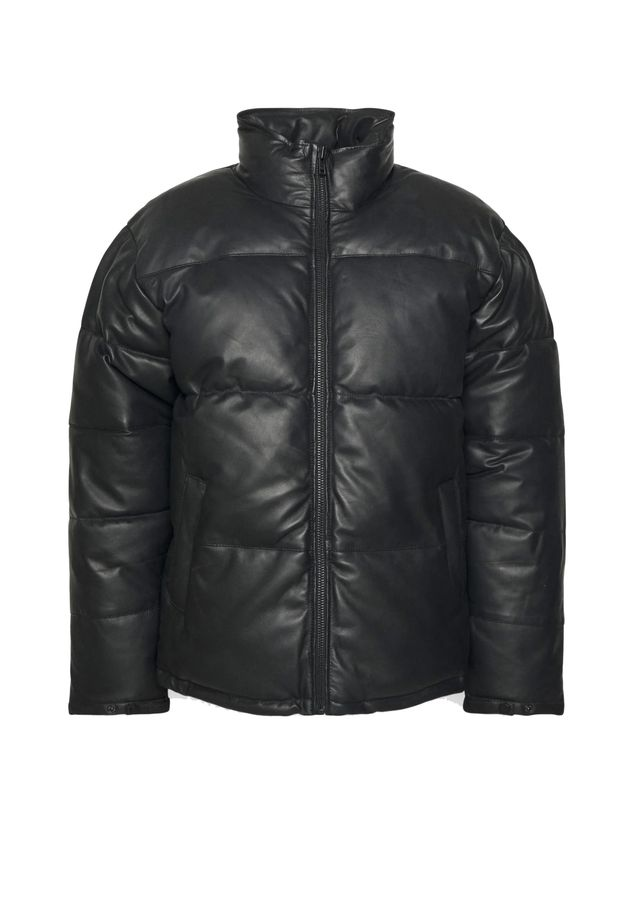 Jacquemus
Farfetch
Deadwood
Zalando
Leather Coach Jacket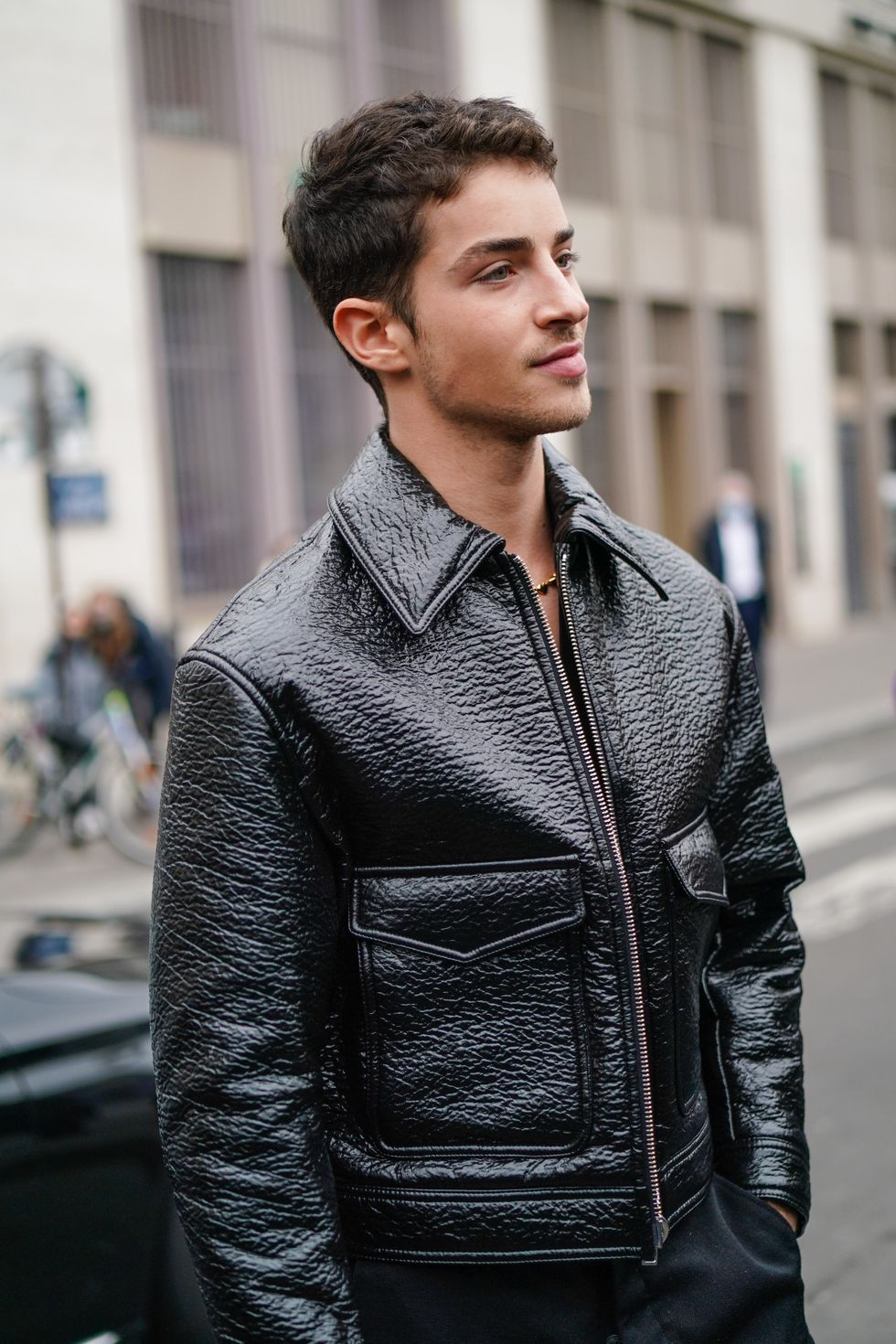 The coach jacket – one of the most popular, most versatile transeasonal layers of our time – now comes in leather. Which is big news for those who depend on the point collar silhouette; if a cotton coach has seen you through many an after-work drinks, imagine how much use you'll get out of a strong, durable leather iteration.
So, who's doing them? All of our favourite designers, each of which interprets the look uniquely. Loewe has embossed its take with its covetable logo (see the chest pocket); Mr P has paired luxurious full-grain leather with silver hardware; Rick Owens keeps things streamlined and minimalistic; whilst Represent references the layer's American sports roots by electing for press stud fastenings.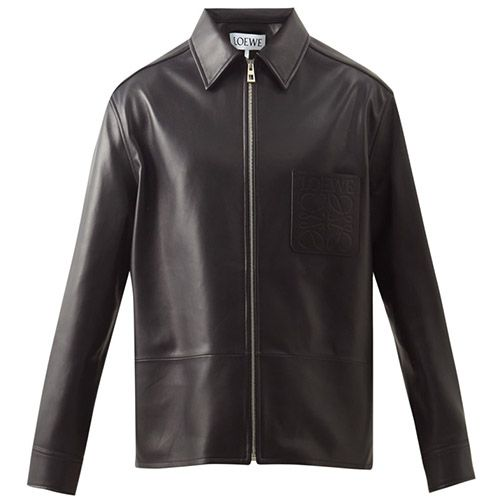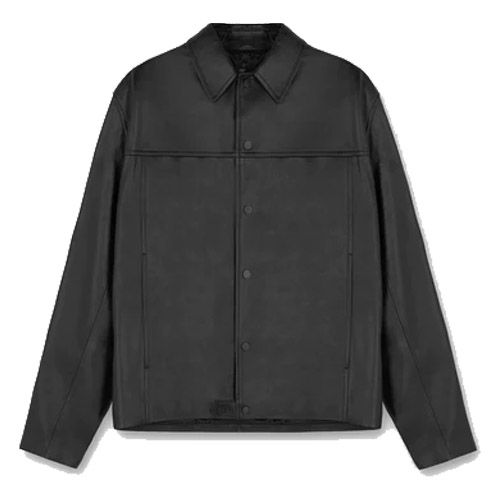 Loewe
Matches Fashion
Represent
Represent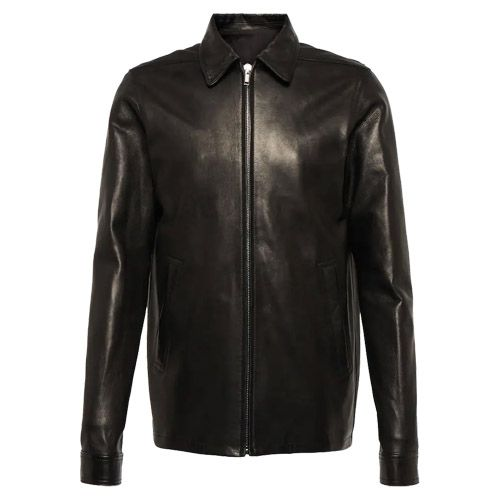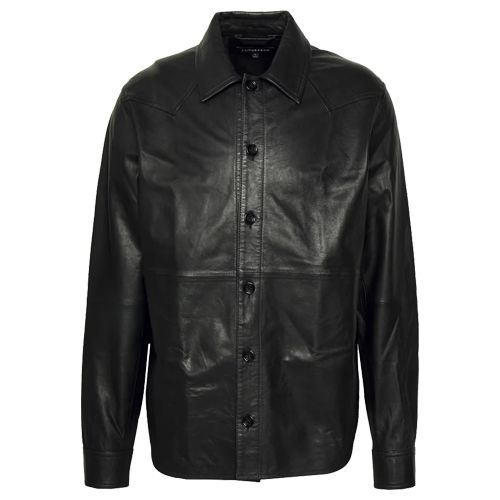 Rick Owens
Mytheresa
J.Lindeberg
Mr Porter
Leather Overshirt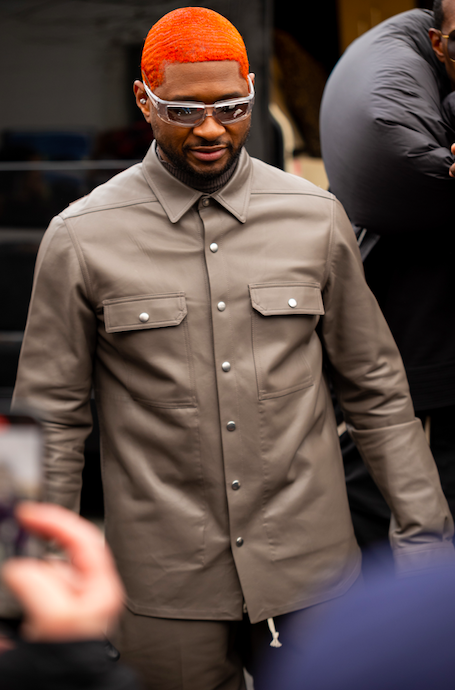 The leather overshirt, a transeasonal layer, available everywhere from Scandi shopping centre gem Cos to luxury stalwart Loewe, is proof that you needn't be rich to look rich.
For leather overshirt outfit inspo, most look to the dripped-out men of the music scene. Joe Jonas, for example, rocks his with slick, black pleated slacks and Duke and Dexter Playboy loafers; Skepta sports his with a plain tee, a flashy chain and spray-painted trousers; Usher, as seen above, pairs his futuristic sunnies and co-ord bottoms, not to mention a statement hairstyle.
But that's not to say you can't confidently throw a leather overshirt atop any old clobber because, truly, you can. From experience, we can confirm that said layer works just as well with a grey sweatsuit and some trainers (our favourite weekend 'fit) as it does with a cashmere roll neck and some wool-blend pants (our go-to look for a boujee birthday dinner).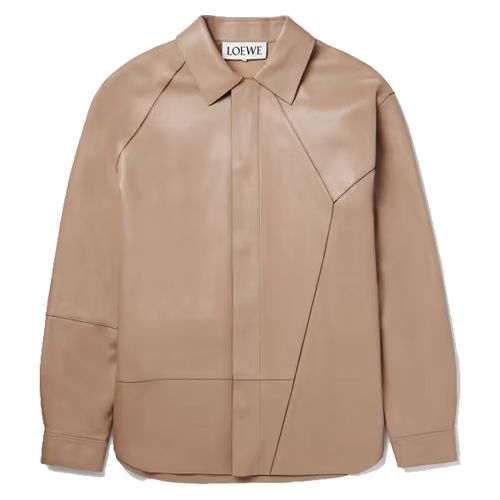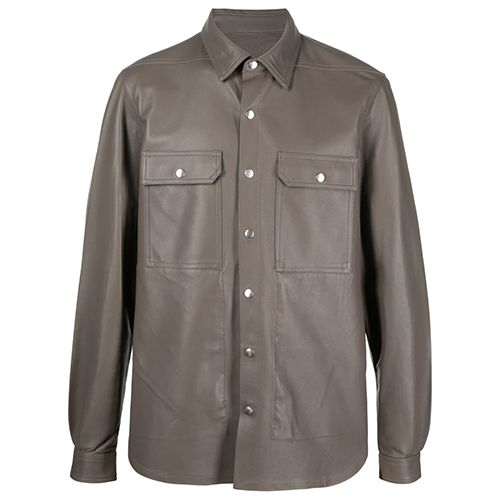 Loewe
Mr Porter
Rick Owens
Farfetch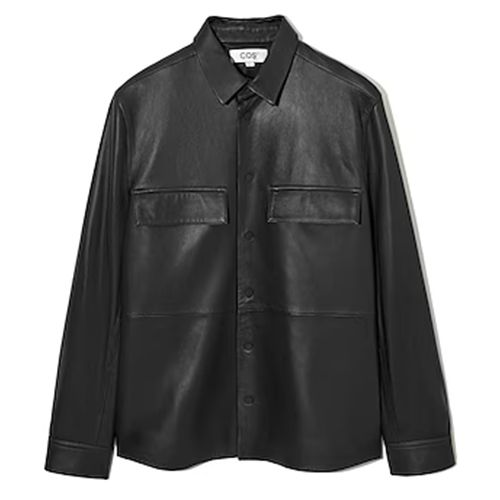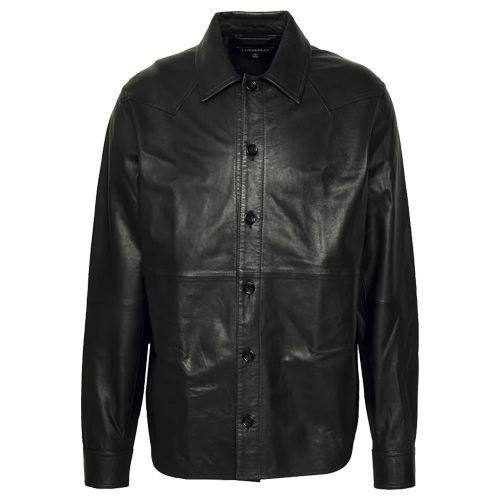 Cos
Yoox
J.Lindeberg
Zalando
The 12 Best Leather Jacket Brands
Belstaff
Known primarily for its use of waxed cotton as a motorcycle jacket material, Staffordshire's Belstaff is also a dab hand when it comes to leather. The brand's signature belted jackets are classy, timeless, refined and unapologetically British. They're the Norton to the USA's Harley-Davidson; the sort of thing James Bond might wear to stride around Hampstead Heath on his day off, and a happy medium for those who like the idea of investing in leather outerwear but want something a little more grown up.
Lewis Leathers
While Schott was busy pinning down the motorcycle jacket market in the United States, London's Lewis Leathers was hard at work doing the same thing here in the UK. The first ever British motorcycle clothing company, Lewis Leathers' jackets earned the respect not just of bikers, but also several mid-century youth tribes, with the Bronx jacket becoming a hallmark of the Sixties rocker subculture.
Tom Ford
Fashion's king of sex appeal brings a typically Studio 54 approach to his leather jackets, be they a cropped biker jacket or a slightly sleazy leather blazer. You also get Tom Ford's uncompromising approach to materials – the brand's leathers are tough, buttery soft and will last for longer the man who's lucky enough to wear them.
Schott NYC
Historic New York label Schott is to leather jackets what Dyson is to vacuum cleaners. Without it, there'd be no Perfecto motorcycle jacket. Hell, there might not even be any zips on jackets in general, given that this pioneering outerwear powerhouse was the first to add them. A true originator and probably the most storied leather jacket brand on the face of the Earth.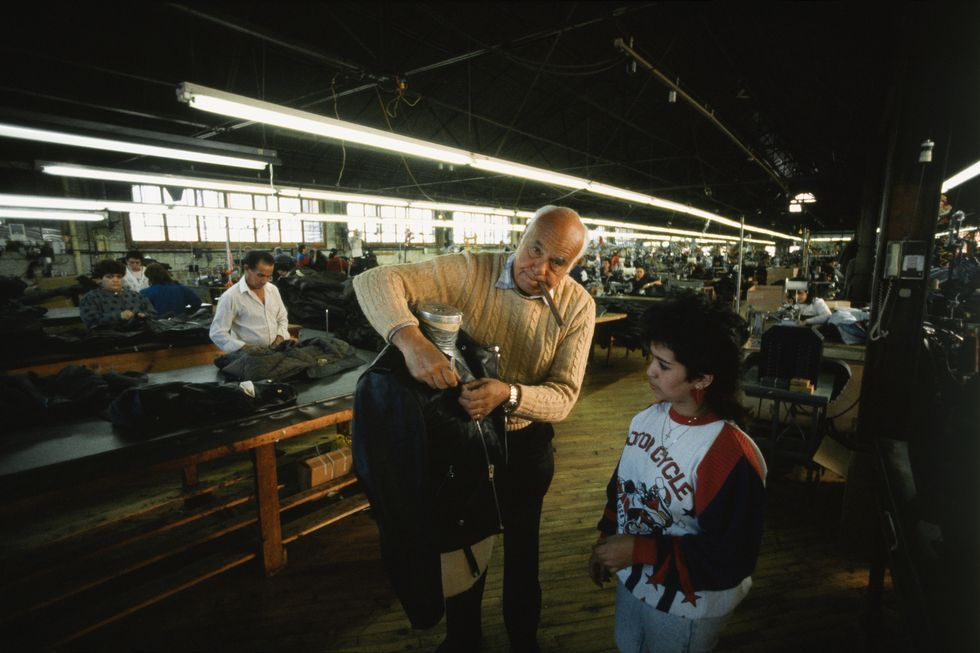 Leather jacket visionary Melvin Schott, at work in the brand's New Jersey factory
frederic meylan//Getty Images
Brunello Cucinelli
Brunello Cucinelli makes a gorgeous nappa leather biker jacket that we implore you to never actually wear near a motorbike. It is too beautiful, too well-crafted, too soft and supple to risk covering in engine oil, or to pepper with squished bugs. The received wisdom about leather jackets is that they get better with age, and yes, that's true. However, a Cucinelli leather jacket – with its cashmere linings and silky ribbing – is a slightly different beast, lacking rock 'n' roll energy but more than making up for it with sheer luxuriousness.
Saint Laurent
Saint Laurent's biker jacket has been an icon since the Sixties, when Yves himself introduced it as part of his sixth collection as head designer for Dior. It took what had, up until that point, been a rugged, testosterone-fuelled symbol of rebellion and transformed it into something sleek and elegant. Shortly after, Yves Saint Laurent severed ties with Dior, setting up his own eponymous brand, and the black leather biker jacket has been a staple in its collections ever since.
Acne Studios
Acne's knack for blending Scandi minimalism, classic silhouettes and avant-garde weirdness is what's made it a fashion-editor favourite for the past quarter-century. And nowhere is this more evident than in the Swedish label's selection of leather jackets. The brand takes tried-and-true styles and updates them with artful, contemporary tweaks that range all the way from subtle to downright outlandish. Perfect for those who are after something a little bit different.
Dunhill
When you've been making leather stuff as long as Dunhill, you get pretty good at it. For more than a century, the London-based brand has crafted some of the finest belts, briefcases, bags and beyond, and its leather jackets are built with the same care. Dunhill's leather outerwear selection features everything from blazers to smocks, but it's the bomber and aviator jackets that really shine for us. Clean, simple and made to last a lifetime.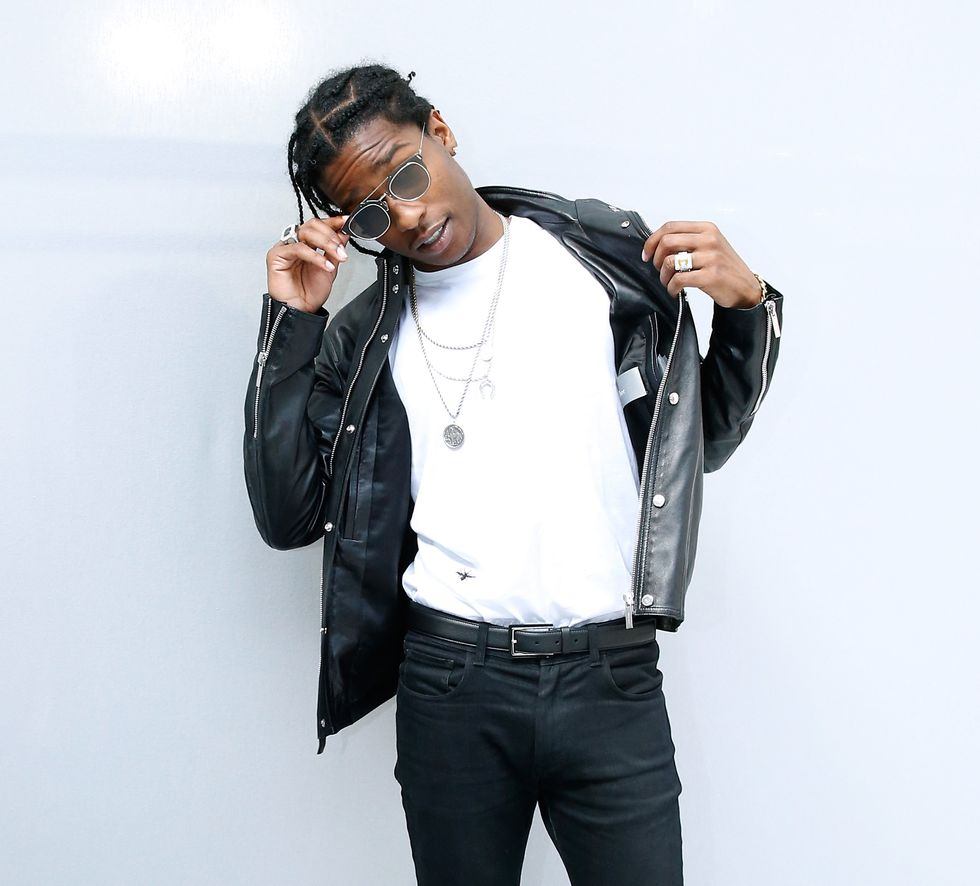 If in doubt about your leather jacket's fit, just copy ASAP Rocky
Bertrand Rindoff Petroff//Getty Images
Reiss
There are some who'll swear blind it's not possible to get a decent leather jacket on the high street. Those people have never stepped foot inside Reiss, which is a dab hand in leather that punches above its price tag. As befits a brand known for trim silhouettes and ultra-sharp tailoring, its leather jackets are more for nights out than jaunts on your Kawasaki Ninja. Think classic styles reimagined in body-hugging cuts, with details kept to a minimum.
AllSaints
Moody, grungy and dark, AllSaints's gear probably isn't the best if you're looking to shower your wardrobe with sunshine. But if you're after a great-looking leather jacket at a reasonable price, you'll struggle to find a label that delivers better value. Since 1994, the London-born brand has been cementing its reputation as the go-to place on the high street for outerwear with attitude. Expect soft supple leather, modern cuts and a shadowy colour palette across the board.
Connolly
The British institution started life as a leather goods company, and in the 150 years since, hides in all shapes, sizes and tanning techniques have been at the core of its offering (you'll still find its leather on the seats of your Rolls, Aston Martin or Ferrari). So yes, it can do you a nice leather jacket. As a luxury brand with motoring DNA, its big on cafe racer and biker jackets, although you'll find the odd shearling-trimmed bomber in its collections, too.
Sandro
Sandro, a Parisian brand founded in 1984 by artistic directors Evelyne and Ilan Chétrite, specialises in the kind of versatile and understated designs that slot effortlessly into anyone's wardrobe. What's more, 36% of its leather comes from LWG gold or silver certified tanneries, which seek to reduce use of chemical substances and water, as well as follow the best possible environmental practises – a key focus for a brand that wants to make over 60% of its products eco-responsible by 2025. We're big fans of this simple leather jacket, with its classic collar, ribbed hem and clean design, and are patiently waiting for this Seventies-inspired piece to come back in stock.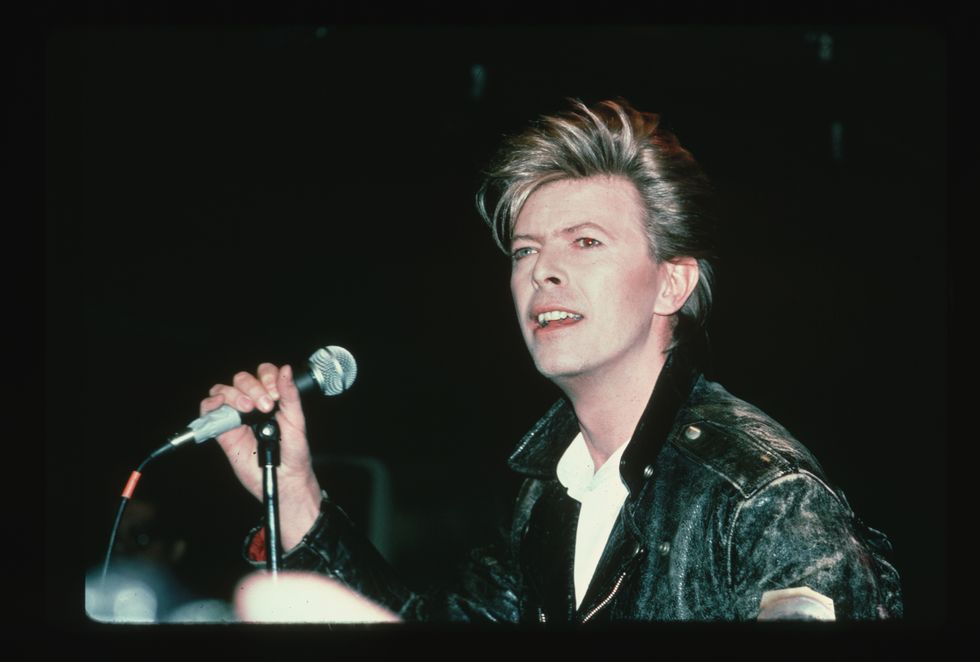 Just like David Bowie, the best leather jackets get better with age
LGI Stock//Getty Images
From: Esquire UK