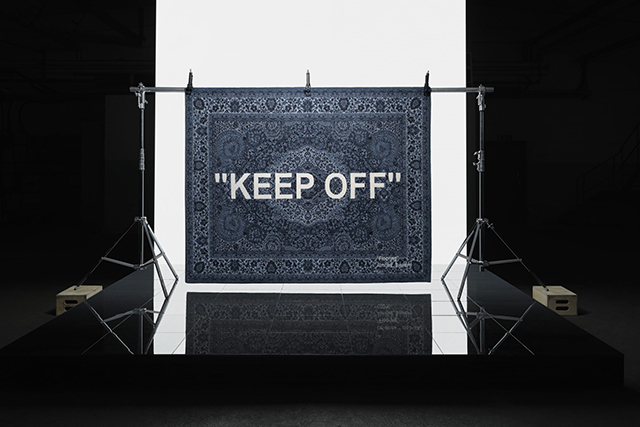 It's only the second edition of 'Cop the drop' but we are going big—literally and figuratively—with the breakdown of the "Keep Off" rug from Virgil Abloh's collaboration with Sweedish furniture giant, IKEA.
The team-up between the two is part of the larger IKEA art event. Abloh is part of a star-studded roster of eight different artists including fellow fashion designer Craig Green as well as other artists like Noah Lyons, Seulgi Lee, Misaki Kawai, Supakitch, Chiaozza and Filip Pagowski.
Commodity: "Keep Off" rug from the coveted Abloh x IKEA capsule collection.
Measuring 200cm x 300cm, the massive piece features a dark navy paisley print (which is reminiscent of the classic Persian rugs) with the words "Keep Off" in Abloh's signature quotation marks. Ever the master of generating hype, the rug, which is the first drop of the massive collection that Abloh created with IKEA, was actually announced two years ago. The capsule includes other rugs, furniture, and his take on the iconic IKEA blue bag. If you're looking to get your hands on the "Keep Off" rug, there is going to be fierce competition for it; only two pieces will be made available in Singapore, and the only way to get it is to enter a lucky draw exclusive to IKEA family members. Snore.
Where: IKEA Tampines
When: 16 to 20 May
How: Lucky Draw
Retail: $499
Price of the "Keep Off" Rug on the resale market in the last 7 days: Peaking at SGD3,094 with a low of SGD846, with an average price of SGD1,300
Recommendation: Go long if you actually enjoy it. Short it before the release of Abloh's full collection with IKEA.
Sure, there is a potential capital gain of $2,595 if you happen to know someone that works at IKEA and get lucky in the lucky draw, but for the rest of us plebs, we're probably buying it online. So, even though it is the first release from the much hyped about capsule collection, its sheer bulk and size will drive up shipping costs. In short, if you're buying it to make coin, it doesn't seem like a smart way to park your money in a product that is difficult to move. That being said, it is one of the pieces that actually looks great hung on the wall (which means wear and tear is cut down to a minimum), and it's fairly easy to maintain.
---
Previous drops…
Welcome to our inaugural post of 'Cop the drop'. We love sneakers, and the key to landing yourself a pair, besides using back channels and a healthy dose of luck, is to collate enough information about the latest cult pieces and be well-informed. We've talked about the rise of streetwear and lucrative secondary market that has turned savvy sneakerheads into full-blown business moguls, but what do you do when you get your hands on a highly valuable pair? Do you rock it, stock it or sell it?
So every week on 'Cop the drop', we will keep you up-to-date on our favourite new releases and fill you in on the history and inspiration behind the sneakers (or streetwear, it's not just going to be kicks).
And here where it gets fun—we will also be breaking down the retail price, the trading price on resale sites, and if the market for the said sneaker is bullish (prices going up) or bearish (prices going down). Since sneakers and streetwear are being traded like commodities, we will keep you informed so you have the best chance at staying ahead of this game.
It's fine if you have been taking Ls, all you need is one W to get it going.
Nike x Sacai LDWaffle Blue Multi colour
Nike x Sacai LDWaffle Blue Multi colour
Nike x Sacai LDWaffle green Multi colour
Nike x Sacai LDWaffle green Multi colour
Commodity: Nike x Sacai LDWaffle sneakers
Since debuting on the runway of the Sacai men's spring/summer 2019 show, one of the most anticipated sneaker drops this year, the Nike x Sacai LDWaffle sneakers is finally getting a release date. Chitose Abe of Sacai is known for her cut-and-sew aesthetics, often deconstructing pieces before rebuilding them up again. For this collaboration, she turns her attention to Nike's Waffle Daybreak, applying the notion of stability and betrayal through the double Swooshes, stacked tongue and elongated midsole. The sneaker will be available in two different colourways—the green multicolour and the blue multicolour.
Where: Dover Street Market Singapore
When: 16 May
How: Raffle system
Retail: SGD239
Price of the green colourway on the resale market in the last 7 days: Peaking at SGD1,847 with a low of SGD944. The average price for a size US 10 is SGD1,098.
Price of the blue colourway on the resale market in the last 7 days: Peaking at SGD2,044 with a low of SGD985. The average price for a size US 10 is SGD1,228.
Recommendation: Short the blue colourway.
While we think that the green colourway is the superior option, the blue colourway has a higher demand. If you are lucky enough to get your hands on a pair, sell it. We're talking about a potential 855% ROI on the grey market.