Nike might be known as a sportswear giant, but they are making serious moves in the fashion world. Take a closer look at their roster of guest designers, and it reads like a line-up that would rival any fashion week schedule. Think Rei Kawakubo from Comme Des Garçons, Jun Takashi from UNDERCOVER, Kim Jones from Dior Men, Virgil Abloh from Louis Vuitton and Off-White, and Riccardo Tisci of Burberry.
Time to add up-and-coming British designer Samuel Ross of A–COLD–WALL* into their stable of powerhouse designers. Nike and Samuel Ross first worked together in 2017 where an iteration of the classic Air Force 1s high was launched. The capsule collection is an expanded effort that sees Ross reworking the 2010 Nike Zoom Vomero +5, as well as offering a range of ready-to-wear pieces.
The collection is inspired by the question of how an object changes with use over time. "I am interested in how garment ages and in taking the user on that journey," says the London-born designer. "That is something I believe should be encouraged. It's much more human. It's much more dynamic as well." It's a concept that is akin to the patina that forms on leather as it ages. But instead of using traditional fabrics, Ross takes that ethos and applies it to fabrics that inspired the start of his own label—industrial materials like nylon.
Case in point: the reworked sneaker from the collaboration comes in two colourways with an exaggerated heel, and has it's PU coating stripped off to accelerate the process. The ready-to-wear sees the use of a Japanese nylon that feels coarse initially, but smoothens and softens over time with wear and body heat.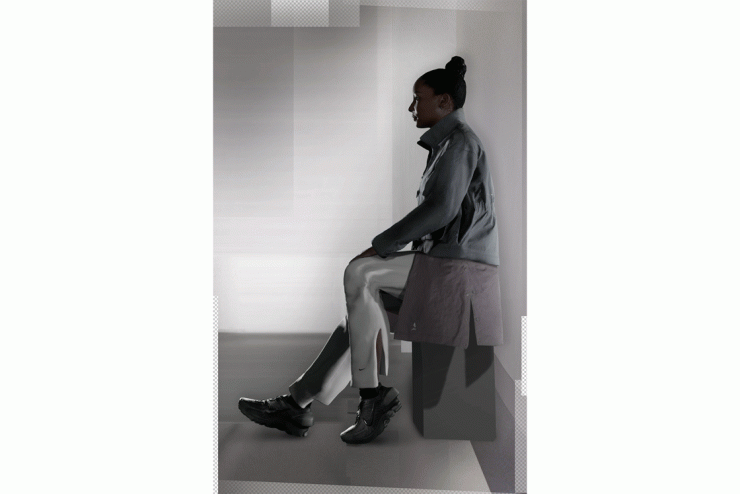 While the innovation of fabrication is exciting on its own, this collaboration with Nike also sees Ross innovate his approach to pattern making, rethinking the cut of trousers. "Cropping the pants and adding this tension around the back of the knee joint really gives it a very stark and staunch and hostile feel," Ross says. "This is the first time I have really tried to capture the energy of the outerwear in a trouser, and it pairs so well with the sneaker."
The Nike x A–COLD–WALL* is more than just another collaboration that slaps a bunch of graphics on a tee. It's a partnership that sees two great design teams coming together to break new ground on fabric innovation, pushing the boundaries of design, all wrapped up in a strong concept. Now guys, that's a proper collaboration.
The Nike x A–COLD–WALL* collection will be available at Dover Street Market Singapore on 29 November 2018.