Ah, when there's a glitch in the Matrix and all your favourite celebrities are BFFs, birthing forth another golden meme opportunity. You may have seen this prank floating around just last Christmas, where Reynolds shared Gyllenhaal and Jackman's collaborative glee at his own expense on social media. Turns out, the world related. Here are some where we feel it the most.
WHEN YOU CAN ONLY AFFORD ECONOMY
While travelling.. pic.twitter.com/DhnObYqcLh

— Pakchikpak Raja Babu (@HaramiParindey) December 24, 2018
ANY EVENT, REALLY
Totally relatable. pic.twitter.com/GbmnySo465

— Whats for dessert? (@enjoythelaughs) December 21, 2018
A TIME WE ALL REMEMBER
Relatable?? pic.twitter.com/8WaxTnhBTB

— Lone Wolf (@Idiotic_Fellow) December 23, 2018
A TIME WE MIGHT NOT REMEMBER…
View this post on Instagram
THINK WE CAN ALL AGREE ON THIS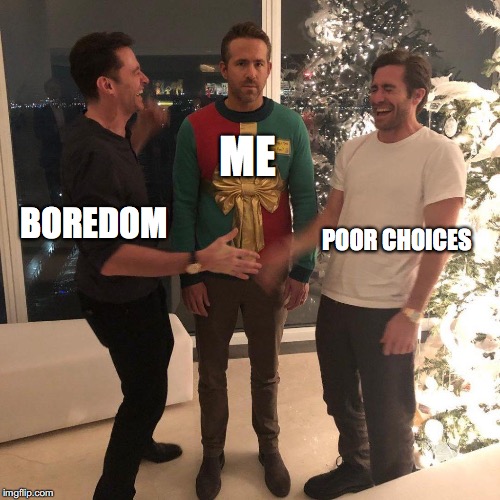 LASTLY, A PROSPECT THAT LOOMS IN JUST TWO DAYS
— ashishoooo (@AshishoooD) December 23, 2018
---
What you may have missed:
Fiji Water Girl
If we ever needed a benchmark on hogging the spotlight, this girl would be it. Possibly the first major meme of the year, the Fiji Water Girl from Golden Globe quite literally stole the show by subtly posing behind almost every celebrity in attendance. This sparked some displeasure from Jamie Lee Curtis, who spoke out against the blatant PR stunt, but the rest of the Internet has been more than supportive. Considering the fact that the 31 year old Canadian model was but one of the four Fiji girls serving at the event, yet was the only one to go viral, we say kudos.
IT'S NOT PHOTOSHOP
The Fiji water girl is literally living her best life #GoldenGlobes pic.twitter.com/DxsdNgQCas

— ENDGAME (@wingardiumbrad) January 7, 2019
JAMIE LEE CURTIS
THE REST OF THE INTERNET
View this post on Instagram
START OF THE YEAR IN A NUTSHELL
tired: spilling tea
wired: serving fiji water #GoldenGlobes pic.twitter.com/TTou8mz8Cs

— Alp Ozcelik (@alplicable) January 7, 2019
#1 CAMEO CANDIDATE
View this post on Instagram
A ROLE MODEL
The FIJI Water woman is the epitome of dress for the job you want, not the job you have. @FIJIWater #fijiwatergirl https://t.co/ODE1UbteD3

— Shelby L. (@ShelBB8) January 7, 2019
SHE IS
She's just that good. #FijiWaterGirl pic.twitter.com/kSh4DPxvIq

— Doug Bloch (@Dbloch5800) January 8, 2019
---
Bird Box
You must have SEEN it right? Sandra Bullock dragging two kids and everyone's in blindfolds. It has gathered direct comparisons to A Quiet Place, and critics have not been too kind either. But whatever your views on the movie and its ending may be, you can't deny it's big meme bait. Fret not if you've not watched it, this list is spoiler-free. If anything, here is some indication on what Bird Box is.
IT'S A WAY TO GO ABOUT THE YEAR AHEAD
This is how I'm facing my problems in 2019. #BirdBox pic.twitter.com/mo77tFWtTw

— Bird Box Memes (@birdboxmemes) January 2, 2019
AND THE CRIME WE'VE ALL COMMITTED
"did you see my text"

me: pic.twitter.com/ITtD3Z9a9M

— b (@boujeesIut) December 25, 2018
A THIRD OF THE THREE EVILS
Bird box, Hush, and a Quiet Place be like pic.twitter.com/M64Pr09yS7

— tmtm (@he_tmtm) December 27, 2018
NOT TO BE CONFUSED WITH FETISH
can someone help me i just watched the wrong birdbox pic.twitter.com/PoqBk4kHfr

— ً (@chemyukhei) December 30, 2018
SPEAKING OF FETISH
SANDRA AND HER DAMN BLINDFOLDS #BirdBox pic.twitter.com/lj79NYM44V

— B Í G B Ø I ™® (@davontae25) December 31, 2018
PRETTY MUCH GOT THE ENTIRE WORLD
Tell a friend to tell a friend #BirdBox #BirdBoxNetflix pic.twitter.com/Mjx55F2yz3

— Aye Lemme Tell You Sum'in 🇭🇹 (@WitDaShiitz) December 25, 2018
AND LEAVING THE ONES LATE TO THE GAME
UNTIL THE SEQUEL THEN
View this post on Instagram