We've come to the 15th and final day of the Lunar New Year celebrations. Also known as the Spring Lantern Festival, it's tradition to munch chewy glutinous rice balls (tangyuan). Besides catching up with distant cousins, there are other highlights that only occur during the Chines New Year festivities. Sure, you can capture the moment with the camera on your smartphone, but these artists choose to picture them with creative illustrations instead.
The motivation behind these sketches was to record the scene on location as it happened. Some refinements were made later, including the colouring process, but most parts were done by observation from life.
The most distinct part of CNY celebration was the food, so the theme for all the drawings was about eating as a family, enjoying the companionship at the same time. And I am always amazed by the amount and variety of food that was made for each meal and stayed that way every year. To Chinese, it's always a blessing to be able to fill our stomachs.
Procreate and iPad Pro work together like a charm. There is no other brand of stylus that works as well as Apple Pencil. Its pressure sensitivity is seamless; basically, it works without any lag or drag, and any minute change of pressure is detected beautifully. I could produce a wide variety of line quality with a single brush. Apart from the glassy surface, drawing with the iPad Pro feels like drawing on paper with traditional tools.
Tips
Work fast and furiously, sometimes from memory if you want to capture something from life observation.
Use colours to create a mood
Start drawing somewhere and allow the drawing to grow, and make use of Procreate's Canvas "Crop & Resize" function to expand your drawing or change its format. The process of drawing becomes more intuitive.
I change the colours of my line art with "Colour Balance", and then added colours on a different layer below
I love using George's brushes. They are available here: https://sellfy.com/georgvw
Exactly one zodiac cycle ago (12 years), while we were at a hawker centre, my parents and I observed a senior man who was partially blind, trying his best at selling some tissue packets and new year flowers to the hawker's patrons.
Just as we were about to leave, my dad handed me a pair of ang baos to wish the man a happy new year. I'll never forget this memory of the man and the example set by my parents who showed me how to always see and appreciate the person in everyone.
Tips
When working an art piece, always try not to focus too much on details at the start. Instead, focus on the big picture and big shapes that build the composition before zooming in on details. Always good to have some perspective metaphorically and literally speaking!
I love drawing in Procreate on iPad Pro as not only am I able to bring a digital sketchbook on the go, it automatically saves out process time-lapses of the pieces I work on!
Keeping your layers well labelled and neat helps with better working experience and promotes a non-destructive workflow
"Mom's Homemade Pineapple Tarts"
It is four days before Lunar New Year and my mom is on a baking mission. Every year she makes it a point to make her very own pineapple tarts and cookies, which she gives out to family over reunion dinner and of course saves a bottle or two for the home. Her recipes never fail to be a crowd favourite, is healthier and definitely full of love :>
"Suddenly — Fireworks!"
This year, our family decided to take a trip down to the Marina Bay on the night of the second day of the Lunar New Year. We started at Makansutra By The Bay, made our way through the Marina Bay Floating Platform where all the CNY hurrah was at, and got to check out the iLight Festival and installations that were on display all along the Bay.
At the halfway mark of the route where we were exiting Fullerton Hotel, a series of loud gun-like sounds fired—FIREWORKS! We stood looking up in awe and with the biggest smiles. It was one of the most brilliant displays of fireworks we got to see and in the best possible spot to catch it—what a treat for the night!
Tips
Using Procreate
Experiment with Brush Settings: Play around with settings like Jitter and Spacing to add dimension and variations to your brush strokes, as well as to mimic certain elements/objects (e.g.: I used the Technical Pen Brush to create a multi-dot brush to create fireworks)
My go-to brush for lining is the Dry Ink Brush
To create a straight line with the brush, draw a freehand line and once you've reached the end point; hold down on the screen for 2-3 seconds, this will cause the line to straighten.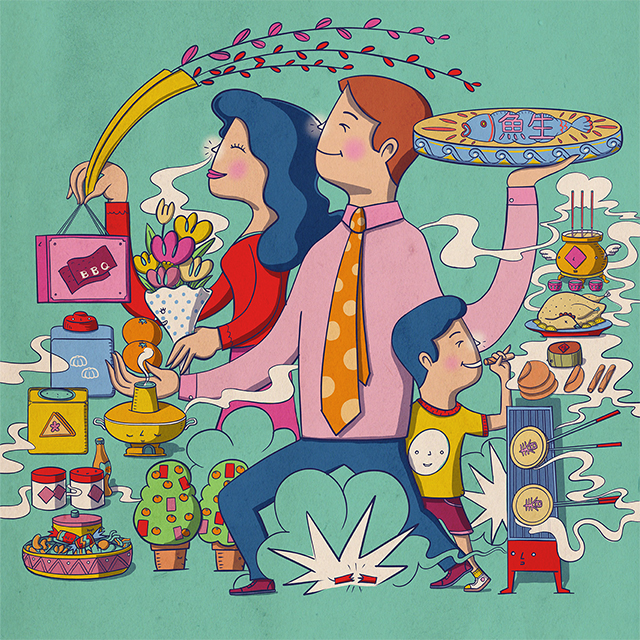 The special smell of CNY—after the detergent and fresh paint of spring cleaning, the smell of baking, food preparation and the wonderful aroma of love letters being made over charcoal stove by the neighbours fills the air. There's also the smell of new notes in red packets, mandarin oranges and incense offered at altars.
Tips
Using Procreate
You can switch between 2 colours when colour dropping or painting by tapping the colour icon on the menu bar.
Be mindful of the file size and number of layers you can have in a file. My preference is to work on a bigger artwork (A3 size at 400 dpi, so you may end up with a file with only 8 layers)
Something I overlook often is that we can use the same brush for both Drawing and Erasing—make sure you check that option.